We're in the thick of the NFL offseason and it's officially time to start fantasy football prep. I'll be answering the biggest questions heading into the 2021 season. Click here to read the series of questions answered so far.
The Russell Wilson era has truly been a spectacular ride. The starter for every single game since being drafted in the third round of the 2012 NFL Draft, Wilson has led the Seattle Seahawks to no fewer than nine wins in each and every season. Yes, it's a shame one ill-timed interception prevented Wilson from having two Super Bowl rings. Also yes, there haven't been five better quarterbacks than him over the past decade.
The 2020 season saw the Seahawks entrust Russ with a career-high 558 pass attempts. The strategy helped spearhead an absolutely blistering first half stretch when the Seahawks scored at least 27 points in each of their first eight games. Unfortunately, things got sour in the second half of the season, and the offense surpassed 20 points in just four of its final nine games.
The band is largely back together entering 2021. Wilson, Chris Carson, D.K. Metcalf and Tyler Lockett again figure to be the primary catalysts inside of an offense with eight top-11 scoring finishes over the past nine years. What follows is a breakdown focusing on the latter two alphas and fantasy football thoughts on the Seahawks' passing-game options.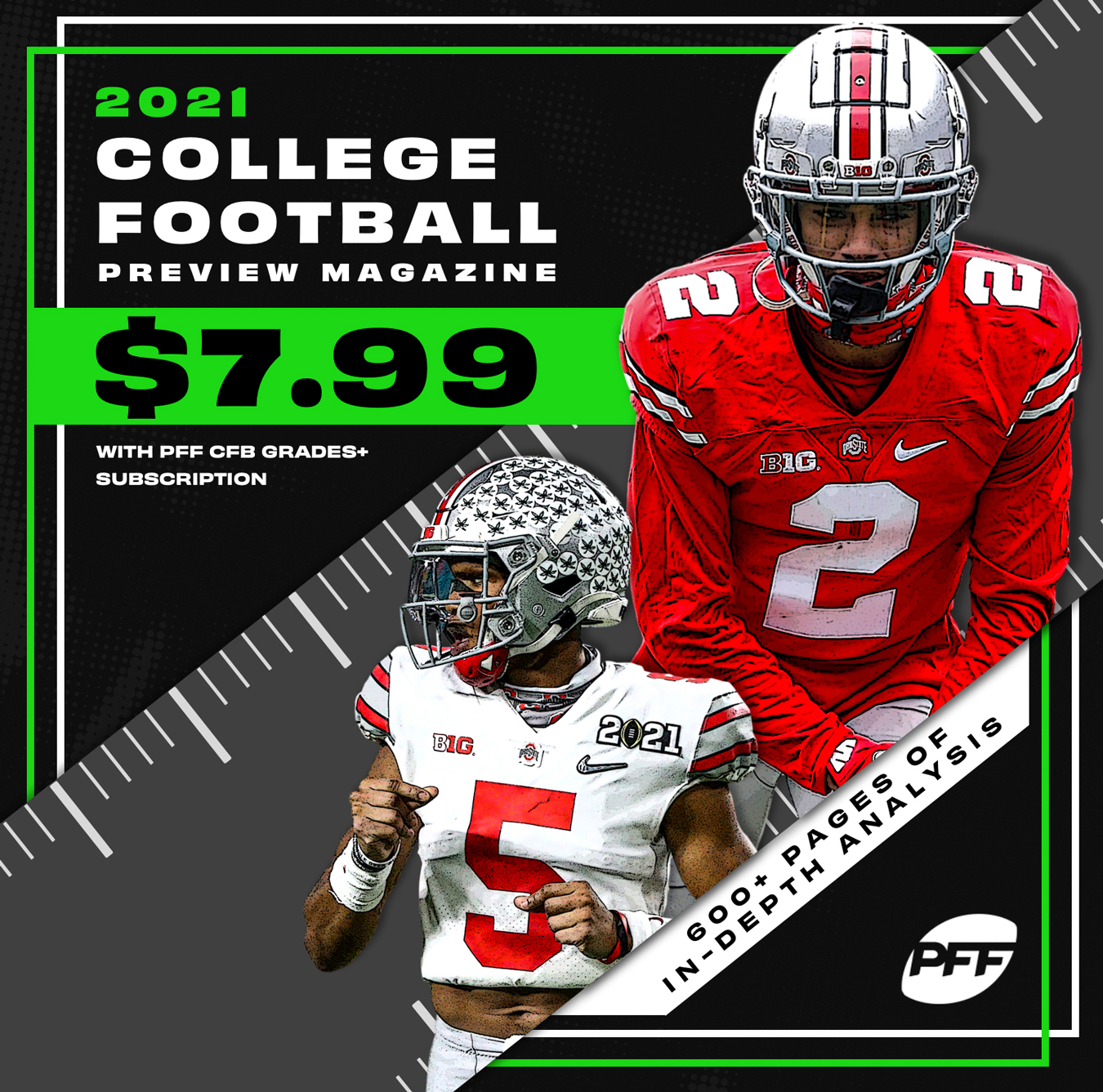 Metcalf is already one of the NFL's scariest wide receivers
The amount of overthinking that occurred in regards to Metcalf's standing as a prospect in the 2019 NFL Draft was astounding. Sure, the 6-foot-3 and 228-pound monster with the ability to run 40 yards in 4.33 seconds isn't quite as adept at running the three-cone drill as others; that doesn't mean Metcalf hasn't presented a massive issue for opposing defenses to deal with since Day 1.
Over the past two seasons, Metcalf boasts PFF's 25th-highest receiving grade among 80 players at the position with at least 100 targets (including playoffs). He ranks 20th in yards per route run, ahead of guys like Keenan Allen, Allen Robinson and Adam Thielen. Overall, Metcalf (20 receiving touchdowns) joins Thielen (20), A.J. Brown (20), Mike Evans (23), Tyreek Hill (24) and Davante Adams (27) as the only wide receivers with at least 20 receiving scores in the last 24 months.
The main negative for Metcalf: drops. He has set the pace (20) since entering the league in 2019; just realize the likes of Hill (18), Stefon Diggs (17) and Evans (16) aren't too far behind. Cumulative drop statistics tend to be more indicative of a receiver who consistently gets open as opposed to someone who is truly bad at catching the football.
This isn't hard, people: Metcalf already looks every bit like one of the league's best players at his position.
DK Metcalf pic.twitter.com/0f0oHkANMa

— Ian Hartitz (@Ihartitz) June 28, 2021
Hill (14) is the only player with more receiving touchdowns on passes thrown at least 20 yards downfield than Metcalf (10) since 2019. There isn't anyone with more receptions on throws 30-plus yards downfield. Even if some want to hold off on crowning Metcalf as a great all-around receiver: Any list of the league's top two most dangerous downfield receivers that doesn't include him is objectively wrong.
Luckily for the artist known as Mr. Unlimited, Metcalf isn't the only high-end talent the Seahawks have in their wide receiver room.