Fantasy football doesn't award points for broken tackles. This is unfortunate considering the ability to consistently force defenders to miss is one of the primary indicators for who is truly #good with the ball in their hands. Scheme is incredibly important to the success of any offense or defense, but ball-carriers with the talent to consistently win one-on-one matchups possess the ability to take any offense from good to great independent of their play-caller.
Subscribe to PFF's EDGE or ELITE subscriptions to get access to the following tools, charts, etc. 
– All Premium Article Content
– Fantasy Football Rankings & Projections
– Fantasy Football Draft Guide, Cheat Sheets & Advanced Stats
– Fantasy Football Mock Draft Tool (DraftMaster)
– Fantasy Football Strength of Schedule Matrix
– NFL Player Grades
– NFL Premium Stats
Broken tackles shouldn't be solely used to make production predictions; volume almost always trumps talent in fantasy land. Still, the metric is one of the better ways to quantify arguably the most-important ability for any skill-position player. Backups who are able to rack up broken tackles at a sky-high rate should, in theory, be fantasy priorities if their time to shine ever arises.
What follows is a positional breakdown on the league's premiere tackle-breaking talents. I'll be using minimum requirements of 25 carries for QBs, 100 touches for RBs, 50 touches for WRs and 25 touches for TEs. Rankings will denote the rate at which tackles are broken; total forced missed tackles are a bit too correlated with overall volume for super specific takeaways. All data is courtesy of PFF's historical tackle-breaking info from 2019.
Quarterback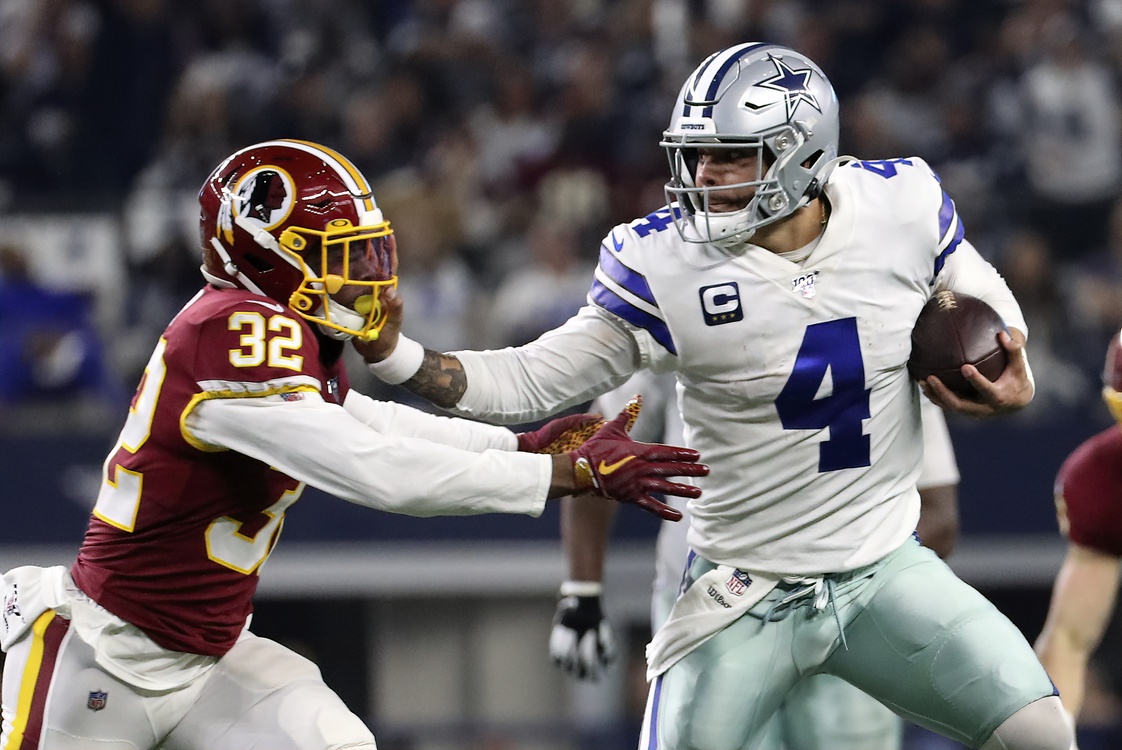 1. Dak Prescott (0.27 missed tackles forced per attempt)
Prescott has never seen a first-down marker he didn't feel capable of reaching, regardless of how many defenders might happen to be in his path. His 6-foot-2 and 226-pound frame has helped enable this mindset dating back to his days at Mississippi State, and the rising fifth-year QB has somewhat surprisingly never missed a game since entering the league in 2016 despite this physical style.
Having a personal lead blocker like Ezekiel Elliott to go along with the Cowboys' perennial top-five offensive line certainly helps matters, but make no mistake: Prescott is a handful for any defender to handle in the open field.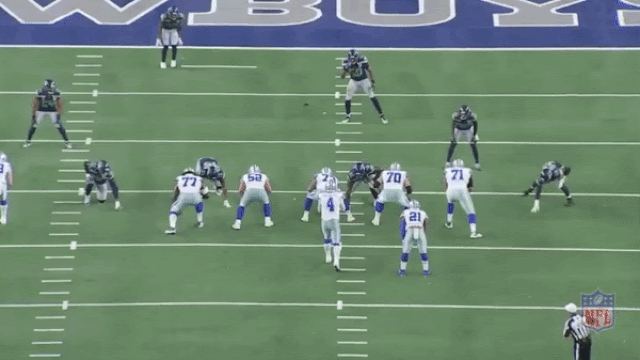 Dak has a position-high 21 rushing scores since entering the league in 2016. He notched a career-low 52 rush attempts in 2019, although the threat of him taking off near the goal line still looms large. While most players in the front-seven hold a size advantage over Prescott, there aren't many safeties or corners that are capable of keeping No. 4 from falling forward when he feels like it.
Jackson broke an absurd 42 tackles during his 2019 campaign, easily breaking 2015 Tyrod Taylor's (26) best single-season mark at the position over the past decade. Of course, this is thanks in large part to a never before seen workload; Jackson has set the NFL record for carries by a QB in back-to-back seasons.
Still, it's clear Jackson is a special runner regardless of volume. His average of 3.3 yards after contact per attempt was tied for ninth among all players with at least 100 rush attempts. Nobody converted a higher percentage of their rush attempts into first downs or scores.
Jackson's average of 61 rush yards per game is well ahead of second-place Mike Vick (43) on the all-time leaderboard for QBs, but he's actually gone for 81.6 yards per game on the ground if we only include his starts. That mark has only been topped by Ezekiel Elliott, Josh Jacobs, Derrick Henry and Chris Carson over the past two seasons.
The Ravens' franchise QB racked up a dizzying number of highlight-reel runs during his 2019 MVP campaign. It wouldn't be surprising to see Jackson rely less on his legs as his career moves forward, although it'll be awhile before defensive coordinators are able to get a good night's sleep before a date with the Ravens' dual-threat talent.
Honorable mention:
Jacoby Brissett (0.2) low key racked up a number of pretty off-script plays in 2019; he's the main reason why the Colts ranked second in PFF's backup QB rankings. … Josh Allen (0.18) is actually first in broken tackles per touch over the past two seasons among 140 players with at least 100 combined rushes and receptions. … Mitchell Trubisky (0.15) is anyone's idea of a threat on the ground, although his average of 3.2 rushes per game in 2019 was below what we saw in 2017 (3.4) and 2018 (4.9). … Daniel Jones (0.14) might have had a league-high 18 fumbles, but he generally was plenty effective with the ball in his hands as a rusher throughout his rookie campaign. … Carson Wentz (0.11) averaged a healthy 14 rush yards per game in 2019 and remains one of the league's better signal-callers at creating something out of nothing; he would have led the Dolphins in rushing last season.. … Sam Darnold, Derek Carr and Kirk Cousins were the only qualified QBs who didn't break a single tackle in 2019.
Running back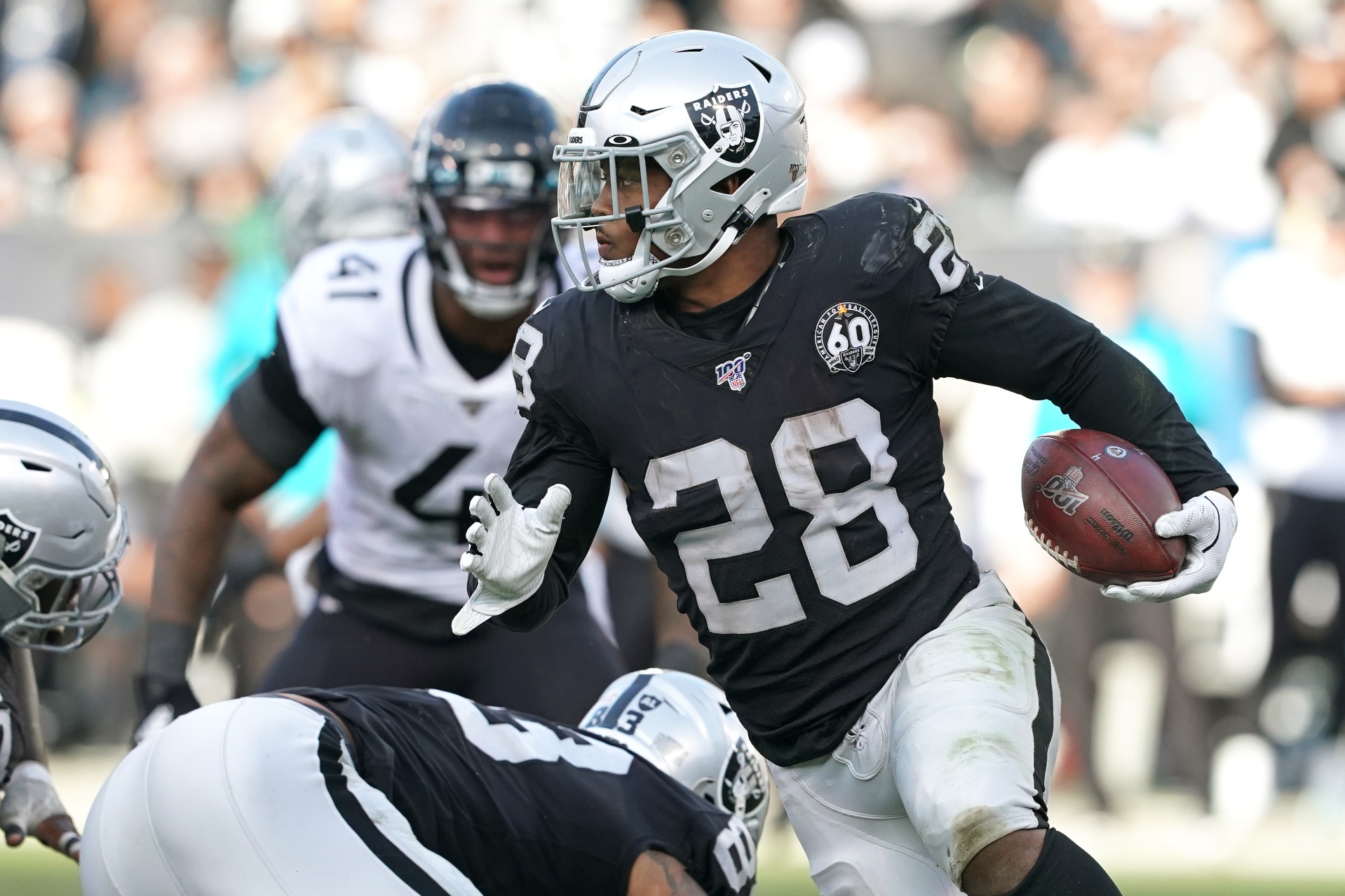 Few players were better than Jacobs in 2019 when it came to running the ball.
Elusive rating: 103.6 (No. 2 among 61 qualified RBs)

Broken tackles: 78 (No. 2)

Yards after contact per attempt: 3.48 (No. 8)

15-plus yard runs: 16 (No. 3)
The reality that Jacobs accomplished this while playing through a fractured shoulder makes his rookie campaign all the more impressive. He truly deserves to be in any conversation surrounding the league's top-five RBs with the ball in their hands.
Of course, Jacobs' fantasy value would be much higher if the Raiders weren't so hell bent on not throwing him the ball. Overall, Jacobs (27 targets) finished well behind *both* Jalen Richard (43) and DeAndre Washington (41) in Derek Carr's pecking order last season. Here's to hoping coach Jon Gruden and company do a better job unleashing their stud RB in space in 2020 and beyond.
Duke ranked third in yards per touch and fourth in yards after contact per attempt among 51 RBs with triple-digit touches last season. He's a baller.
Duke Johnson is your favorite running back's favorite running back pic.twitter.com/5eIy3ET1UP

— Ian Hartitz (@Ihartitz) June 16, 2020
Only Nick Chubb, Derrick Henry and Josh Jacobs have averaged more yards after contact per attempt than Duke over the past three seasons. Only Jacobs and Kareem Hunt have averaged more forced miss tackles per attempt.
Unfortunately, even an injury to David Johnson would likely lead the Texans to sign a veteran early-down grinder. Note that Duke has never missed a game since entering the league in 2015.
I truly believe Duke is better than David at this point in their respective careers:
David Johnson career stats: 4.0 yards per carry, 7.2 yards per target, 5.4 yards per touch, 28 years old, 36th-percentile BMI
Duke Johnson: 4.4 yards per carry, 7.1 yards per target, 6.5 yards per touch, 26 years old, 59th-percentile BMI
Of course, Duke wasn't acquired in a deal featuring one of the biggest stars in franchise history. 
Even an injury to David wouldn't necessarily result in Duke obtaining a workhorse role, which is truly a shame considering The U's all-time leading rusher has done nothing but ball out with limited opportunities during his five-year career.
Honorable mention:
Tony Pollard (0.26) racked up enough dope runs to cause a not-insignificant number of Cowboys fans and fantasy analysts alike to wonder if the offense would be better off if Ezekiel Elliott and Pollard switched roles. … Damien Williams (0.25) balled out whenever healthy last season; best wishes to great health for the Williams family in 2020. … Nick Chubb (0.24) truly has a case as the league's single-best RB, although the presence of Kareem Hunt caps his potential sky-high fantasy ceiling. … Chris Carson (0.24) was largely unstoppable in 2019 when he managed to hold onto the ball; we'll see if Carlos Hyde, Rashaad Penny and/or DeeJay Dallas can supplant him from the top of the Seahawks' depth chart in 2020. … Austin Ekeler (0.23) is best known for his receiving abilities, but the absolutely jacked stud RB also ranks among the league's best backs in terms of pure tackle-breaking ability. … Devin Singletary (0.23) doesn't have the easiest path to high-end fantasy success with Zack Moss stealing early-down work and Josh Allen serving as a vulture near the goal line, but the rising second-year back certainly possesses a complete enough skill-set to function as a true every-down back. … Alvin Kamara (0.22) remained one of the league's most-efficient tackle-breaking talents despite playing through an ankle injury for most of last season. … James Conner (0.22) couldn't stay healthy down the stretch in 2019, but his ability to largely dominate during the first half of the season was impressive considering the offense's dire circumstances under center. … David Montgomery (0.21) didn't manage to rack up many big plays; his porous rookie season is still probably being exaggerated a bit too much. … Raheem Mostert (0.21) certainly benefited from coach Kyle Shanahan's consistently superb rushing schemes, although he deserves plenty of credit for functioning as an efficient tackle-breaking talent in his own right. … Ronald Jones (0.2) had more than a few solid runs in 2019 and is in the driver's seat as Tampa Bay's projected lead back entering 2020. … Dalvin Cook (0.2) possesses truly elite shiftiness and likely would've ranked higher on this list if not for late-season injuries. … David Johnson (0.08), Frank Gore (0.1), Jaylen Samuels (0.11), LeSean McCoy (0.11) and Tevin Coleman (0.11) were the league's least-efficient backs in terms of breaking tackles in 2019.
Wide receiver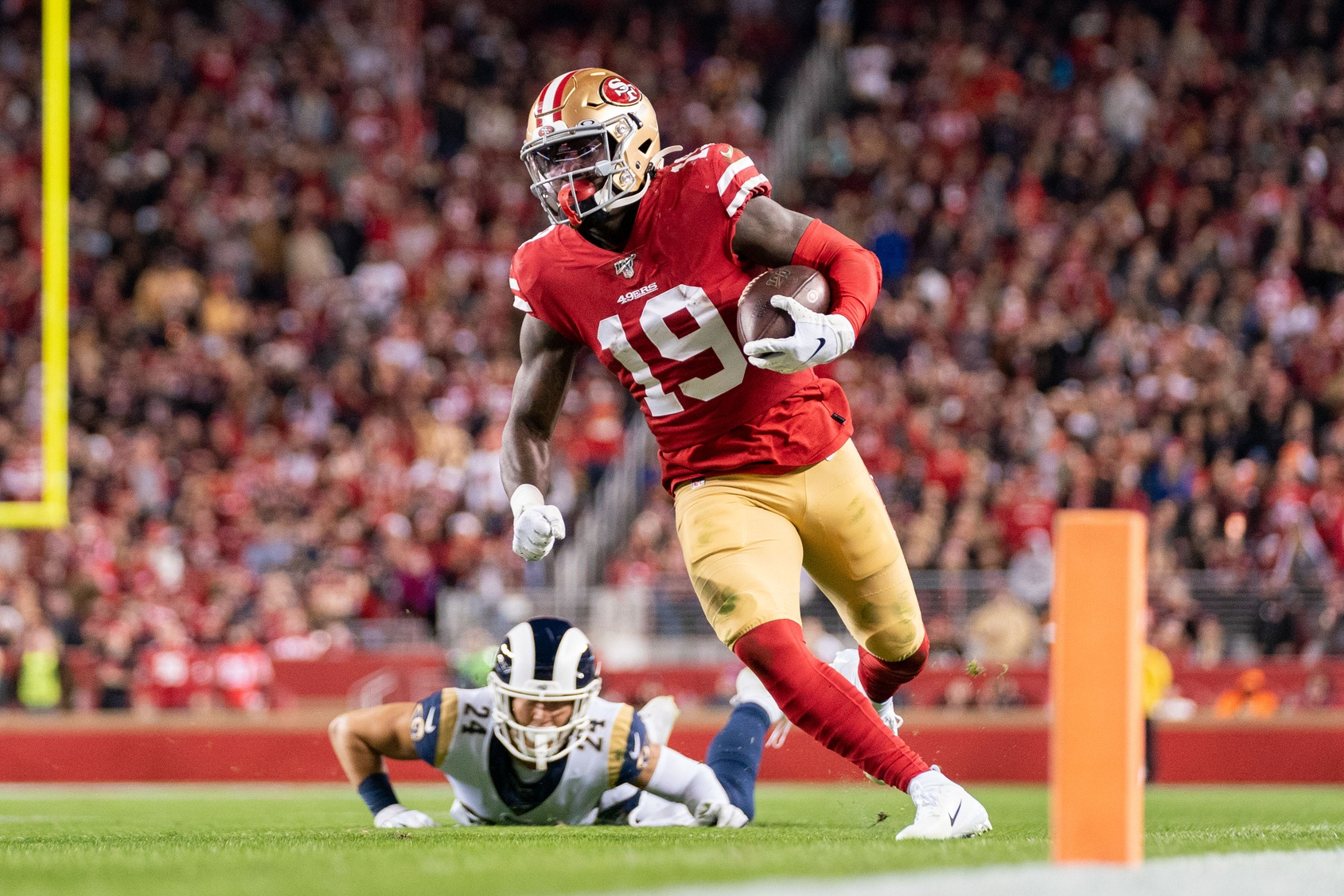 Samuel is expected to miss at least the first month of the season recovering from foot surgery. Only A.J. Brown (8.8) averaged more yards after the catch per reception than Samuel (8.5) in 2019. His 25 broken tackles in 2019 trailed only Lamar Jackson (42) among all non-running backs.
It's truly a shame that Samuel will almost assuredly enter the 2020 season at far less than 100% after undergoing surgery for a Jones fracture in his left foot back in July. The 2019 second-round pick was utilized as a true hybrid talent as a rookie, regularly making defenses pay both as a receiver and as a rusher.
Like Mostert, Samuel obviously benefits from Shanahan's play-calling wizardry. Also like Mostert, Samuel proved to be a high-end talent in his own right with the ball in his hands. Hopefully a speedy recovery leads to plenty more YAC-goodness in 2020.
The Steelers' projected No. 2 WR has a smoothness to his game that is tough to quantify. Johnson combines route-running goodness with sure hands and special tackle-breaking ability; there's a reason why he's one of the industry's worst-kept secrets in terms of mid-round WRs to prioritize in fantasy drafts of all shapes and sizes.
Watching Diontae Johnson play football is one of my favorite pastimespic.twitter.com/fqCudIfds3

— Ian Hartitz (@Ihartitz) July 3, 2020
Johnson looked like the best WR on the Steelers last season, and *both* JuJu Smith-Schuster and Antonio Brown had more than 160 targets with Big Ben under center in 2018. The massive offseason hype train is warranted for a player of Johnson's talents and potential for outrageous volume.
Honorable mention:
A.J. Brown (0.31) is especially unique in this metric considering he made his living well past the line of scrimmage and didn't simply benefit from a surplus of screens and YAC-friendly plays. … Courtland Sutton (0.23) is a grown-ass man — 6-foot-3, 218 pounds and absolutely fire ability to out-muscle defensive backs of all shapes and sizes. … Chris Godwin (0.21) might not see as much slot work in 2019 due to the presence of Rob Gronkowski, but there's more than enough evidence at this point to anoint him as a special talent at the position, regardless of where he typically lines up before the snap. … Sammy Watkins (0.19) looked like an absolute world-beater in Week 1 and flashed throughout the playoffs (again). … D.K. Metcalf (0.18) makes up for his well-publicized lack of agility with pure beastliness. … Jarvis Landry (0.18) has routinely been one of the NFL's best receivers with the ball in his hands since entering the league in 2014. … Randall Cobb (0.17) had an underrated 2019 season with the Cowboys and is primed to see plenty of opportunity in 2020 after the Texans acquired his services for $18 million guaranteed. … Russell Gage (0.17) is perhaps going under the radar as the incumbent No. 3 WR inside of the Falcons' pass-happy offense. … D.J. Moore (0.16) was even better after the catch as a rookie and finds himself with a perfectly tailored QB to his talents in Teddy Bridgewater. … D.J. Chark (0.16) looked the part of a true alpha No. 1 WR in 2020 and seems capable of dominating in all facets of the game. … Cole Beasley (0.04), Anthony Miller (0.03), Mike Evans (0.02) and Tyler Lockett (0.02) were the league's least-efficient receivers in terms of breaking tackles in 2019.
Tight end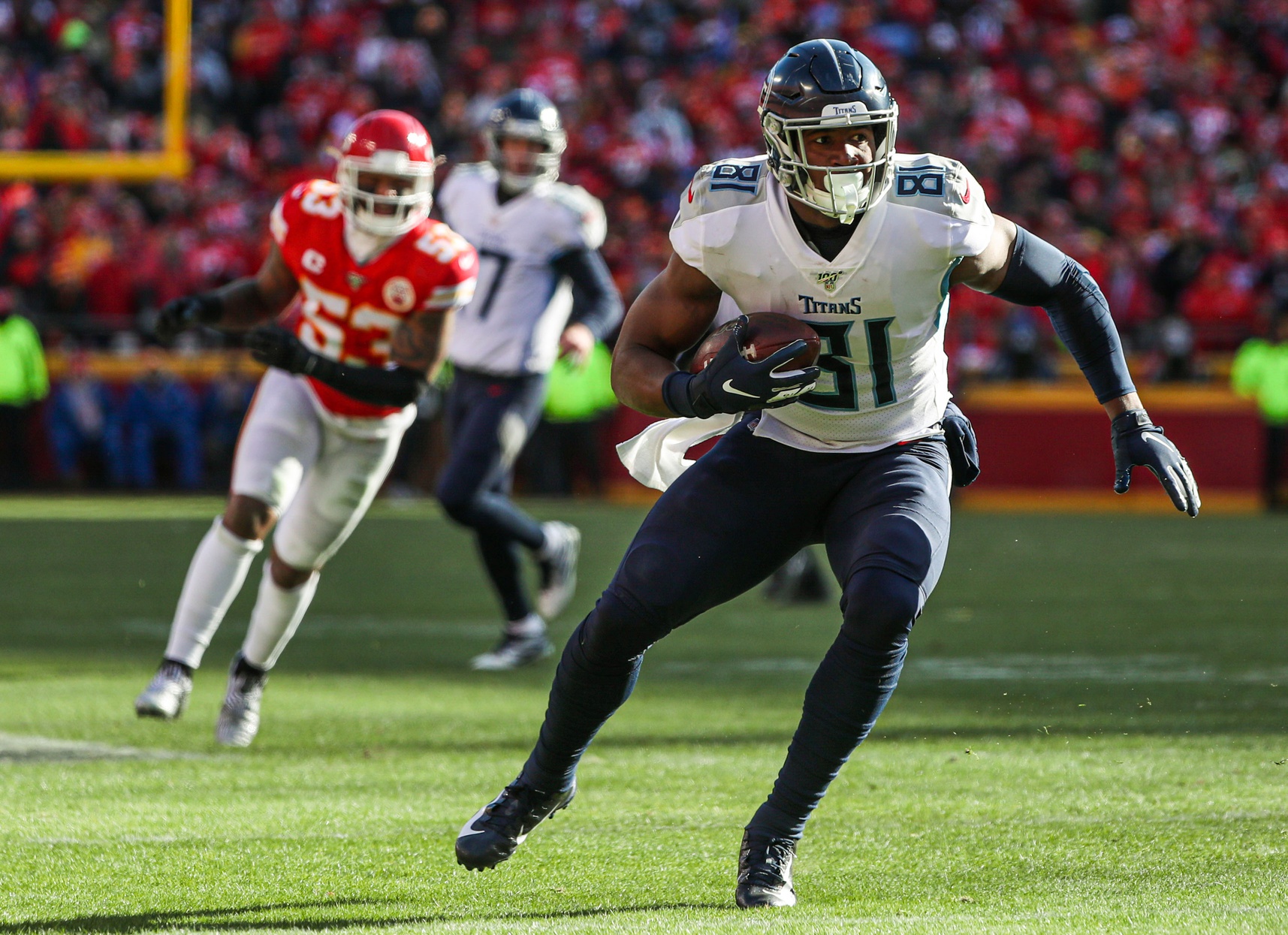 Jonnu Smith finished 2019 ranked among the league's top-eight TEs in yards per target (No. 2), yards per route run (No. 8) and yards after the catch per reception (No. 2). The problem is 1) Anthony Firkser steals snaps and targets alike, and 2) Smith is this run-first offense's No. 3 (at best) pass-game option.
Hopefully the Titans prioritize scheming the ball to Smith at least a handful of times per game. The talent here is truly outrageous.
Get Jonnu Smith 3 carries per game @Titans pic.twitter.com/MRtV504dqb

— Ian Hartitz (@Ihartitz) July 31, 2020
The Titans boast three of the league's more-beastly talents in Derrick Henry, AJB and Smith. Their YAC numbers have been called unsustainable by some, but it's clear at this point that each of these big-bodied speedsters are a handful for any defender to get to the ground. Overall, only George Kittle has averaged more yards after the catch per reception than Smith at the position since 2010.
Everett was the Rams' lead pass-game TE for the first half of 2019, hanging productive performances on the Buccaneers (5-44-1), Seahawks (7-136-0), Falcons (4-50-1) and Steelers (8-68-0) alike. Unfortunately, a knee injury would keep him out of Weeks 13-15 and limit him to just four offensive snaps during the last two games of the season.
The Rams' rising fourth-year TE has earned Jordan Reed comparisons for a reason; there aren't many linebackers or safeties capable of dealing with his combination of size (6-foot-3 and 239 pounds) and speed (4.62-second 40-yard dash).
Everett shouldn't be considered the favorite to lead the Rams' TE room in targets next season, but the disparity in average draft position between himself and Tyler Higbee is largely unwarranted considering 1) The injury-fueled circumstances of Higbee's breakout, and 2) Everett's own history of largely being a baller.
Honorable mention:
George Kittle (0.24) is my pick as the league's best overall TE; nobody has averaged more YAC per reception at the position over the past decade. … Jordan Akins (0.22) is the reason why Darren Fells isn't a more-popular TE option in Houston; they're both nothing more than TD-dependent options as long as they continue to eat into each other's targets and snaps alike. … Dawson Knox (0.21) is in a crowded passing game and struggled with drops as a rookie, but the 2019 third-round pick flashed repeatedly throughout the season as both a receiver and blocker. … Taysom Hill (0.17) was arguably the best offensive player on the Saints during their Wild Card loss to the Vikings. … Travis Kelce (0.16) is just 144 days younger than Rob Gronkowski, although it's clear the Chiefs' long-time TE1 still has plenty of gas left in the tank. … Noah Fant (0.14) showed true high-end ability for stretches as a rookie, which is particularly impressive considering the position's history of turning in subpar Year-1 campaigns. … Dallas Goedert (0.14) is an injury to Zach Ertz away from being a consensus top-five fantasy option at the position. … Jason Witten, Hunter Henry, Mike Gesicki and Tyler Eifert were the league's only qualified TEs to not record a single forced missed tackle in 2019.