Full point-per-reception scoring in fantasy football just doesn't make sense to me. Yes, certain catches deserve a round of applause and truly require plenty of talent (cc: Auden Tate). Also yes, Deebo Samuel gets the equivalent to 10 rushing or receiving yards by being on the other end of one of Jimmy Garoppolo's patented six-inch pop passes.
Alas, plenty of fantasy football leagues around the world continue to reward a full fantasy point per reception. I'm not a fan, but it is what it is: Like any other rule we don't like in life, sometimes the best way of past its constraints is by exploiting the entire system.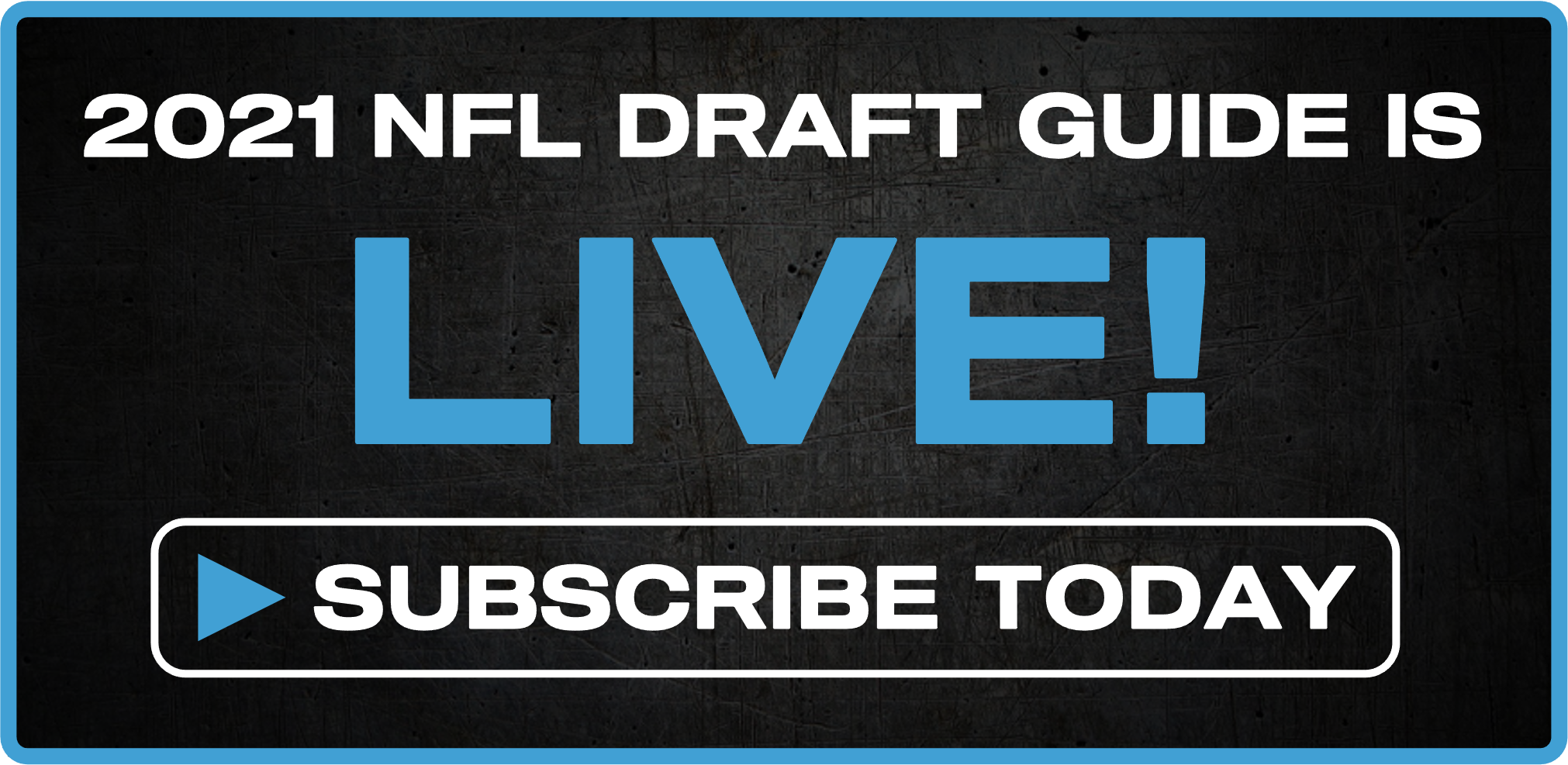 Enter: receiving running backs. Much like Travis Kelce has done at tight end, No. 1 pass-game options that happen to be their team's starting RB have largely taken over fantasy football in recent seasons. Christian McCaffrey and Alvin Kamara have been at the forefront of this movement, and they just so happen to rank first and second in PPR points per game among all RBs in NFL history (minimum 50 games).
Some monsters like Derrick Henry continue to get by just fine without much of a role in their offense's passing attack, but make no mistake about it: Targets are objectively good for fantasy business. We won't know for sure how large of a role each rookie will be looking at until the draft concludes, although identifying which incoming RBs have at least shown the ability to operate as an above-average receiver will be useful when projecting who might be flying under the radar in fantasy land.
What follows is a breakdown on the projected receiving ability of PFF's top-10 incoming rookie RBs. The list comes from the PFF 2021 NFL Draft Big Board and is meant to include the likeliest backs to be drafted inside of the top three rounds. Draft capital isn't everything; just realize Roy Helu, Zac Stacy, Jordan Howard, Alfred Morris, Phillip Lindsay and James Robinson are the only rookies to finish inside the position's top 24 PPR performers in their debut campaigns since 2010.
Etienne set career-best marks as a receiver as a senior, catching 48 balls for 588 yards and a pair of scores. No FBS RB had a higher PFF receiving grade (90.9). Fifty percent of his receiving yards came on designed screens, while he also led all draft-eligible backs in receiving yards when lined up in the slot or out wide. Clemson managed to get him involved in all facets of their passing game with great success in 2020.
Dealing with Etienne in the open field is a problem for any mere mortal; the 22-year-old talent is capable of turning a short dump off into an explosive play in a hurry. His drop rate, yards per route run and average target depth improved in each of his final three collegiate seasons; don't be surprised if we see him flirt with 50-plus catches as a rookie if entrusted with a workhorse role from Day 1.
Conclusion: Ready to ball in all facets of the game
Owner of PFF's single most elusive season ever at the college level, Williams racked up an asinine 76 broken tackles on only 157 attempts as a junior. The 5-foot-10 and 220-pound talent posted an outrageous 95.9 rushing grade and proved to be a living nightmare for just about every defense he came up against (with the exception of Notre Dame).
Get Javonte Williams on the Steelers and ask questions laterpic.twitter.com/dKl4gOOFpC

— Ian Hartitz (@Ihartitz) April 8, 2021
However, projecting Williams as a true three-down back at the next level requires a bit of a leap of faith. He dropped three passes on 27 catchable targets in 2020 and didn't come off as the smoothest catcher in the world. Most of Williams' bigger plays as a receiver were aided by a prolonged scramble that led to broken coverage; we shouldn't expect him to warrant true receiver usage in the slot or on the outside anytime soon.
At the moment I'm content to treat Williams as a Jonathan Taylor-esque receiving back: not bad and plenty capable of catching the majority of targets thrown his way, but also not someone we should expect to earn a ton of extra pass-game work on a team with other capable backs.
Conclusion: Seemingly capable three-down back, just might not earn a ton of receiving usage on roster with incumbent scatback talent
On the one hand, Harris doesn't have the sort of long speed to threaten defenses downfield or too severely after the catch. On the other hand, it's tough to name a back in this class with better ball skills, and nobody in the country forced more total broken tackles last season.
Perhaps NFL-level competition will have a better handle for how to deal with Harris in space; it's clear most of the SEC failed in this regard throughout the 2020 season.
Harris dropped just three of 83 catchable passes over his career and has the least amount of questions of any back in this class when it comes to being ready for a true workhorse role. At 6-foot-2 and 230 pounds with as good of hands as any RB in this class, Harris is my pre-draft rookie RB1.
Conclusion: Providing this walking, talking bell-cow back with fewer than 60 targets a season would be a disservice to America.
Carter split time with Javonte Williams and emerged as the more efficient rusher and receiver alike. The opportunity for a workhorse role at the next level might be a stretch for the 5-foot-8 and 199-pound back, but Carter is dynamic enough with the ball in his hands to at worst warrant a committee role somewhere. Some of the jump cuts this man put on film last season were truly remarkable.
It'd make sense for Carter's next employer to tap into his receiving ability a bit more than the Tar Heels did. Credit to Carter for catching at least 20 passes in each of the past three seasons, but it would sure be fun to see him with more opportunities in space. He made more than a few plays down the field and looks the part of an instinctually sound pass-catcher.
Conclusion: Limited size isn't ideal, but Carter is certainly a threat to make the most out of however many opportunities are handed, or thrown, his way.
There's little doubt that Herbert is capable of ripping off big plays; his 19 carries of 15-plus yards was the sixth-highest mark in 2020. Herbert also averaged a ridiculous 4.7 yards after contact per attempt, regularly proving to be a handful for would-be tacklers thanks in large part to his 5-foot-9 and 212-pound bowling ball-esque frame.
The main problem: Herbert never caught more than 10 passes in a season during his five (!!!) year career. Credit to the 23-year-old back for only dropping two of his 54 career targets, but we don't really know if he's capable of doing more than catching the occasional screen yet. Overall, eight of Herbert's 10 receptions in 2020, as well as 158 of his 179 yards, came via the screen.
Conclusion: Not enough evidence to paint him as a good or bad receiver; at least we know the man can make plays with the ball in his hands.
Best of the rest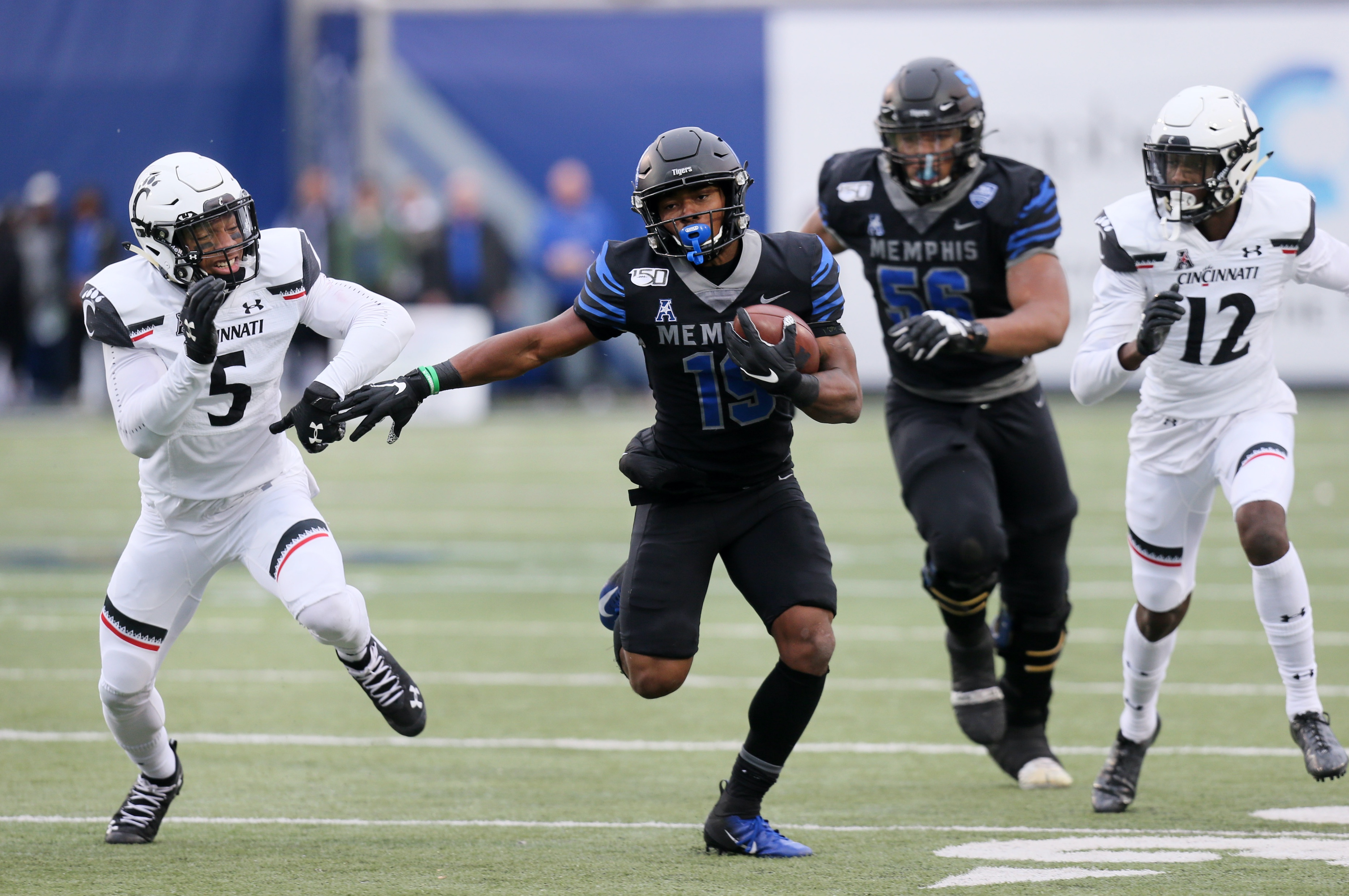 Memphis RB Kenneth Gainwell: Arguably the best pure receiving talent in this class, Gainwell is Memphis'  latest freakish RB/WR hybrid capable of causing problems at all three levels of the field. Size is a problem at 5-foot-11 and 195 pounds, but Gainwell's 51-610-3 receiving line in 2019 reflects the sort of ability he brings in the passing game. Overall, Gainwell caught 23 of 27 targets for 292 yards and a score when lined up in the slot or out wide: He can win from the backfield, slot and out wide alike. We could be looking at a more explosive (and fun) version of J.D. McKissic if Gainwell lands in an offense willing to really tap into his dual-threat talents.
UCLA RB Demetric Felton: Literally a former slot receiver, he switched full time to RB in 2020 and had three games with at least 25 carries. Felton is another smaller-statured (5-foot-10 and 200-pound) RB that nonetheless possesses theoretical three-down ability with a willing coaching staff. At the Senior Bowl, Felton worked with the wide receivers and didn't look out of place by any stretch of the imagination. Here's to hoping the NFL continues to do a better job getting the most out of hybrid talents like Felton in all facets of the game.
Michigan RB Chris Evans: A career 49-479-2 line through the air is more impressive when you remember the Wolverines hardly offer a receiving-friendly offense for their backs. The size is there at 5-foot-11 and 216 pounds, although the soon-to-be 24-year-old talent didn't exactly get better throughout his collegiate career. Credit to Evans for turning heads at the Senior Bowl with his receiving ability; the former four-star recruit has always been thought of as a three-down stud — it just remains to be seen if he'll be afforded the opportunity to round out his game.
Oklahoma State RB Chuba Hubbard: Seven fumbles over his final two seasons were hardly ideal. Hubbard also didn't exactly turn heads as a receiver, limping to an 8-52-1 line as a junior after catching at least 20 balls in both 2018 and 2019. Hubbard isn't small at 6-feet and 208 pounds and racked up 473 receiving yards during his three-year career; just realize 634 of those yards came after the catch, and we shouldn't expect NFL teams to line up to feed him pass-game opportunities.
Ohio State RB Trey Sermon: His relatively modest 48-486-3 receiving line with the Sooners and Buckeyes doesn't jump off the page, but Sermon does deserve credit for dropping just a single pass over the final three years of his career. Neither of his teams made a habit of designing passing plays to go his way, although getting Sermon more future opportunities in the open field sure seems like a good idea even if it's unlikely we see any NFL team go out of their way to force feed him targets.