Obviously, a lot happens each week in the NFL. Less obviously, some of it means a lot for fantasy football and some doesn't. Each week in this space, I'm running through the key lessons from each game.
This is what we learned in the Week 7 games.
Don't worry about Tyreek … much
Obviously, Patrick Mahomes' absence hurts the Chiefs as long as he's out. But as was noted in our immediate reaction to the injury Friday, that's likely to matter more for the Chiefs' secondary weapons than it is for the top names like Tyreek Hill and Travis Kelce. The touchdown Matt Moore threw in Mahomes' relief was a 57-yarder to Hill, which is always an arrow in his quiver.
Sutton is the clear No. 1
As long as Emmanuel Sanders is on the Broncos (which, to be fair, might not be that much longer), Courtland Sutton isn't going to be the runaway No. 1 target on the team, but he is the clear-cut top dog in Denver. He's out-targeted Sanders five times in seven weeks, including each of the last three. Sutton is a fantasy starter.
Everett is a bona fide fantasy name
The Rams had a weird game Sunday, scoring 37 points but getting no touchdowns from a wide receiver and their only rushing touchdown coming from Jared Goff. So I'm hesitant to draw huge conclusions from any of those groups. What we can say, though, is that Gerald Everett is a real name to watch. Sunday was Everett's third 15-point fantasy day in the last four weeks. He doesn't offer a monster weekly ceiling, but what he is doing is more than enough at tight end.
Panic time in Atlanta
The Falcons are one of the league's worst teams, surprisingly enough. And more frustrating is that the team's offense has been fantasy-relevant even as the team at large has stunk, but even that vanished Sunday. Julio Jones was the only player to surpass 50 yards; Austin Hooper was the only one to get a touchdown. Worst, Matt Ryan got hurt late in the game. If he's out in Week 8 and beyond, Jones and Hooper might be the only names on this roster worth any real look.
Hold tight on Singletary
This week was a disappointment for the rookie Devin Singletary, who returned from injury after having been out since Week 2. He had been fairly electric in his first two games, gaining double-digit yards on seven of his 10 carries. But he didn't have any carries that long Sunday (though he did take one for 9 yards). Still, Frank Gore hasn't exactly been lighting the world on fire so far. Expect better days for Devin Singletary.
Walton time, Part 2?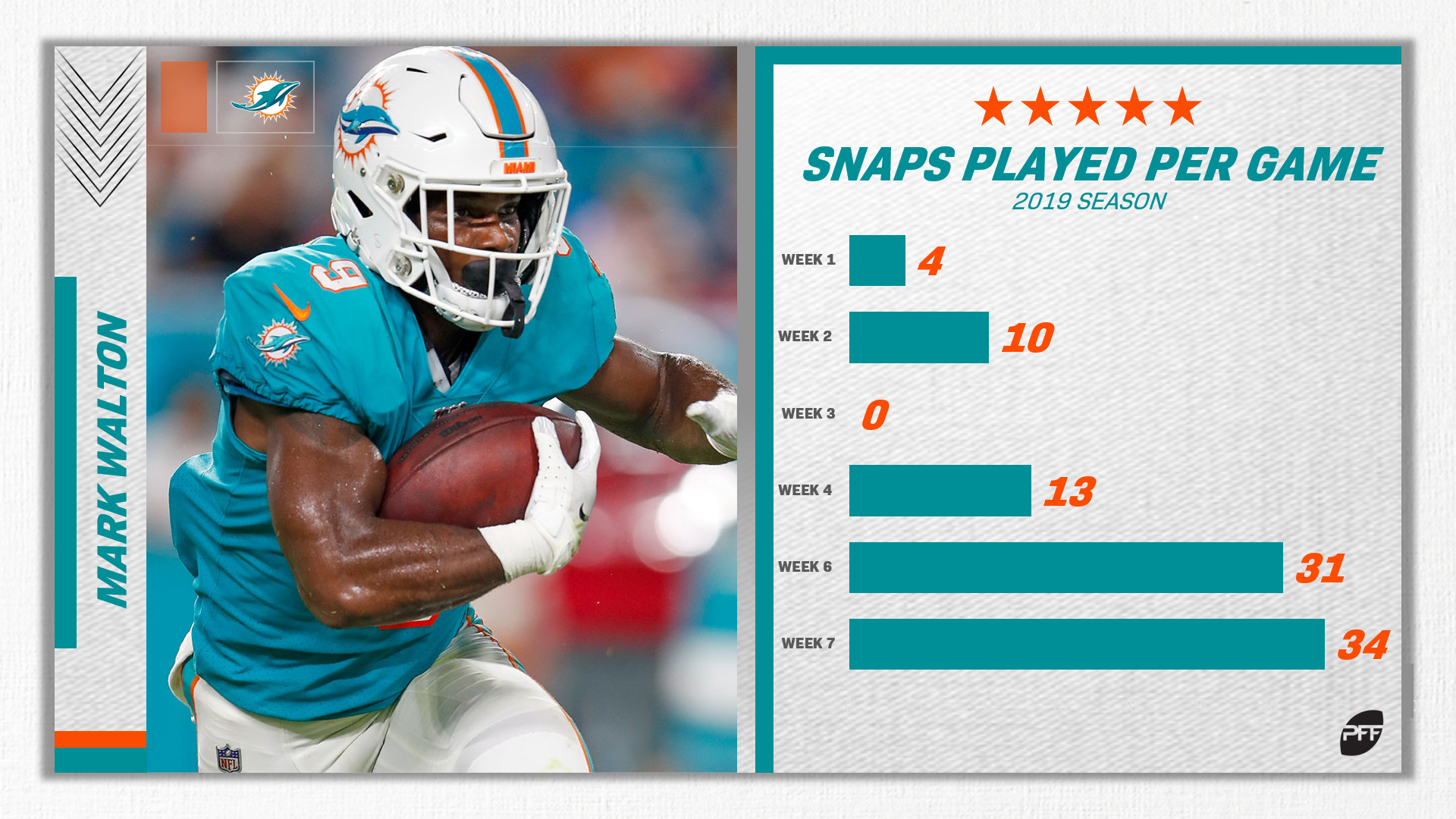 A week ago in this space, I noted that it looked like Mark Walton had surpassed Kalen Ballage for the Dolphins' No. 2 role. Well this week, Walton played ahead of Kenyan Drake as well. Some of that is doubtless the Dolphins looking to make sure Drake stays healthy ahead of a possible trade, but that doesn't matter to our fantasy teams. There's never going to be much upside in Miami, but a starter is a starter, and Walton is at least worth a look on the wire.
1 and 1A at receiver?
D.J. Chark has outgained Dede Westbrook in four of seven weeks and out-targeted him in three of seven. Obviously, that means Wesbtrook has outgained Chark three times and out-targeted him four. That includes Westbrook besting Chark in both categories each of the last two weeks (including 6-of-8 receiving for 103 yards Sunday), and it tells us this is an offense with two receivers to know for fantasy.
Um, Andy?
Take out a few minutes in the fourth quarter, and Andy Dalton's day wasn't actually very bad. He would have had 276 yards and a touchdown passing, and 33 rushing yards with a score on the ground. But those few minutes in the fourth quarter included three interceptions in a span of five plays, including one returned for a touchdown. Dalton rivals only Jameis Winston for title of Snowballiest Quarterback, and we saw that in a big way Sunday. It's always lurking, just beneath the surface.
Okay, Kirk, we believe you
Kirk Cousins was almost complete off the fantasy radar three, even four weeks onto the season. After Week 4, he was averaging 183.8 passing yards per game with a 3:2 TD:INT ratio in four games. In the three weeks since, he's had more than 300 passing yards in each game (325.3 per) with a 10:1 TD:INT ratio. The real Cousins is certainly somewhere between those, obviously, but that upside makes him genuinely fantasy relevant again.
Don't bail on Golladay
Things happen, folks. Kenny Golladay is still comfortably the No. 1 receiver in Detroit, even if Danny Amendola (8 catches for 105 yards) and Marvin Jones (10 for 93 and 4 touchdowns) had much bigger games than Golladay's 1-catch, 21-yard outing.
Rodgers still has it in him
Please don't go back and read my advice for Week 7. It went very poorly. In it? I advised against Aaron Rodgers on the basis of his low ceiling for the last year-plus. It had been more than 365 days since his last game with three passing touchdowns, and he'd only put up 20-plus PPR points four times in that year. He was without Davante Adams and his secondary targets were banged up. So of course, Rodgers throws for 429 yards and 5 touchdowns and adds a rushing score for good measure. Just to twist the knife. He's more inconsistent than he used to be, but not many players offer the ceiling Rodgers does.
The answer to 'which receiver you want' is 'no'
Zay Jones was a healthy scratch in what could have been his Raiders debut. Tyrell Williams doesn't sound like he's getting any closer to playing. Marcell Ateman had his first 36 yards of the year. Keelan Doss' 54 yards brought his season total to 79. Darren Waller had another monster game (126 yards and his first two scores) and Foster Moreau scored again, but on the receiver end, it's hands off unless and until Williams gets back.
All that glitters is not Gould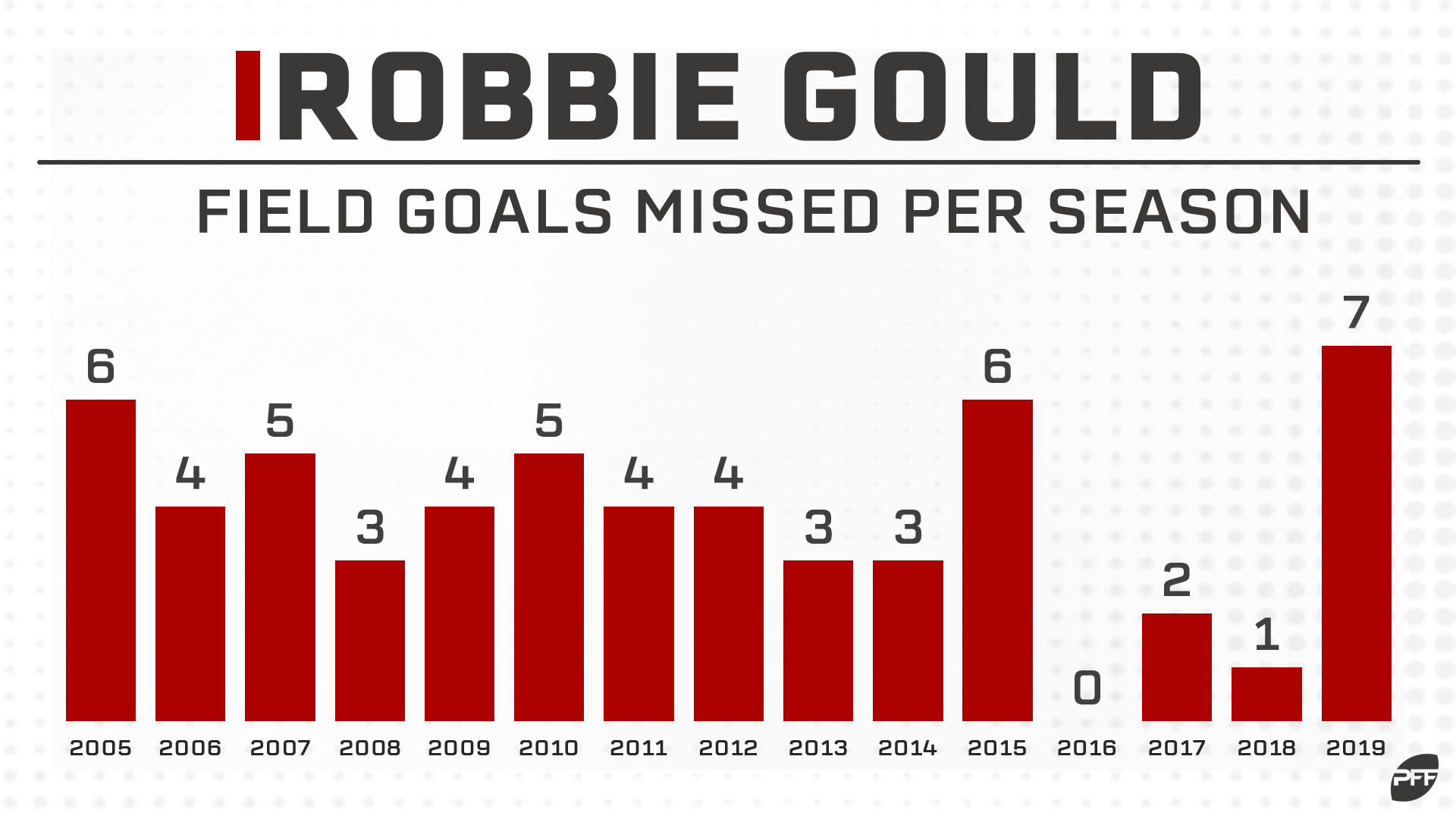 Excuse that awful pun, but it's time to talk a little about Robbie Gould's season so far. He's in his 15th year in the league. His worst single-season field-goal percentage before this year was in 2014, when he attempted only 12 field goals and went 75%. This year, after missing a kick Sunday, he's at 63.2%. He's missed seven field goals this year, already a career-high. Gould is getting plenty of opportunity, so he's still valuable for fantasy, but those numbers could start to get really frustrating.
Not that we expected much, but…
In Gould's defense, and in defense of the entire Washington and San Francisco offenses, this game Sunday was played in atrocious conditions, with rain and wind making it difficult for anyone to get much going (just check out that miserable final score). Adrian Peterson had 81 rushing yards (but fumbled), while nobody else on Washington topped 41 from scrimmage. Case Keenum managed just 77 yards passing, the second straight quarterback San Francisco has held under 100. But just write this one up to Mother Nature.
Brissett is for real
Sunday's performance (326 passing yards, 4 touchdowns) was the best of the season for Jacoby Brissett, but not by that much. He now has multiple passing touchdowns in five of six games to go with only three interceptions. He's not Andrew Luck, but Brissett is a low-end QB1 or high-end QB2 until further notice.
Welcome back, Nuk
Who knows how the Texans' offense would have gone if Will Fuller had stayed healthy Sunday, but as it was, he left after one 6-yard catch. In his absence, DeAndre Hopkins put up a line of 9-106-1 and Kenny Stills was 4-105. Keke Coutee only had 3 catches for 25 yards, but he did at a 4-yard touchdown run. Hopkins is the headliner — he's still as good as ever — but if Fuller misses any time, all of these guys warrant consideration.
Thanks a lot, Cardinals
David Johnson was active Sunday, but only as a break-glass-in-case-of-emergency option. The problem? Fantasy managers didn't really know that, so when Johnson had only a single 2-yard carry in the game, while his replacement Chase Edmonds had just an incredible game, running the ball 27 times for 126 yards and a whopping 3 touchdowns and adding 2 receptions for 24 yards, the impact was largely frustration. Johnson is going to get Wally Pipped, but if Johnson misses more time — and we know about it in advance, sheesh — Edmonds is an easy RB1.
Now you can worry a bit about Danny Dimes
Daniel Jones had his monster first start before seeing his production generally drop off after that. But that happened while his opponents gradually got more difficult. Sunday, the opponent wasn't that difficult, and while Jones wasn't bad by any means — 223 yards, 1 touchdown, 1 interception, 35 rushing yards — he hasn't shown any flashes like he did at the beginning. He's not on the radar in single-QB leagues and he's only a low-end option in two-QB/superflex.
Big debut for Tannehill
Ryan Tannehill made his first start for the Titans Sunday, and it went well, with 312 yards on 23-of-29 passing, 2 touchdowns, and 1 interception. More importantly for fantasy, he appeared to unlock Corey Davis a bit, as he managed 80 yards and a score on 6 receptions. If that can continue, Davis can start to realize his potential. Stay tuned.
Ekeler ain't going anywhere
For whatever reason, the Chargers are determined to get Melvin Gordon going, as he had 16 carries Sunday compared to 5 for Austin Ekeler. Neither did much, as they combined for 1.9 yards per carry. But Ekeler had a monster receiving game, catching 7 passes for 118 yards and a score. Until we have a good reason not to, Ekeler needs to be ranked ahead of Gordon every week.
Wheels Jackson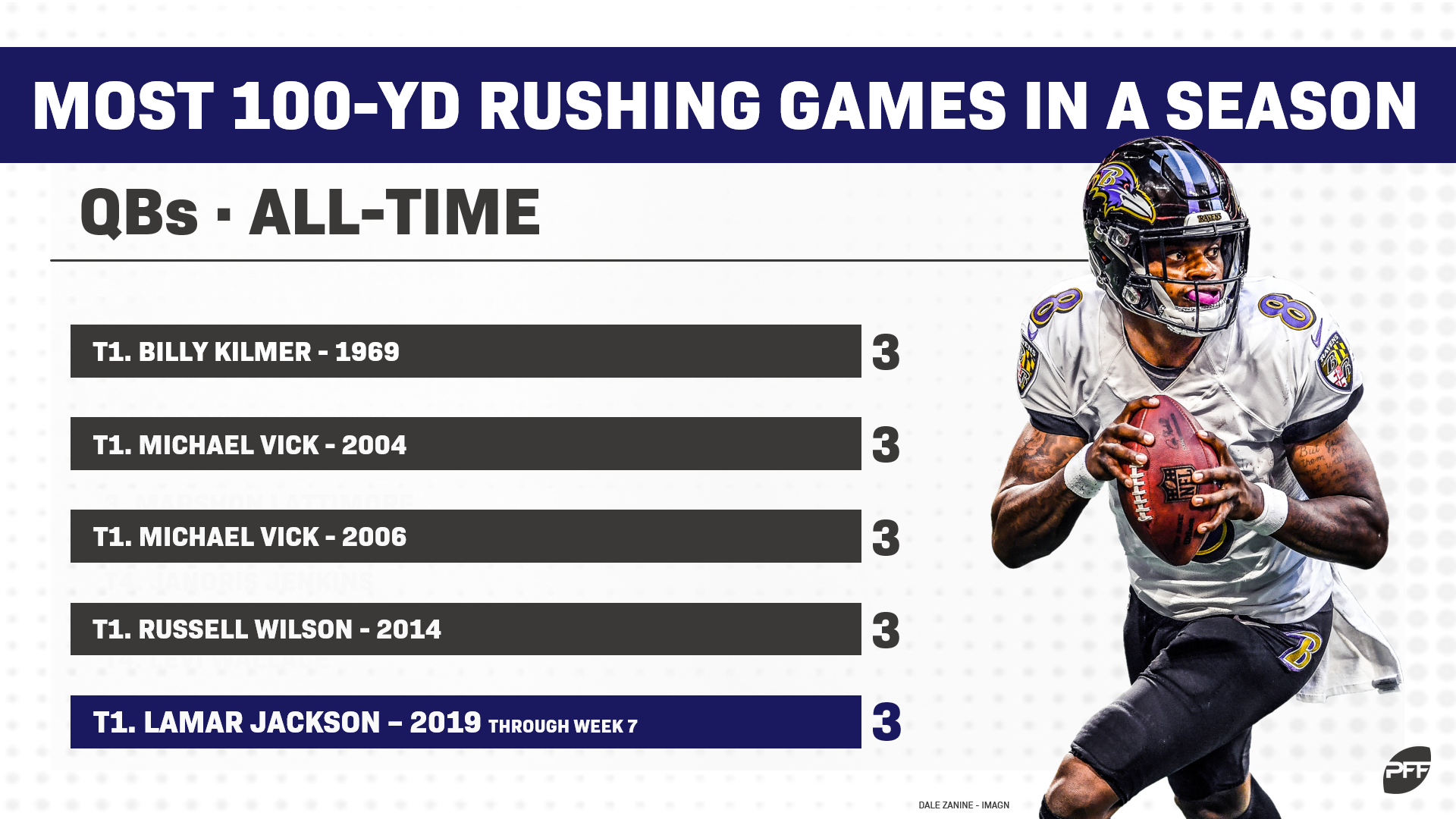 Sunday was Lamar Jackson's third 100-yard rushing game of the season. That already ties the all-time single-season record. Oh, and it's Week 7. So he only had 143 yards passing. For fantasy, we don't care.
One-score Lockett
Tyler Lockett has exactly one touchdown in four of seven games this year. He had exactly one touchdown in 10 of 16 games last year. He hasn't had a multi-score game since Week 14 of his rookie 2015 season. Adam Thielen (13), Antonio Brown (10), and Eric Ebron (10) are the only players with as many one-score games in the last two years as Lockett, and they all have multi-score games in that time. I don't actually think he has some multi-touchdown aversion, but he has had a distinct ceiling.
Murray is a top handcuff, in case that wasn't clear
We all figured Latavius Murray would be one of the game's top handcuffs when he signed with the Saints, but we hadn't seen it in action. Sunday, we did. Murray had 27 carries for 119 yards and a pair of scores on the ground and added 5 receptions for 31 more yards. He might not be Alvin Kamara, but whenever the big man's out, Murray's a clear must-play.
Robinson and nothing else
Allen Robinson had 10 catches Sunday for 87 yards and a score. Anthony Miller had 64 yards, if you want someone on the fringes of relevance. Other than that? Tarik Cohen's 29 scrimmage yards led the team. David Montgomery got 2 carries. Trey Burton got 2 receptions. This team does not offer much in the way of fantasy intrigue.
Cooper is a stud … but we knew that
Amari Cooper didn't score Sunday, but he did have 5 receptions for 106 yards. That's now 16 regular-season weeks since his Cowboys debut last year, and in that time he ranks 10th in targets, seventh in receptions, third in receiving yards, and second in receiving touchdowns. Even at less than 100%, Cooper is a surefire WR1, and closer to the top of the WR1s than the bottom.
Lower Eagles ceiling
Entering the year, Zach Ertz was a surefire TE1, Alshon Jeffery and DeSean Jackson were borderline fantasy starters, Dallas Goedert was an upside stash, and whichever running back emerged from this backfield was still worth a long look. Seven weeks in, Ertz is a lower-end TE1, Jeffery has only one game of more than 52 yards, and Jackson hasn't really played since Week 1. Goedert is still a stash, for what that's worth, and Jordan Howard has had flashes, but all in all, this offense isn't what we thought it would be, and we should be adjusting fantasy expectations accordingly.