That sound you heard Thursday night was a million fantasy football tears falling at once, as Kansas City Chiefs quarterback Patrick Mahomes was forced from the Chiefs 30-6 win over the Denver Broncos with what was later diagnosed as a dislocated right kneecap. Further testing will be necessary before we know the full extent of Mahomes' injury, but early indications are that he'll miss at least the next three weeks, with hopes that that will be the extent of it.
The Chiefs offense has already seen a bit of regression from the ridiculous heights of 2018, falling from a league-best 35.3 points per game to this year's third-best mark of 28.9. For however long Mahomes is out, we obviously have to downgrade the entire Chiefs offense, though if there is a coach in the league you'd trust to figure things out without his star quarterback, you'd expect it to be Andy Reid.
For the Chiefs' offensive weapons, this is troubling. The team has four pass-catchers (Travis Kelce, Sammy Watkins, Mecole Hardman, and Demarcus Robinson) all over 300 yards, and four (Watkins, Hardman, Robinson, and Tyreek Hill) with 3 touchdowns. It's been wildly inconsistent, though — Watkins did almost all of his damage in Week 1, Hill missed Weeks 2-5, Kelce hasn't led the team in fantasy scoring even once this season, and the team has had a different PPR leader literally every week until Hill did it in each of the team's last two games.
At least for now, Matt Moore will take over the starting job in Mahomes' absence. Expect the Chiefs to go outside the organization for a backup at the bare minimum, and there are enough quasi-interesting names out there (Eli Manning? Ryan Fitzpatrick? Marcus Mariota? Colin Kaepernick?) who could be interesting when paired with Reid that Moore definitely isn't the surefire starter. Regardless of who the Chiefs' starter is while Mahomes is out, though, the team's offensive ceiling is lower.
We've seen in the past that starters' absences concentrates a team's attention. We can expect Hill and Kelce to still be, respectively, a WR1 and TE1, or close, but the next tier of guys, like Watkins, Hardman, Robinson, and Byron Pringle, are going to be much harder to trust. As long as Mahomes is out, Watkins is the only one from that group I'd want to roster, and even he would be very borderline, given his injury and the way he's disappointed since Week 1. As for the Chiefs running game, maybe this means they get more carries as a group, but since we've had a hard enough time divining value out of LeSean McCoy, Damien Williams, and Darrel Williams so far, it's hard to imagine we get much clarity there.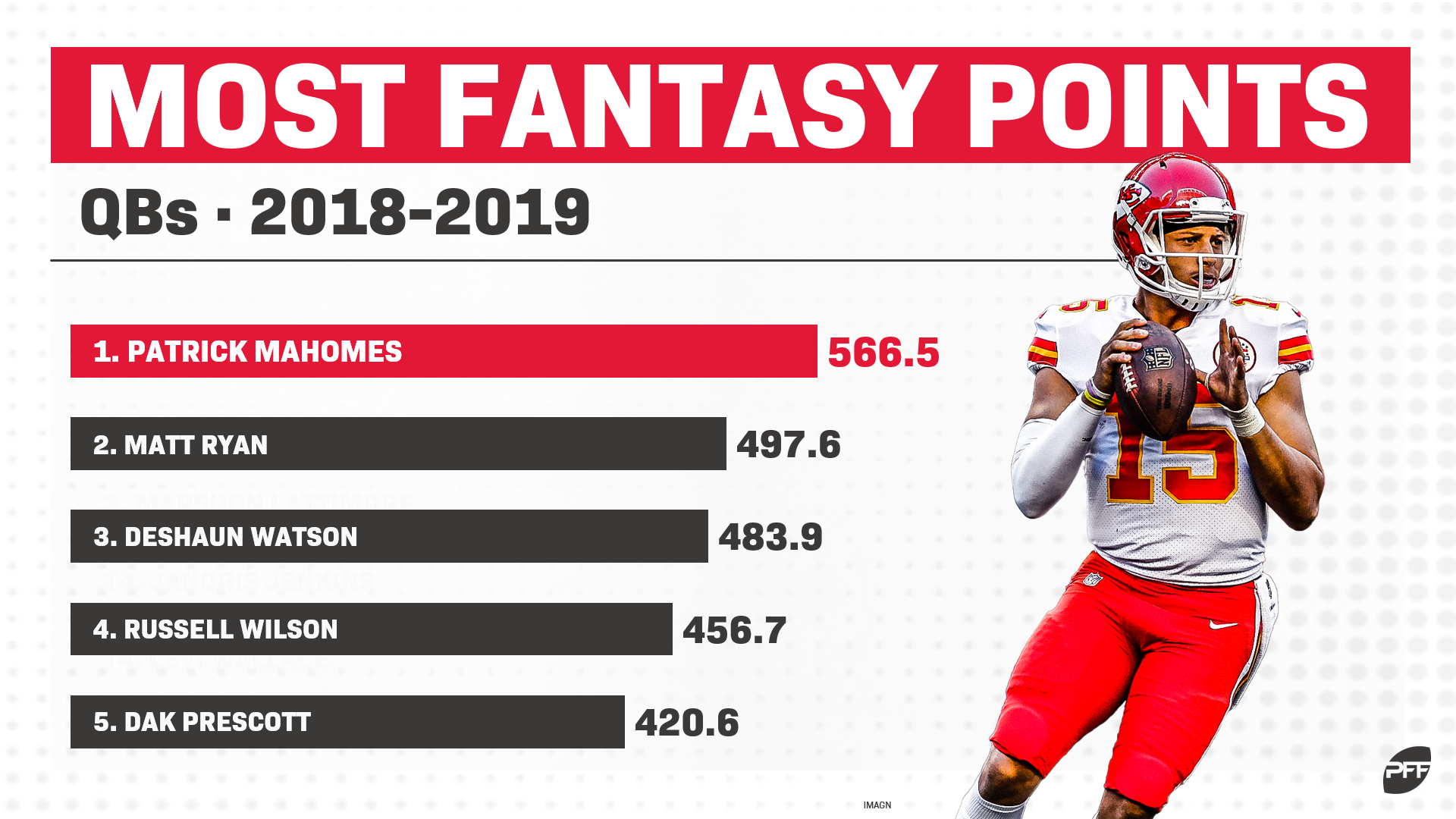 Meanwhile, fantasy players who had rostered Mahomes before this point are probably panicking right now, and not without reason. That said, a panicky move is often a bad one. In the PFF staff chat this morning, someone who had Mahomes said they were about to trade Leonard Fournette for Carson Wentz and Miles Sanders to stem the tide of Mahomes' absence, until the group at large jumped in to advise against that. Always keep in mind the entire picture of your situation. In that specific circumstance, Mahomes plus three (or so) weeks of a streaming quarterback plus Fournette is far more valuable than Wentz and Sanders (and that's before considering the fact that Wentz has as his schedule for those three weeks the Bills, Bears, and a bye, making him a potentially awful investment.
That's a specific example, but the point holds true — in a single-quarterback league, there are enough streaming options that it's rarely necessary to make a desperation move at quarterback. (Relatedly, this is a big part of the reason why the advice is almost always to wait on quarterback in the draft.) Odds are good that you're better off streaming quarterbacks until Mahomes returns than make a desperation trade.
In two-QB leagues? Well, good luck. Either you have a third quarterback ready to slide in, or you don't, and either way, you aren't likely to find a great replacement. You might have no choice but to trade in that situation, but your best move might just be to try to pounce on Moore, who is only a middling player in his own right, but couldn't ask for a better situation to be thrust into.