Obviously, a lot happens each week in the NFL. Less obviously, some of it means a lot for fantasy football and some doesn't. Each week in this space, I'm running through the key lessons from each game.
This is what we learned in the Week 5 games.
Edelman's the only option you can trust
Yes, Sony Michel had a fine game, putting up 13.3 PPR points. Anyone complaining about his outing Thursday has set their expectations too high. Still, in a game the team put up 35 points and led the entire second half, you'd like to see more out of the second-year Michel. And beyond him, Julian Edelman still had his requisite double-digit targets (15) and topped 100 yards. He's an every-week must-start, and he's the only one on the team.
Write Week 6 off for New York
It was nice to see a big game (6 receptions, 102 yards, a score) for Golden Tate, but really, with Saquon Barkley, Wayne Gallman, Sterling Shepard, and Evan Engram all out, any judgment we pass on the Giants team we saw on Thursday is irrelevant, because we're not likely to see that team again. At least Barkley and Engram could (should?) be back in Week 7. We'll revisit then.
Even in a bad game, McCaffrey produces
I put Christian McCaffrey in as my RB1 this week as one of the first things I did in my Week 6 rankings. I did that knowing the Buccaneers have an excellent run defense and had stifled McCaffrey only a month ago. His performance this year had earned that trust. And McCaffrey didn't get much going Sunday, totaling only 57 yards on 26 touches, but he did score twice. Once was a short rushing score, but the other was a ridiculously impressive 25-yard reception. McCaffrey definitely won't be the overall RB1 this week, but he needs to be ranked No. 1 every week he's active until something dramatic changes. He's that good.
Evans problems
From a box score perspective, Mike Evans' day was fine. He had 9 catches for 96 yards and pulled in a two-point conversion. That's more than 20 PPR points. You'll never complain about that in a vacuum. But Evans struggled in this game. He left a lot of yards and at least one score on the table, and he was the target on three of Jameis Winston's five interceptions. The Buccaneers have a Week 7 bye, so my advice is to spend the next two weeks hoping to use that nice box score to sell high, because that sort of performance was jarring.
An upper-level tight end goes down
On a day when a lot went right for the Seahawks, one thing went tremendously wrong, with breakout tight end Will Dissly tearing his Achilles (probably, pending further examination), which will cost him the rest of the season. Dissly came into the week as the No. 5 PPR tight end on the season, a crushing blow for anyone who had him rostered, with not much else on the waiver wire to replace him. Dissly's probable primary replacement, Luke Willson, isn't likely to be a fantasy factor. So … good luck.
Beckham back on track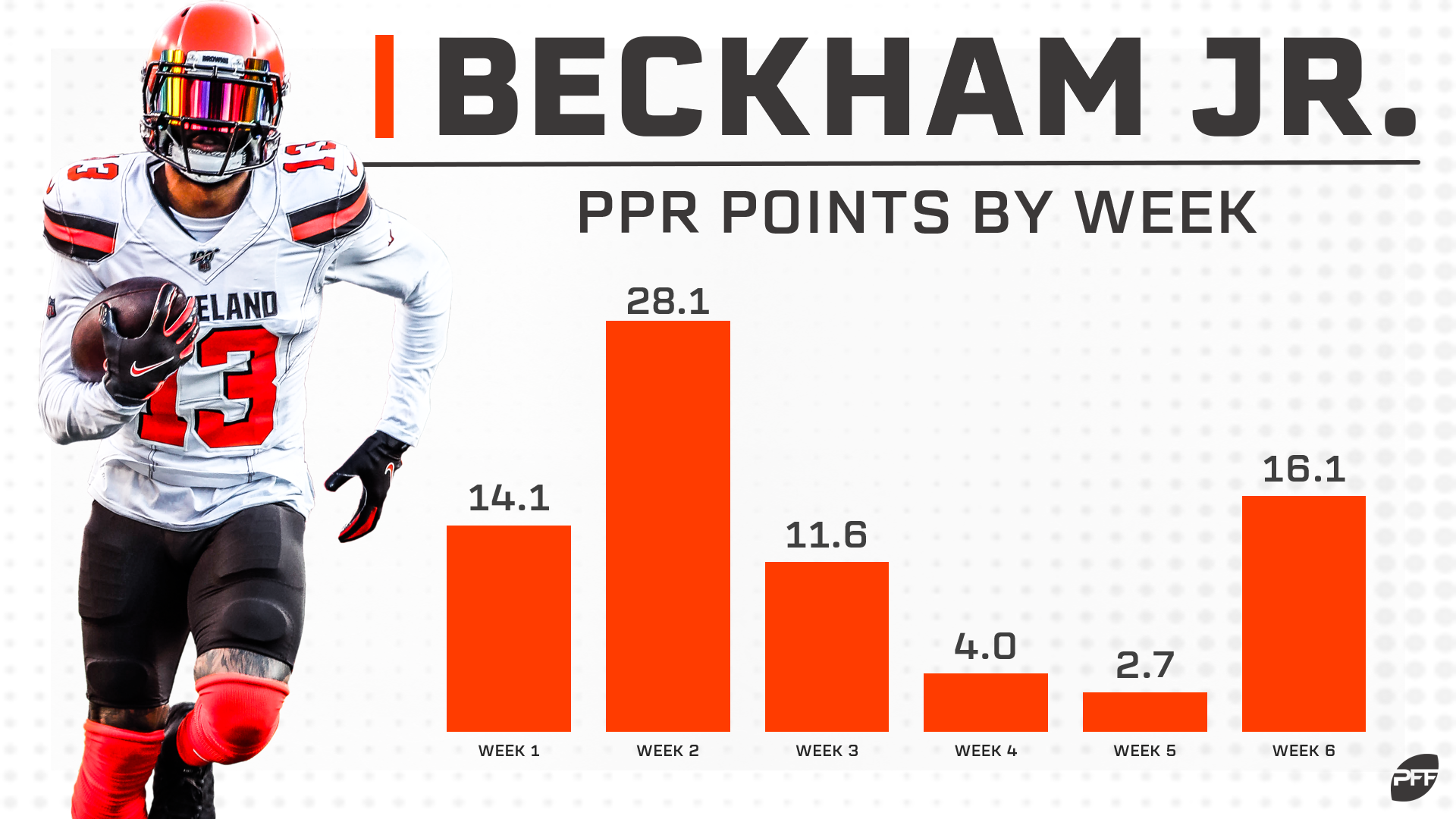 Want a depressing stat? Coming into Week 6, 24.8% of Odell Beckham Jr.'s PPR points for the entire season came on a single play his Week 2 89-yard touchdown. It's been a bad start to the receiver's Cleveland tenure. Sunday, though, he was a much bigger factor, tying his season-high in targets with 11 and going for 101 yards. Maybe his full-season outlook isn't quite as high as we thought it was in draft season, but Beckham's still a WR1.
Fuller last week was Fuller this week
Will Fuller, Week 5: 14 catches, 217 yards, 3 touchdowns. Will Fuller, Week 6: 5 catches, 44 yards, 0 TDs. Big difference, right? Not really. Fuller could easily have had a comparably big stat line in Week 6 if he had come down with some targets in the end zone; he could easily have had a comparably small stat line in Week 5 if he hadn't. That Fuller had big success a week ago and hasn't had much otherwise is worth noting, but it doesn't actually mean that much. He is who he is.
LeSean McCoy the No. 1?
It's just one week of data, but McCoy played the most snaps in the Chiefs backfield Sunday (23, compared to 18 for Damien Williams and 6 for Darrel Williams) and had the most touches (10, Damien Williams 2 and Darrel Williams 1). Damien Williams got the touchdown on a 14-yard reception and Darrel Williams had the big play on a 52-yard catch, but McCoy got the playing time. It's too early to say whether that will hold going forward, but it's worth noting.
Adrian and Terry and then things get scary
Terry McLaurin had 4 catches for 100 yards and 2 scores. Adrian Peterson ran the ball a massive 23 times for 118 yards and added 18 receiving yards. Other than those two, no Washington player reached even 25 scrimmage yards. Going forward, McLaurin is obviously the one you want — he's been better than Peterson so far, and Washington is unlikely to see many more favorable gamescripts. But Peterson is at least worth rostering … and then that's it.
Walton time?
Kalen Ballage got the short-yardage touchdown, while Kenyan Drake led the backfield with 16 touches. But we saw plenty of Mark Walton Sunday (he got 6 carries and 6 targets, gaining 75 yards). The back had played 27 offensive snaps all season before he played 26 Sunday along, far more than the measly 4 snaps played by Ballage. Drake is still the No. 1 Miami running back, but Walton is firmly ahead of Ballage now as the No. 2.
No RB depth needed in Baltimore
Weeks ago, it became clear that we didn't need to roster Justice Hill in redraft leagues. But at this point, there's not much reason to hold Gus Edwards, either. After 17 carries in Week 1, Edwards hasn't had double-digit touches in a game, averaging 5.4 carries per game since. He hasn't scored a touchdown or topped 60 rushing yards yet. Mark Ingram is a must-start, and Lamar Jackson is getting (more than) his fair share of rushing yards, but this isn't a deep backfield.
Auden Tate is for real
Tate didn't play in Week 1, and he had only a single catch on 2 targets in Week 2. But since then, he's averaged 4.5 receptions, 8.5 targets, and 63.8 yards a game. That's at least 9.0 PPR points every week. As long as A.J. Green is out, Tate has to be rostered and could be a desperation start. And even when Green returns, we'll need to watch him.
The game's most gamescript-dependent QB
Through six games, the Vikings have faced two teams with PFF coverage grades of 65.0 or higher, they've lost both, and Kirk Cousins has a 1:2 TD:INT ratio in those games. They've faced four teams with coverage grades under 65.0, they've won all four, and Cousins' ratio is 8:1. His passer rating against those light opponents is 135.8; against the tougher ones it's 73.4. And just to note it, the Vikings play five games between now and their Week 12 bye, and all but one of those games (Washington in Week 8) are against teams with a coverage grade over 65.0.
This offense needs DeSean Jackson back
Jackson played in Week 1 (technically Week 2 as well, but he left injured without a target) and had a 15.6-yard average depth of target on 9 targets. He's been gone since, and the team hasn't had a deep threat. J.J. Arcega-Whiteside got a brief shot as a deep option and didn't do much. Same with Mack Hollins. Nelson Agholor has gotten the chance the last three weeks (13 targets at a 20.4-yard aDOT) and has 62 yards in that time. Jackson's return (which appears to be imminent) will be greatly appreciated.
Maybe the Buccaneers get credit for Bridgewater's Week 5
I had some hopes for Teddy Bridgewater after a Week 5 that saw him through for 314 yards and 4 touchdowns on (and this was the key part) a 7.3-yard aDOT. His throws had been barely downfield before that, and a Bridgewater who was throwing deeper was interesting. Well, that was against a Buccaneers defense that has been very generous to opposing quarterbacks. Sunday, Bridgewater threw for 240 yards and a score, with an aDOT that was down to 5.6 yards. Come back soon, Drew Brees.
Every (Min)show has a bad episode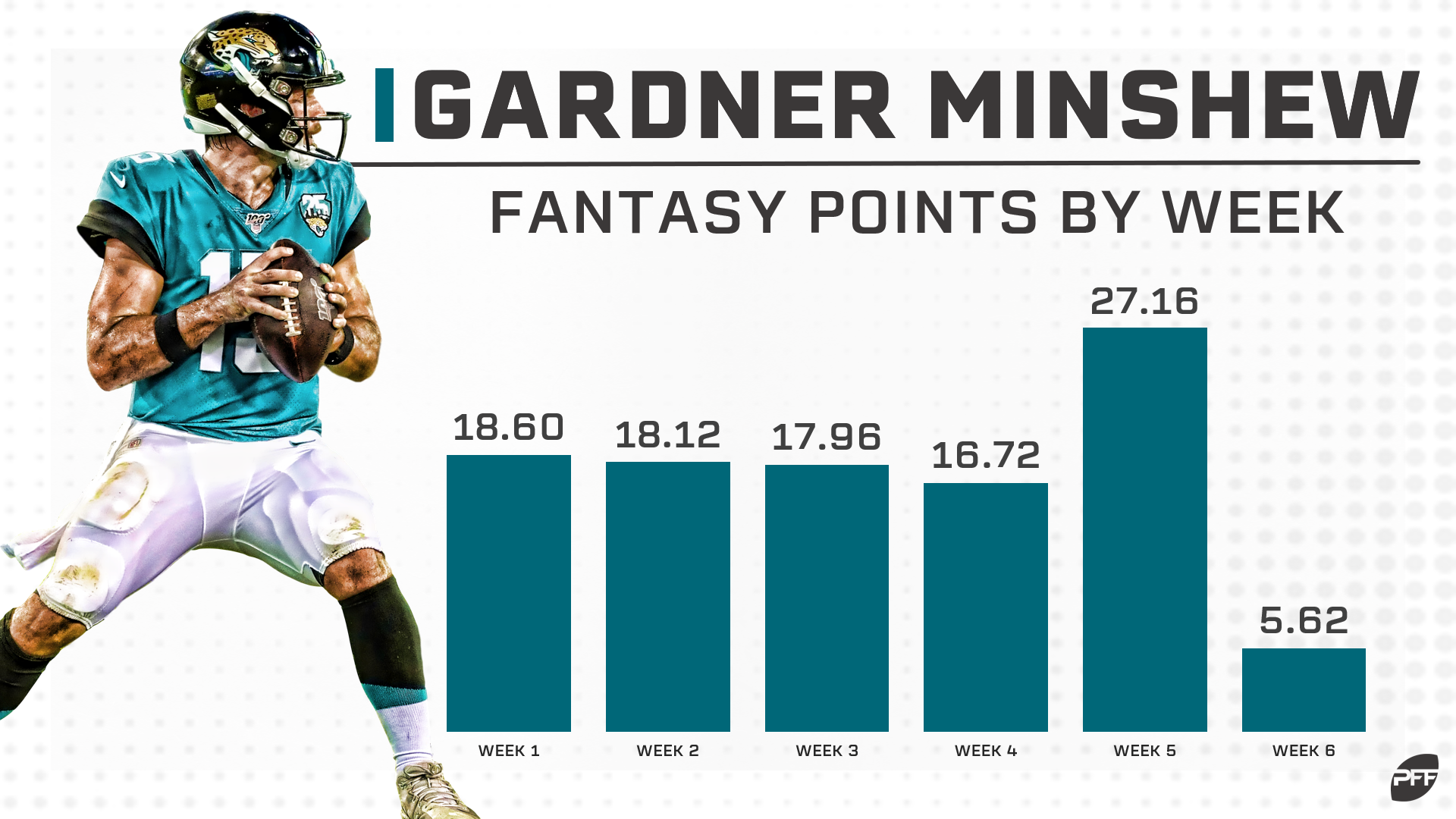 The first five weeks of the Gardner Minshew experience for Jacksonville were a roaring success, with the sixth-round rookie averaging more than 250 passing yards a game and putting up a 9:1 TD:INT ratio (with the lone interception coming in his emergency fill-in game in Week 1, no less) and at least 16 fantasy points every time. Well, Week 6 was a different thing. Minshew totaled only 163 yards on 29 attempts (5.6 yards per attempt), threw a pick, and managed no touchdowns. Minshew's performance so far this year has definitely earned him some leash, but he looked the part of a little-wanted rookie this week.
Avoid the 49ers defense
The 49ers have faced five quarterbacks so far — Jameis Winston, Andy Dalton, Mason Rudolph, Baker Mayfield, and Jared Goff — and they've averaged 9.6 fantasy points against them. In their other starts (excepting Rudolph's Week 5 when he got injured), those quarterbacks have averaged 17.8 points. They've given up 12.8 points a game, 5.0 since their Week 4 bye. It's fast approaching do-not-touch status in San Francisco.
Without Gurley, it's a backfield split
Malcolm Brown was the clear No. 1 Sunday, playing 33 snaps (to 17 for Darrell Henderson) and getting 11 carries (Henderson had 7). On the other hand, Henderson was more efficient, averaging 6.5 yards per carry compared to 3.6 for Brown. And Robert Woods and Brandin Cooks had a pair of carries each. Ultimately, until Todd Gurley comes back, good luck figuring this group out.
Top handcuff in the league
David Johnson played Sunday after spending all week on the injury report, and he was excellent for fantasy, reaching 102 scrimmage yards and scoring twice. But he didn't command the same sort of work he normally did, and Chase Edmonds spelled him to the tune of 67 yards and a score of his own. All indications are that Johnson should be fine going forward, but if he misses time at any point, Edmonds looks like an easy RB1.
Welcome to the elite, Austin Hooper
Hooper entered Week 6 less than a point behind Evan Engram for top-scoring overall tight end. Engram missed this week, while Hooper definitely didn't, lighting up the Cardinals (who else?) for 117 yards and a score on 8-of-8 receiving. He's now reached double-digit PPR points in five of six games and at least 20 points in three of six. If we were redrafting the season today, you'd still probably take Travis Kelce first. But Hooper has a strong claim for TE2 status.
Shrug
It's the Broncos. Courtland Sutton and Phillip Lindsay and when-healthy Emmanuel Sanders are worth something for fantasy. Royce Freeman is interesting. That's it. I'm not going to press myself to draw conclusions that aren't there.
Corey Davis … maybe?
Ryan Tannehill took over for the disappointing Marcus Mariota, and once Tannehill was in, Davis led the Titans with 4 targets. He's been unable to get anything going with Mariota leading the way so far this year, so a desperate fantasy manager could at least see tiny signs of life if Tannehill has the starting gig.
Welcome back, Sam Darnold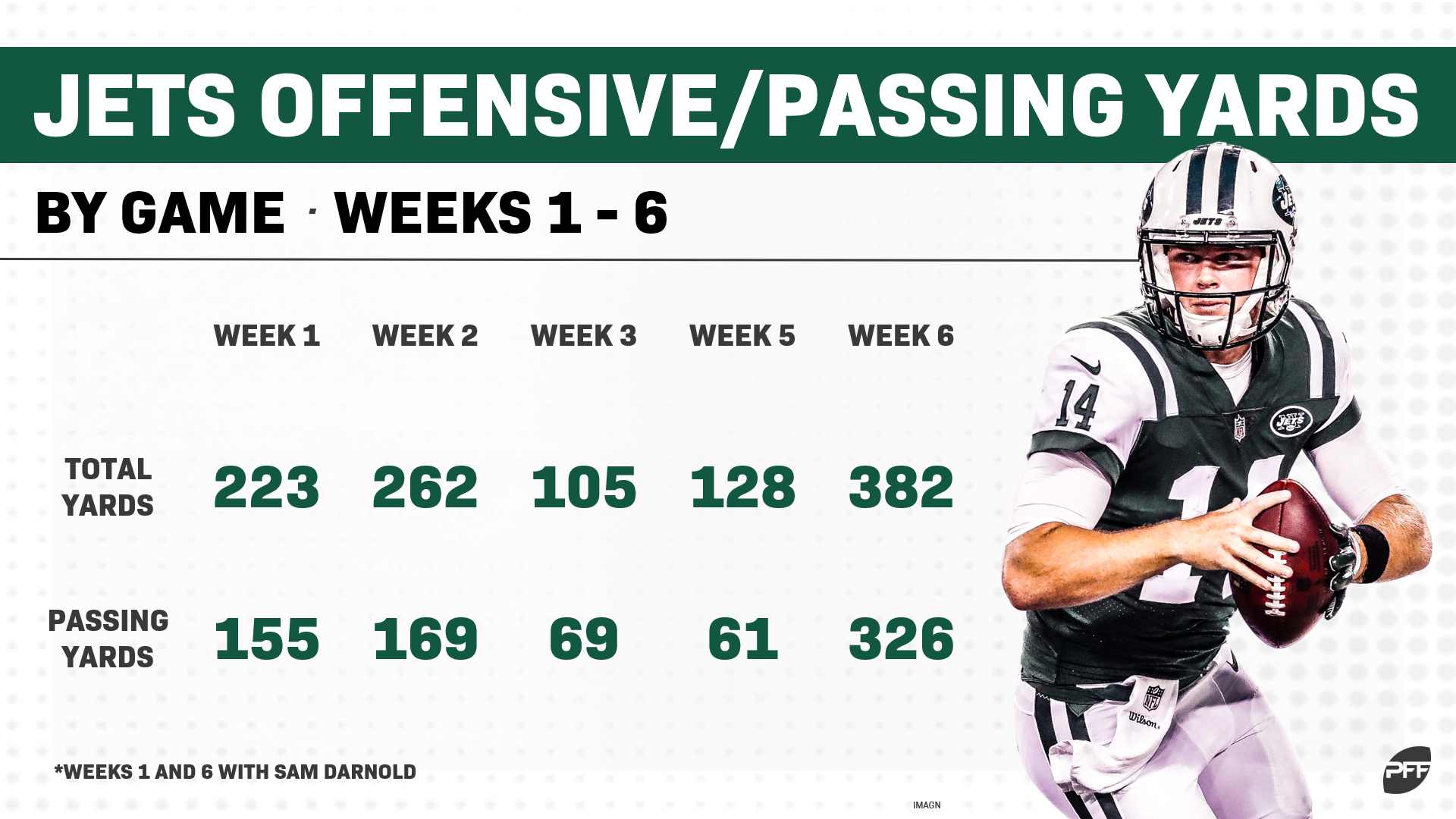 In two games now this season (Weeks 1 and 6), Darnold has 513 passing yards, 3 touchdowns, and an interception. In three other games with primarily Luke Falk, but also a bit of Trevor Siemian and David Fales, the team had 419 passing yards, no touchdowns, and 3 interceptions. Darnold isn't Patrick Mahomes out there, but he's worlds better than who the Jets had been running out there, and with him at the helm, this can (clearly) be a competitive team.
Dallas offense needs Cooper
Amari Cooper got hurt early in Sunday's game, leaving with only a single 3-yard reception. And without him, the passing offense couldn't get much going. Tavon Austin of all people led the team in receiving yards with 64. Five different players topped 45 receiving yards, but the team really needs the varied ability and talent Cooper offers. Keep an eye on his reports, and if he misses time, Dak Prescott and Michael Gallup get serious downgrades.
James Conner is just fine
The Steelers' starting running back has been banged up and intermittently disappointing this season, but with Jaylen Samuels done for a while, Conner did well with the No. 1 role Sunday. Yes, the playing time was split between Conner and new backup Benny Snell (Conner outsnapped Snell 28-27, Snell had more carries 17-16), but that was gamescript related. Conner played 11 first-quarter snaps compared to 0 for Snell; Snell played 13 fourth-quarter snaps compared to 0 for Conner as the Steelers tried to finish the game off. As long as Samuels is out, Snell is an upper-tier handcuff, but don't expect him to take much work from Conner as long as games are close.
Hunter Henry's back!
The Chargers fell behind by so much so early Sunday that it's dicey to draw many conclusions on the (very, very underwhelming) backfield performance. But we did see Henry make his return at tight end, and it was a very good one. After missing four straight games, Henry came back like it was nothing, catching 8-of-9 targets for 100 yards and two scores. He's right back near the top of the weekly TE rankings.