Each week in this space, we'll be taking a look back at Sunday's games to find five of the most interesting or most important stats for fantasy football owners. With 13 of 14 games from NFL Week 12 in the books, here are the five stats you need to know:
1. Christian McCaffrey is an absolute freak of nature.
McCaffrey is on pace for 484.2 fantasy points, which would be the most by any player in any season all-time. Over his last 16 full games he totals 498.6 fantasy points, which, of course, would also be a new record.
Over the past decade, all running backs averaging 17.0 or more fantasy points per game have finished top-10 that season. McCaffrey, meanwhile, has reached at least 17.0 fantasy points in 19 of his last 20 full games (95%).
Over the past decade, only five running backs have averaged 25.0 or more fantasy points in a single season. McCaffrey has reached at least 25.0 fantasy points in 16 of his last 20 full games (80%).
Not only is McCaffrey the single most valuable running back in fantasy football, but he might be more valuable than the next two players combined. McCaffrey outscores the next-closest running back (Dalvin Cook) by 7.3 fantasy points per game. He outscores the running back just behind Cook (Austin Ekeler) by 10.8 fantasy points per game. For perspective, the difference between McCaffrey and Ekeler is the same difference between Ekeler and the running back ranking 24th in fantasy points per game (Jordan Howard).
2. George Kittle is an absolute freak of nature.
Despite having a broken bone in his ankle, Kittle not only suited up Sunday night, but he torched the Green Bay Packers, turning 20 routes into six catches, 129 yards, and a score.
Last year, in Kittle's sophomore season, he led all tight ends in PFF grade (89.7).
This year, he leads all players at all positions in PFF grade (94.2).
Last year, Kittle set a new PFF record for yards per route run by a tight end (2.83).
This season, he's not only on pace to shatter that record, he's on pace for the best yards per route run season by any player this past decade.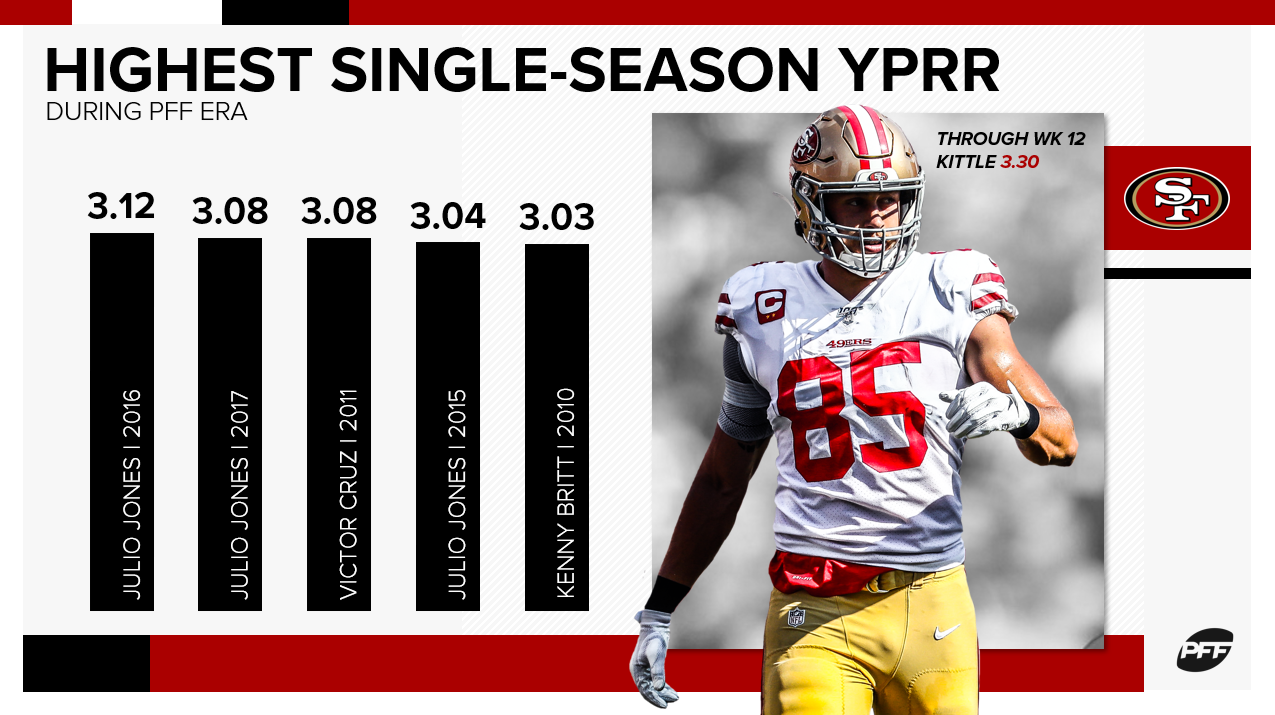 If you can't tell, these numbers are absolutely absurd for a tight end. Rob Gronkowski was easily the best tight end of the PFF era, but Kittle's last two seasons are comparable to any two seasons of Gronkowski's famed career. For fantasy, Kittle is easily a top-three tight end in season-long leagues and the undisputed No. 1 tight end in dynasty leagues.
3. Through 11 games, Tampa Bay sports two wide receivers totaling over 1,000 yards receiving. That's only been done two other times in the history of the NFL – by the 2014 Denver Broncos (Demaryius Thomas and Emmanuel Sanders) and the 2000 St. Louis Rams (Isaac Bruce and Torry Holt).
If you own either one of these two wide receivers, congratulations – you have a bona fide high-end-WR1 for fantasy. Chris Godwin ranks second (21.3) and Mike Evans third (19.1) among all wide receivers in fantasy points per game. I don't see that changing anytime soon, so, yes, you have a high-end-WR1… you just don't have a consistent one.
Evans has scored a whopping 59% of his fantasy points in just three of his 11 games (27%). Godwin has more games below 15.0 fantasy points (six) than he does games over that number (five). In spite of the high variance and inconsistencies, both receivers are still two of the most valuable commodities in fantasy football and, obviously, should be started every week.
4. On Sunday, D.J. Moore turned nine targets into six catches, 126 yards, and two touchdowns. He's now reached at least 15.0 fantasy points in six of his last seven games. Since Week 8, Moore leads all wide receivers in targets (52). Since Week 9, he leads all wide receivers in yards (442). He now ranks 12th at the position in fantasy points per game (16.2).
Would it be too early to officially anoint Moore as a true fantasy WR1? I don't think so. Over the past two seasons, he ranks second among all qualifying wide receivers (66) in missed tackles forced per reception (0.22) and seventh in yards after the catch per reception (5.94). The efficiency has always been there, and now he's seeing true WR1 volume to match. He might just be a low-end or borderline WR1, but I would call him a WR1.
5. On Sunday, Amari Cooper was shut out by top shadow cornerback Stephon Gilmore, failing to record a catch on two targets. Over the past three seasons, Cooper now has as many games (10) with 100-plus receiving yards as he does games of 10 or fewer receiving yards. For perspective, Julio Jones hasn't once been held under 15 receiving yards in over 100 games.
This is just who Cooper is. He's terrific, but, like Godwin and Evans this year, very boom-or-bust on a week-to-week basis. In 2017, Cooper scored 52% of his fantasy points in just three games (the highest percentage in the league). In 2018, Cooper scored 52% of his fantasy points in just three games (the highest again). This year, he hasn't been as high-variance, but he still is just as cornerback-sensitive as ever.
His three worst games have come against the three best cornerbacks he's faced. In shadow coverage against Marshon Lattimore, Darius Slay, and Gilmore, Cooper combined to average just 5.5 fantasy points per game. Remember, Cooper was highlighted before the season as fantasy football's most shadow-sensitive wide receiver.