What did we learn about the now-eliminated teams this weekend, and what does it mean for them — from a fantasy football perspective — in 2019?
From a surprising offensive snoozefest in Houston to the double-doinker in Chicago, this season's Wild Card weekend is officially in the books. And while four teams are already looking ahead to next week, the Texans, Seahawks, Ravens, and Bears are forced to look ahead to 2019.
(Tuesday we'll look at some lessons for the teams who advanced to next week.)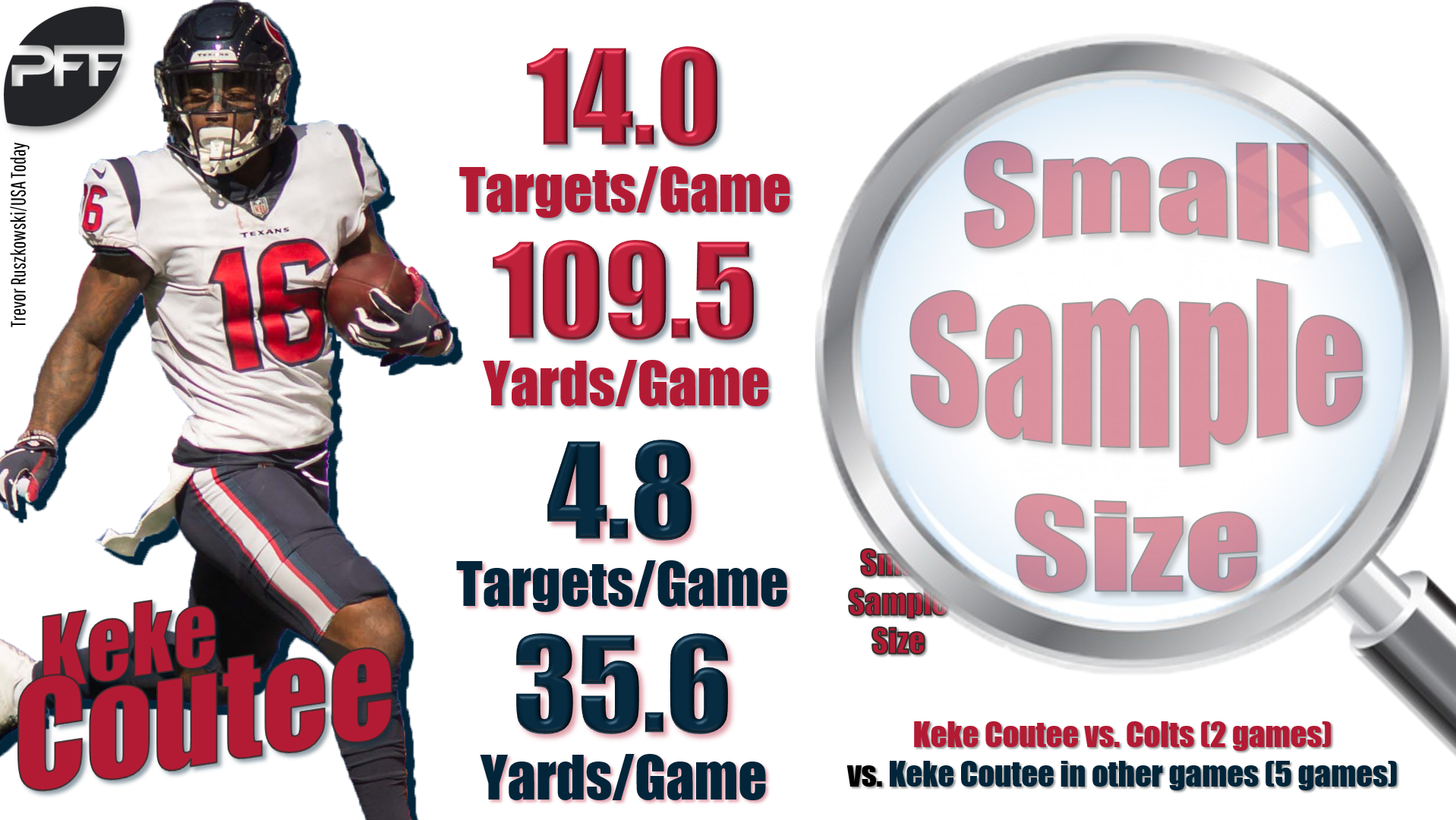 Keke Coutee is going to be fantasy relevant in 2019 and beyond. He flirted with relevancy earlier in the season when he looked like a decent flex option, but injuries hampered him down the stretch.
He returned after a month-long absence to snag 11 passes for 110 yards and a score and served as the lone bright spot in Houston's offense. DeAndre Hopkins is obviously still the primary wideout in Houston, but Coutee has proven that, while healthy, he can shoulder some of the load. He'll be in the mix in PPR leagues even with Will Fuller healthy next year.
The Colts might have figured out a way to slow DeAndre Hopkins. Despite facing favorable gamescript for all 60 minutes, Hopkins finished with just five catches for 37 scoreless yards. It was very similar to Week 14, when Indy held him to a 4-36-1 line.
Of course, he dominated the Colts for 10-169-1 in September, but in two meetings against Indianapolis in the span of a month, they held one of the best receivers in the league to 73 combined yards.
Does this hurt Hopkins' long-term appeal? Of course not. But he was always an auto-include in DFS lineups when facing the Colts, but perhaps I'll have to think about it a little more next year.
Lamar Jackson is unquestionably the future, but there are definitely new questions about that future. The Ravens stuck with Jackson even when it seemed like Joe Flacco might (actually, somehow) give them a better chance to win. That was unequivocal proof that Jackson is the future.
However, the Chargers clearly found a way to slow Baltimore's run-all-the-time offense that led the team to a 6-1 record (prior to last week) with Jackson under center. Will it serve as the blueprint for coaches to study over the offseason?
Jackson is young — in fact, Monday is his 22nd birthday — so he's got plenty of time to progress as a passer, but the gimmicks might not work as well in 2019.

Mark Andrews looks like a legit dynasty tight end. His final stat line was nothing great — three catches for 31 yards — but he displayed his athleticism by hurdling a defender late in the game.
Andrews turned into one of Jackson's favorite targets over the second half of the season and showed his big-play ability several times this year; he had two gains of at least 68 yards. He's a dynasty buy at a thin position.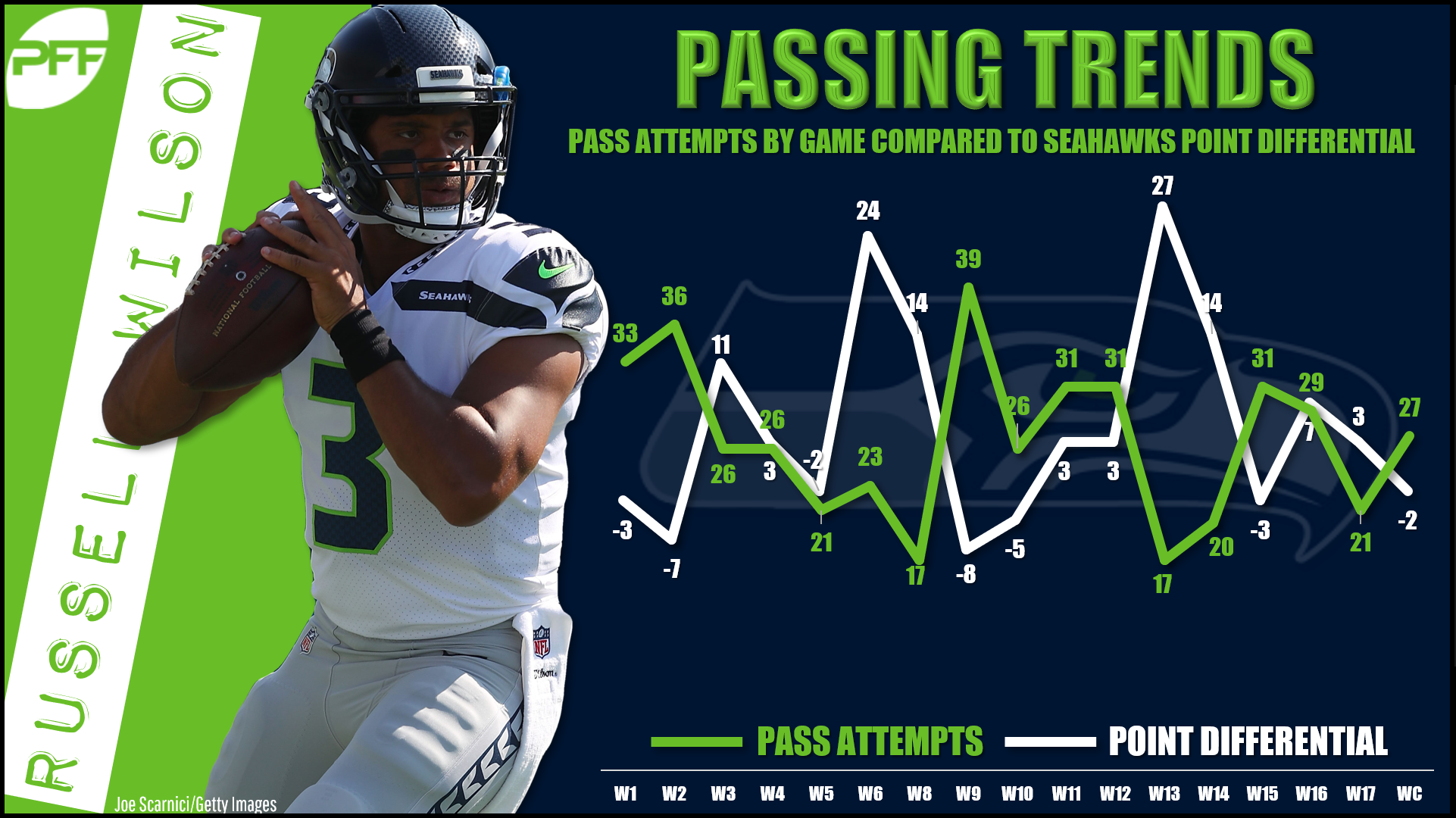 Seattle's blind commitment to the run puts a serious damper on Russell Wilson's fantasy appeal. Yes, Wilson threw for 35 touchdowns this season. No, that's not because Seattle "established the run and set up play-action!" He was hyper-efficient, as great quarterbacks often are, but is a surefire bet for touchdown regression in 2019 and he could be overdrafted as a result.
Seattle's headstrong and misguided commitment to the run bit them in the Wild Card Round and the team failed to unleash their best player (Wilson) until it was too late. He finished with just 27 passing attempts — versus 24 rushing attempts for Seattle as a whole — in a game that called for a 70/30 pass/run split.
Tyler Lockett built on his breakout season, but he might be overdrafted in 2019. Lockett was Seattle's best wideout, catching four passes for 120 yards against the Cowboys, an extremely efficient day for a player who had been efficient all season.
Wilson had a perfect 158.3 passer rating when throwing to Lockett in the regular season thanks for a high catch rate of 81.4%. Lockett will regress in the catch rate and touchdown departments in 2019, but he could see a bump in targets to offset the losses. If the targets don't increase — and they aren't guaranteed to — Lockett is more of a flex option than a reliable WR2.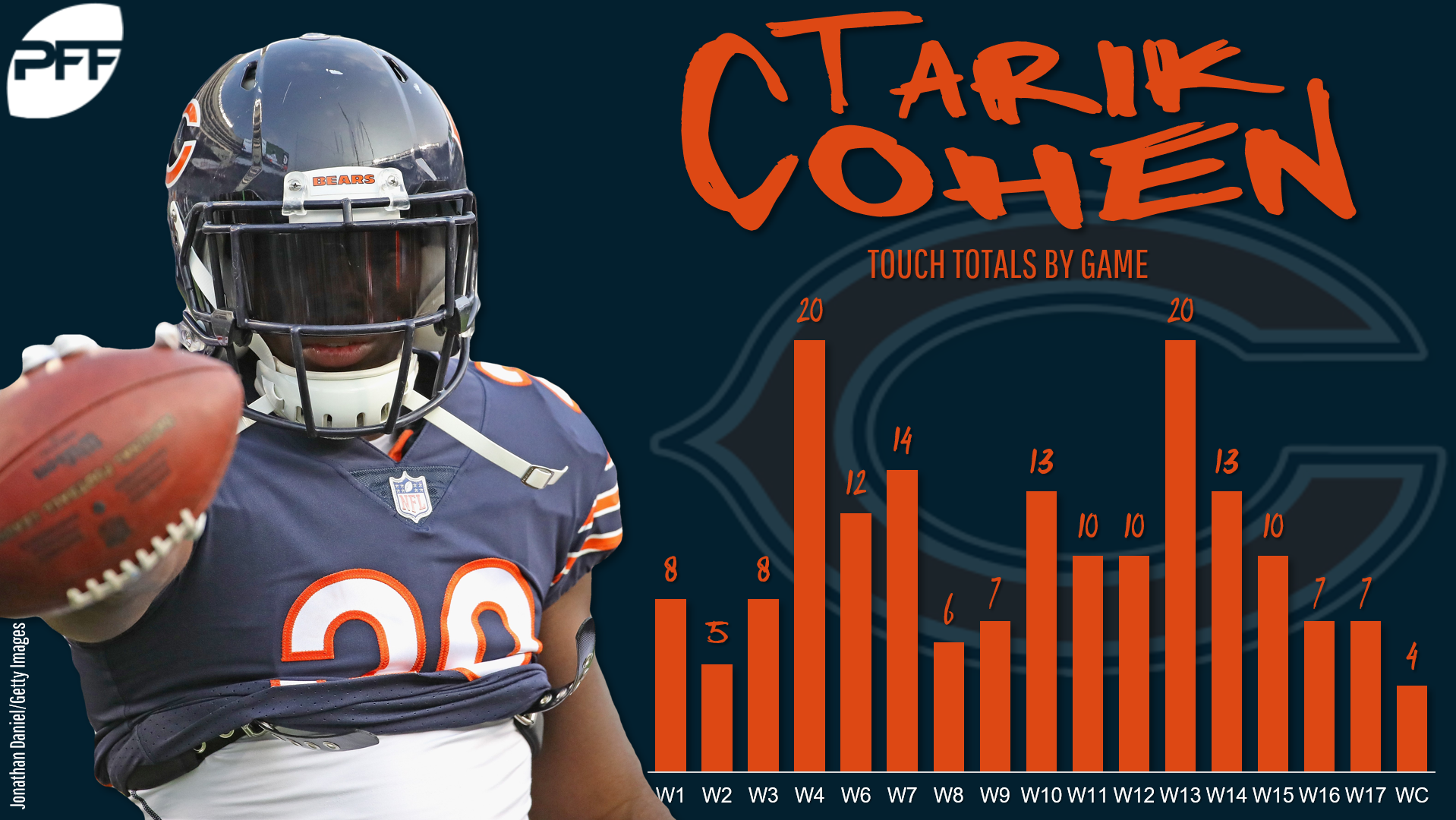 Tarik Cohen was criminally misused, and it makes me scared for 2019. I mentioned this on Twitter during the game and after the game, and the most common response was that Philadelphia was "focused" on stopping Cohen. I haven't re-watched the game yet, but that's probably true.
It still doesn't excuse giving your best player and proven game-breaker only four touches — especially in a game in which Mitchell Trubisky threw 43 passes. His four touches were a season-low.
Cohen is amazing with the ball, but he had 10 or fewer touches in 11 of 17 games this year, including the final four. I'm not saying don't draft Cohen, but the misuse does put me on high alert.
Allen Robinson is a sleeper for 2019. He had one of his best games of the year in the playoffs, catching 10 passes for 143 yards and a score. He had peaks and valleys all year, not unlike Trubisky, but as Trubisky progresses into a more consistent passer in Year 3 and beyond, Robinson's production should follow suit.