The entire Cincinnati Bengals passing attack looks set up to smash against a vulnerable Falcons secondary.
Houston Texans RB Dameon Pierce might need to carry the team on his back more than usual to make things work on the ground against the Raiders.
Don't be surprised if Browns-Ravens and Seahawks-Chargers turn into the slate's top-two biggest shootouts.
Estimated reading time: 25 minutes
---

The NFL is a matchup-driven league. Offensive coordinators are always looking to scheme their playmakers into one-on-one situations against a defender, while defensive coordinators will attempt to do anything in their power to upset the timing and rhythm of the opposing QB.
Despite the obvious impact that defenses have on opposing offenses, fantasy players and fans alike are often left with one-way metrics to describe offenses and defenses that they are then forced to compare against each other in an attempt to identify mismatches.
The goal here is to provide easy-to-decipher charts and notes to define each week's key matchups and advantages on both sides of the ball in:
Explosive Plays

Pace

Pressure

Yards Before Contact

Pass yards per dropback

EPA
The following charts display matchup-specific information meant to highlight the largest mismatches in these ever-important facets of football to ultimately gain actionable betting and fantasy takeaways. And, of course, to have fun.
Note: Data is from Week 1-6, 2022. There are obviously plenty of limitations to this due to the small sample size at hand; key discrepancies will be highlighted in the ensuing paragraphs and the metrics will get stronger as the season continues.
---
Explosive Plays
Big plays make the football world go round. Matchups between explosive offenses and leaky defenses are exactly what we're looking for when compiling game stacks in DFS, or when betting an over.
Explosive Pass Rate

: The sum of an offense's rate of 20-plus yard completions per pass attempt and the opposing defense's rate of 20-plus yard completions allowed per pass attempt. A higher percentage is better for offenses (blue is good, red is bad).

Explosive Run Rate

: The sum of an offense's rate of 15-plus yard gains per rush attempt and the opposing defense's rate of 15-plus yard runs allowed per rush attempt. A higher percentage is better for offenses (blue is good, red is bad).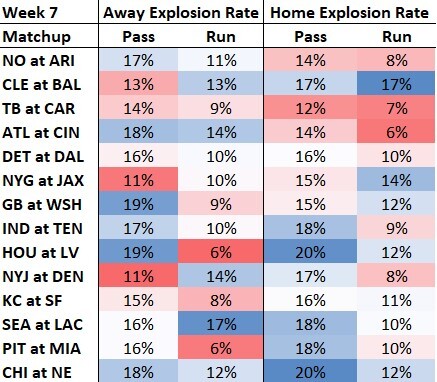 These offenses breed explosive plays: Five offenses are averaging an explosive pass play on at least 10% of their dropbacks: Patriots (12.9%), Lions (11.5%), Broncos (10.4%), Falcons (10.2%) and Titans (10%).
Quarterback competition in New England?: Probably not, but that doesn't mean rookie Bailey Zappe shouldn't be lauded for his efforts in relief of Mac Jones (ankle). While Zappe hasn't been flashy, he's taken care of the football and led the offense to 24, 29 and 38 points in his three extended appearances under center. Small-sample size be damned, he's been one of the most efficient quarterbacks in football:
PFF passing grade:

77.0 (No. 8 among 38 quarterbacks with 50-plus dropbacks)

QB rating:

111.4 (No. 1)

Yards per attempt:

8.5 (No. 3)

Adjusted completion rate:

81.8% (No. 2)

Big-time throw rate:

0% (tied for No. 37)

Turnover-worthy play rate:

1.2% (No. 2)
Again: Zappe's solid start shouldn't confuse him as the next Justin Herbert or Patrick Mahomes, as evidenced by his *zero* big-time throws this season. And yet, one could argue that metric more so measures style than how objectively good someone is at the position.
Points are points, and Zappe has helped the Patriots score an awful lot of them over the past three weeks. At a minimum he deserves plenty of credit for keeping the 3-3 Patriots afloat, and at a maximum Jones better not disappoint too severely upon being healthy enough to return.
Good offense beats good defense in today's NFL: Offenses set up to thrive in their quest to create some explosive pass plays: Raiders, Patriots, Packers and Texans.
Does Houston have a WR problem?: The usage says no. Cooks is one of 17 wide receivers with at least 25% of their team's targets and 32% of the air yards. His 14 expected PPR points per game rank 23rd among all wide receivers and are only off last year's mark (14.5) by half a point.
The problem is that last season Cooks met his expected PPR points with the same amount of realized ones; this year his average of 10.7 PPR points per game is tied with Diontae Johnson for just the 43rd-highest mark among all wide receivers.
Cooks is one of just seven wide receivers with more than 15 PPR points below expectation this season:
The million-dollar question is whether Cooks falls into the washed group (AJG, A-Rob) or the really good but in a bad situation group (Johnson, Wilson).
I lean toward the latter. Cooks has actually been considered open or wide open in terms of separation on a higher percentage of his routes than fellow No. 1 receivers like Johnson, CeeDee Lamb, Michael Pittman and Ja'Marr Chase this season. Don't be afraid to buy low on a still-talented WR4 with the underlying workload of a WR2.
Time to trust Tonyan?: Almost. There's no debating that Aaron Rodgers and Tonyan have a nice connection; they had more touchdowns (11) than incomplete targets (7) all the way back in 2020 after all.
Still, the 28-year-old talent has been inconsistent in limited action over the past two years, no doubt partially due to his ACL injury. The Packers have been careful to not overload Tonyan, but Week 6's season-high 12 targets coincided with his highest route participation rate of the season:
Week 1:

44% route rate

Week 2:

48%

Week 3:

61%

Week 4:

59%

Week 5:

54%

Week 6:

76%
It's just a one-week sample size; just realize the absences of Randall Cobb (ankle), Christian Watson (hamstring) and Sammy Watkins (hamstring, IR) could force Rodgers to condense his target tree more than every around Tonyan and his remaining wide receivers. Another week of this usage and it will be awfully tough to keep Tonyan out of the position's top-10.
Offense is easier when the defense sucks: The only three defenses allowing an explosive pass play on at least 10% of their opponent's dropbacks: Texans (11.8%), Seahawks (10.9%) and Browns (10.6%).