Estimated reading time: 28 minutes
---
The NFL is a matchup-driven league. Offensive coordinators are always looking to scheme their playmakers into one-on-one situations against a defender, while defensive coordinators will attempt to do anything in their power to upset the timing and rhythm of the opposing QB.
Despite the obvious impact that defenses have on opposing offenses, fantasy players and fans alike are often left with one-way metrics to describe offenses and defenses that they are then forced to compare against each other in an attempt to identify mismatches.
The goal here is to provide easy-to-decipher charts and notes to define each week's key matchups and advantages on both sides of the ball in:
Explosive Plays

Pace

Pressure

Yards Before Contact

Pass yards per dropback

EPA
The following charts display matchup-specific information meant to highlight the largest mismatches in these ever-important facets of football to ultimately gain actionable betting and fantasy takeaways. And, of course, to have fun.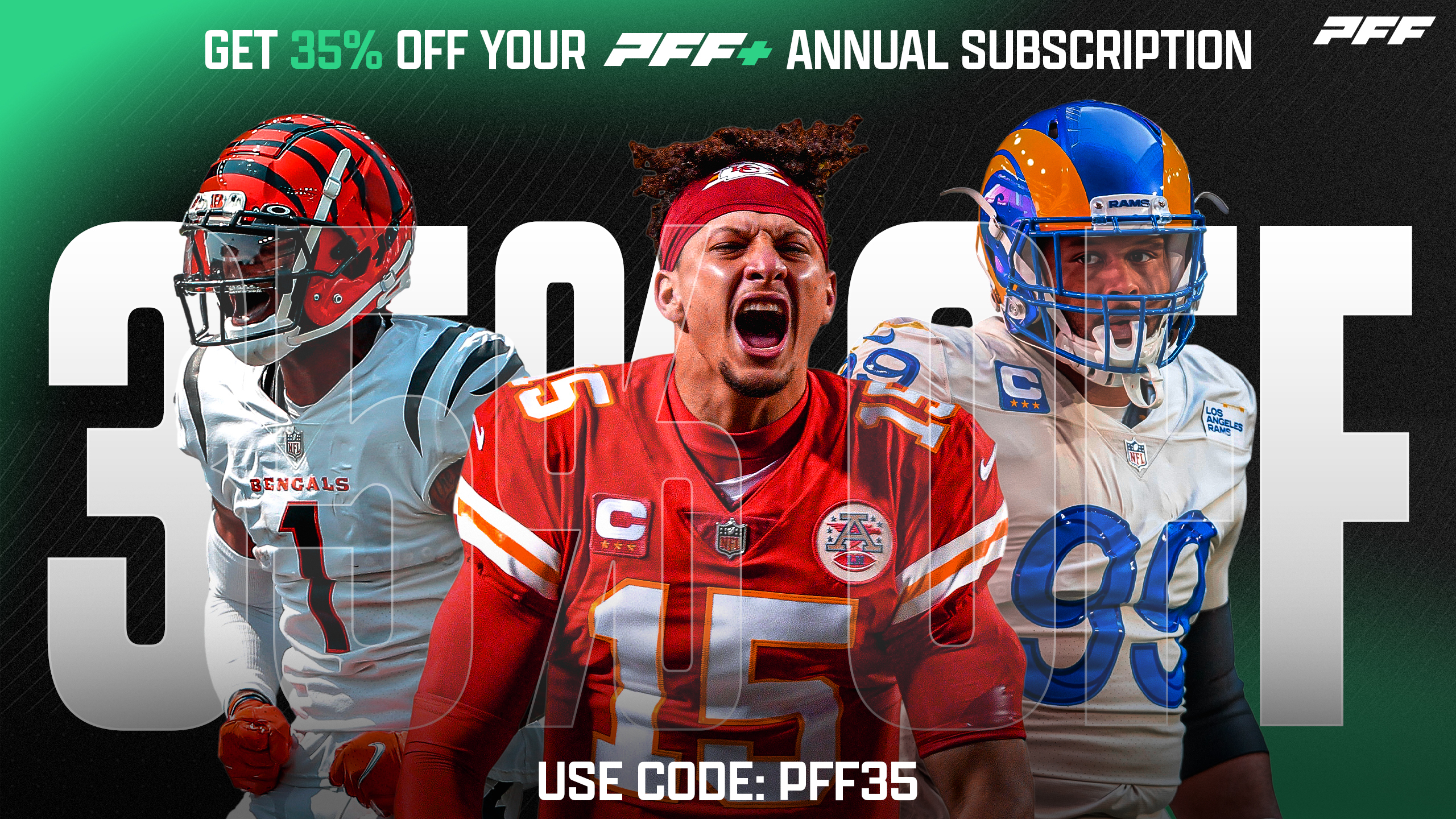 ---
Explosive Plays
Big plays make the football world go round. Matchups between explosive offenses and leaky defenses are exactly what we're looking for when compiling game stacks in DFS, or when betting an over.
Explosive Pass Rate

: The sum of an offense's rate of 20-plus yard completions per pass attempt and the opposing defense's rate of 20-plus yard completions allowed per pass attempt. A higher percentage is better for offenses (blue is good, red is bad).

Explosive Run Rate

: The sum of an offense's rate of 15-plus yard gains per rush attempt and the opposing defense's rate of 15-plus yard runs allowed per rush attempt. A higher percentage is better for offenses (blue is good, red is bad).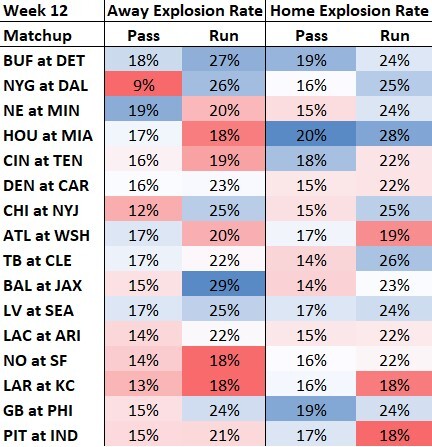 These offenses breed explosive plays: Five offenses are averaging an explosive pass play on at least 10% of their dropbacks: Detroit Lions (10.7%), Kansas City Chiefs (10.4%), New England Patriots (10.4%), Miami Dolphins (10.2%) and Philadelphia Eagles (10.1%).
Is this the best version of Patrick Mahomes yet?: Pretty close!
| | | | | | | |
| --- | --- | --- | --- | --- | --- | --- |
| Year | PFF Pass Grade | Passer Rating | YPA | aComp% | BTT% | TWP% |
| 2018 | 92.8 | 113.8 | 8.79 | 78.8% | 7.8% | 3.2% |
| 2019 | 81.9 | 105.3 | 8.33 | 76.4% | 5.7% | 2.5% |
| 2020 | 90.4 | 108.2 | 8.06 | 76.7% | 7.4% | 3.2% |
| 2021 | 73.2 | 98.5 | 7.35 | 78.3% | 3.3% | 2.8% |
| 2022 | 88.3 | 107.3 | 8.16 | 78.2% | 4.6% | 2.3% |
While Mahomes still doesn't quite boast the same gaudy efficiency measures as his breathtaking 2018 campaign, he's still been awfully incredible while putting the ball at risk at a career-low rate.
Nobody is averaging more points per game (30) than the Chiefs this season, which is kind of the goal. The MVP frontrunner will look to keep on keeping on against a Los Angeles Rams defense that uncharacteristically ranks just 23rd in EPA allowed per pass play (+0.072).
Good offense beats good defense in today's NFL: Offenses set up to thrive in their quest to create some explosive pass plays: Dolphins, Tennessee Titans and Eagles.
FINALLY some passing upside in Tennessee: Congrats to Nick Westbrook-Ikhine (5-119-2) on putting forward the team's first top-24 PPR WR finish of the season during their Week 10 win over the Denver Broncos. Incredibly enough, rookie WR Treylon Burks (7-111-0) followed that up with his own top-12 finish. Suddenly, this Titans passing game has ripped off 244 and 320 yards passing totals after not reaching even 140 passing yards in a game from Week 4 to Week 9.
It undoubtedly helps to have Ryan Tannehill back under center, as the veteran quarterback has been one of the league's most-efficient passers since joining the Titans in 2019:
PFF passing grade:

90.6 (No. 4 among 53 QB with 300-plus dropbacks since 2019)

Passer rating:

101.5 (No. 6)

Yards per attempt:

8 (No. 3)

Adjusted completion rate:

77.1% (No. 11)
Yes, Tannehill's per-pass metrics are a bit inflated because he hasn't had the same sort of volume as other quarterbacks. Also yes, he hasn't exactly been blessed with the league's best assortment of pass-game weapons.
Perhaps Tannehill is just … good? Not amazing, but pretty damn good? Is that a legal take to have in the year 2022? He'll have a chance to lead the Titans to some level of revenge over the Cincinnati Bengals this Sunday in Nashville. Don't expect a high-octane performance – the Titans are implied to score just 20.5 points this week – but clearly, this passing game takes itself to another level with a healthy No. 17 under center.
This Eagles passing game hasn't exactly been soaring all season: Passing the football has generally been harder in 2022 compared to past seasons for the entire league, but just realize Jalen Hurts and company haven't exactly been soaring freely the entire year. Yes, there have been booms in Week 3 (340-3-0) and Week 8 (285-4-0) that made this offense look borderline unstoppable. Also yes, Philly has totaled fewer than 220 passing yards in all but one game since Week 3.
Obviously, the 9-1 Eagles continue to do plenty of things right on offense: Only the Chiefs, Buffalo Bills and Bengals are averaging more points per game this season. And yet, Hurts hasn't thrown more than 28 passes in a game since Week 5, as this Eagles offense is once again near the top of the league when it comes to running the ball:
The good news for Hurts' fantasy managers is that he might not even need a return to high-end passing production in order to keep the good times rolling. His 16-86-1 rushing line in Week 11 was a reminder of just how fantasy-friendly the workload can be at times. Overall, only Justin Fields has more fantasy points from purely rushing production than Hurts among all quarterbacks this season.
Hurts has the 15th-most fantasy points from rushing production this season regardless of position, as his 91.8 fantasy points on the ground are more than locked-in top-15 running backs, such as Aaron Jones (89.1), Rhamondre Stevenson (88.6) and Jonathan Taylor (87.3) through 11 weeks of action.
Credit to the Green Bay Packers for allowing the sixth-fewest fantasy points per game to opposing quarterbacks this season, but not all fantasy quarterbacks are created equal, and it sure seems like Hurts was put together in a laboratory with the goal being to produce one of the most fantasy-friendly signal-callers that the game has ever seen.
Offense is easier when the defense sucks: The only three defenses allowing an explosive pass play on at least 10% of their opponent's dropbacks: Pittsburgh Steelers (10.4%), Texans (10.3%) and Falcons (10.1%).