Dynasty players often view the regular season as a time for their hard work in the offseason to finally pay off. The 16 weeks of meaningful football from September to December are simply the proving grounds for their trades of aging veterans, draft pick swaps and sneaky additions of training camp standouts. There are still plenty of edges to exploit in the regular season.
Here are the biggest dynasty risers and fallers ahead of NFL Week 11 and whether you should buy or sell the changing values.
Subscribe to
Touchdown scoring is best predicted by volume and the particular type of volume (line of scrimmage, average depth of target, down and distance, etc.) can add some predictive value. Still, scoring is one of the more random statistics we can look at in fantasy football. So should dynasty players be buying Claypool on the back of nine touchdowns through nine weeks of his rookie season? Yes.
Touchdowns are indeed random, but most of the rookie scoring outliers since 2000 will say that the players who score in their first season continue doing so throughout their careers.
Rookie WRs with 10-Plus Touchdowns Since 2000
| | | | |
| --- | --- | --- | --- |
| Player | Peak PPR PTS/G | Top-24 Seasons | Top-12 Seasons |
| Mike Evans | 19 | 7 | 5 |
| Tyreek Hill | 20.5 | 4 | 4 |
| Odell Beckham | 24.6 | 4 | 3 |
| Mike Williams (TB) | 9.8 | 2 | 0 |
| Calvin Ridley | 18.5 | 3 | 1 |
Looking at touchdowns is a basic way of analyzing rookie breakouts, but the more salient takeaway might be this: All but one of these receivers saw more targets in their second NFL season. Dropping the cutoff to eight scores, 64% of the receivers saw more targets in their second season (including current second-year players on pace to get more targets).
For a player to score eight or more times, they are typically staying healthy and getting targeted frequently. That means even without removing the sophomores who got injured, the hit rate for touchdowns producers is very high. Players who score touchdowns are often talented and usually earn more volume as a result of that talent and their production. Claypool's rookie season puts him firmly in the conversation to be a WR1 by next year.
Since his 11-target game in Week 4, Waller has endured a severe drought of yards. He hasn't topped 50 yards or six receptions in a game over the past five weeks. The only reason fantasy managers don't perceive the sky to be falling on him is his three touchdowns in that span of quiet games. Despite the lack of big games or overall yards, Waller's role has been completely unchanged.
Weeks 1-4: 24% air-yard share, 28% target share

Weeks 5-10: 22% air-yard share, 28% target share
The obvious difference between those two splits has been the Raiders' on-field success. They went 2-2 to start the year and have gone 4-1 since. Derek Carr hasn't been in the same area code as a 200-yard passing game since Week 7. When he is allowed to throw, Carr has a 74.6 passing grade — 12th in the league (min. 100 dropbacks). Waller may be a bit more dependant on game-script than preferred, but he's worth trying to buy at a discounted price as one of the few stud tight ends this year.
Swift was announced as the starter last week, and the Lions didn't hesitate to give him the entirety of that role. He rushed 16 times for 81 yards while adding five receptions, 68 yards and a touchdown on five targets. Most importantly, the Detroit backups combined for five carries and one target.
If Swift strings together a few more performances like this one, his rookie campaign is going to look very similar to Miles Sanders' debut season. Sanders' dynasty average draft position crept into the top 10 picks by the middle of summer this year.
Even if you don't have an affinity for Swift as a player, sharp dynasty managers will see the way his stock is trending and buy simply based on the likelihood of his value hitting the first round by next year.
Parker broke out last year with 1,202 yards, but he's currently on pace for under three-quarters of that production. His team has taken a step back in passing output compared to last year, but the shift hasn't been particularly dramatic. They are fewer than 20 yards per game behind their 2019 passing numbers.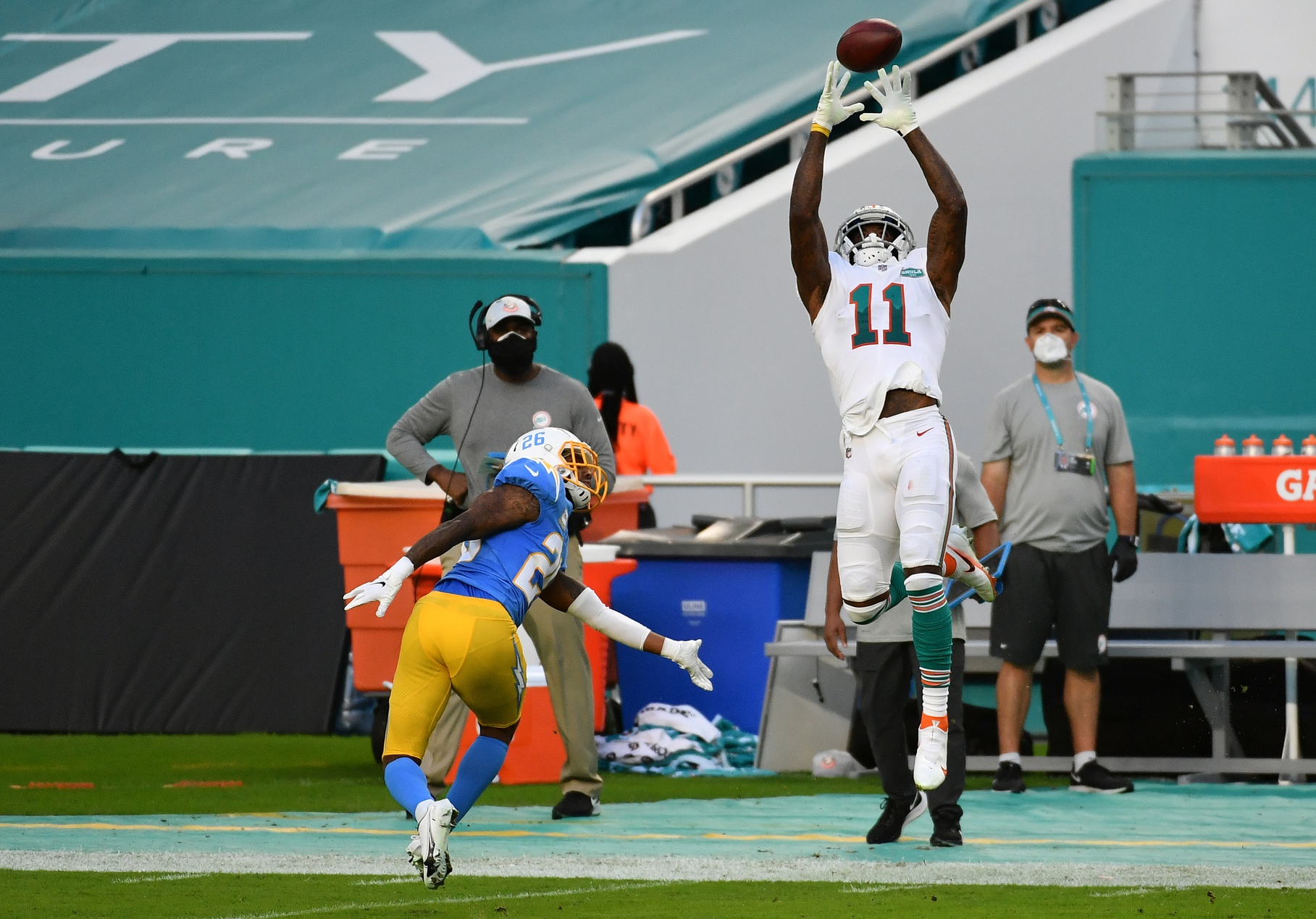 The change that is ruining Parker's fantasy value is his new role. His 21% target share is identical in both years but his average depth of target has dropped by 4 yards. While his team may not have fallen off a cliff in production, they are using him in a way that isn't as conducive to producing fantasy points. Unsurprisingly, his yards per target of 9.4 last year is down to 8.2 this year.
Parker is being used suboptimally in the new Miami offense, and there's no reason to believe that will subside anytime soon. Selling low on Parker isn't a bad idea if you can still get a WR2 swap for him.
With Kelce on a bye and George Kittle likely out for the season, the highest-scoring tight ends last week were Rob Gronkowski and Mark Andrews with a whopping 13.1 points each. Despite dealing with injuries throughout the year, Kittle averaged 16.4 PPR points per game. Kelce was in a class of his own at 18.8, and Waller was the bridge to mediocrity at 13.1. No other tight end is even at 12 points per game.
Having a stud tight end is a supreme advantage that is difficult to replicate at other positions. Just looking at this year, Kelce has a 20.5% best ball win rate. Surprisingly, Logan Thomas is at an 18.5% win rate and no one else is above 12%.
Most catches without a drop:
1. Keenan Allen – 65
2. Allen Robinson II – 63
3. Davante Adams – 61
4. Travis Kelce – 58 pic.twitter.com/hkH81VWq4X

— PFF (@PFF) November 18, 2020
Kelce having more value than all other tight ends in redraft and dynasty is obvious, but what his success overshadows is the failure of other tight ends. Dynasty players should be actively shopping middling tight ends with name-value like Jonnu Smith and Hunter Henry. Their paths to seeing extreme target volume are non-existent, and they offer little more than Thomas or Jimmy Graham. Keep taking shots on potential studs like Noah Fant or T.J. Hockenson, but don't be afraid to bail on tight ends who are doomed to live in the TE4-15 range.