• The Kansas City Chiefs use all seven wide receivers: Patrick Mahomes spread the ball around with Travis Kelce out of the lineup. No receiver gained more than 50 receiving yards.
• Jahmyr Gibbs shines on his few opportunities: Gibbs was a clear second on the Detroit Lions depth chart, but he was the most impressive running back in the game.
• Sam LaPorta is the real deal: LaPorta caught more passes tonight than all of the rookie tight ends combined caught in Week 1 of the 2022 season.



Estimated reading time: 6 minutes
---
PFF's fantasy football recap focuses on player usage and stats, breaking down all the vital information you need to achieve fantasy success in 2023.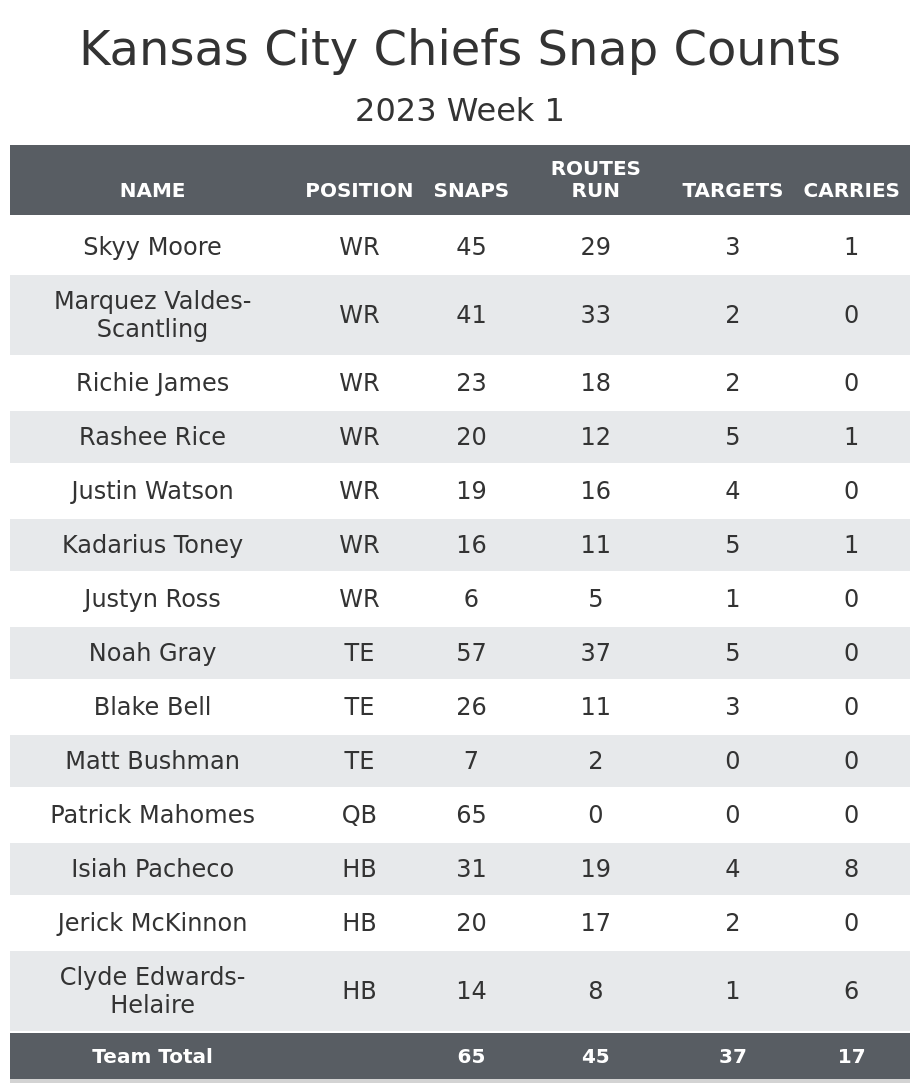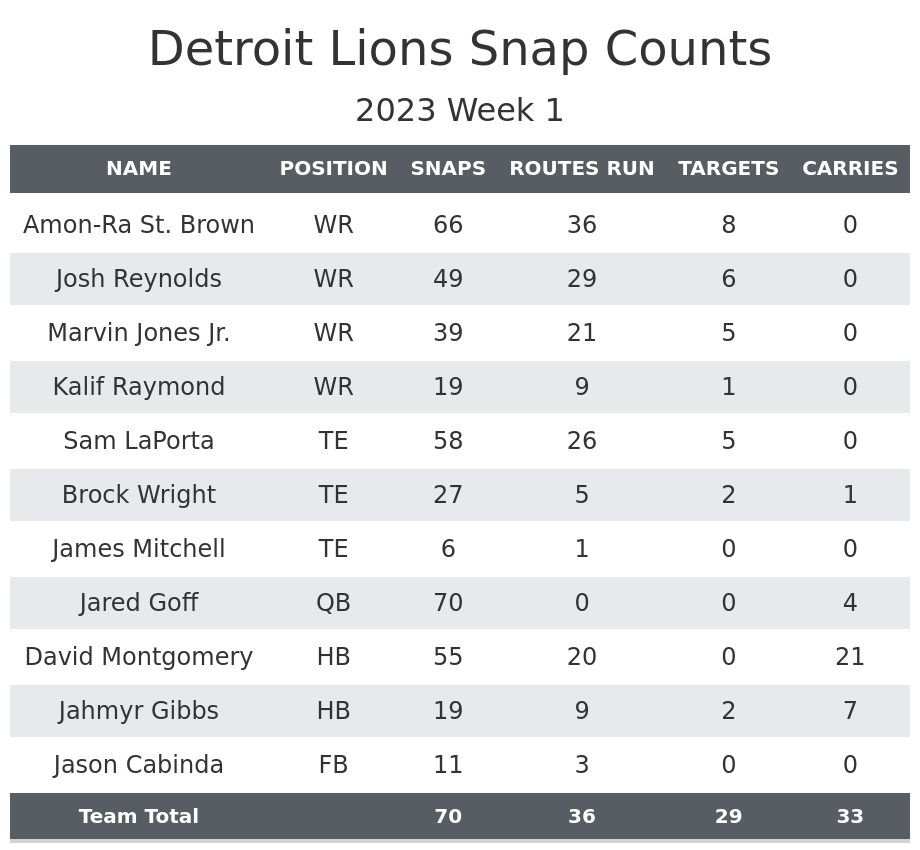 Kansas City's nightmare wide receiver rotation: The Chiefs used all seven of their wide receivers throughout the game.
Marquez Valdes-Scantling

and

Skyy Moore

were the clear top two wide receivers in the rotation, as expected. Many expected Moore to be the fantasy star of the night with

Travis Kelce

out, but he didn't see a single target until the third quarter.

While MVS and Moore were the top two options, they played much less than starting wide receivers typically do due to the seven-man rotation. If anything, their playing time might decrease rather than increase.

Kadarius Toney

started the game but was way down the rotation. He was limited in practice most of the week with a knee injury, so his playing time should increase over time.

Toney could have been the most productive receiver of the night, but he dropped several passes.

In the first half,

Rashee Rice

was a lot more involved in the offense

than initially anticipated. He didn't play a snap with the starters in Kansas City's last preseason game, and there were reports that he would be a

package player

.

Rice was targeted often on his routes and scored the first touchdown for Kansas City.

He didn't play as many snaps in the second half, mostly coming in as a run-blocker despite the early success.

Rice is worth a waiver wire claim. Don't start him anytime soon, but there is a chance he can work his way up the rotation.

He and Moore were the main slot receivers all night

, although all seven wide receivers lined up in the slot on multiple snaps.

The one positive point for the fantasy value of the receivers is that

Justin Watson

was sixth on the depth chart. Watson was top-four on the depth chart last season and consistently played with the starters throughout the preseason.

Watson is a deep threat, so we knew he wouldn't be a consistent fantasy option, so fewer snaps for him means more snaps for other players.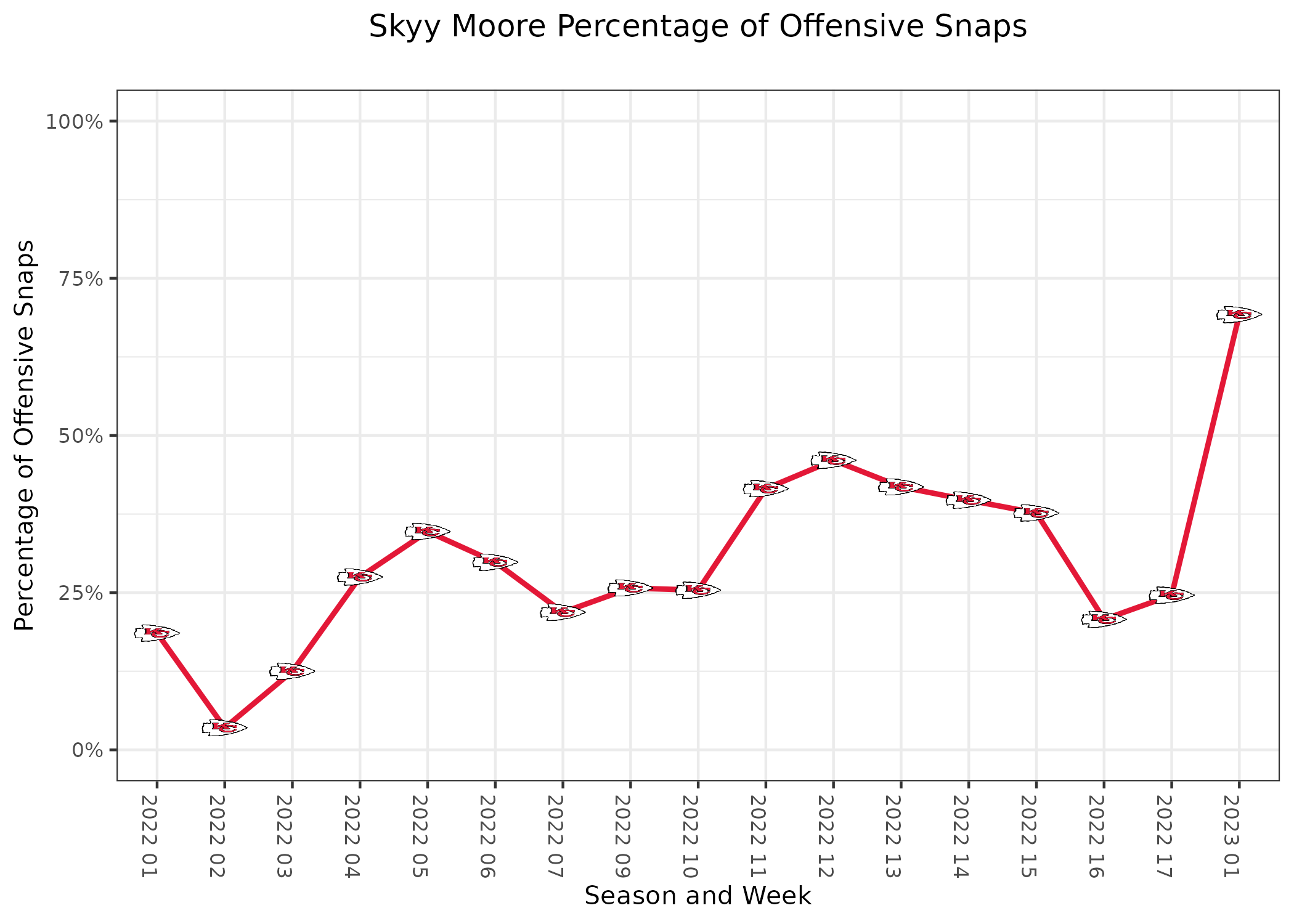 Kansas City is back to a three-man running back committee: Kansas City used the same three running backs as last season, albeit in a slightly different way.
Clyde Edwards-Helaire

started the game, although it was clear that Isiah Pacheco remains the primary early-down running back. That start might have come because he is the more experienced player or because he was the primary running back throughout training camp while Pacheco was injured.

While it was odd for Pacheco not to start, his role was generally the same as it was late last season. The Chiefs just didn't have a big lead late, which would have allowed him to pad his stats.

Kansas City consistently fielded a primary early-down back and a secondary early-down back last season.

Jerick McKinnon

was often the secondary player, but in this game, it was Edwards-Helaire.

This would obviously hurt McKinnon's fantasy value if it continues, and it would potentially even make him dropable in some leagues.

McKinnon remained the third-down back, to no one's surprise. He also came in for the goal-line situation, which he did over 60% of the time last season. And that's because Kansas City loves throwing at the goal line.

A healthy Edwards-Helaire might hurt Pacheco's upside, but in this game, he mostly cut into snaps that would have gone to McKinnon.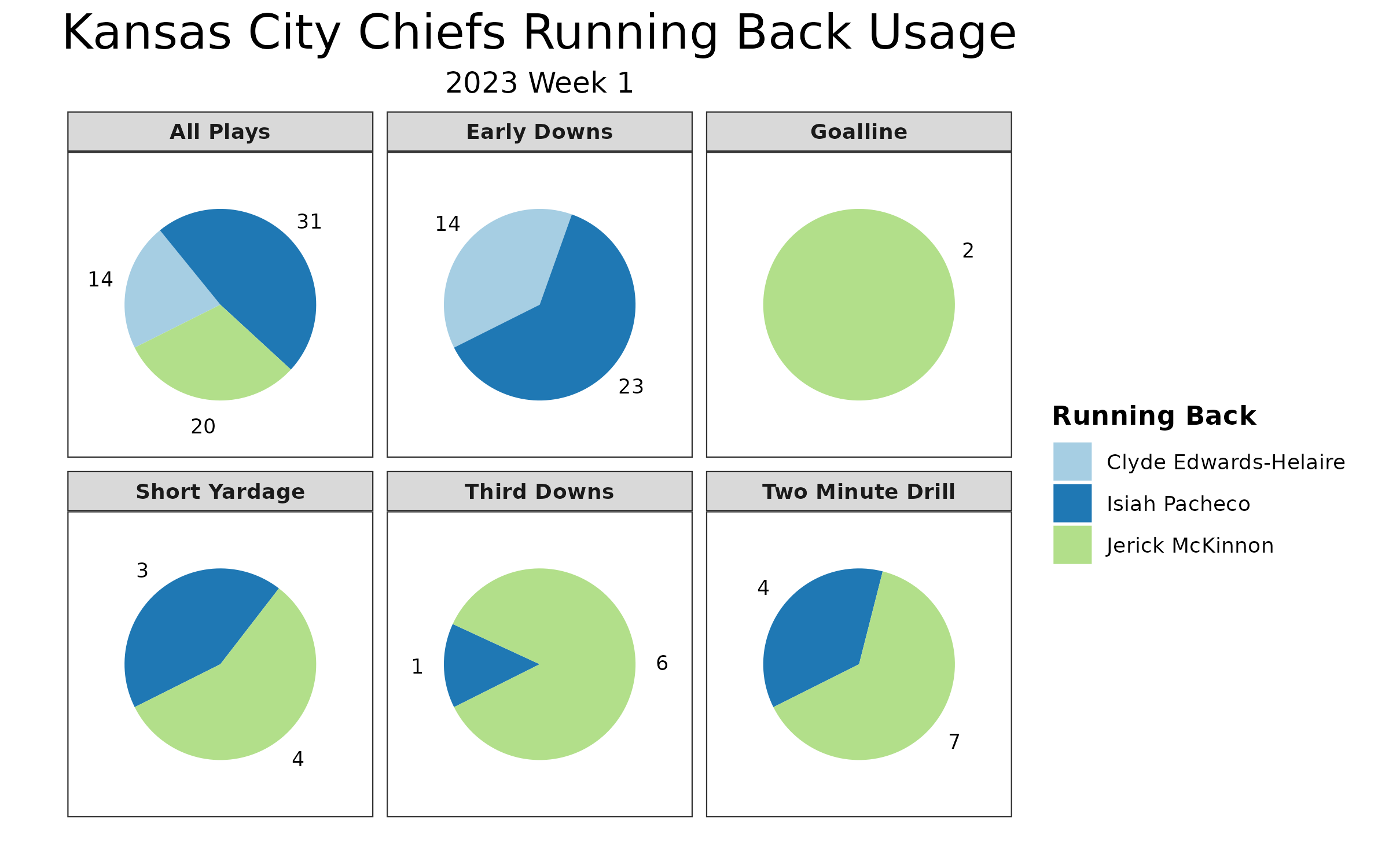 The Detroit Lions ease Jahmyr Gibbs into action: David Montgomery started for Detroit and received a bigger role than most anticipated.
Montgomery started the game and was the primary rusher, similar to

Jamaal Williams

 last year

.

Unlike Williams, Montgomery was also the primary running back on the field in passing situations, particularly the two-minute drill.

Gibbs would often come in for one play at a time, or late in a drive when Montgomery needed a break.

The odd thing is that we expected Gibbs to be the receiving back, but he saw more work on early downs than in passing situations.

Gibbs played well when given the opportunity, running

seven

times for

42

yards and catching two passes for 18 yards.

If there is one piece of good news, it's that they aren't just putting Gibbs in the

D'Andre Swift

role and Montgomery in the

Jamaal Williams

role.

It should be easier to put Montgomery in your starting lineup in the short term, particularly when the team isn't playing the defending Super Bowl Champions and can ideally run more.

Gibbs fantasy managers will need to be patient, but it's far too early to panic.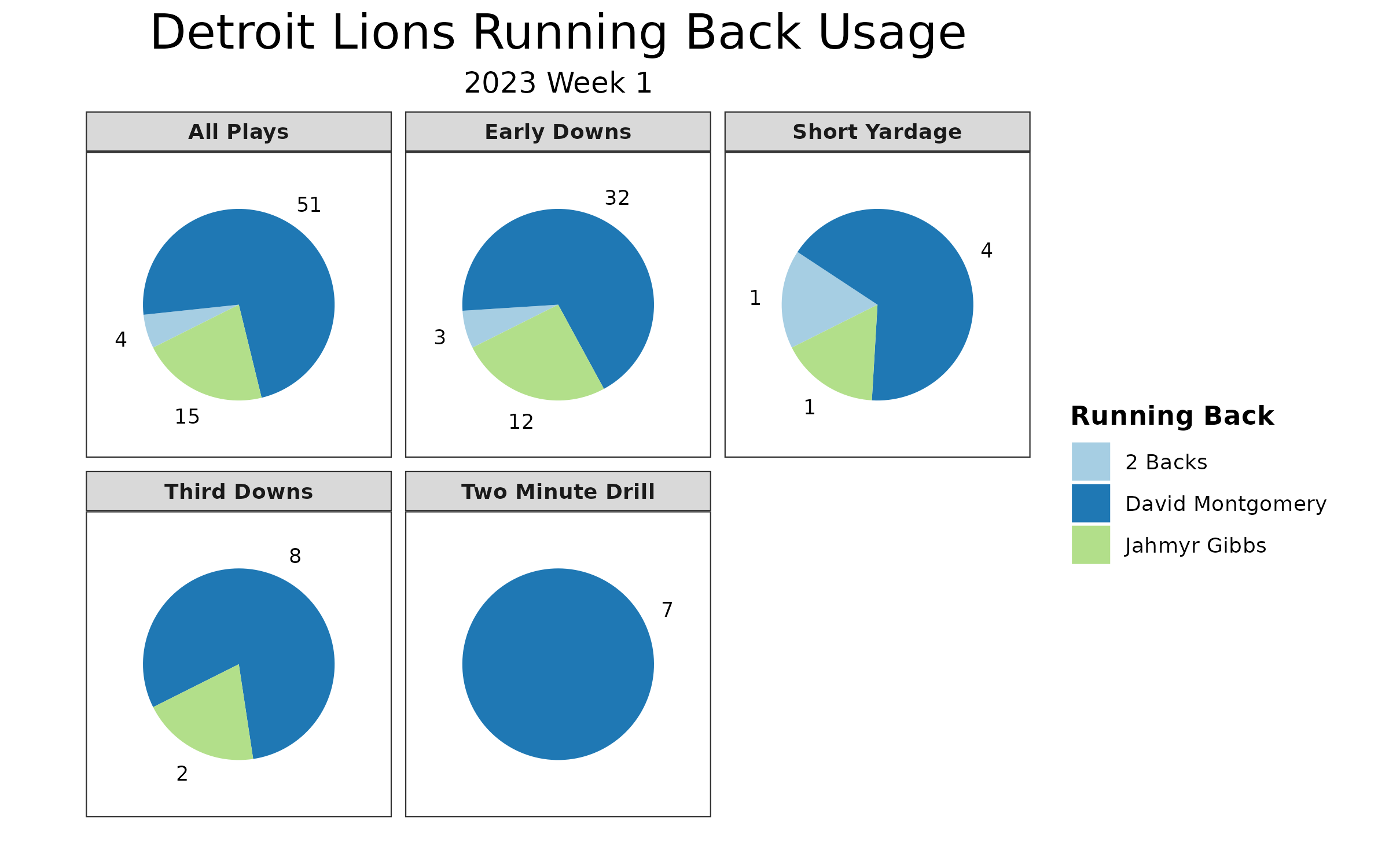 Start Sam LaPorta: LaPorta played roughly as much as we expected and, more importantly, received plenty of targets.
The rookie tight end was consistently on the field in 11 and 12 personnel with the starters. He left the field for 21 personnel with the starters in the preseason.

While Gibbs was substituted out of 11 and 12 every once in a while, he received a slight majority of snaps in 21 personnel, which is likely a net positive.

This means there is a chance he could play 90% or more of snaps in the future.

LaPorta caught five passes for 39 yards. That is the most receptions for a rookie tight end in Week 1 since 2019 when

T.J. Hockenson

caught six passes.

He should be as reliable as other players who typically rank in the top 12, but he has more upside.
Miscellaneous Notes
Noah Gray

took the snaps

Travis Kelce

would have, just without the target share. Kelce is expected back by next week, so anyone who had picked Gray up for this game can drop him.

With Kelce out, Kansas City didn't use as much 12 personnel in the first half of the game. They typically used 12 personnel for 25% of first-half plays last season, but that was down to 10.3% tonight. The Chiefs were more comfortable using 12 personnel in the second half.

The

Detroit Lions

allowed the most deep receiving yards last season, so it shouldn't be surprising the two

Kansas City Chiefs

deep threats in

Marquez Valdes-Scantling

and

Justin Watson

led the team in receiving yards with 48 and 45, respectively.

The Lions' wide receivers outside of

Amon-Ra St. Brown

can continue to be ignored.

Josh Reynolds

was the clear second wide receiver in this game, catching four passes for 80 yards, with most of his work coming in the fourth quarter. He is a fine waiver-wire target in very deep leagues, but we shouldn't expect him to reach 80 yards with much consistency.
---
Table Notes
• Snaps include plays called back due to penalties, including offensive holding or defensive pass interference. The other three stats have these plays removed.
• Targets may differ from official NFL sources. The most likely discrepancy would be from a clear thrown-away pass, where the NFL may give the target to the nearest receiver, while this data will not.
• Carries are only on designed plays. Quarterback scrambles won't count for the total number of carries in the game.