This is our weekly look at fantasy adjustments you should make based on venue and/or weather. Entering Week 5 of the NFL season, knowing which players should see an improvement or decline in their projection can be a key to victory.
The Colts, Falcons, Cardinals, Vikings, and Cowboys all play on the road this week, which makes it unusually light for domes. The Packers at Lions and Redskins at Saints should be the only two games that actually have closed roofs. You don't need my help to start Drew Brees (+3.1), but Matthew Stafford (+1.1) may not be an every-week play for you, and he's my No. 2 quarterback for the week. With so many outdoor games, there were bound to a few that featured weather concerns. Based on forecasts, there are three that I'll cover. Meanwhile, Elite subscribers can peruse the full list of my venue and weather adjustments.
Sunday, 1 p.m. ET
Patrick Mahomes (+0.3) looked like the breakout star his early fantasy results suggest he is in leading the Chiefs to a comeback win in Denver Monday night. But this week could be a tougher test. There is a strong chance of rain in Kansas City at game time, which erases most of Mahomes' home-field benefit. Meanwhile, his opponent, the Jaguars, allow 15% fewer passing yards and touchdowns per attempt and 50% fewer rushing touchdowns per attempt than a typical team. All told, that drops Mahomes from third in my true-talent rankings to 12th among quarterbacks for the week. If you have Stafford, Matt Ryan, or Jared Goff as your backup, consider starting them instead.
The rest of the Chiefs' fantasy options remain clear starts despite the potential bad weather and defensive matchup. Travis Kelce (+0.2) remains my No. 1 tight end, and Tyreek Hill (+0.3) and Kareem Hunt (+0.2) are both 11th at their respective positions in my PPR rankings. The sneaky play is T.J. Yeldon (+0.0), who draws the start with Leonard Fournette ruled out. The Chiefs' defense allows 25% more rushing touchdowns than an average team. With that and the bad weather, Yeldon jumps to No. 7 at the position this week.
The Titans/Bills game has a much smaller chance of rain, but that weather bears watching as we approach game time Sunday. Based solely on the venue, Dion Lewis (+0.7, No. 18 RB) should benefit more than Derrick Henry (-0.2, No. 34 RB). Road games tend to create more passing-down situations, where Lewis generates a lot of his value. However, if it does rain, I would become interested in starting Henry, especially in a DFS contest. Even on the road, the Titans have a chance to blow out the Bills, where they would presumably rely on Henry to kill clock in the second half.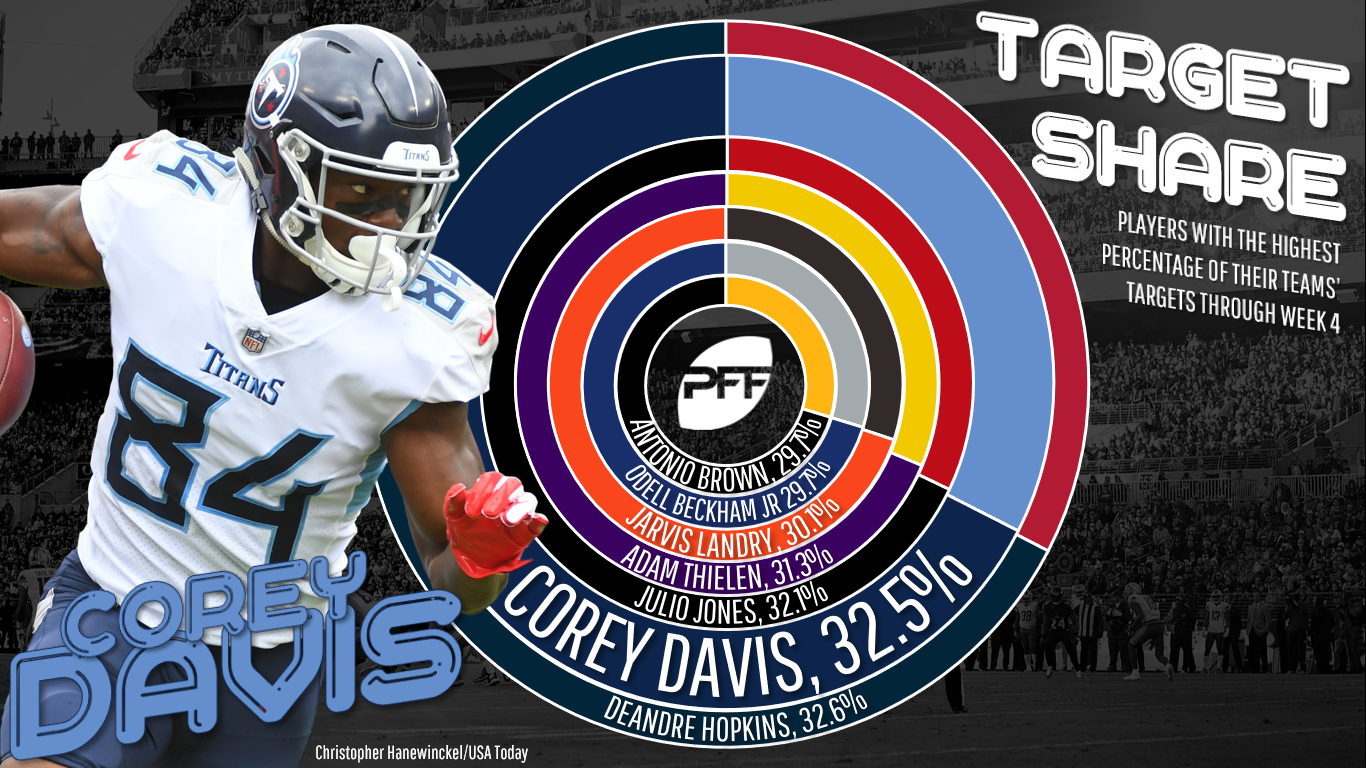 That is also a relevant concern for Corey Davis (-0.7). Davis seems on the verge of breaking out in fantasy. He's a tenth of a percentage point behind DeAndre Hopkins for the highest target share in football this season. But that breakout may have to wait another week because the Bills limit passing touchdowns per attempt more than any other team and allowed just 2 passing touchdowns total to Kirk Cousins and Aaron Rodgers the last two weeks. Davis is my No. 29 wide receiver in PPR this week and would drop even lower if the rain actually comes.
Like Buffalo, Cleveland has a chance for rain on Sunday, but rain isn't a necessary factor to fade the Ravens passing game. Joe Flacco (-2.6) shows some of the biggest home/road splits at the position. Among fantasy-relevant players, Michael Crabtree (-1.3) and John Brown (-1.1) are the biggest losers. I have them projected to tie this week in fantasy points. They are 34th at the position in my rankings.
The one Ravens player you likely should consider is Javorius Allen (-0.2). My projections suggest the road venue should hurt a little bit more than the potential bad weather helps, but he should enjoy the relative win over teammate Alex Collins (-0.6), who is less of a factor in the passing game. And based on their recent histories, I may be underrating that split. Since the start of last season, Allen has scored 1.8 more fantasy points per game on the road while Collins has scored 1.7 more fantasy points per game at home. Allen is my No. 20 PPR back and maybe should be higher. As is, that's a full 9 spots ahead of Collins.