It may not technically be summer anymore, but you wouldn't know it by the games in Week 4. Fourteen of the 15 games this week kick off either in a dome or with a forecasted temperature above 60 degrees. There are chances of light rain in a couple of places, but by and large, home/road and indoors/outdoors carry the venue and weather adjustments this week. Some of those adjustments are still pretty big, and Elite subscribers can peruse the full list. Here are some highlights.
Sunday, 1 p.m. ET
Welcome to this week's weather exception. I knew I could count on Green Bay to usher in the colder weather, which it will bring with mid-40s temperatures throughout an early-afternoon game. That is barely cold by frozen tundra standards, but my research shows that moderately cold temperatures between 30 and 49 degrees decrease teams' pass/run ratios, completion percentages, and passing yards per attempt. There is also a chance of light rain in Green Bay at game time, and the Bills are a minus matchup for passing touchdowns. It's a lot of smaller factors that chip away at Aaron Rodgers' (+1.5) projected statistics, but they are counterbalanced by his atypically high home/road splits. He is my No. 2 quarterback for the week. You can start him and his receivers with confidence.
The sneaky potential beneficiaries of the poor Green Bay weather are sophomore backs Aaron Jones (+0.4) and Jamaal Williams (+0.0), but it's difficult to rely on either because of the other's presence. I want to recommend Jones, who has been the more efficient runner in his career, but he had just one more carry than his teammate in his return from suspension last week. Definitely roster Jones in all of your leagues, but you should probably wait to see a change in their workload split before you start him. I have Jones ranked 42nd and Williams ranked 49th in PPR formats this week.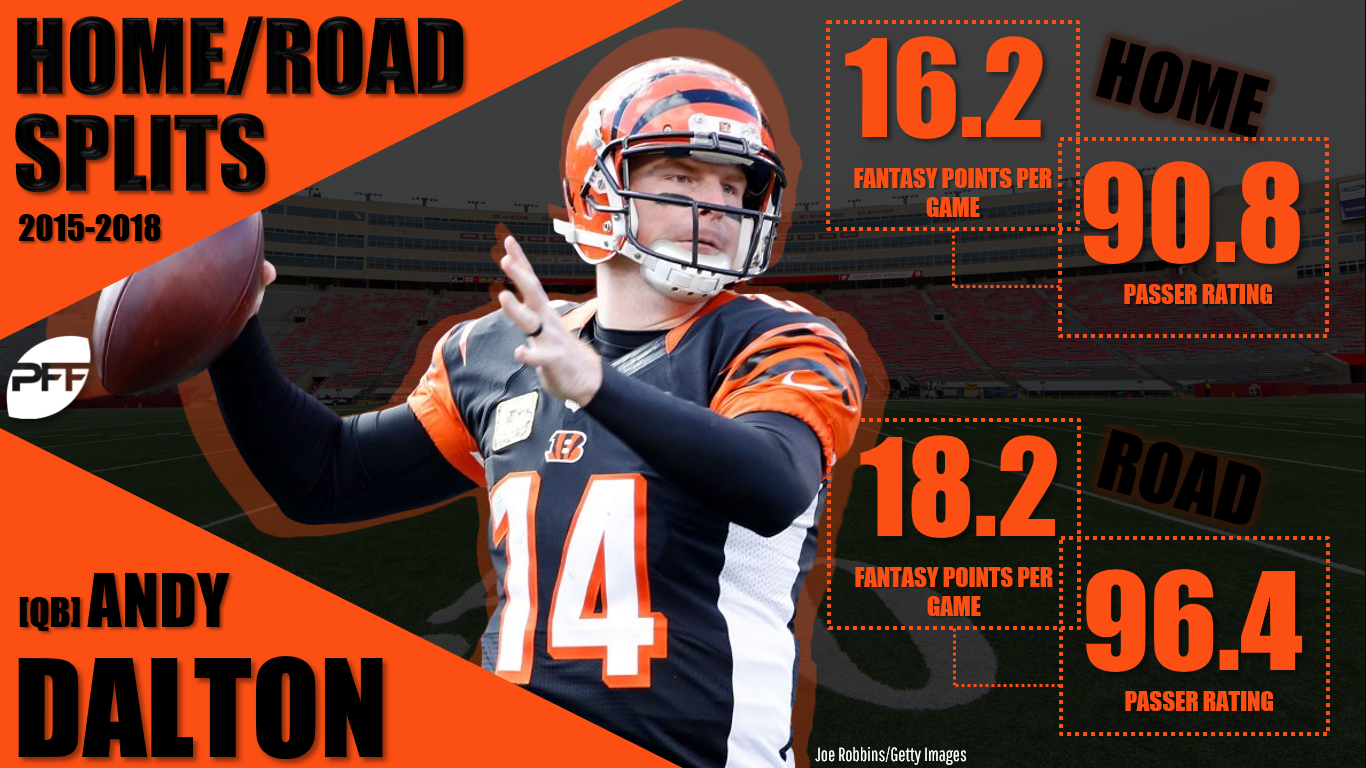 Andy Dalton (+1.1) threw four interceptions to sabotage his fantasy day in Carolina last Sunday, but he's actually averaged two more fantasy points on the road than at home in recent seasons. Road contests don't get more attractive than his Week 4 game in Atlanta. Not only does Dalton get the dome, he gets to throw against an injury-decimated Falcons defense that has allowed 731 passing yards and 8 total touchdowns to Cam Newton and Drew Brees the last two weeks in Atlanta. Dalton is my No. 8 quarterback this week and makes an excellent substitute for Newton or Alex Smith on bye. Also, don't overlook slot receiver Tyler Boyd (+0.3). He has been the most efficient Bengals receiver this season and is one of just 32 receivers with at least 20 targets this year. He's in my top-40 this week.
Deshaun Watson (-1.4) only threw two touchdowns last week in his plus matchup against the Giants, but he still put up an excellent fantasy day with 385 passing and 36 rushing yards. He will likely fare a bit worse on the road this week, but the fact his game is in the dome in Indianapolis against a Colts team that allows more passing yards and touchdowns per attempt than a typical team should help. I have him seventh at the position. I also have Will Fuller (-1.0) in my top-15 wide receivers. Watson has continued to heavily target him alongside DeAndre Hopkins (-1.1), and so Fuller should be a safe WR2 pretty much every week.
J.J. Watt looked more like himself last week, but the Texans still encourage more passing touchdowns than any team but the Packers and Giants. At home in the dome, Andrew Luck (+1.0), T.Y. Hilton (+0.6), and Eric Ebron (+0.4) are sixth, seventh, and fourth at their respective positions in my rankings this week with Jack Doyle likely to miss another few weeks with his hip injury.
Sunday, 8:20 p.m. ET
Ben Roethlisberger (+3.7) and Joe Flacco (-2.6) have shown the biggest home/road splits of any quarterbacks in recent seasons, and Roethlisberger ends up with the major advantage as the home quarterback in their matchup on Sunday night. Roethlisberger should also benefit from the absence of Ravens cornerback Jimmy Smith, who serves the last game of his four-game suspension this week. JuJu Smith-Schuster (+2.1) figures to gain the most from Smith's absence because of his 87.6 percent slot percentage. Current nickel corner Tavon Young allowed 81 yards and two touchdowns to A.J. Green and Tyler Boyd on just five targets in Week 2. Smith-Schuster joins Antonio Brown (+2.3) among my top-five PPR receivers for the week.
John Brown (-1.1) and Michael Crabtree (-1.2) would be at the back-end of my top-30 in a neutral matchup but fall to 40th and 42nd in my rankings this week. Try to avoid them and Alex Collins (-0.6) if you can. Javorius Allen (-0.3) could have more success if the Ravens end up trailing and relying heavily on their passing-down offense. He's my No. 20 PPR back.