This is our weekly look at fantasy football adjustments you should make based on venue and/or weather. Entering the weekend action for the Divisional Round of the NFL season, knowing which players should see an improvement or decline in their projection can be a key to victory.
After a defense-focused Wild Card round, this week will feature the bulk of the NFL's explosive offenses and without any major weather concerns that would rob them of points. That said, both the Colts/Chiefs and Chargers/Patriots games will see temperatures at or below freezing, and my research shows that cold weather alone pushes teams to run the ball more and reduces the effectiveness of their passes. I don't expect wholesale strategic changes, but even those subtle differences coupled with home/road tendencies can impact expected production enough to swing fantasy matchups. Here are the teams and players I project to see the biggest differences.
(Scroll to the bottom of the page to see a full charting of the expected adjustments to make this week.)
Saturday, 4:35 p.m. ET
With a game-time temperature forecast of 34 degrees Fahrenheit, this is the milder of the two cold games this week. That is not enough to sabotage a home game for Patrick Mahomes (+0.3), although he did produce three of his five games with fewer than 300 passing yards in cooler temperatures in December. The gap between him and the No. 2 quarterback option, Drew Brees, should be smaller this week given their respective conditions.
You'll likely be tempted to roll with Andrew Luck (-1.4), who is $800 cheaper than Mahomes and $500 cheaper than Brees on DraftKings. I'm not as keen on the idea because Luck showed pretty substantial home/road splits this year.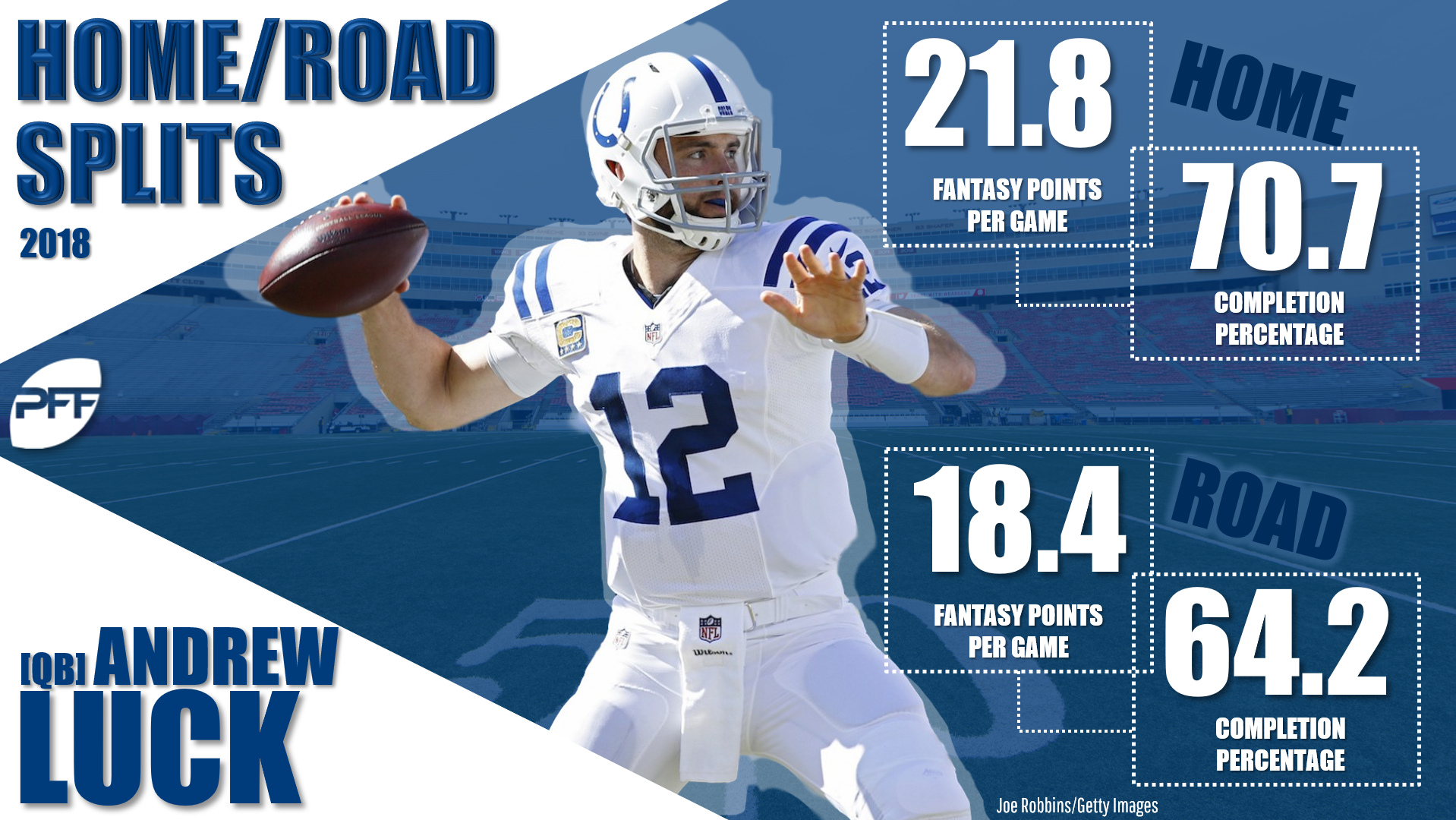 I wouldn't be surprised to instead see the Colts attempt to repeat their strategy from last week and lean heavily on running back Marlon Mack (-0.5). His projected road losses should be somewhat counterbalanced by the cold temperature, and his workload has been trending up all season, culminating in a season-high more than 90% of the team's running back touches last week.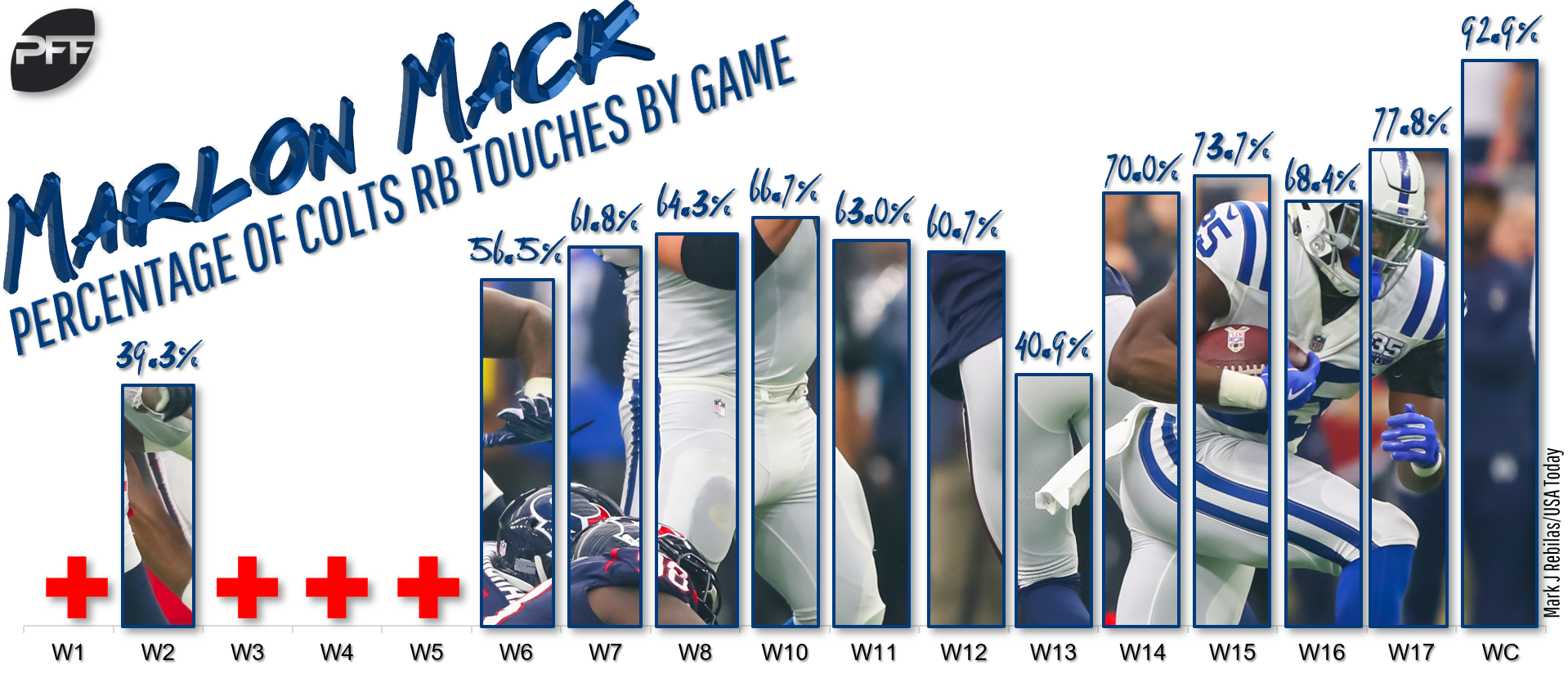 The Chiefs defense promotes rushing yards per attempt by 14% and rushing touchdowns per attempt by 35 percent. Mack could rack up the fantasy points as the keystone piece of an attempt to keep the Chiefs offense off the field.
Saturday, 8:15 p.m. ET
There is a strong chance of rain overnight and into the early morning of game day in Los Angeles, but that should give way to just clouds and moderate temperatures come the late-afternoon local kickoff. That is better than the alternative, but it's still prudent to keep your expectations of Dak Prescott (-1.2) in check. With 20.1 fantasy points per game at home and 15.9 on the road this year, he is one of the more venue-susceptible quarterbacks in football.
I'm much more bullish on Rams quarterback Jared Goff (+0.1), who has shown his own extreme home/road splits and will land on the good side of that at home in Los Angeles this weekend.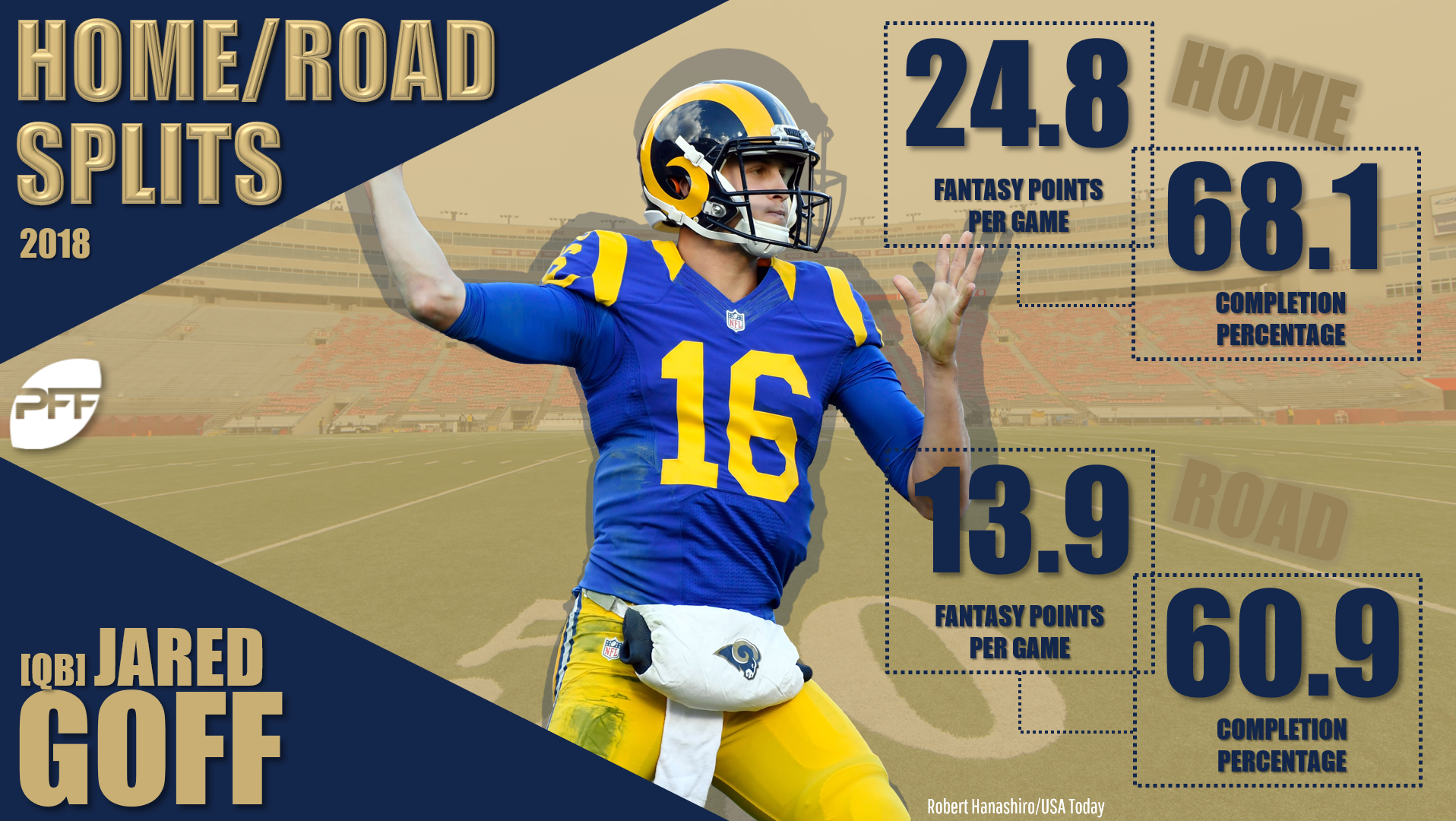 My projections don't trust his splits as much as they do those of long-time players like Brees, so I'm more likely too pessimistic than too optimistic. I think he and both of his primary receivers, Robert Woods (+0.4) and Brandin Cooks (+0.4), are decent fantasy options. Cooks broke out of his December slump with two scores in Week 17, but more important for projection purposes, he had nine targets. That was his most in a game since his last 100-yard receiving day in mid-November.
Sunday, 1:05 p.m. ET
The 25-degree kickoff temperature in Boston is cold enough to really matter for fantasy purposes. Tom Brady (+0.1) typically enjoys a big home-field advantage, but he's thrown for just 236 yards and 15.2 fantasy points per game with the temperature below 30 degrees in recent seasons. And Philip Rivers (-1.3) has had so few opportunities in those elements, it's difficult to trust his mixed results.
Philip Rivers' Sub-30˚ Games
Season
Week
Temp
Yards
TD
INT
FanPts
2007
20
23˚
211
0
2
4.4
2008
19
26˚
308
3
1
22.3
2010
16
29˚
256
1
1
12.4
2013
12
24˚
392
3
0
27.8
291.8
1.8
1.0
16.7
If I wanted to save money at the position in daily, I'd rather play Goff than either future Hall of Famer.
Melvin Gordon (+0.4) would be primed for a big fantasy day against a Patriots defense that is worse against the run than the pass, but his recurrent knee injury makes him a major risk. I actually feel much more comfortable starting Patriots rookie Sony Michel (+1.3), who has enjoyed massive home benefits this season and shouldn't have to face the Chargers' run-stopping quarter defense that stymied Lamar Jackson with Brady under center.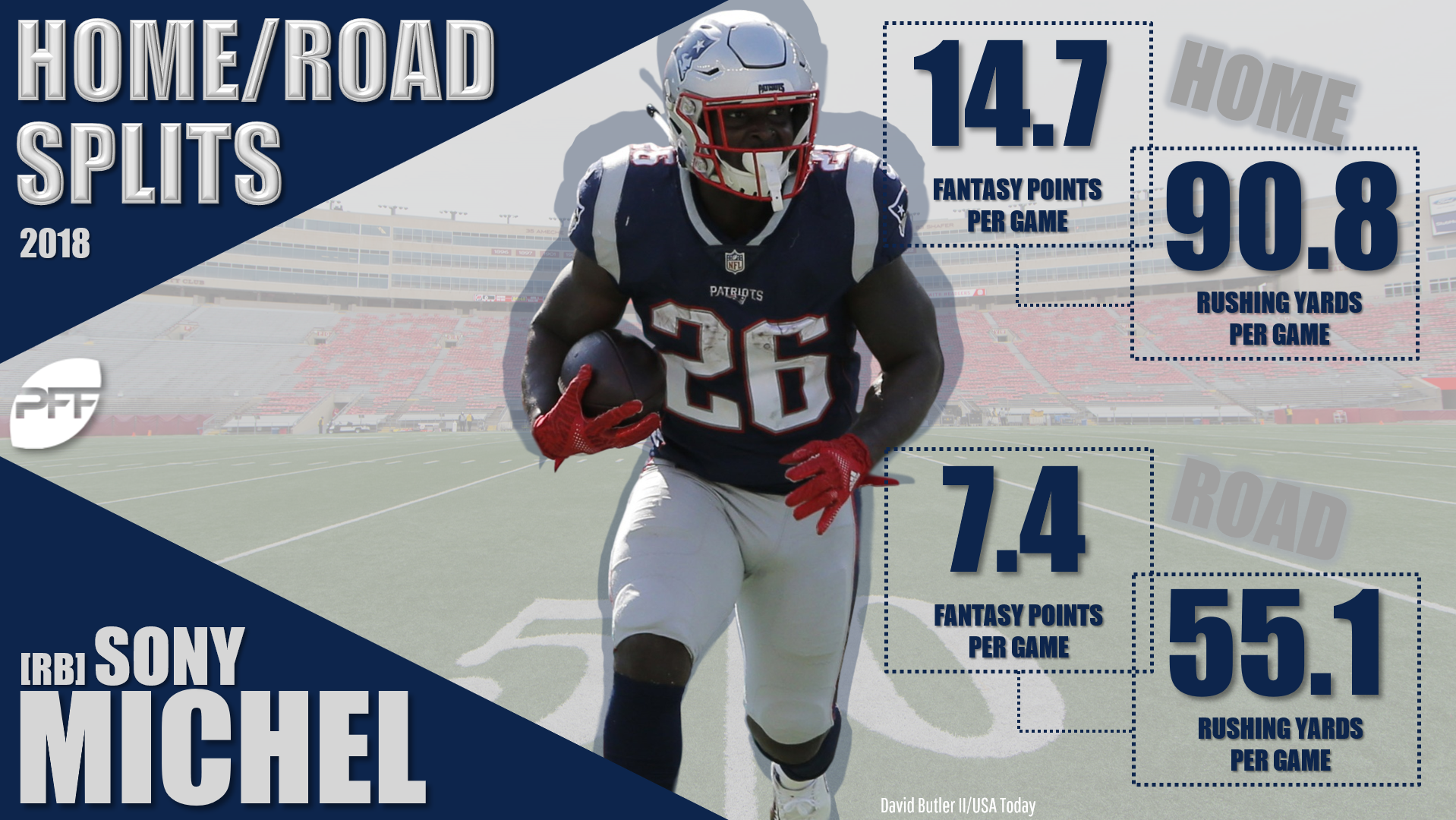 Interestingly, James White (-1.0) has shown an unusual split for a receiving back with better production at home than on the road this year. But since that has been driven much more by touchdowns than by touches and yards, I'm projecting a venue-and-weather loss for him this week.
Sunday, 4:40 p.m. ET
I feel like a broken record at this point, but I feel compelled to repeat that Brees' (+2.9) December swoon that will likely cost him the MVP was the result of his typical home/road splits over a three-game road trip. Brees scored 24.7 fantasy points per game in the dome in New Orleans this year compared to just 16.2 per game on the road. The Eagles are one of the best pass defenses still in the playoffs, but Brees still managed 363 yards and four touchdowns against them at home in Week 11. That may be too high a target for his encore performance, but he should still be an excellent fantasy option this week. So too should his favorite trio of skill players, Alvin Kamara (+0.6), Mark Ingram (+0.5), and Michael Thomas (+1.9). I even like Ted Ginn (+0.9), who saw eight targets in his return from his knee injury in Week 16, second-most on the team.
Nick Foles (-0.4) should see some of his typical road losses mitigated by playing in the dome, but the Saints defense isn't a dramatically better matchup than the Bears were last week. They cut passing touchdowns per attempt by 10% and promote interceptions and quarterback fumbles by 30 and 55% per attempt, respectively. Foles may end up with strong fantasy stats because of the gamescript, but he's too risky for my tastes.
| | | | |
| --- | --- | --- | --- |
| Player | Team | Pos | Adjustment |
| Drew Brees | NO | QB | +2.9 |
| Michael Thomas | NO | WR | +1.9 |
| Sony Michel | NE | RB | +1.3 |
| Ted Ginn Jr. | NO | WR | +0.9 |
| Alvin Kamara | NO | RB | +0.6 |
| Tre'Quan Smith | NO | WR | +0.6 |
| Mark Ingram | NO | RB | +0.5 |
| Keith Kirkwood | NO | WR | +0.5 |
| Josh Hill | NO | TE | +0.5 |
| Dan Arnold | NO | TE | +0.5 |
| Melvin Gordon | LAC | RB | +0.4 |
| Robert Woods | LAR | WR | +0.4 |
| Brandin Cooks | LAR | WR | +0.4 |
| Ben Watson | NO | TE | +0.4 |
| Patrick Mahomes | KC | QB | +0.3 |
| Austin Ekeler | LAC | RB | +0.3 |
| Josh Reynolds | LAR | WR | +0.3 |
| Travis Kelce | KC | TE | +0.3 |
| Gerald Everett | LAR | TE | +0.3 |
| Darren Sproles | PHI | RB | +0.2 |
| Tyreek Hill | KC | WR | +0.2 |
| Phillip Dorsett | NE | WR | +0.2 |
| Cordarrelle Patterson | NE | WR | +0.2 |
| Sammy Watkins | KC | WR | +0.2 |
| Julian Edelman | NE | WR | +0.2 |
| Chris Hogan | NE | WR | +0.2 |
| Tyler Higbee | LAR | TE | +0.2 |
| Demetrius Harris | KC | TE | +0.2 |
| Jared Goff | LAR | QB | +0.1 |
| Tom Brady | NE | QB | +0.1 |
| Todd Gurley | LAR | RB | +0.1 |
| Tavon Austin | DAL | WR | +0.1 |
| Chris Conley | KC | WR | +0.1 |
| Demarcus Robinson | KC | WR | +0.1 |
| Noah Brown | DAL | WR | +0.1 |
| Zach Pascal | IND | WR | +0.1 |
| Rob Gronkowski | NE | TE | +0.1 |
| Mo Alie-Cox | IND | TE | +0.1 |
| Rex Burkhead | NE | RB | 0.0 |
| C.J. Anderson | LAR | RB | 0.0 |
| Wendell Smallwood | PHI | RB | 0.0 |
| Golden Tate | PHI | WR | 0.0 |
| Dallas Goedert | PHI | TE | 0.0 |
| Dalton Schultz | DAL | TE | 0.0 |
| Josh Adams | PHI | RB | -0.1 |
| Rod Smith | DAL | RB | -0.1 |
| Spencer Ware | KC | RB | -0.1 |
| Jordan Wilkins | IND | RB | -0.1 |
| Darrel Williams | KC | RB | -0.1 |
| Nelson Agholor | PHI | WR | -0.1 |
| Justin Jackson | LAC | RB | -0.2 |
| Damien Williams | KC | RB | -0.2 |
| Nyheim Hines | IND | RB | -0.2 |
| Alshon Jeffery | PHI | WR | -0.2 |
| Cole Beasley | DAL | WR | -0.2 |
| Blake Jarwin | DAL | TE | -0.2 |
| Virgil Green | LAC | TE | -0.2 |
| Antonio Gates | LAC | TE | -0.2 |
| Zach Ertz | PHI | TE | -0.3 |
| Nick Foles | PHI | QB | -0.4 |
| Charcandrick West | KC | RB | -0.4 |
| Travis Benjamin | LAC | WR | -0.4 |
| Dontrelle Inman | IND | WR | -0.4 |
| Michael Gallup | DAL | WR | -0.4 |
| Ezekiel Elliott | DAL | RB | -0.5 |
| Marlon Mack | IND | RB | -0.5 |
| Chester Rogers | IND | WR | -0.5 |
| Eric Ebron | IND | TE | -0.5 |
| Amari Cooper | DAL | WR | -0.6 |
| Tyrell Williams | LAC | WR | -0.7 |
| T.Y. Hilton | IND | WR | -0.8 |
| Mike Williams | LAC | WR | -0.8 |
| James White | NE | RB | -1.0 |
| Dak Prescott | DAL | QB | -1.2 |
| Philip Rivers | LAC | QB | -1.3 |
| Andrew Luck | IND | QB | -1.4 |
| Keenan Allen | LAC | WR | -1.5 |