Obviously, "fantasy points" is the stat that most illustrates a player's contributions to fantasy football. But if you're looking for a number that can point you in that direction — and one that is very sticky year-over-year, which is also what you want — you could do a lot worse than yards per route run.
Among wide receivers with at least 50 targets in 2018, YPRR and PPR points per game carried a correlation of 0.74 in 2018, which is … pretty nice. And given that YPRR is a sticky metric (look no further than led-the-league-four-straight-years Julio Jones), we can feel pretty good about its ability to help us look forward as well.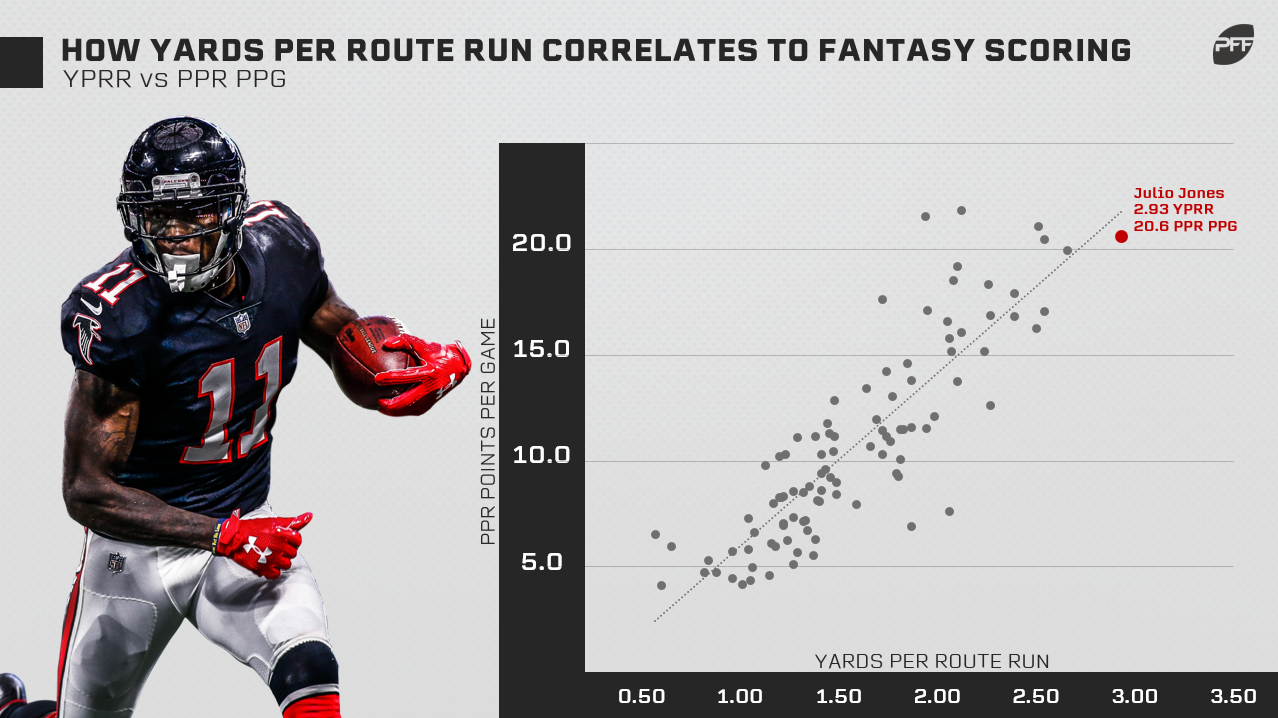 The primary variances on the correlation between YPRR and PPR points per game is, naturally, touchdowns — and, more specifically, touchdown luck. A player who scares on a disproportionate number of his receptions is going to exceed his YPRR-predicted fantasy point average; a player who fails to find the end zone will fall short.
I looked at the luckiest touchdown scorers of 2018 earlier this offseason based purely on touchdowns and targets. That analysis holds. But YPRR can also give an indication of some of the most and least fortunate fantasy options of 2018, and offer up some ideas of what to expect out of those players in 2019.
Today, we're going to look at players whose fantasy points per game most exceeded their YPRR expectation. Tuesday, we'll look at the ones who fell short.
PPR points per game: 21.6
YPRR-expected points per game: 13.7
Difference: 7.9
Brown's fantasy points-per-game average has stayed basically steady over the last five years (never better than 23.9; never worse than 20.5), while his level of play stayed basically steady for the four years before 2018. His moderate bust potential for 2019 is a topic we've already covered this offseason, but it's worth noting again that his production in 2018 was based in part on the best touchdown percentage of his career (9.1%; previous career-best was 7.9%), and that that is the sort of thing that is heavily subject to regression.
PPR points per game: 21.8
YPRR-expected points per game: 15.1
Difference: 6.7
There were two ways to exceed your YPRR-predicted fantasy expectation. The first, and easiest one, is to score a lot of touchdowns, as mentioned above. Adams did the second way. His touchdown percentage (8.0%) was actually at a three-year low (which encompasses his entire time as a fantasy-relevant receiver). But by sheer quantity he outdid himself. Adams' 111 receptions in 2018 tied for fifth among wide receivers, which is why he put up massive PPR points despite a lower (but still very good) YPRR placement of 13th. This past season was Adams' fifth in the league, and he's improved his YPRR every year. That obviously can't continue forever, but at this point it's not hard to consider him a safe bet to beat his expectation.
PPR points per game: Diggs 17.6, Thielen 19.2
YPRR-expected points per game: Diggs 11.9, Thielen 15.0
Difference: Diggs 5.8, Thielen 4.2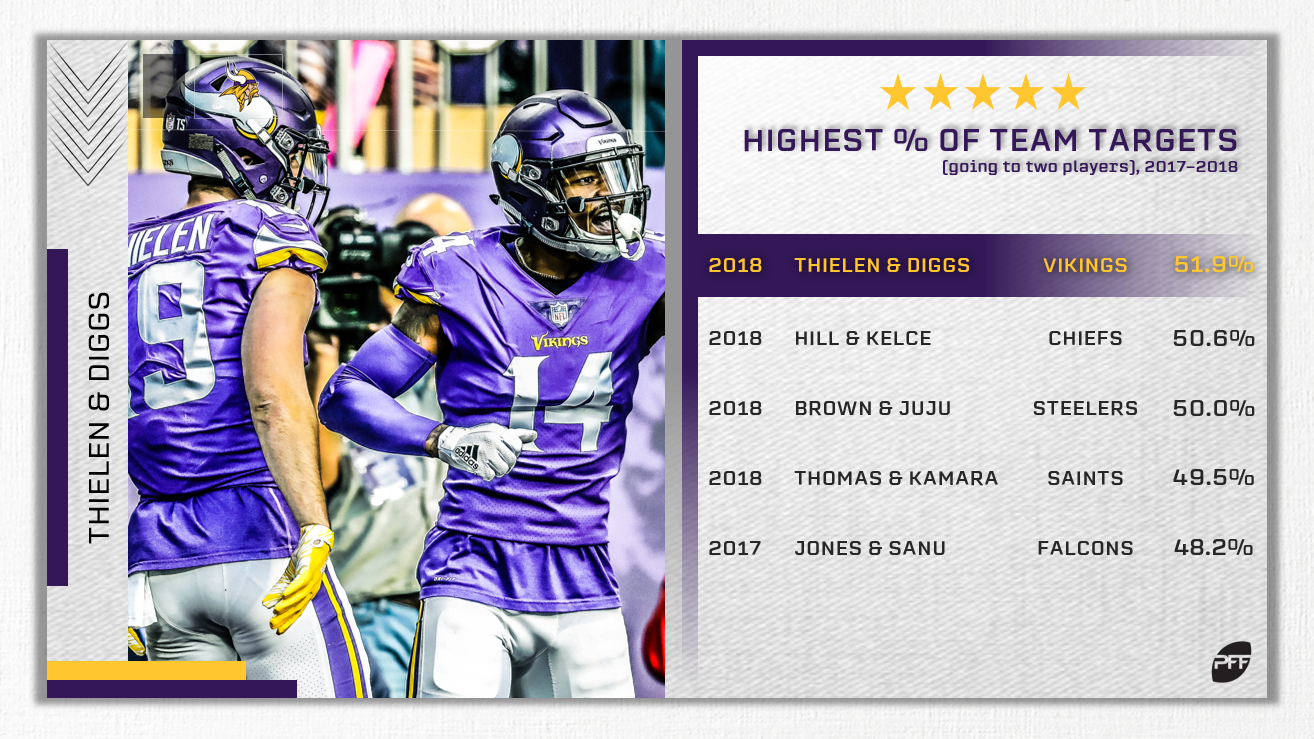 Diggs and Thielen combined to soak up 51.9% of the Vikings' targets in 2018, the highest percentage of any duo in the last two years (Tyreek Hill and Travis Kelce got 50.6% of the Chiefs' targets; Antonio Brown and JuJu Smith-Schuster got 50.0% of the Steelers'). No other wide receiver on the Minnesota roster even got to 50 targets, and the next two on the list (Laquon Treadwell and Aldrick Robinson) combined for 79 targets and 0.97 yards per route run. In other words, Diggs and Thielen put up fine quality in 2018, but the quantity was there even more.
PPR points per game: 6.5
YPRR-expected points per game: 2.4
Difference: 4.1
Most of the players near the top of the charts in exceeding their YPRR expectation were, logically enough, fantasy stars in 2018. You generally have to put up big to exceed anything.  But Ross finishes fifth on the list despite only averaging 6.5 PPR points per game. He did that almost entirely with touchdowns, as Ross scored seven times on 21 receptions (55 targets). He also had seven drops. The touchdown total is really the only positive from Ross' career so far, and unless he can improve his efficiency even a little, his career bust potential is high. (In his defense, he's a third-year breakout candidate.)