With fantasy football draft season fast approaching, one of the biggest questions fantasy managers need to answer for themselves is who will win the top position battles around the league. Obviously, in an ideal situation, you'd be able to draft only guys who are their teams' clear-cut No. 1 options, but that's not always practical.
Below, we'll be looking at some of the top position battles to monitor for fantasy at the running back position, hopefully handicapping how to prioritize the candidates in fantasy drafts. Later this week we'll look at wide receivers and tight ends.
(Keep an eye on preseason and training camp reports on all of these situations, of course, as these are the places most ripe for quick changes in status.)
The contenders: Lamar Miller, D'Onta Foreman
This battle could have been a really interesting one a year ago had Foreman not suffered an Achilles tear in the middle of his rookie 2017. So the conversation got pushed back a year. Miller is likely to open the year as the starter, and if he can hold onto the job, it's an appealing one, given the team's elite quarterback, depth of receiving options, and at-last-improving offensive line. But Miller has had just six top-10 fantasy finishes in three years in Houston — he is a perfectly adequate running back, but he has almost no upside at all.
Enter Foreman. He missed basically all of the 2018 season (he played 31 snaps in Week 16 and three in the Texans' Wild Card loss), but he was a third-round selection in 2017 and was breathing down Miller's neck before his injury that year. If he can steal the job from Miller, Foreman almost certainly will offer more fantasy upside.
How to approach them in drafts: Miller's leash isn't going to be that short; for all he's lacked in fantasy, he's graded out well for real football. He's going in the seventh round in drafts in current ADP (per Fantasy Football Calculator), which is actually a decent value spot for him. Foreman is one of the most intriguing handcuff/lottery ticket plays, though; pairing him with Miller should give fantasy managers the top back in a good offense one way or another.
The contenders: Peyton Barber, Ronald Jones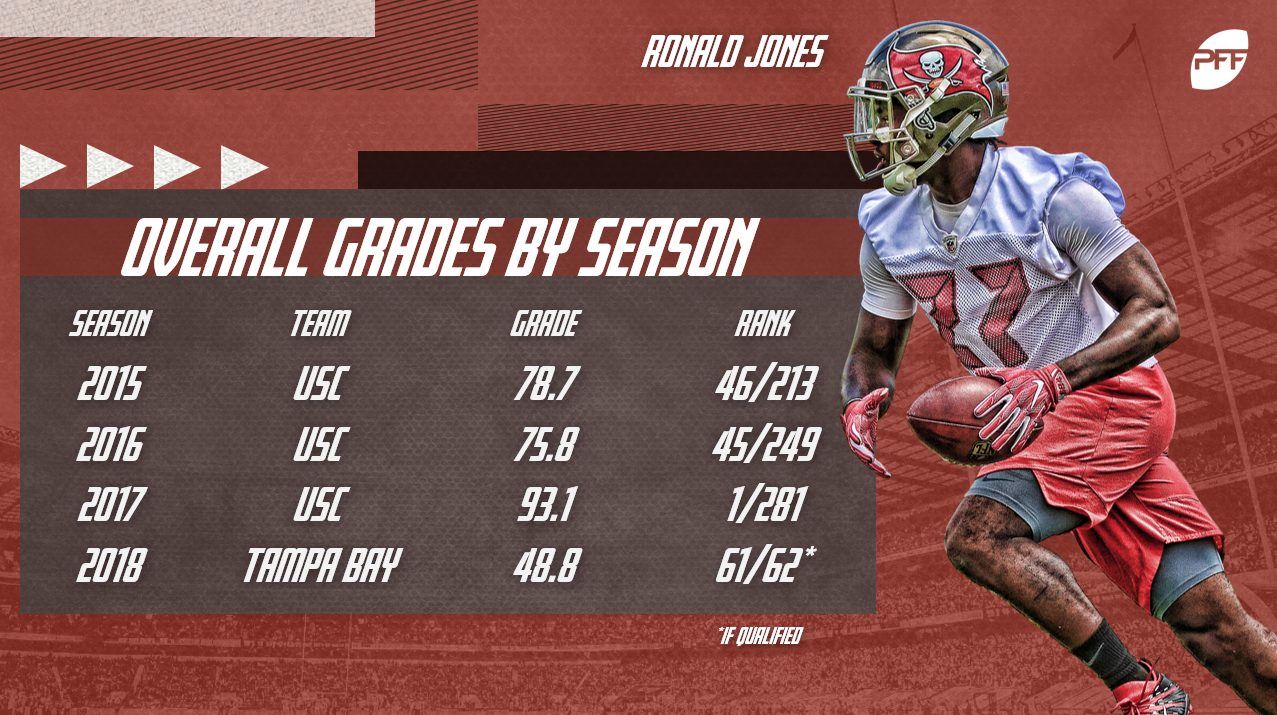 A year ago at this time, Jones was an intriguing second-round rookie, while Barber was just a guy. Then Jones had one of the worst training camps he could have and followed that up with a miserable rookie campaign. Barber, meanwhile, was … eh. He played all 16 games, commanded 70% of the backfield touches in one of the league's better offenses, and still couldn't crack the top-30 PPR backs (he finished 31st, the second-worst for any back who cracked 200 carries). The Buccaneers didn't add any backs of note this offseason (unless you're a believer in the Bruce Arians/Andre Ellington connection), so if there's anything to Jones — who, recall, was PFF's top-graded college back in 2017 at 93.1 — he's going to get every opportunity.
How to approach them in drafts: The drafting community believes in Jones over Barber at the very least, even if neither is getting much attention; Jones is the 37th running back off the board by current ADP, while Barber is 51st. If anything, though, I'd make the gap bigger. Think about how the season could go. If Barber holds the starting job, considering what he's done in the past, will you ever feel good about him in your lineup? By that logic, he's the kind of fantasy black hole who I'm loathe to ever invest in. Meanwhile, Jones might fall flat again, but there's at least a scenario where you can use him happily.
The contenders: Tevin Coleman, Jerick McKinnon, Matt Breida
You could make an argument for each of these backs as (roughly) a top-25 back if they were on different rosters. That's nice to have if you're the 49ers, but extremely frustrating if you play fantasy. Coleman finished 2018 as the No. 18 RB — actually a disappointing result if you had known ahead of time that Devonta Freeman would barely see the field — while Breida was RB26. McKinnon missed 2018 to a torn ACL but was RB17 in 2017, his last year in Minnesota.
Even more frustrating: Matt Maiocco of NBC Sports has reported that he thinks one of the three might not even be active on gamedays in 2019, given the relatively safe roles of Kyle Juszczyk and special-teamer Raheem Mostert and the impracticality of keeping five backs active on gameday. That could leave only two sports for the three backs.
How to approach them in drafts: Coleman is the favorite of drafters right now, going off the board 30th among running backs. McKinnon is RB42 in ADP, Breida 56th. Early indications are Coleman's role is the safest, as the most likely back to be a three-down option or at least the one getting the lion's share of the touches. McKinnon has the most receiving chops (he had 51 receptions in 2017; Coleman and Breida combined for 59 in 2018), which should give him at least the initial shot at the receiving-back role. That could be bad news for Breida and, barring a change in news between now and draft day, makes him someone I don't know how you can draft at all.
The contenders: James White, Sony Michel, Damien Harris, Rex Burkhead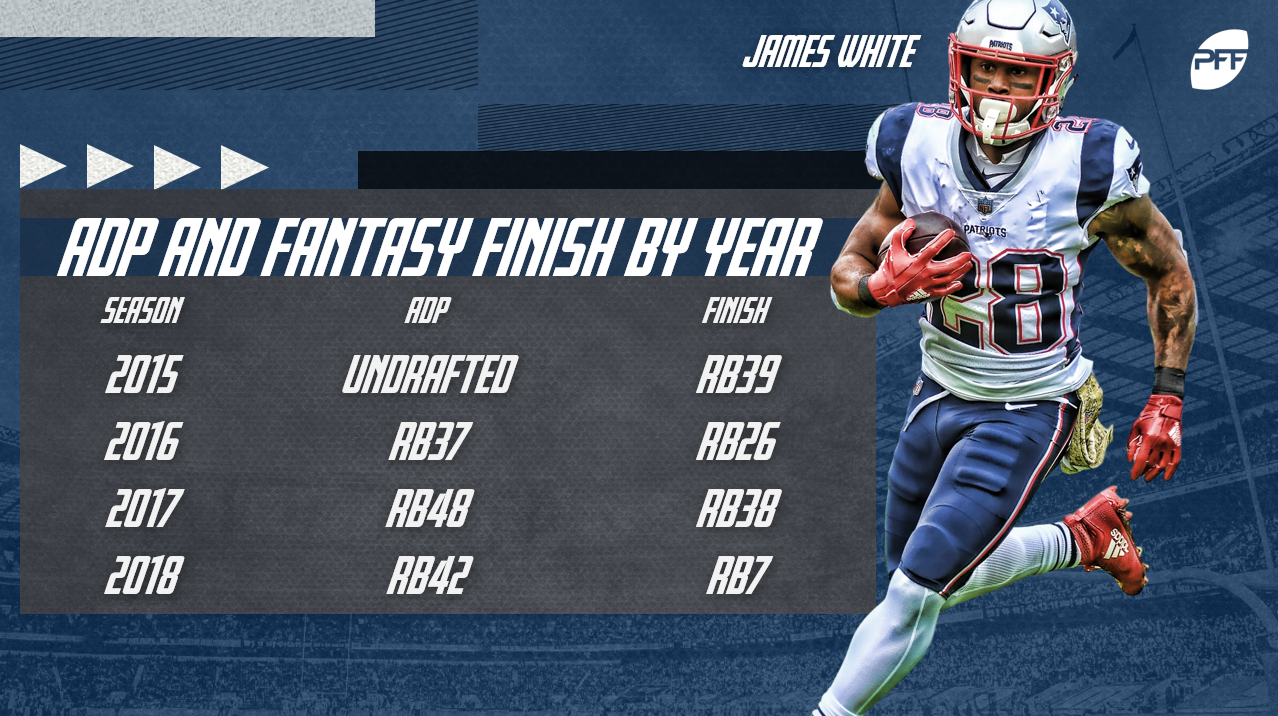 His 31-snap rookie season aside, White has actually outperformed his ADP every year of his career, cresting with an RB7 finish in 2018 that was words ahead of his RB42 draft position. Michel has beaten his ADP every year of his career as well, though at only one year, and only finishing as RB34 compared to an RB35 ADP, it's not exactly as impressive as White. Meanwhile, the Patriots still have Burkhead and spent a third-round pick on Harris in this year's draft. Add all that together with Bill Belichick's fantasy-hating reputation, and it's a complicated pile.
How to approach them in drafts: Michel's going 25th in current ADP. You can take Chris Carson one running back later, White or Tarik Cohen just after that, even Derrius Guice later than that. I'd prefer all of them to Michel, who is working back from a knee scope and now has Harris to contend with. White? His role is safe, and though the RB7 ceiling obviously isn't a likely outcome, that is clearly baked into his current ADP. Burkhead is just a player to monitor with no fantasy value. It's Harris who intrigues me. He's the 50th back off the board in drafts. Is that worth a lottery ticket on the off chance he overtakes Michel in the Patriots backfield? I think it is.
The contenders: Jordan Howard, Miles Sanders
The "contenders" line for Philadelphia could have easily been expanded to include some or all of Corey Clement, Wendell Smallwood, Josh Adams, and/or Boston Scott, and it's not hard to envision one or more of those guys winding up with a marginally relevant role, especially Scott, who has been discussed as the new Darren Sproles. But really, it boils down to Howard (acquired this offseason in a trade with the Bears) and second-rounder Sanders. Fantasy drafters are torn on the two so far, with Sanders going off the board 35th among running backs and Howard 38th.
How to approach them in drafts: Between his inexperience and a hamstring injury, we might not see Sanders seize the No. 1 job right away. And that's awful for fantasy. If Howard has the job, we'll see Howard, we'll see Scott, we'll see Sanders, we'll see Clement and/or Smallwood and/or Adams. What we won't see is fantasy value. If Sanders does get the job right away, he's the only path to a bell cow (or even bell cow-adjacent) in Philadelphia. Basically, I'm letting someone else draft Howard, but if positive reports about Sanders come out between now and heavy drafting time, I could at least be tempted in his direction.
The contenders: Chris Carson, Rashaad Penny
The Seahawks backfield is like a rich man's version of the one in Tampa Bay, with a high-drafted rookie (in this case Penny) who didn't live all the way up to expectations in his first season losing his line on a guaranteed job to a veteran with less pedigree (Carson). The difference? Penny was pretty good as a rookie (unlike Ronald Jones), and Carson was very good (unlike Peyton Barber). Still, we have two potentially relevant running backs in one of the most run-heavy offenses, meaning if one of the two takes control it could be good times.
How to approach them in drafts: Carson is going off the board 26th among running backs, Penny 33rd. I have started four different sentences about how I feel about that, and each one boils down to "Yeah, that's about right." I have Carson a little higher in my ranks, Penny a little lower, but ultimately, absent more information, that's it.