Welcome to the Week 5 edition of the 2019 fantasy football trade value chart. We're now past a quarter of the way through most fantasy football seasons, and many owners now have a good idea of their drafted teams' performances.
Maybe you're 4-0 and want to stash high-upside players for a deep playoff run. Perhaps you're 0-4 or 1-3 and have a bleak outlook for your playoff hopes and need to boost your team's performance immediately. In addition to waiver wire transactions, one or two trades can drastically tip the balance and save your season or push your team into pure dominance.
The trade value chart uses our rest-of-season projections to assign values to every relevant player. The players are displayed in order of their trade values.
Week 4 saw some major developments, with only three undefeated teams remaining in the NFL while six have yet to win. Here are some key players that present sell-high or buy-low opportunities following the first month of the season:
Leonard Fournette absolutely torched the once-prolific Denver Broncos defense for 225 yards in Week 4 and may be a prime sell-high candidate. However, owners may want to hold him due to his massive weekly workload and snap counts with the Jacksonville offense.
DeAndre Hopkins and Odell Beckham, Jr. continue to disappoint relative to their required draft capital and offer a potentially league-winning upside following their slow starts. They both remain heavily targeted and incredibly skilled players, so they should bounce back — just as we saw Davante Adams do this past week before his toe injury. Nonetheless, they're certainly two of the players I'm targeting in my leagues.
Need a QB because you drafted Cam Newton or Baker Mayfield, who both have disheartened many fantasy footballers a month into the season? Matt Ryan and Jared Goff could be cheap options that should revert to their old selves. Both QBs have way too many skilled position players at their disposal to continue playing as poorly as they have; buy now if you can get them cheap.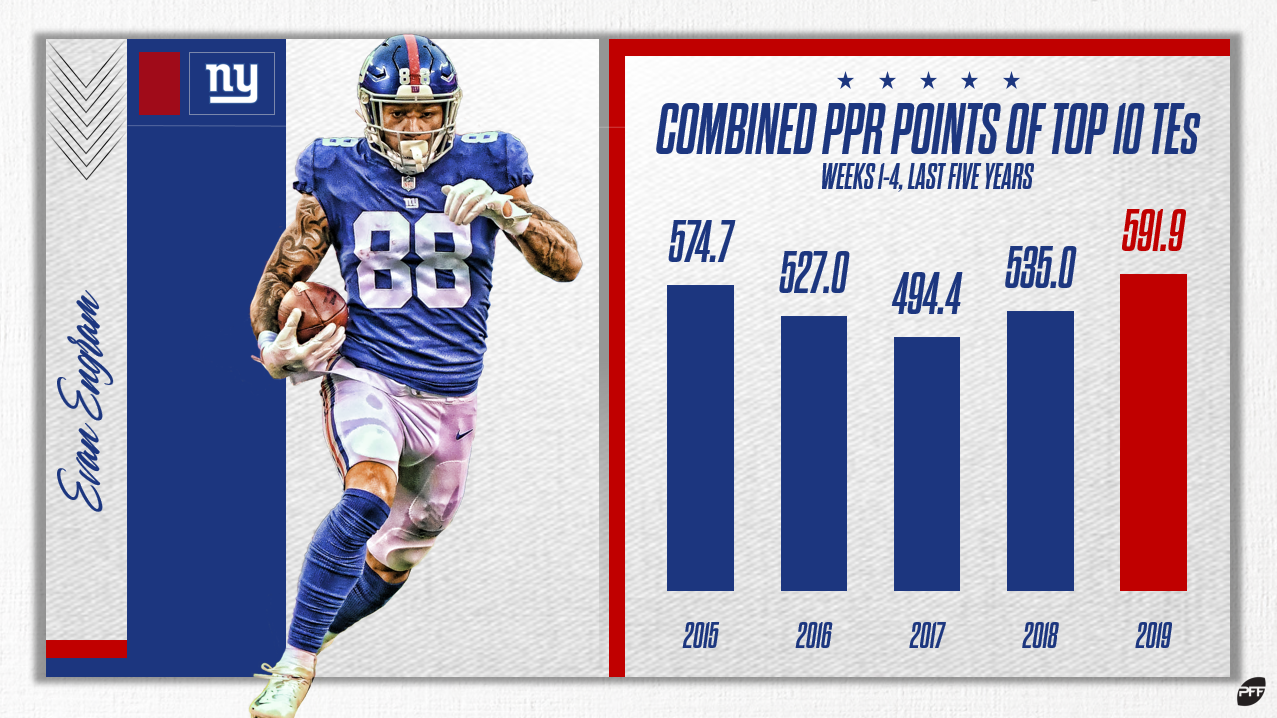 The tight end position in fantasy hasn't been too bad this season compared to past years. The emergences of Evan Engram, Darren Waller, Mark Andrews, and Austin Hooper have been refreshing, while preseason elites Travis Kelce, Zach Ertz, and George Kittle haven't quite lived up to the hype. Personally, I want Kittle, as he is the most targeted player on the 49ers, already had his bye, and remains PFF's highest-graded TE in the league (after finishing as the top-rated TE last year, too).
One big change this week is the full arrival of Melvin Gordon to the projections, and therefore to the chart. The mystery around Gordon's status with the Chargers made offering a value for both he and Austin Ekeler largely a guessing game, but now that we can expect him to play this week and going forward, we can better project their respective futures.
Check out the full chart below. Remember, these values simply provide you with a foundation for prospective trades as of Week 4 and looking forward throughout the rest of the season. Tailoring these values to your league's distinct settings or your opponents' tendencies may certainly affect the valuations.