EDITOR'S NOTE: These rankings are outdated. For the most recent IDP fantasy football rankings, click here.
The conclusion of the Super Bowl means that the 2021 season is officially wrapped. For fantasy football dynasty players, a new season means it's time to prepare for dynasty startup drafts with a fresh new crop of IDP rankings. 
Preferred scoring for 2022 Dynasty IDP Fantasy Football Rankings
| | | | | | | |
| --- | --- | --- | --- | --- | --- | --- |
| Position | Solo tackles | Assists | Sacks | Tackles for loss | QB hits | Pass breakups |
| DE/DI | 2.5 | 1.25 | 4 | 1 | 1 | 2 |
| LB | 1.5 | 0.75 | 4 | 1 | 1 | 2 |
| CB/S | 2 | 1 | 4 | 1 | 1 | 2 |
Age is a factor in dynasty leagues, so this list is designed to create the best long-term dynasty roster.

This list assumes true position (DI, ED, LB, CB, S) for players (i.e. outside linebackers are considered "edge defenders" to reflect real NFL value).

This is version 1.0 — these rankings are going to change throughout the offseason so be sure to check the rankings page for updates and to sort by position.
Click here for more PFF tools:
Rankings & Projections | WR/CB Matchup Chart | NFL & NCAA Betting Dashboards | NFL Player Props Tool | NFL & NCAA Power Rankings
Best Bets Tool
After coming in as the top edge defender and No. 3 on this list just a season ago, Bosa earned his rank and then some in 2021. He finished top five at his position in pass-rush grade (89.8), pressures (75) and sacks (15.5) in just his third NFL season, as he appears poised to be an elite IDP option for many years to come. 
While true position designations add more talent to the pot at the edge position, the truly elite and reliable talent are still few and far between. Bosa leads a select few who fall into this category, as he separates himself from the pack as an irreplaceable piece for dynasty IDP rosters.
Garrett was the only other edge defender besides Bosa to finish top five at his position in pass-rush grade (92.7), pressures (78) and sacks (16) in 2021. The minor difference between the two simply comes down to age, as Garrett is entering his sixth season while Bosa is about to enter his fourth. Not too much argument has to be made about Garrett has undoubtedly established himself as an elite talent, as he's earned 90.0-plus pass-rush grades in each of the past three seasons.
Whether it's Bosa, Garrett or Watt, dynasty drafters can't really go wrong with any as their first choice in an IDP dynasty startup draft this offseason. After tying the NFL sack record in 2021, Watt is coming off his best season yet, but there's reason to believe it doesn't get better than 2021. We cannot overlook Watt's production this past season, but we can provide context as to why it is unlikely to be repeated. Watt finished with 62 pressures, the lowest of his past three seasons, and 36.6% of those pressures were classified as cleanup/pursuit, which is among the five highest rates among edge defenders in 2021. Accompanied by an unstable 5.3% sack rate — 1.8% is the average for his position — Watt's 2021 production may never be higher. That isn't to say he's not an elite option — he is — but these are some of the tie-breakers to consider in dynasty leagues.
Arguably the greatest defensive player of all time, there is no better example of a "unicorn" in the NFL than Donald. Earning over 90.0 overall grades in every single season that he's been in the NFL with pass-rush grades to match in every year after his rookie season, Donald has shown no signs of slowing down, but it's probably coming at some point…right? I'm not one to bet against Donald, especially in defensive tackle-required leagues where the top-tier talent is thinner than at any IDP position, so continue to draft and value Donald highly until he gives a reason not to.
Young's sophomore season in the NFL did not go as planned, finishing the year with just 1.5 sacks in nine games and an ACL tear. Young's 77.1 pass-rush grade since entering the NFL is still very good, but we haven't quite seen him consistently dominate in the same way that led to his 96.4 pass-rush grade during his final season at Ohio State. While it was a frustrating 2021 for Young, his physical tools, youth and opportunity should influence his progression in future seasons, as the best yet to come from the former No. 2 overall pick.
Bosa just finished his third straight season with a 90.0+ pass-rush grade, keeping himself in the conversation as one of the best pass-rushers in football. Bosa's 10.5 sacks in 2021 were accompanied by a very solid 51 total tackles, which is ranks inside the top 15 among edge rushers. He now has 58 sacks in his six-year career despite missing 15 games. An average of nearly 10 sacks per season provides a floor that should keep him at the top of drafts and overall point totals for the next few seasons.
There may not be a bigger riser on this list from last offseason than Crosby, who improved and established himself as one of the most dominant pass-rushers in the NFL. Crosby led the NFL in total pressures (101) — 20 more than the next closest edge defender — and finished second at his position in pass-rush grade (91.8), behind only Garrett. Crosby's eight sacks on the year do not tell the story that his advanced metrics do, which is why he moved so high up this list heading into 2022 despite the modest sack total.
After a year away from football dealing with a neck injury, Hunter returned and was looking like his previous self, posting six sacks and 38 total tackles in just seven games. However, Hunter tore his pectoral muscle at the end of October, ending his season and slightly dampening his long-term fantasy value. The positives are that Hunter is still young at just 27 years old and his pass-rush win-rate (20.1%) was among the top-10 at his position this season, making him a prime bounce-back candidate in 2022.
Smith is the first linebacker off the board in a defensive line-heavy top-10 IDP ranking for dynasty purposes. Because the linebacker position is deep and replaceable, there are a only select few linebackers who we can trust to anchor our rosters for years to come, and Smith stands out the most right now. Smith just posted a career-high 163 total tackles in 2021, meaning that he has surpassed the 100-tackle mark in every season of his career thus far. Smith has been a dependable IDP linebacker at just 25 years old and should continue to be so for years to come.
Leonard may never top his rookie production, but that doesn't mean that he hasn't been great in each of the seasons that followed. He's never posted less than 121 total tackles, so Leonard should continue to be drafted among the first linebackers in IDP. Leonard has also never earned a season grade in any defensive category below 66.8 for his entire career. 
Coming off one of the most impressive rookie linebacker seasons in recent memory, Parsons is going to be highly sought after this offseason, but it's important to not overreact to an unstable metric such as sacks. While Parsons posted 13 sacks, boosting his fantasy production, his 82 total tackles and inconsistent usage are the only things holding him back from ranking higher on this list. While Parsons has ensured himself a long career in the NFL by playing at a high level, his split role between edge defender and off-ball linebacker needs to be solidified one way or another for him move up on this list. He's always going to be a pass-rushing threat, as he earned a league-high 93.0 pass-rush grade, but even with that in mind, his 13 sacks will be difficult to repeat. Parsons deserves to be drafted among the top-five linebackers in dynasty because of his youth and elite play, but temper expectations for his weekly production in comparison to his peers just slightly if his role doesn't become more consistent this coming season.
White is the perfect example of sacks not being a reliable metric when looking at IDP production — even for linebackers who can do it well. After posting nine sacks in 2020, White managed just 3.5 in 2021 despite rushing more and recording more pressures than in 2020. White's sack upside should be seen more as a bonus instead of something to put faith into every season. White has shown he can be a dependable and productive IDP even without a high sack total, keeping him in the mix to be one of the first linebackers targeted in dynasty drafts.
There's only one safety worth drafting highly at this point in IDP drafts, as James has separated himself from the pack due to his ability to fill the box score in a number of different ways. Multiple interceptions, sacks or forced fumbles are never out of the realm of possibilities for James in a given week due to how his athleticism and football savvy translate in the NFL. When healthy, James' talent is unrivaled at the safety position and that translates to his IDP production, making him worth a high pick in fantasy drafts.
Both Buckner and Jones continue to be in rare company when it comes to defensive tackle talent, as both can rush the passer, are young enough to trust them long-term and can be consistently productive IDP assets. Outside of Cameron Heyward — who is almost five years older than both players — there haven't been more consistent producers at a very thin defensive tackle position for IDP purposes. Because of the gap in talent, we'll want to attack this position early in defensive tackle-required leagues.
Davenport finally hit his NFL stride in Year 4, posting career-highs in pass-rush grade (82.1) and win-rate (20.9%) — both marks are the top-12 at his position — which led to a career-high in sacks (nine) despite missing six games. He looked like a completely different player in 2021 than in previous years. With Davenport taking his game to the next level, his production can soar to hit new heights with a full season under his belt in 2022 and beyond.
Continuing to make sure our rosters are sturdy at an unstable position, Hendrickson and Gary can be a high-end EDGE2 with the potential to produce EDGE1 numbers. Both players displayed their potential going forward, as both posted top-12 pass-rush grades for their position and at least 75 total pressures.
Burns is on a path to consistency after two straight seasons of nine sacks, 50-plus total tackles and 50-plus pressures, but there's certainly room for improvement. Burns' 51 pressures this past season were tied for jst 21st and his 73.1 pass-rush grade ranked 32nd among edge rushers. In order to get back inside the top 12, he'll need to take a Davenport-like leap in Year 4, but he remains a strong candidate to build around at the edge position given his production and youth.
While Allen's 7.5 sacks were a decent bounce-back from his 2021 season, there is still quite a bit left to be desired from the former top-10 pick. Nonetheless, he has shown enough potential to keep him in the top-20 IDP conversation for another season.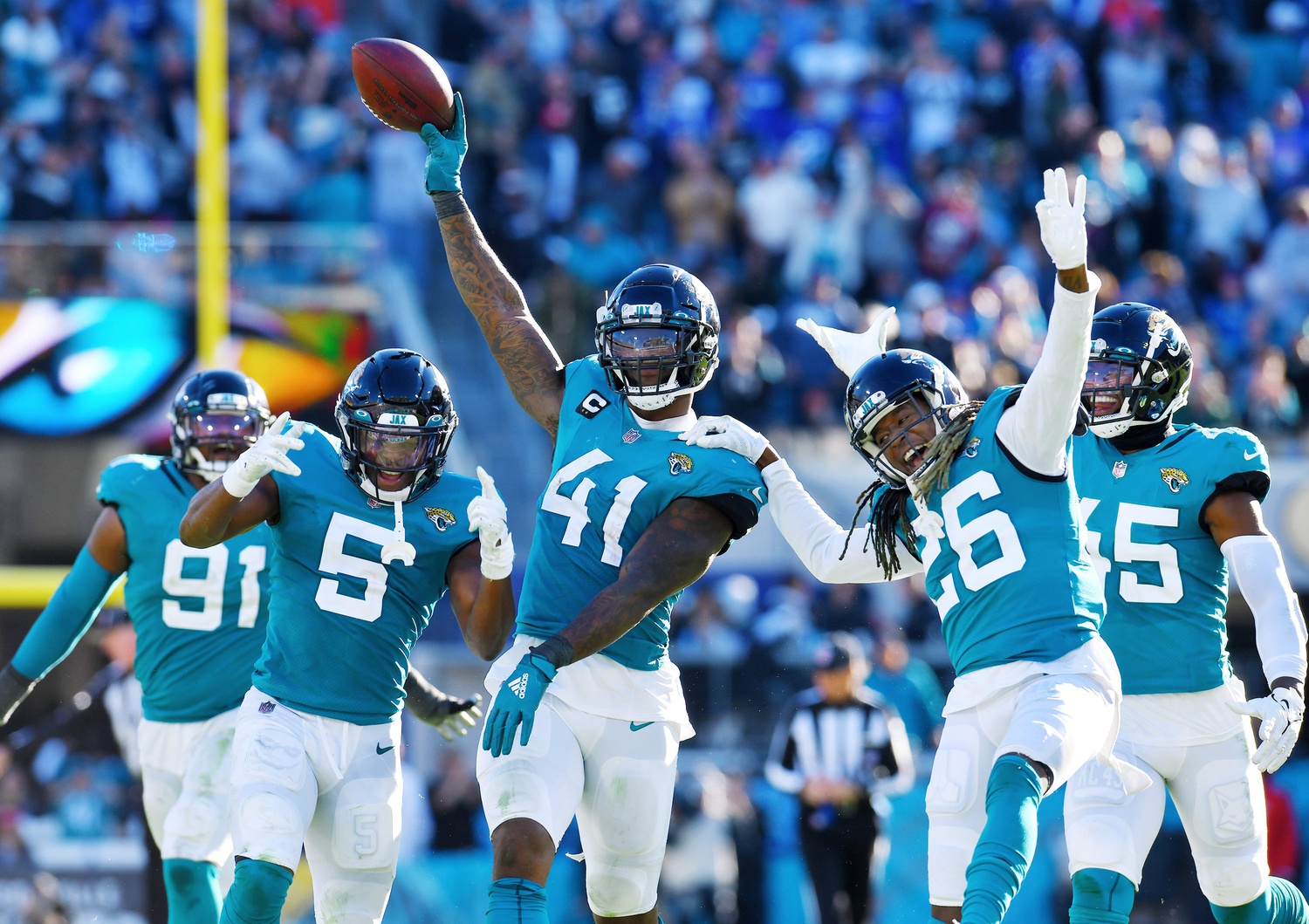 This group of young linebackers appears to be locked into three-down roles for their respective teams for the foreseeable future, making them ideal early-round candidates at linebacker in dynasty drafts. All three have shown the ability to put up ideal fantasy production each week when playing a full-time role. Owusu-Koramoah is the only one who has yet to have a full season as an every-down player, but he'll likely have a full-time role in 2022 and beyond.
Depending on if dynasty drafters want a more stable veteran at the edge position or one of the younger talents at the position, there should still be some quality options still available at this point. Lawrence and Sweat both average around a half sack per game across their careers and will continue to be starters for the foreseeable future. 
Paye and Phillips both flashed big-time talent, but dynasty managers need to be patient, as it may take some time for them to return the investment.
While not all of these linebackers may be the best long-term options to rely on beyond this season, either due to age (Wagner) or uncertainty in their role going forward (Oluokun), they are all great IDP producers. Assuming similar roles in 2022, this group will be immediate contributors to dynasty rosters. 
While not contributing as a full-time player for the whole season, Werner's rookie year was still promising, as he earned the second-highest rookie linebacker grade on the year (79.2) on less than 400 snaps. Werner's time for a larger role is nearing due to Kwon Alexander's status as an impending free agent in addition to Demario Davis not getting any younger. Werner's 90.7 run-defense grade topped all linebackers in 2021, and his 9.75 tackles per game in games where he played over 60% of snaps are encouraging for his IDP stock. 
No edge defender has made more total tackles (144) in the past two seasons than Landry. He has been a high-volume and high-motor edge defender, which has led to strong IDP production for his career. While his pass-rush metrics aren't ideal — just a 59.8 pass-rush grade since 2019 — he has played over 950 total snaps in each of the past three seasons, allowing him to be productive on his volume alone.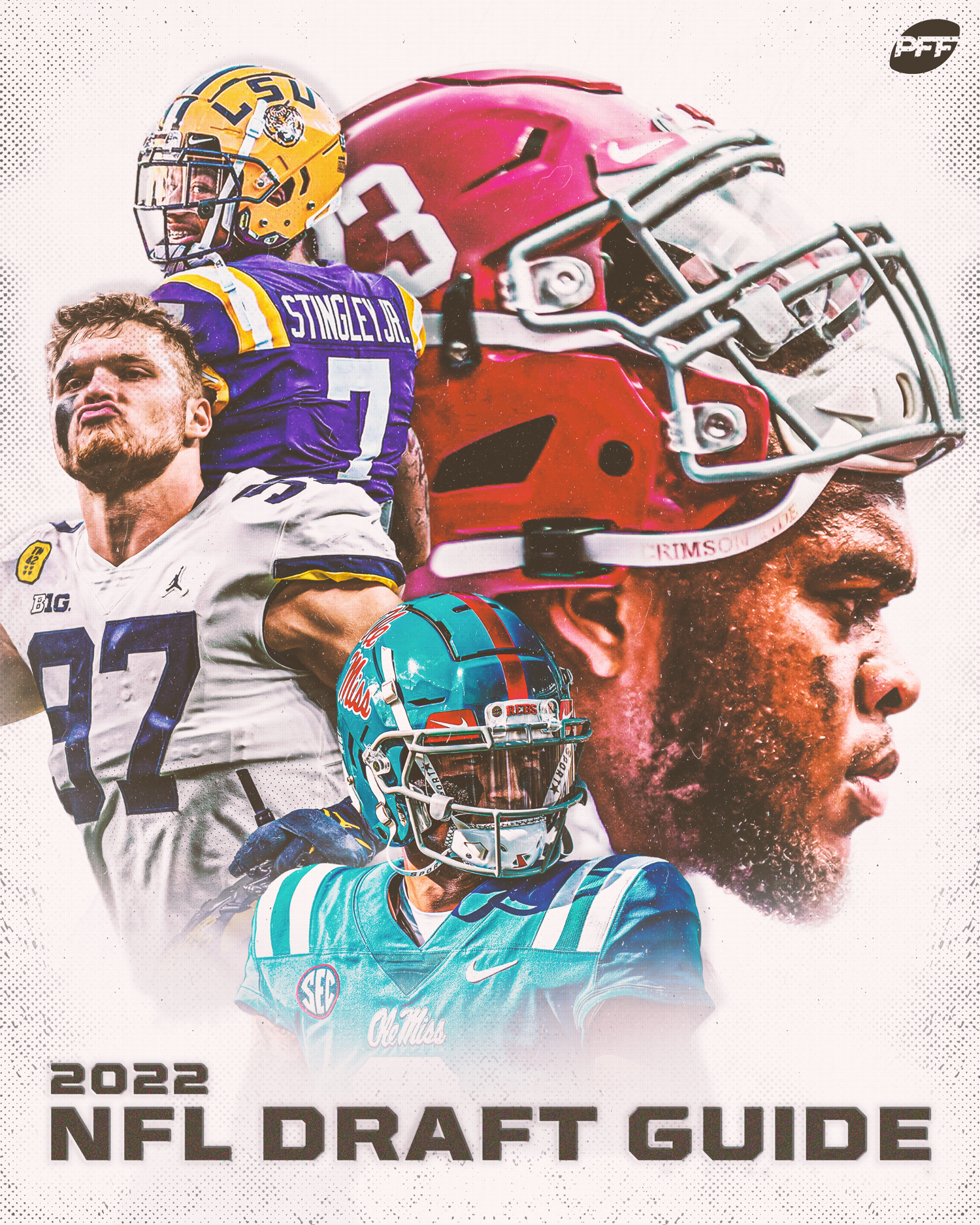 Lawson's Achilles injury three snaps into the 2021 preseason put a massive damper on his IDP value; however, a full year to recover while being fairly young (27 years old) when the season begins provides a little hope. After his best season in 2020, where he recorded an 84.9 pass-rush grade and 64 pressures, Lawson figures to be the Jets' top edge rusher once he recovers. Moreover, he has the potential to return better long-term value.
If Bolton was guaranteed a full-time role in the Chiefs defense, he'd vault up these rankings faster than just about any other player. Bolton was a tackling-machine as a rookie, posting 112 total tackles despite playing just 60% of the Chiefs defensive snaps on the year. In addition, Bolton also led all linebackers in tackles at or behind the line of scrimmage (21). It's not Bolton's fault that he comes in outside the top-24 linebackers; instead, it's the Chiefs fault due to how they deploy their players at that position. Draft Bolton with caution because his weekly production will vary.
Thompson emerged onto the IDP scene seemingly out of nowhere this past season, posting 120 total tackles while adding seven pass breakups and three interceptions in his first full year as a starter. Thompson even out-tackled his safety teammate Budda Baker, who led all safeties in each of the two prior seasons. Thompson is going to be just 24 years old entering 2022, plays the majority of the team's safety box snaps and has a shot at being the top Cardinals IDP safety as well moving forward.
The first cornerback off the board has been the one true "set and forget" cornerback of the past few seasons, as Moore has amassed more tackles (339) and more stuffs (tackles at or behind the line of scrimmage; 34) than any corner in the league since 2018. Moore should have the same role in the Colts defense for another season. If dynasty drafters want to be the first to take a cornerback in any IDP draft, then there's no better option than Moore.
Queen has earned some of the lowest grades in the PFF system since he entered the league in 2020 due to poor play, which temporarily cost him his job this past season. While Queen did get his job back by season's end, he is clearly on thin ice at this point and after the Ravens fired defensive coordinator Don Martindale this offseason, a new coach may make it even tougher for Queen to earn a definitive role. There are plenty of linebacker options each year who are more reliable, so don't get too caught up in Queen's youth or NFL draft capital.

The Dolphins head coach may have changed, but their defensive coordinator has not, which keeps Jones in the conversation as one of the more exciting young safeties in the league. Jones' usage when on the field has been ideal for IDP, as 61% of his snaps came in the box or along the defensive line. He also added five sacks on 93 pass-rush attempts. Because Eric Rowe is a potential cut candidate this offseason, Jones could step into a more stable role in the Dolphins defense compared to the 64% of Miami's defensive snaps he played in 2021.
The NFL's leading tackler in 2021, Foyesade Oluokun, is scheduled to become an unrestricted free agent this offseason and with the Falcons' 2022 cap situation in the red, he could have a new home next season. If that's the case, then now is the time to take a shot on Walker before his price gets too high. Walker's sample size is small, but if Oluokun were to depart, Walker's situation is great for IDP production. He's posted back-to-back seasons with 70.0-plus overall grades, which included an impressive 90.7 coverage grade as a rookie on 161 coverage snaps.