With NFL free agency in full swing and dynasty startup drafts already taking place for the 2021 season, now is the perfect time to dive into the top 300 IDP dynasty ranks. This list will likely change throughout the offseason as more players find new homes via free agency or trades. These rankings do not include the incoming rookie IDPs, who will be added after the NFL Draft. For now, this is how I view the IDP dynasty landscape early in the 2021 NFL offseason.
Some key scoring settings to consider:
| | | | | | |
| --- | --- | --- | --- | --- | --- |
| Position | Solos | Assists | Sacks | Pass breakups | Interceptions |
| Linebackers | 1.5 | 0.75 | 4 | 2 | 6 |
| Defensive Line (DI, ED) | 2.5 | 1.75 | 6 | 2 | 6 |
| Defensive Back (CB, S) | 2 | 1 | 6 | 2 | 6 |
Age is a factor in dynasty leagues. This list is designed to create the best long-term dynasty roster.
This list assumes true position (DI, ED, LB, CB, S) for players (i.e. outside linebackers are considered "edge defenders" to reflect real NFL value).
This is version 1.0 — these rankings are going to change throughout the offseason, so be sure to check the rankings page for updates.
White is the hottest name in IDP right now, and I can't find a reason not to list him atop this list. White is coming off a Super Bowl-winning season in which he managed 140 tackles (fifth in the NFL) in 15 games and led all linebackers with nine sacks.
White's pass-rush upside combined with his opportunity in Tampa Bay as an every-down player is exactly what we're looking for in our LB1 players. He was simply dominant in just his second season at the age of 23. He excels as a pass-rusher — his 85.9 pass-rush grade was second among linebackers (min. 20% of snaps). Combine that with the fact that he rushes the passer often (109 attempts in 2020). There's actually hope that those sack numbers will stick from season to season.
Leonard was the only other player I had considered over White. Ultimately, I landed on Leonard as LB2, only because he has one more season of mileage and he's shown a minor tendency to miss the occasional game. That is truly nitpicking, though — flip a coin between these two players and you're getting the ideal linebacker for a fantasy roster.
Leonard has missed six games in his NFL career, but no player has been more efficient when healthy since entering the league in 2018. Over the past three seasons, Leonard's 404 total tackles rank among the top-five in the NFL, despite the fact that he missed six games in that time. Leonard's floor is significantly higher than most linebackers on this list, and he still has a lot of football ahead of him at 25 years old.
In 2019, Bosa put up one of the more dominant rookie seasons that we've ever seen, amassing more total pressures (80) than any other rookie defender since 2006. Unfortunately, his sophomore campaign was cut short after just one game thanks to an ACL tear. This has caused some cooling on Bosa as potentially the top edge rusher in dynasty — but not from me.
The ACL recovery isn't something I'm concerned about. We see players bounce back from this type of injury all the time, and I have no doubt Bosa will do the same. As one of the elite talents in the NFL, Bosa's nine sacks as a rookie feel like his floor for the next few seasons, backed by his 89.5 career PFF grade and 82.1 pass-rush grade. I would not be surprised if Bosa is the consensus DE1 in all IDP formats at this time next offseason.
Garrett was looking like the league's defensive player of the year before a bout of Covid-19 derailed his shot at the title. Even while battling through the illness, which affected his snap counts and pass-rushing ability early on, he was able to finish the season with a 90.0 pass-rush grade — the NFL's fourth-highest mark.
There are really no questions about Garrett heading into next season, which is key when it comes to draft time. The former No. 1 overall pick offers offers a certain level of comfort with a high floor as well as substantial upside. He has all the tools and athleticism to take home the defensive player of the year award sooner than later.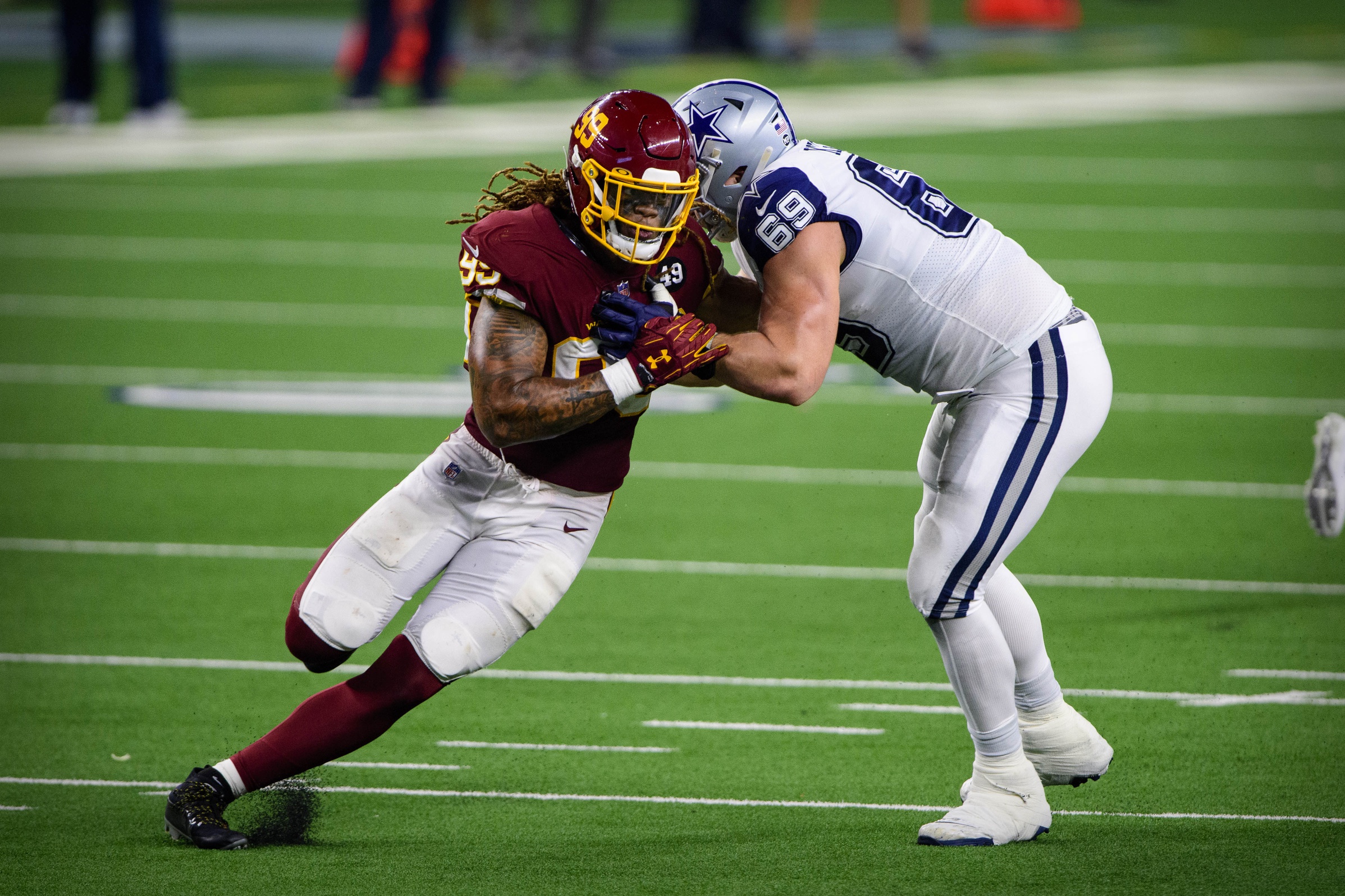 Young finished as PFF's highest-graded defensive rookie (87.2) after an incredible 2020 season, and we have only seen the tip of the iceberg for the young star. Young brings dominance on every snap and has no real weakness in his game — the 21-year-old graded very well across all major defensive categories in 2020.
Don't let the 5.5 sacks fool you come draft time; that number will no doubt rise next season and beyond. Young is primed for a long NFL career and will be a high-end IDP option for years to come.
Sacks are king among defensive line players in IDP leagues, and there is arguably no better edge rusher at churning them out than Watt. Over the past three seasons, Watt has amassed 41.5 total sacks — most in the NFL behind only Aaron Donald. Not only does Watt offer those huge sack totals, but he also has more forced fumbles (16) than any other edge rusher since 2018. He's among the top-five at his position in batted passes (13), tackles either at or behind the line of scrimmage (37), total pressures (206) and total tackles (173) over the last three seasons.
Smith leads the next group of linebackers as one of the younger premier talents at the position. He has emerged as one of the top coverage linebackers, backed by his 84.0 coverage grade (fourth among LBs) last season. Knowing that a linebacker is good in coverage helps us trust that he'll last awhile in the pass-heavy NFL, which raises his dynasty value.
Smith is coming off his best statistical season, having racked up 139 total tackles and four sacks in 2020. He has shown what he can provide IDP managers when playing every down, and there's no reason to believe that will change anytime soon. Smith led all off-ball linebackers in tackles for a loss, showing off his ability to fly downhill in the run game and leading to some bigger impact plays in IDP scoring.
Since 2016, only Khalil Mack has a higher pass-rush grade than Bosa's 92.2. I have baby brother Nick as my DE1 here, but there's an argument to be made that Joey should still be in consideration for that spot as well.
If not for an injury history that has caused him to miss 13 games over the last three seasons, I think this is a lot closer between Bosa and the rest of the edge rushers. That being said, he is still very much one of the most dominant players at his position and an absolute win if you can get him on your dynasty roster.
Hunter missed all of 2020 with a serious neck injury that required surgery. Assuming he returns fully healthy, 2021 will welcome back another great sack artist into the IDP fray.
Even after missing an entire season, Hunter is still fourth among edge defenders in total sacks since 2016 with 51. Hunter is still young at 26 years old and is in a prime position to bounce back in 2021. I still have high hopes for him as a top-10 IDP in dynasty.
Burns took a massive leap forward in 2020 as both a pass-rusher and run defender. He improved his pass rush grade by nearly 20 points (68.7 to 86.9) from his rookie year while racking up a high number of tackles. Burns' 58 total tackles ranked among the top-five edge defenders, boosting his IDP value along with his nine sacks.
Youth, opportunity and talent are all on Burns' side as he enters Year 3 in the NFL, with every chance to be among the top edge options for years to come in IDP leagues.
There might not be a more reliable player in all of IDP than Martinez, who is now entering his sixth NFL season. Martinez has put up over 100 tackles every season while averaging over 1,000 snaps per year.
Martinez has become the definition of the "set it and forget" player in IDP leagues, and he's given us no reason to veer away from him now.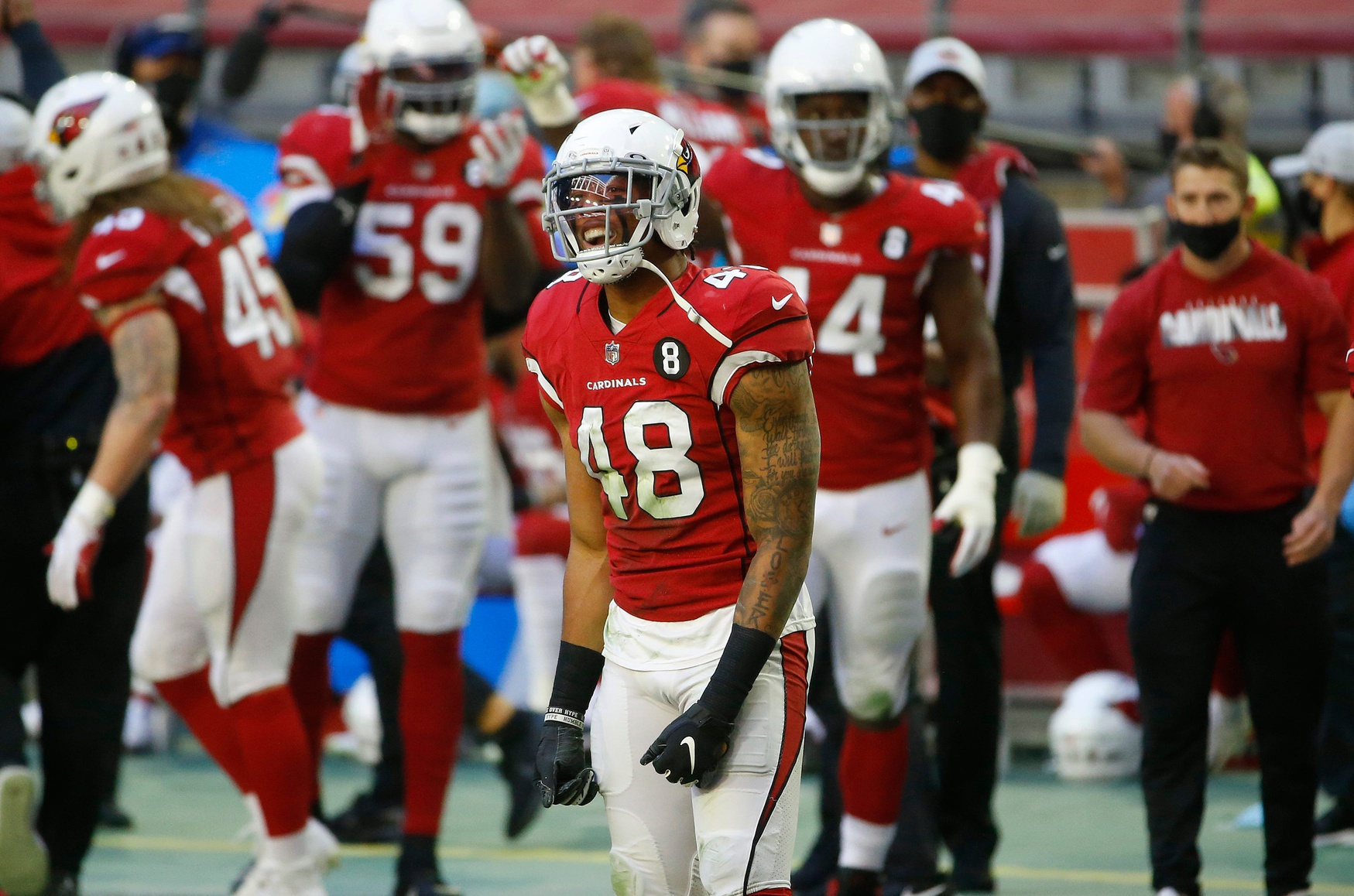 This will be the most surprising rank among my top-20 or so, but Simmons was under-utilized last season and I fully expect him to be unleashed in Year 2 as an every-down player, especially with De'Vondre Campbell hitting free agency. Simmons has flashed that Swiss Army knife skill set that made him the No. 8 overall pick in the 2020 draft. If he's given a bigger role, we may be looking at the same ingredients that made Devin White such an elite IDP this past season.
Simmons tallied two sacks, an interception, a forced fumble, four tackles for a loss, two pass breakups and 46 total tackles on less than 400 snaps as a rookie with no true offseason. I'm very excited about his potential going forward.
The first defensive back in these rankings is a no-brainer for me. Adams brings everything you want from your starting fantasy safety with his tackle numbers and the highest pass-rushing upside of any player at his position. Adams has finished with a pass-rush grade above 85.0 in each of the last three seasons, which paid off in his first year as a Seahawk with 9.5 sacks on 104 attempts — both led all defensive backs by a significant margin in 2020.
It's easy to forget how good James was as a rookie after injuries took him away from us the past couple seasons. During the five full games we saw in 2019, James wasn't deployed the same way as his rookie year, likely because the Chargers were 4-7 and didn't want to risk further injury to their star defensive player. So we've only really seen one season of James rushing the passer, but that versatility still exists.
I'm assuming James will be back fully healthy this season and we'll see him utilized in many facets, making him one of the top players at his position again.
Chinn offers the same versatility that makes Derwin James and Jamal Adams such great IDP options. Barely half (48%) of his snaps came at linebacker or along the defensive line, which makes him an ideal top safety option in IDP — he'll be in the middle of the action on almost every play.
Age is really the only one reason Donald is not closer to the top of this list. Make no mistake, though, he is the definition of elite even as he enters his age-30 season. Donald has performed as the top-graded player for PFF in almost every season he's been in the league. He's shown no signs of slowing down, so feel comfortable taking him fairly early in drafts this offseason.
Sweat was one of only three edge rushers (min. 20% of snaps) to finish 2020 inside the top 15 for all major defensive line categories (run defense, tackling, pass-rush, overall grade). Along with Khalil Mack and T.J. Watt, Sweat showed how good of a player he is in just his second NFL season. Don't let the Chase Young hype stop you from grabbing another very good Washington edge rusher.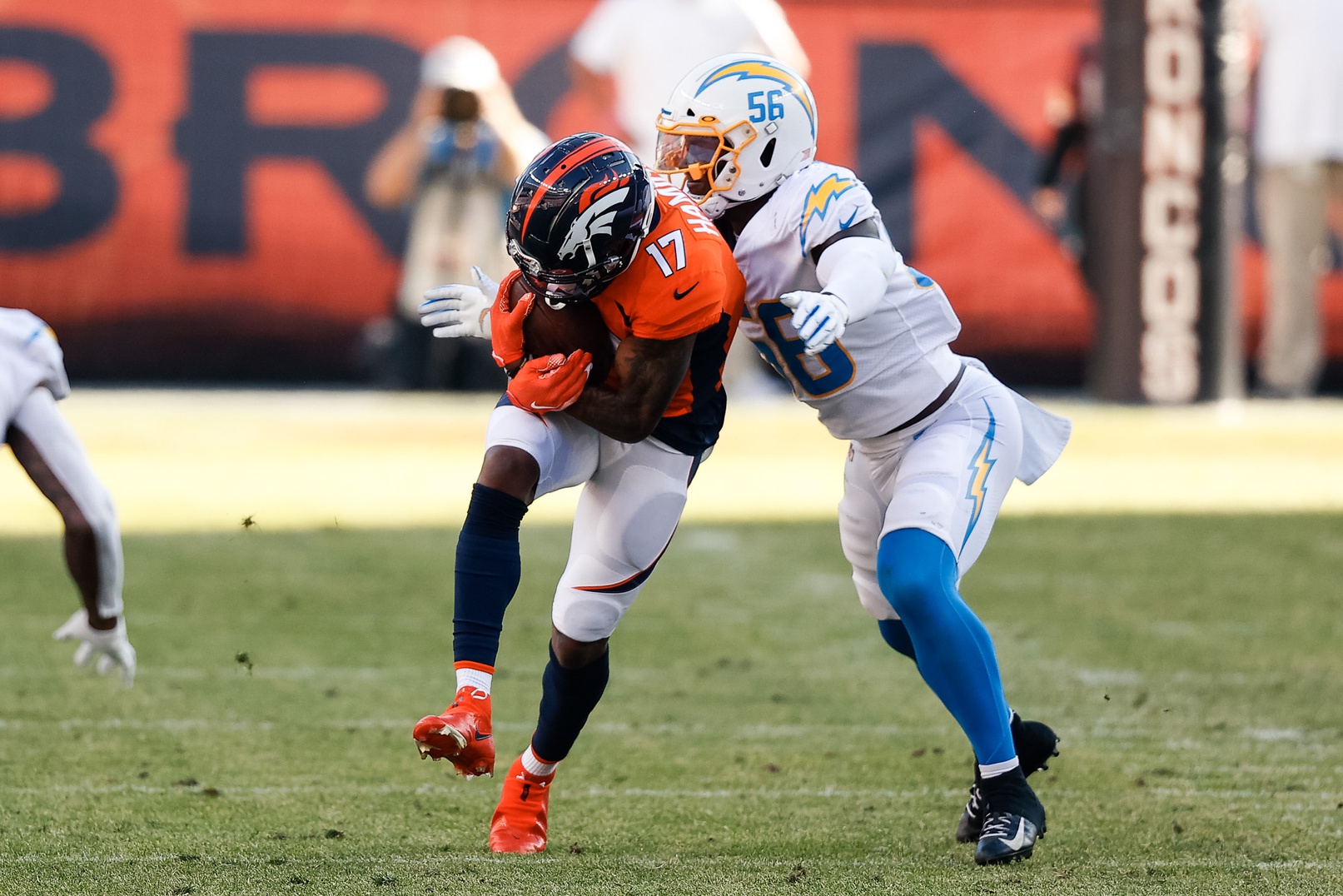 Most people will have Patrick Queen ahead of Murray, which is fine. I'm banking on Murray's every-down role and tackle efficiency making him the (slightly) better option of the two going forward. Murray was also the only rookie defender to lead his team in snaps in 2020. He missed just nine total tackles all year, while Queen missed 22, leaving a good amount of points on the table, which is why I lean Murray long-term here.
If this were a redraft ranking, then Wagner would likely be closer to the top. Still, entering his 10th NFL season, he's playing at an elite level, as evidenced by his fifth season grading out as a top-five player at his position (83.2).
The trade to Indianapolis did nothing to hurt Buckner's fantasy value. He finished this past season with his highest single season pass-rushing grade (90.1). If not for Aaron Donald being the best interior defender of all time, Buckner would be my clear-cut DT1. Alas, being second to Donald in any category is still very high praise for the former top-10 pick out of Oregon.
In a vein to Bobby Wagner, Mack is still playing at an elite level, finishing 2020 as PFF's No. 1-graded edge defender both overall (92.3) and as a pass-rusher (90.8). Don't only look at sack totals to judge a player, especially in Mack's case; he had three sacks called back because of team penalties last season. Even adding just one of those sacks would have propelled him into double-digits for the year, likely quelling some of the talk about Mack potentially falling off as a player.
Lawson recently signed with the Jets as a free agent, which isn't a bad landing spot considering the team's need for pass-rush. Lawson has been among the best pure pass-rushers in the league since he came into the NFL; he ranks inside the top 12 edge defenders for pass-rush win rate (18.6%) and pressure rate (15.1%).
The hope is that Lawson gets something resembling an every-down role in New York and can build on his successes as a dominant pass-rusher, ultimately sending his IDP value sky high.
Warner was PFF's highest-graded linebacker in coverage this past season (91.1). He has an ability to put up strong tackle numbers as well, finishing each of his three NFL seasons with over 100 total tackles. At just 24 years old, Warner has a lot of football ahead of him and can contribute to dynasty rosters for many years to come.
Coming off a season-ending injury and with talk of Kamren Curl replacing him, Collins could easily slide in drafts. But don't let that deter you. Collins is still among the best safety options in IDP, even as he enters his seventh year in the league.
Collins is another safety who spends a lot of his playing time in the box, which has allowed him to come downhill in the run game and lead all safeties in tackles either at or behind the line of scrimmage (32) since 2018.
Underused as a rookie, Gay was the highest-graded linebacker on the Chiefs roster in 2020. He also led all NFL linebackers (min. 10 targets) in forced incompletion percentage (16.7%). The Chiefs' linebacking corps is a problem, and Gay is the solution in 2021.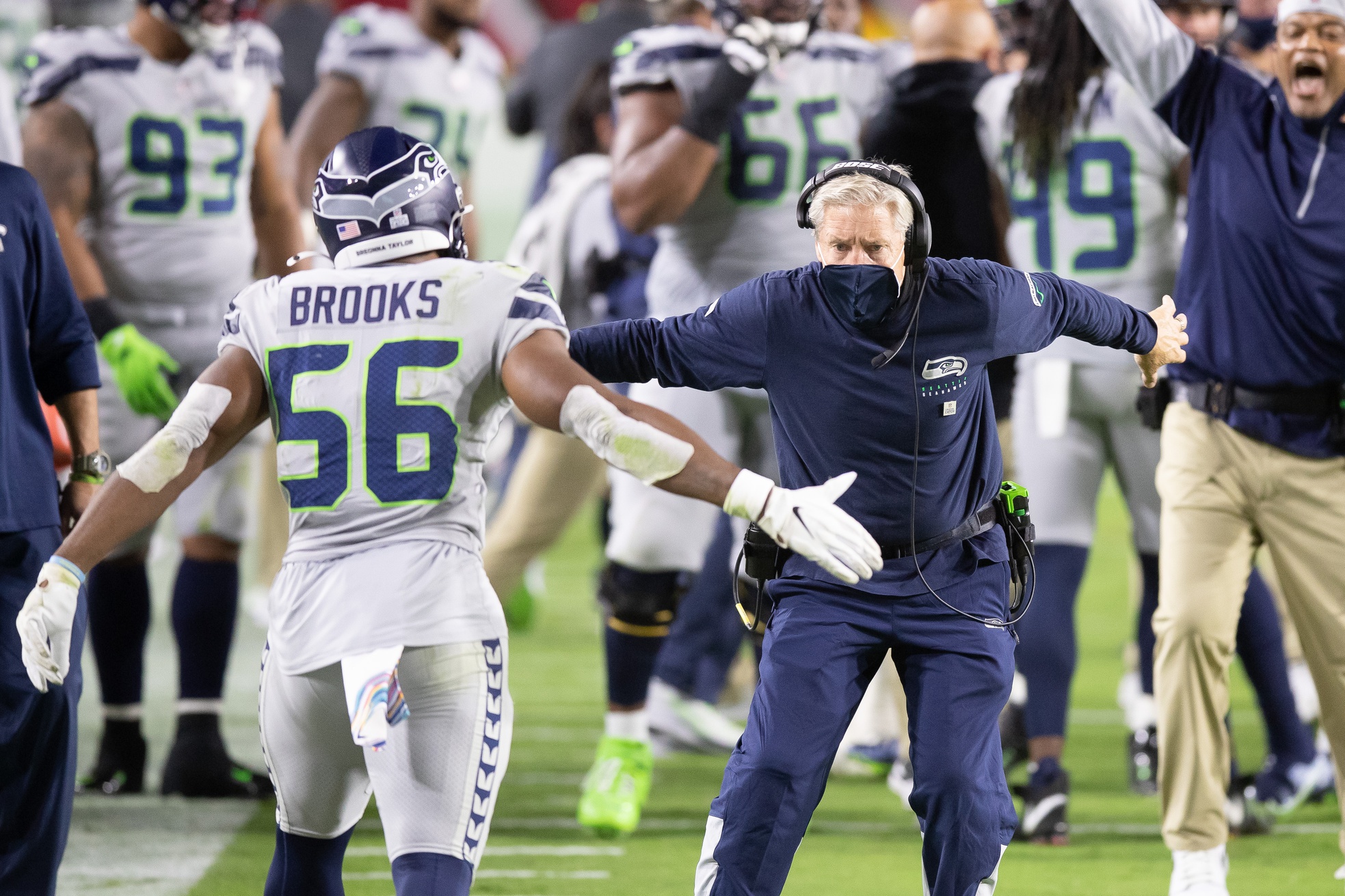 K.J. Wright was a free agent at the time this article was published, and Brooks is his clear successor. He was a first round pick out of Texas Tech where he finished his final season with a 75.6 pass-rush grade on 117 pass-rush attempts as an off-ball linebacker. Seattle was among the top five teams in the NFL in 2020 for pass-rushing snaps from the linebacker position, which will allow Brooks to build on one of his primary strengths from college.
McKinney was only able to give us a taste of what he's capable of in his rookie season, but it was enough for me to be excited. McKinney was a top-five fantasy safety over the last two weeks of the year. The Giants spent a second-round pick on him, and he's going to get significant playing time for when healthy.
In the four games when he played significant snaps (more than 10 snaps), McKinney racked up 14 solos, 11 assists, one pass breakup and an interception. He also ended the year with a 70.0 grade — one of only 12 defensive rookies in the league who played at least 100 snaps to finish at or above that threshold. 
Byard's role quietly became more interesting this past season as he started to see more snaps in the box, which allowed him to finish sixth among all safeties in total tackles. Interception numbers were down for Byard this year, but those will even out. The stable tackle numbers and box safety snaps are the keys to IDP treasure with Byard.
This is going to be a huge year for Abram, needs to prove he's not a bust. After finishing the 2020 season as PFF's lowest-graded safety both overall (35.9) and in coverage (30.1), Gus Bradley hopes to be his saving grace as he brings in a new defensive scheme.
Bradley has typically run a one-high safety system that should allow Abram to play in the box more often defending the run, worrying less about coverage responsibilities. Perhaps this gives Abram a more narrowed focus, which could be the key to unlocking his success as an NFL player and as a top-tier IDP. I need to see it before fully believing in him, though.
Brandon Graham and Derek Barnett are not destined to be Eagles for much longer. Whether it be contract related (Barnett) or age (Graham), there's a need for new blood in Philadelphia, and Sweat has shown significant promise at just 23 years old. He finished the year third on the team in sacks (6), despite playing nearly half the amount of snaps as his teammates. Sweat also improved his pass-rush grade, going from a 62.3 in 2019 to a 73.6 in 2020. A starting opportunity is potentially awaiting, and strong IDP production should follow.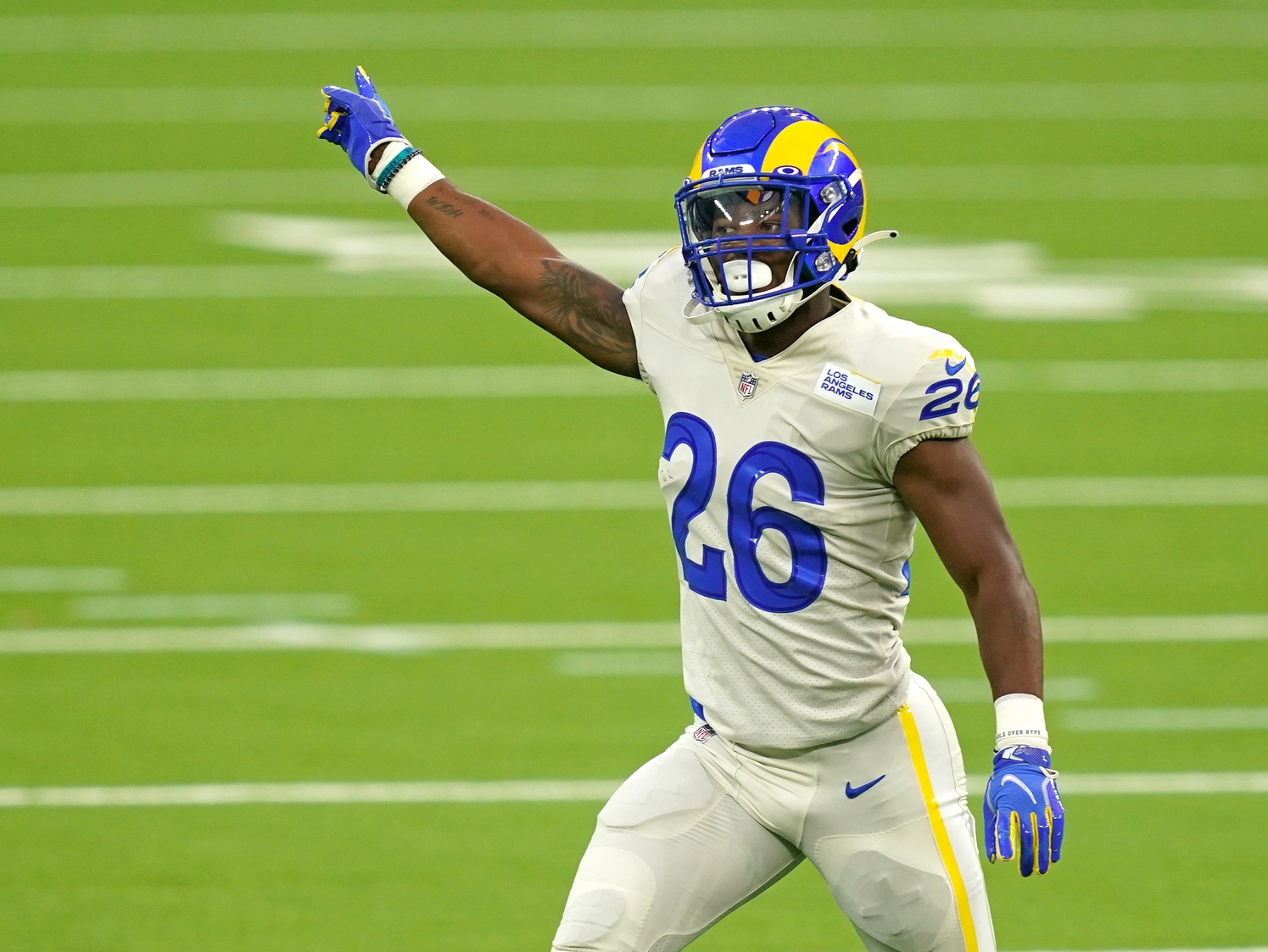 Burgess is my favorite pick to take over the John Johnson role in the Rams defense. Burgess led all Pac-12 safeties in 2019 in defensive stops (25), tackles at or behind the line of scrimmage (10), coverage grade (90.4) and pressures (15). Taylor Rapp rode the bench whenever the Rams could afford it last season, and the team spent a Day 2 pick on Burgess, likely eyeing him as a starter for this season. Injuries kept him off the field in 2020, but I don't think there's anything stopping him in 2021, including Rapp.
Hubbard is top tackling edge defender over the past three seasons with 176 total tackles. While sacks weren't much of a factor in 2020, we know he is capable of putting up numbers there after totaling 8.5 sacks in 2019. 
Vea's 20.9% pass-rush win rate in 2020 was good for third among all defensive interior players (min. 100 snaps). He set career-highs in the regular season in terms of overall grade (90.1) and pass-rush grade (90.3), making him a prime breakout candidate in 2021.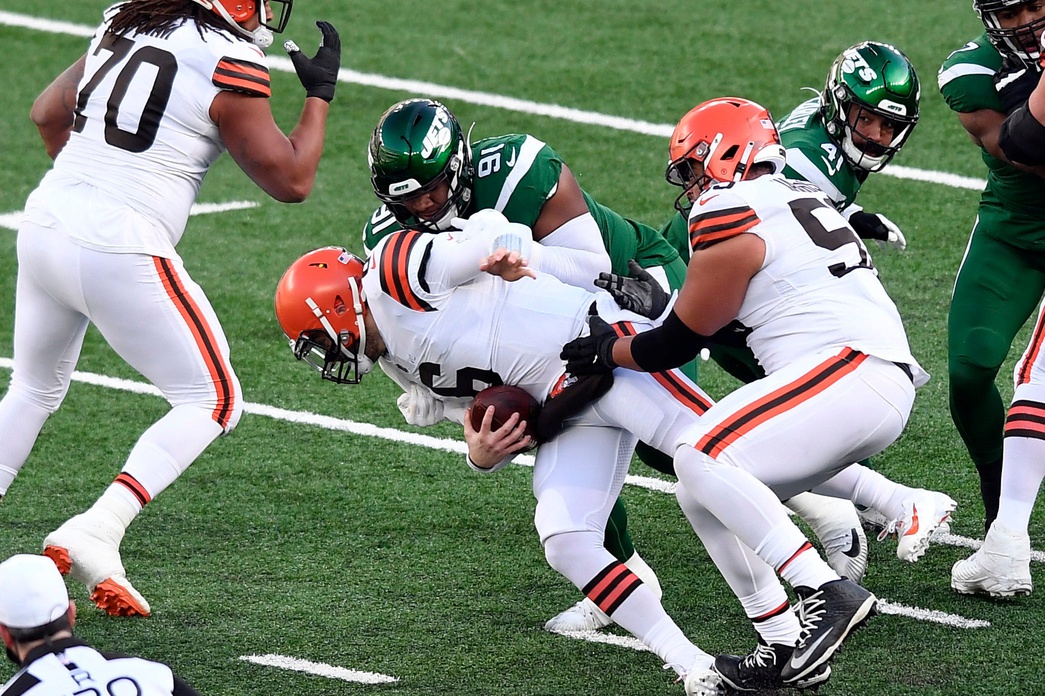 An under-the-radar defensive tackle, Franklin-Myers quietly put up 51 total pressures in 2020 — eighth-most among defensive interior players. This was also just two pressures behind DeForest Buckner, who played 250 more snaps. Franklin-Myers is a potential sleeper here with good pass-rushing ability, as evidenced by his 15.4% pressure rate, which was second among defensive tackles (min. 100 snaps) in 2020.
Humphrey is the top cornerback ranked here; he'll play every snap and provide the big-play upside that helps him be a difference maker at the position. Humphrey added nine forced fumbles to his stat sheet along with 11 pass breakups, 2.5 sacks and 82 total tackles in 2020.
He may be 33 years old and entering his 13th NFL season, but Jenkins can still make plays as a reliable safety option to add late in drafts. He even finished second among all safeties in 2020 in total pressures with 19. The Saints still frequently utilize him as a blitzer. 
IDP Rankings 201-300
201. DI Shelby Harris, Free agent
202. DI Poona Ford, Seattle Seahawks
203. DI Marlon Davidson, Atlanta Falcons
204. S Anthony Harris, Free agent
205. S Taylor Rapp, Los Angeles Rams
206. S Jordan Fuller, Los Angeles Rams
207. DI Folorunso Fatukasi, New York Jets
208. DI Ndamukong Suh, Free agent
209. DI Akiem Hicks, Chicago Bears
210. S, Micah Hyde, Buffalo Bills
211. S, Juan Thornhill, Kansas City Chiefs
212. CB Logan Ryan, New York Giants
213. LB Zack Baun, New Orleans Saints
214. LB K.J. Wright, Seattle Seahawks
215. LB Jahlani Tavai, Detroit Lions
216. LB Christian Kirksey, Houston Texans
217. LB Troy Reeder, Los Angeles Rams
218. LB Jarrad Davis, New York Jets
219. LB Blake Cashman, New York Jets
220. LB Neville Hewitt, Free agent
221. S Jarrod Wilson, Jacksonville Jaguars
222. ED D.J. Wonnum, Minnesota Vikings
223. CB Denzel Ward, Cleveland Browns
224. CB  L'Jarius Sneed, Kansas City Chiefs
225. CB Adoree Jackson, Tennessee Titans
226. CB Carlton Davis, Tampa Bay Buccaneers
227. CB Kyle Fuller, Chicago Bears
228. CB Bradley Roby, Houston Texans
229. CB Jalen Ramsey, Los Angeles Rams
230. CB James Bradberry, New York Giants
231. CB Xavien Howard, Miami Dolphins
232. CB Jaylon Johnson, Chicago Bears
233. LB T.J. Edwards, Philadelphia Eagles
234. LB Kyzir White, Los Angeles Chargers
235. CB Xavier Rhodes, Free agent
236. CB Marcus Peters, Baltimore Ravens
237. CB Taron Johnson, Buffalo Bills
238. CB Shaquill Griffin, Jacksonville Jaguars
239. CB C.J. Henderson, Jacksonville Jaguars
240. CB Damon Arnette, Las Vegas Raiders
241. CB Isaiah Oliver, Atlanta Falcons
242. CB Jason Verrett, San Francisco 49ers
243. CB D.J. Reed Jr. Seattle Seahawks
244. CB Jaire Alexander, Green Bay Packers
245. CB Trevon Diggs, Dallas Cowboys
246. CB Trayvon Mullen, Las Vegas Raiders
247. DI Geno Atkins, Cincinnati Bengals
248. ED Mario Addison, Buffalo Bills
249. ED Shaq Lawson, Houston Texans
250. ED Dee Ford, San Francisco 49ers
251. S Kareem Jackson, Denver Broncos
252. LB Micah Kiser, Los Angeles Rams
253. LB Mack Wilson, Cleveland Browns
254. DI Khalen Saunders, Kansas City Chiefs
255. DI Taven Bryan, Jacksonville Jaguars
256. S Andrew Wingard, Jacksonville Jaguars
257. S Juston Burris, Carolina Panthers
258. S Raven Greene, Free agent
259. S Julian Love, New York Giants
260. ED Uchenna Nwosu, Los Angeles Chargers
261. ED Jerry Hughes, Buffalo Bills
262. ED DeMarcus Walker, Free agent
263. S Daniel Sorensen, Free agent
264. S Tre Boston, Free agent
265. ED Dennis Gardeck, Arizona Cardinals
266. ED Dante Fowler, Atlanta Falcons
267. ED Ryan Kerrigan, Free agent
268. ED Kerry Hyder, Free agent
269. S Karl Joseph, Free agent
270. S Xavier Woods, Free agent
271. DI Sheldon Rankins, New Orleans Saints
272. LB Kwon Alexander, Free agent
273. ED Takkarist McKinley, Cleveland Browns
274. LB B.J. Goodson, Free agent
275. LB Troy Dye, Minnesota Vikings
276. ED Justin Hollins, Los Angeles Rams
277. LB Tae Crowder, New York Giants
278. S Jaquiski Tartt, Free agent
279. S Bradley McDougald, New York Jets
280. LB Tyrell Adams, Free agent
281. CB J.C. Jackson, New England Patriots
282. CB Darious Williams, Los Angeles Rams
283. CB Donte Jackson, Carolina Panthers
284. CB Michael Davis, Los Angeles Chargers
285. CB Tre'Davious White, Buffalo Bills
286. CB Patrick Peterson, Free agent
287. CB Nik Needham, Miami Dolphins
288. CB Jeffrey Okudah, Detroit Lions
289. CB Joe Haden, Pittsburgh Steelers
290. CB Charvarius Ward, Kansas City Chiefs
291. CB Chris Harris Jr., Los Angeles Chargers
292. CB Justin Coleman, Detroit Lions
293. CB Stephon Gilmore, New England Patriots
294. S Andrew Sendejo, Free agent
295. S Tashaun Gipson Sr. Free agent
296. LB Josh Bynes, Free agent
297. LB Will Compton, Free agent
298. LB Tahir Whitehead, Free agent
299. LB Kenny Young, Free agent
300. ED Tanoh Kpassagnon, Free agent