We had a little appetizer last week thanks to the Hall of Fame game, but the real first course of preseason DFS will be served on Thursday night with 12 games on tap.
Football! 12 games! It's baaaaack! Where did my pants go?!
Preseason DFS can be extremely profitable for the well prepared. PFF's other Tyler (Buecher) broke down the best strategies to play and win in preseason DFS — so be sure to check that out if this is your first time entering these waters.
Here's a key piece of information from that article that you need to tuck into the back of your head when playing in preseason Week 1:
"Week 1: First team might play the entire first drive. Might. Second team should run for remainder of the first half with third team taking over at halftime."
Without further ado, here are some of the top plays for Thursday night's return to action.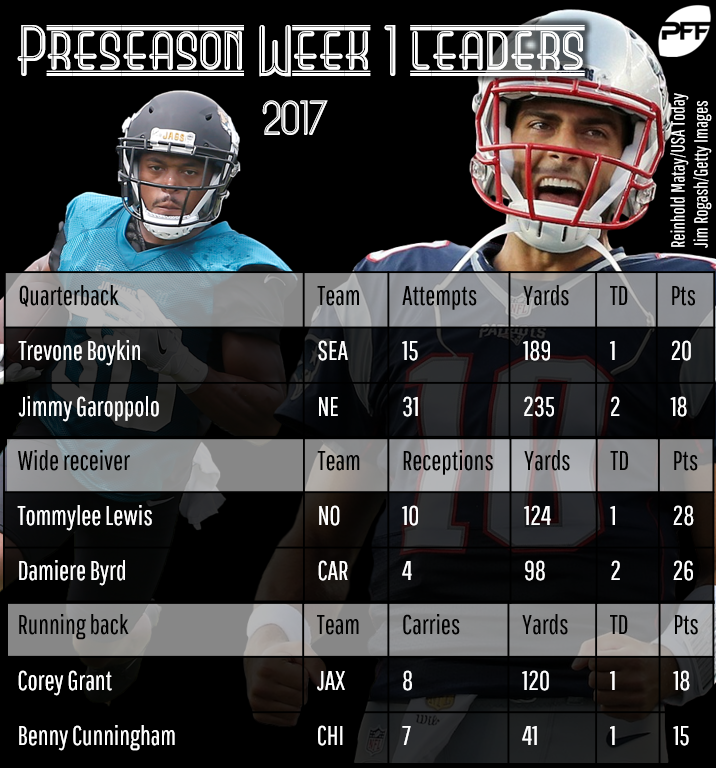 Quarterbacks
Baker Mayfield will supposedly play at least two quarters, per the Elyria Chronicle-Telegram's Scott Petrak. A full half of play (or more) opens the door for Mayfield in DFS in his first-ever NFL game action.
We saw Lamar Jackson debut last week, going 4-for-10 for 33 yards, one touchdown, and one interception. He added four carries for 24 yards. The latter part is what makes him interesting for me again in DFS this week.
The Patriots are unlikely to play Tom Brady much, if at all, which leaves Brian Hoyer and rookie Danny Etling to do most of the work. Hoyer and Etling are both interesting to me for Thursday night. It wouldn't be a surprise to see Hoyer get more work than people expect; in last year's preseason Week 1, the Patriots let Jimmy Garoppolo attempt 28 passes. (Jacoby Brissett had 13.)
It's a similar situation in Green Bay, where Brett Hundley and DeShone Kizer will get most of the work. In last year's preseason opener, the Packers gave Hundley 18 snaps and Joe Callahan 19. I expect a similar split between Hundley and Kizer on Thursday night. Both players are interesting given their rushing ability. Hundley had two rushing touchdowns and three passing scores in last year's preseason.
Luke Falk is pushing Blaine Gabbert for the right to be Marcus Mariota's backup, and I'd expect to see a good amount of both quarterbacks in this game.
If you want a big name, Andrew Luck is your guy. According to Sports Illustrated, he's going to play for a quarter. That should get him three drives.
Running backs
The Titans have only five running backs on the roster right now, and Derrick Henry and Dion Lewis will probably not play much (if at all) in this first game. That leaves plenty of opportunity for David Fluellen, Dalyn Dawkins, and Akrum Wadley. Fluellen has been the team's No. 3, and he led the team with 33 attempts and 161 yards in last year's preseason. Wadley is similar to Lewis, and his pass-catching chops could be on display on Thursday night.
With D'Onta Foreman still injured and Lamar Miller unlikely to see many snaps, this could be another Alfred Blue preseason Week 1 game. Blue had 33 yards and a touchdown in last year's first preseason game as well as one reception for seven yards. Troymaine Pope is also in Houston this year, and he was a preseason stud back in 2016.
New England's backfield is always interesting in the preseason. You might think that Mike Gillislee and Jeremy Hill will do battle to see who stays on the roster, but The Athletic's Jeff Howe reports that Ralph Webb could see a lot of work in the preseason opener (via CBS Sports).
San Francisco's Raheem Mostert and Joe Williams are interesting options. Mostert had a preseason Week 1 high 15 carries last year for 89 yards (5.9 YPC). Williams had seven carries for 60 yards in that game (8.6 YPC).
Saquon Barkley will not see a ton of action, but it wouldn't be a shock to see him get about eight touches. Last year, Leonard Fournette (9), D'Onta Foreman (11), Christian McCaffrey (7), and Joe Mixon (7) all saw modest preseason Week 1 touch totals as rookies. In 2016, the Titans gave Henry 10 carries. NFL coaches are not putting their rookie running backs in complete bubble wrap this week. Barkley will not see more than a series or two, but a touchdown is certainly within the realm of possibilities.
Wide receivers
It might be point chasing, but Javon Wims' 10 target, 7-89-0 game from the Hall of Fame game last week has to have your attention. He's on my list again for preseason Week 1 as he looks to make the team.
New England's Braxton Berrios is looking to make the team — likely as a punt returner. However, the small slot man very much fits the mold of Austin Carr, who crushed in last year's preseason with 14 catches for 153 yards and two scores.
Tommylee Lewis paced all wideouts in targets during last year's preseason with 21 (in just three games). He had 11 targets in the Saints' first preseason game (and one rushing attempt), which he turned into 10 catches for 124 yards and a score. He returns in 2018.
Washington's Maurice Harris will be on my radar for Thursday night. Per Sam Fortier and Kimberley Martin of the Washington Post, Redskins head coach Jay Gruden said Harris might be the team's best route runner. Harris if vying for the team's No. 4 spot and could have the inside track on Thursday night with Brian Quick nursing a thigh injury still.
I'm interested in rolling the dice on Aldrick Robinson this week. He's had a good week of camp and is still hauling in long bombs, which is something he did in last year's preseason Week 1 game for the 49ers when he caught two of four targets for 83 yards.
Tight ends
After catching seven passes for 116 yards in last year's preseason opener, New England's Jacob Hollister is definitely on my list for Thursday night's game.
Hayden Hurst was impressive in the Hall of Fame game last week. He caught three of four targets for 14 yards and a score, and he looked good doing it. I'm interested in going back to the well.
Carolina rookie Ian Thomas is athletic but raw, which is often not a problem for tight ends in the preseason (see Rico Gathers last year).
Buffalo backup tight ends Logan Thomas and Nick O'Leary are on my radar. Thomas was tied with Hollister for most targets in the preseason (15) at the tight end position. Charles Clay and O'Leary both had 10 targets, tied for 10th-most. In other words, three Buffalo tight ends ranked in the top 10 in terms of targets in the preseason.