Week 1 of the regular season is rapidly approaching and while many are planning final end-of-summer beach trips, you've got other aspirations this August for fantasy football — taking home some cheddar in preseason DFS.
Whether you've got the DFS itch a little early this year or maybe you want to enter the regular season on a hot streak, there's not much that can compare to being a degenerate on preseason slates. Preseason DFS has been a profitable one for me for several years now, where meritocracy is rewarded to the nth degree.
Let's go over the important things you can do help differentiate yourself from the field and start your bankroll off on the right foot.
Playing time is everything
The general outline most teams take entering can be summarized below.
Week 1: First team might play the entire first drive. Might. Second team should run for remainder of the first half with third team taking over at halftime.
Week 2: First team should play several drives, could play full first quarter. In Week 2, the head coach is generally looking to see if their first-team offense can move the ball successfully down the field and sustain drives. The second team will take over again for the remainder of the first half with the third team taking over at halftime.
Week 3: This is typically known as the "dress rehearsal" week. Coaches want to know that their offense is going to be ready entering Week 1 of the regular season. This is the first week we could see a few non-vanilla plays from the starters and integrate them a bit more into our lineups. Starters will generally play the entire first quarter or up until halftime depending on the coach's discretion.
Week 4: For my fellow dynasty nerds, Week 4 is when we get to flex our devy and rookie knowledge. This is when the fringe-roster players get the most playing time. Coaches need to decide whether they want to carry these players on their 53-man roster. We gain our edge by knowing rosters top-to-bottom and knowing what kind of talent these lesser-known players possess.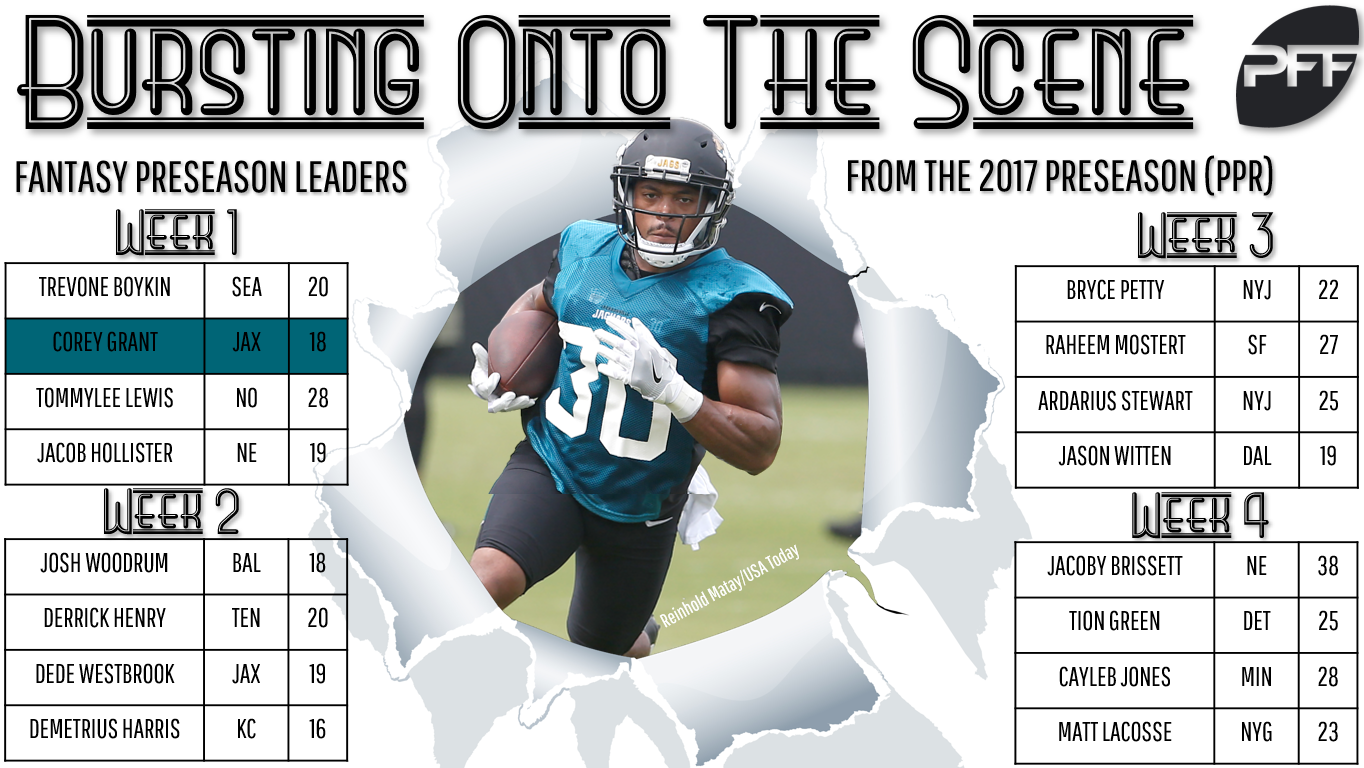 Like regular-season DFS, we want to target players who will have the most opportunities to accrue fantasy points. It seems obvious (and it is), but finding out which player groupings are anticipated to see the field the most should be our highest priority when it comes to our research.
For those taking notes above, that means that we're largely looking at third-team players the first two weeks of preseason. Last year's most-targeted wide receiver after the Hall of Fame game and the first two weeks of preseason? Brian Brown (17 targets). Feel free to google him — I had to. My point is that not all of these players we are rostering come close to household names. We need to our homework to find out which personnel groupings coaches want to use and it starts by reading everything.
Read everything
I mentioned meritocracy in the intro because it's a fundamental part to winning in preseason. Read every blurb coming out of training camp, every update that comes from team beat reporters, and check out any press conferences with coaches talking about playing time.
Following this is paramount to finding success. Well-established teams led by veteran quarterbacks (ala Tom Brady, Drew Brees, etc.) don't need as many reps as younger players still working on their timing with teammates in the preseason. We can reasonably project that means there's a slight boost to second- and third-teamers on their respective teams with fewer snaps being taken up by the starters.
Alternatively, if we hear that Andy Reid is frustrated with Patrick Mahomes play entering Week 3, we can reasonably presume he wants to give him as much "live" practice and work as he can. We should roster Chiefs starters with confidence that week, knowing Reed wants to put Mahomes and the starters out on the field until he sees them get things right.
Beat reporters are a fantastic resource to utilize during your research process. We want to see what the guys and girls that are covering these teams on a daily basis have to say. Check out the articles they're writing and scroll through their Twitter timelines for valuable pieces of information. If we hear that Philadelphia's Corey Clement looks a little banged up in practice and not anticipated to play, we can project an uptick in snaps for the fourth- and fifth-stringers. The Eagles aren't going to risk Jay Ajayi or 35-year-old Darren Sproles to unnecessary hits. Read the notes that these reporters are putting out and leave no stone unturned.
NFL.com's Chris Wesseling has compiled a fantastic list of NFL beat writers on Twitter. It's an invaluable resource I subscribe to every preseason. Not all beats appreciate our fantasy questions but asking a few of them how many snaps they expect the first team to run can turn into a fruitful endeavor. You may get ignored by three out of four, but the fourth could drop a useful fantasy nugget that you have and won't be printed on any sites.
Coach-speak can at times be a double-edged sword, but when it comes to preseason, there really isn't much need for a coach to lie about playing time. Take them at their word when they say they want to get some additional time in with the QB2. Try to dig into the press conferences they have after practices and see what types of things they're looking to see in their players in the upcoming games. Often we'll find beat reporters summarize these press conferences, but it's still important to find out what was actually said and then determine if it carries any fantasy relevance.
Win everything
I don't play cash games in preseason. I'm looking for big payouts in order to get my season started hot, so my focus is on GPPs (tournaments), but the process isn't overwhelmingly different.
Building a strong core of players through your research is important to getting off on the right foot. Find the players that you anticipate seeing the most playing time. Once again, opportunity is everything.
Create a strong player pool of players that you can confidently project for significant snaps. Then start to whittle it down based on projected position battles coaches are looking to see, injuries that may increase or decrease targets, and then consider ownership and potential pivots. Preseason slates can extend anywhere from Thursday to Sunday, and they typically are just a handful of games per night. With so few options, don't be afraid to utilize some contrarian thinking in tournaments. Sometimes fading the chalk obvious play at quarterback and increasing exposure on your No. 2 and No. 3 options can turn a cashless night into one with multiple winners in the green.
Preseason DFS is all about the process. Research to find out what kind of playing time you can expect for each team's starters, backups, and third-stringers. Read every news blurb and update you can find on each team on the given slate. Build your player pool from your research and notes, then trim based on talent, matchup, and ownership. If you're willing to spend the time to do the research, you'll find that your final player pool will reflect that (along with your winnings).
Good luck and get out there and start researching. I'll see you on the battlefield.