Anyone who does any serious fantasy football research ends up with strong opinions on certain players' prognoses, whether good or bad. And the beauty of it is that every person's opinion can be different and equally valid. It's all one grand Rorschach test.
But one way or another, how the players you form the strongest opinions on will go a long way to defining whether your Rorschach test was positive or negative. For example, you aren't impressive if you say that Saquon Barkley will have a good year, Carlos Hyde a bad one. That's universal. But if you're out on a limb, saying, for example, that Josh Rosen will be a top-10 quarterback or Alvin Kamara will be the No. 35 RB, well, that defines you. If you're right, you're a genius. If you're wrong, what were you thinking?
Today, it's my Rorschach test as an analyst. The players below are the ones who, one way or another, will define whether my offseason as a fantasy analyst was a success or a failure.
Only the Seahawks (52.4%) ran the ball more often across the 2018 season last year than the Titans (48.5%). This was in part game plan, yes, but it was also because the Titans' quarterbacks last year were couldn't-feel-his-hand Marcus Mariota and might-as-well-couldn't-feel-his-hand Blaine Gabbert. You'd run the ball too. This offseason, the team:
I know the party line for the Titans has been that we should expect them to be even more run-heavy than they were last year, but there is nothing in their actions that support those words. I firmly believe this team will be more pass-heavy than basically anyone expects in 2019. If I'm right, that means you should downgrade Henry (he's my RB28) and upgrade … well, everyone else. I have Mariota as my QB19, Lewis as my RB35, Walker as my TE8, and Corey Davis, Humphries, and Brown as my WRs 19, 58, and 89, respectively.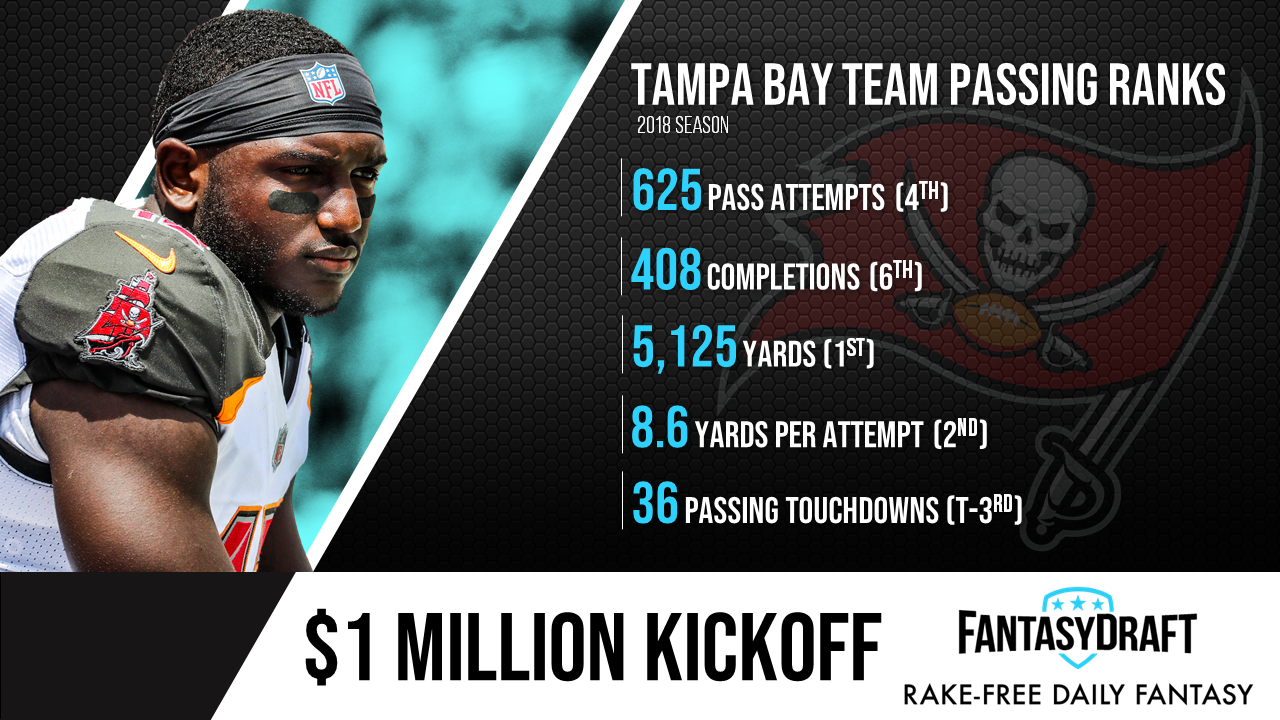 We don't need Winston to be a great real-world quarterback. He's never topped a 75.0 PFF passing grade in his career. But the Buccaneers last year had one of the league's worst defenses and running games, and as such aired the ball out, throwing the ball fourth-most often and leading the league in passing yards. That was split between Winston and Ryan Fitzpatrick, who would have combined to be QB2. Now with Fitzpatrick gone and Gabbert in his stead, the threshold for Winston getting benched is far higher. He might lead the league in interceptions. But he might do it while also leading the league in pass attempted, passing yards, and passing touchdowns. He's my QB5.
The Seahawks led the league in rush play percentage last year. Doug Baldwin retired and David Moore and D.K. Metcalf are hurt. There's no real reason to believe the team is suddenly going to pass the ball more than last year, when Wilson finished as fantasy's QB9 despite a career-best 8.2% touchdown percentage, second in the league and a safe bet for regression. He's rushed for five touchdowns across his last four seasons combined, including zero last year. Stop me when I get to something that indicates fantasy optimism for 2019. He's my QB12.
Just a small note, because nobody is out on McCaffrey. He's the consensus No. 2 player in fantasy this year. But for me, he's No. 1, with a better quarterback, better offense around him, and a better line than Saquon Barkley has in New York. Ultimately you're happy with either of these guys, but give me McCaffrey over Barkley.
Bell has sky-high potential in New York after a year's absence, but he has plenty of worry marks as well, between a head coach who apparently didn't want him and has no history of employing a bell cow back, a backup running back in Ty Montgomery who has been one of the buzziest players around the league this preseason, and the fact that he's fifth in total touches around the league since joining the league despite that missed season. He's going sixth among running backs in drafts this year, but I can't raise him above ninth.
The closest thing Jacobs had to carry competition in the Oakland backfield was Doug Martin, which is sort of like wondering who the second-best member of Destiny's Child was. Martin's been released now, which means Jacobs' backup as a ball-carrier is … DeAndre Washington? Mack Brown? Pass-catcher Jalen Richard? Jacobs might not be great as a rookie, but he doesn't have to be, because there is no one in Oakland who is going to press him for work. And if he is great, he's got superstar potential. He's my RB10.
I can't swear to it, because there are a lot of fantasy analysts out there, but I think I was the first one to start touting Samuel as a 2019 breakout in this piece back in February. So this isn't a bandwagon thing, but I do buy into the bandwagon (and this isn't at the expense of D.J. Moore, as I think he has heavy breakout potential as well. Samuel is entering the all-important third year, a year that could be even more important for him, as a converted running back who has spent less time learning the position than his peers. He's my WR26.
Westbrook was fourth in the league last year in PPR points out of the slot despite Blake Bortles as his quarterback. Now he's got Nick Foles, who has put up a 102.3 career passer rating targeting the slot, the eighth-best among 22 active quarterbacks with at least 800 attempts in the past decade and the only targeted position where Foles is top 10 or over 100.0. Marqise Lee has struggled to get (and stay) healthy, D.J. Chark is promising but unknown, and there isn't a lot else in Jacksonville. Westbrook's my WR33.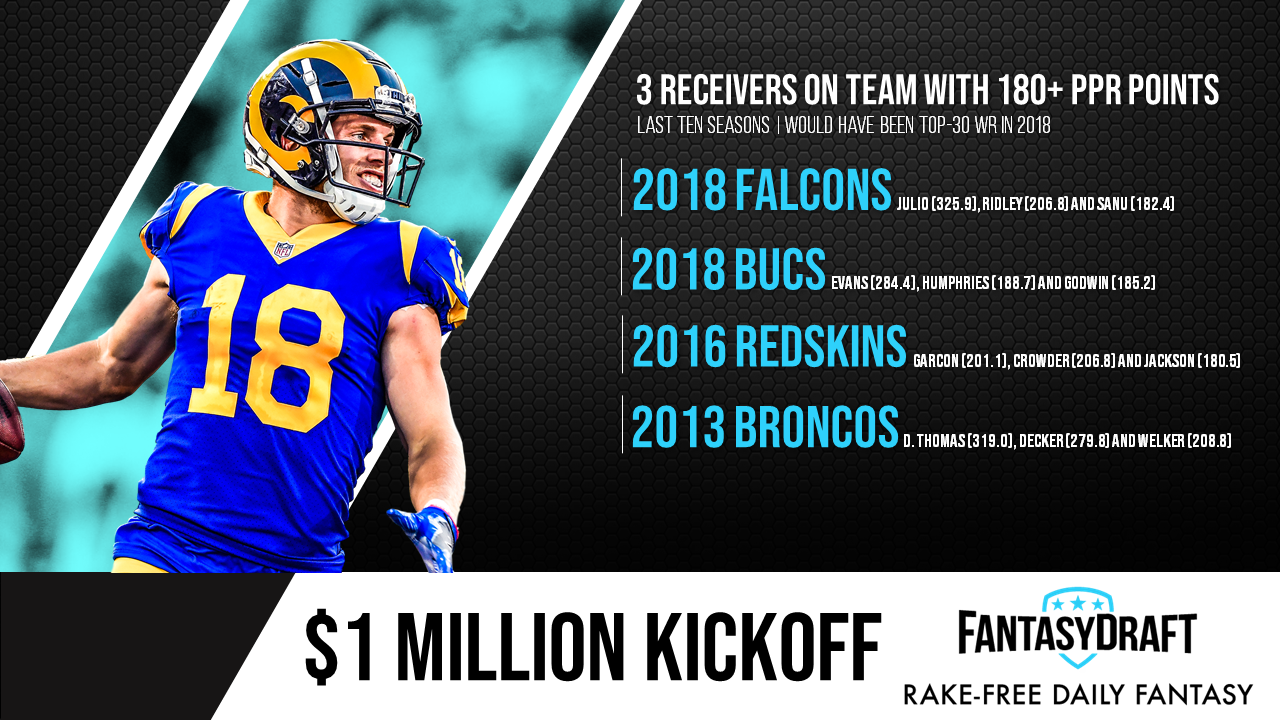 Maybe Kupp is back to full health despite a late-season ACL tear. I have my questions, but all the commentary is good. But even then, reports out of Los Angeles are that the team is going to employ fewer three-receiver sets this year, and that would leave Kupp as the odd man out. And even if they don't, offenses that can put up three top-30 receivers are vanishingly rare — there have been four in the last decade, and only the 2013 Broncos were really that good. Between the two warring concerns, I just can't take Kupp as high as his stock has him. He's my WR27.
Most people divide the top tight ends this year into two tiers: Travis Kelce, George Kittle, and Ertz, in some order, in the first, and O.J. Howard, Hunter Henry, and Evan Engram, in some order, in the second. Maybe you have it as three tiers, with Kelce off on his own. Me? It's four tiers. Kelce is by himself. Kittle is by himself. And Ertz is by himself. And then the next three are there. Ertz was so quantity-dependent last year that any drop in targets (and we can expect one) could really hurt him. He's a third tier all by himself, and I think he's closer to the Howard/Henry/Engram group than he is to Kittle.
Greg Olsen, TE, Carolina Panthers
Olsen's struggles famously started with injuries in 2017 and continued into 2018, with the now-34-year-old playing a combined 16 games over the two seasons. They less-famously actually started in 2016, when after the Panthers' bye he averaged only 46.3 yards and 9.3 PPR points per game. If he had been healthy over the last two years, I think we'd all have realized he's over the hill, but the injuries have everyone granting him a mulligan. He's my TE20.