Yards lead to points. That's not only logic, it's math. If a team puts up a whole load of yards but not that many points, or vice versa, something's generally out of line and will likely change in the future. And we can exploit that for fantasy football purposes.
Case in point: In Week 10 of the 2018 season, the Buccaneers marched up and down the field against Washington, totaling 501 yards of offense. That led to … three points. Obviously, teams can be more or less efficient over a short stretch and be better or worse in the red zone, but that sort of disparity is a fluke for a reason. The next week, Tampa Bay managed only nine more yards than the week before (up to 510), but scored a whopping 35 points, much more in line with what you'd expect.
In single games, craziness like that Week 10 game can happen. Over a season, it's much harder. Plotting every team's total points and yards over the last five years (160 samples in total), you can pretty easily come up with a formula for expected points based on yardage. And comparing expected points to actual points, we can figure out which teams over- or underproduced expectation.
That approach only gives us the who, though; it doesn't give us the why. The easy answer is luck, and teams will come closer to expectation the next season, but below we look at the most notable teams by this measure from 2018 (both good and bad) to see if we can divine any further information.
An obvious caveat: Yards don't produce points on defensive scoring, kicks, etc. This is an approximation. But over a full season, things level off reasonably well.
(Today is offense. Sunday, we'll look at defensive performances from 2018 to see if there is any information for that side of the ball.)
Exceeded expectations
(6,067 yards of offense, 413.0 expected points, 504 actual points, +91.0 over expectation)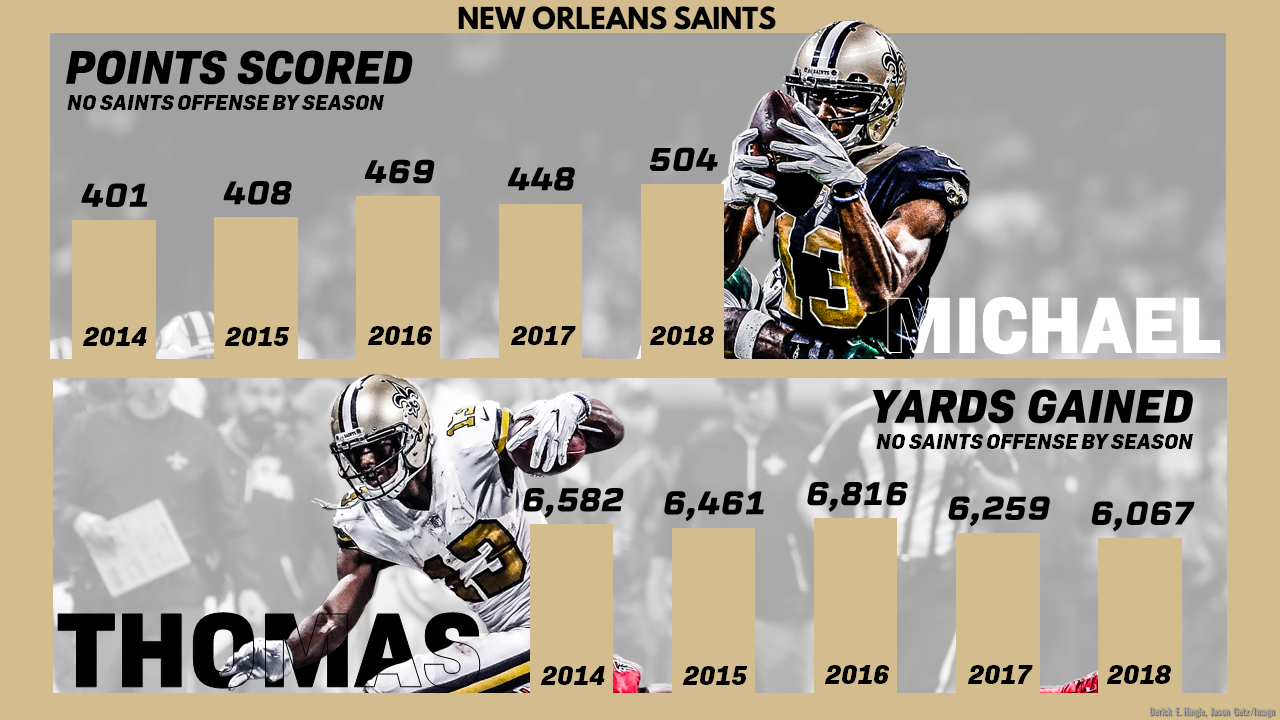 The 2018 Saints put up their fewest total yards over the last five years, but their most total points. That's actually a feat, considering how potent the Saints offense has been over that span. New Orleans averaged 2.9 red-zone touchdowns per game, the second-highest total in 2018, the second-highest total over the last five years, and New Orleans' biggest number since at least 2003. A potent offense headlined by Alvin Kamara and Michael Thomas with Drew Brees is always likely to be among the league's best, but you can bet on the team either increasing its yardage in 2019 or putting up fewer points. My bet? Fewer points. Not by a lot, but I'd guess the point total drops off.
(6,810 yards of offense, 487.1 expected points, 565 actual points, +77.9 over expectation)
Remember a paragraph ago, when I said the Saints had the second-most red-zone touchdowns over the last five years? Last year's Chiefs were the only team better, averaging 3.2 red-zone TDs per game. Only the 2016 Saints (6,816) put up more total yardage than the Chiefs' 6,810 in 2018. It was a legendary offensive performance, outscoring the next-best team by almost 40 points. Just on that basis, you almost have to count on regression from the Chiefs in 2019. Patrick Mahomes could be the best quarterback in the league again and still not come close to repeating his incredible performance.
(3,865 yards of offense, 193.5 expected points, 225 actual points, +31.5 over expectation)
That's right, the Cardinals actually beat their yardage expectation in 2018. While the Saints and Chiefs were 1-2 in points over expectation last year, the Cardinals were only ninth, but still, this team beating expectations is notable. The last time a team had as few offensive yards as the Cardinals' 3,865 last year was 2007, when the 49ers managed a woeful 3,797. It was the fewest yards in our five-year sample by 338, but they still had one more point than the 2016 Rams. We still don't know who will be quarterbacking the Cardinals in 2019, but the team hasn't exactly surrounded Josh Rosen or Kyler Murray with a load of talent. The team virtually has to put up more yardage in 2019, just because there's a bottom end of what is possible in the NFL, but the overall scoring might not grow as much.
Failed to meet expectations
(6,648 yards of offense, 470.9 expected points, 396 actual points, -74.9 below expectation)
That Week 10 game was the highlight, but the Buccaneers were frustratingly inefficient all year long, Over the last five years, only the 2018 Chiefs and Rams and the 2016 Saints and Falcons have put up more yards than last year's Bucs, but they were only 49th in total points scored. And there was no clear difference in efficiency based on who was quarterbacking the team; the Buccaneers averaged 434.7 yards and 25.4 points in games Ryan Fitzpatrick started, and 400.6 and 24.2 with Jameis Winston as the starter. For 2019? The team has Winston with no real competition, a winnowed-down crop of receivers, and a head coach in Bruce Arians who has led some very powerful offenses. I'm betting on a surge from the Tampa Bay offense.
(5,379 yards of offense, 344.4 expected points, 290 actual points, -54.4 below expectation)
By yardage, the Raiders were actually only slightly below-average last year. By points, only four teams (Washington, Buffalo, Jacksonville, Arizona) were worse. The Raiders big problem was their performance on the road; in the red zone, the team averaged 2.1 touchdowns per game at home (a borderline top-10 number) but only 0.9 on the road (second-worse in the league, only better than Miami). Tyrell Williams and J.J. Nelson should help that, even with the losses of Jordy Nelson, Jared Cook, and every running back anybody has ever heard of. Oh, and there's that Antonio Brown guy.
(4,832 yards of offense, 289.9 expected points, 245 actual points, -44.9 below expectation)
The Jaguars didn't have much of an offense, particularly in the red zone, and double-particularly at home — the team averaged a league-worst 0.9 red-zone scores per game, including only 0.7 per game at home. In both measures they were the league's only team under 1.0. If in no other way, Nick Foles should be able to help in that regard — in the red zone last year, his completion percentage was 64.% in the red zone,61.5% inside the 10. Blake Bortles? 43.6% in the red zone, a woeful 36.9% inside the 10. Even if the Jaguars overpaid to get Foles, the offense basically has no choice but to get better.