(All offseason long, PFF Fantasy editor Daniel Kelley will attempt to figure out the solution to some of the biggest fantasy football draft conundrums for the 2019 season. This is The Decider.)
Even as the wide receiver position has gotten crazy deep in recent years, I've been a proponent of finding one true receiver anchor. In other words, I'm not on any kind of zero-WR bandwagon. Loading up on a bunch of middle-tier receivers is a great way to confuse yourself when setting a starting lineup each week. Better (in my opinion) to have one guy you can lock into your lineup. Want to wait on receiver after that? Sounds good. But I want the anchor.
We can debate exactly how many receivers would qualify for that role each year. I would be comfortable with about 8-9 such guys this year, but your mileage may vary, and your answer might be 6-7 and it might be 10-11. That's fair to debate. But two guys who are definitely inside the group are Julio Jones and Michael Thomas. Thomas entered the league in 2016, and in the three years since, those two and Antonio Brown are the only receivers with at least a top-seven PPR finish each year, and in fact only those three and DeAndre Hopkins have more than one top-seven finish in those three years.
Over that time span, Jones sits third in wide receiver scoring and Thomas fourth, with four points separating the two (841.7-837.7). By end result, the intradivisional rivals have balanced one another. That's reflected in early ADP for 2019 (per Fantasy Football Calculator), with Thomas going off the board as the third receiver and Jones the fourth and only James Conner separating them in overall ADP. But which should you opt for in 2019 drafts?
The contenders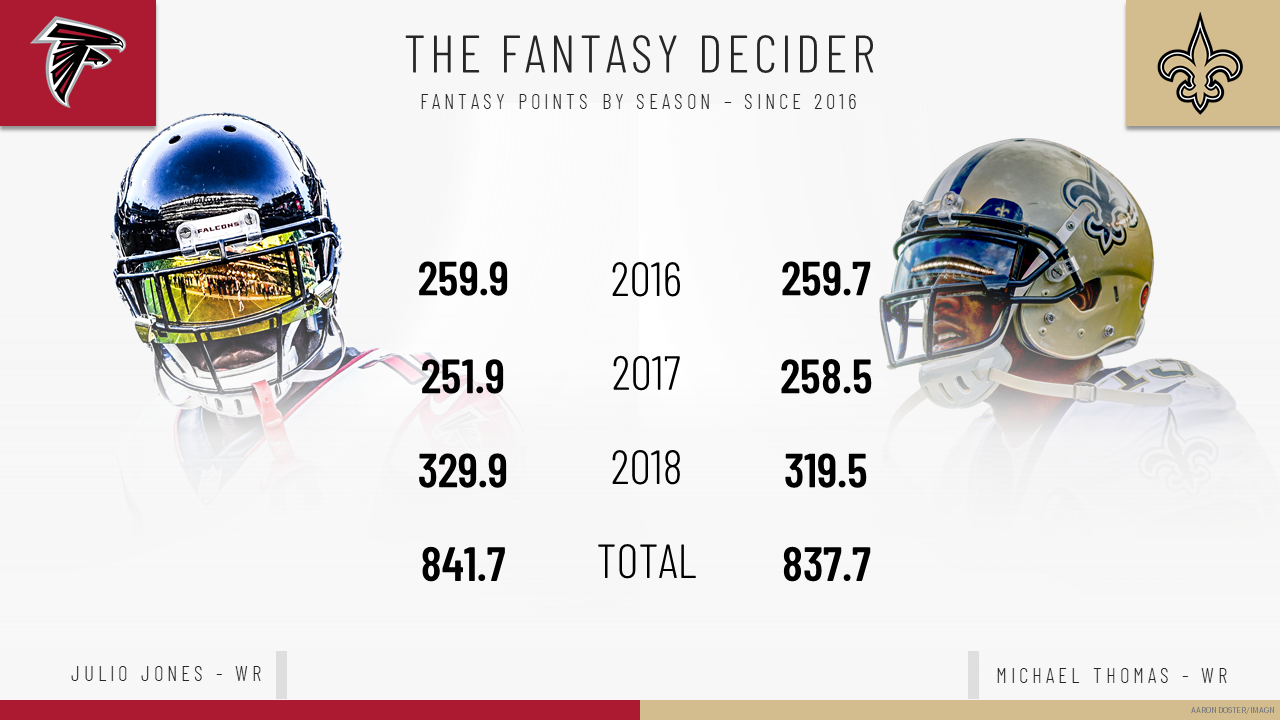 If you remember the preseason before Thomas' rookie campaign, Sean Payton took some heat for saying about Thomas, "I don't follow fantasy football, but shoot, I'd try to have him." The roster had Brandin Cooks, Willie Snead, and Coby Fleener, and most argued Thomas wouldn't be able to break into that group. Instead, he led the team in receiving touchdowns (9), receptions (92), and targets (119) and finished only 36 yards behind Cooks (1,137 to Cooks' 1,173) en route to a WR7 finish. He's been a consistent finisher, going from seventh that year to WR6 each of the last two, even as his fantasy point total shot up in 2018 (259.7 in 2016 to 258.5 to 319.5). With all his previous competition for targets long gone from New Orleans, replaced by Alvin Kamara, Jared Cook, and Ted Ginn, and whatever those guys do, Thomas is the clear No. 1.
Jones, meanwhile, has been the clear No. 1 in Atlanta since 2014 after sharing the spotlight with Roddy White before that. He's topped 1,400 receiving yards each of those five years (the longest such streak in NFL history) and has led the league in yards per route run each of the last four years and in 2013. The knock on Jones for much of his career has been touchdowns, as he has only reached double figures once (in 2012) and fell all the way to only three scores in 2017 despite 149 targets, a 2.1% rate that was the worst of any receiver with at least 100 targets (and Adam Thielen was the only other receiver under 3%).
Subscribe to PFF Edge to continue reading

Already have a subscription? Sign In