(PFF Fantasy is reacting to all the offseason moves from a fantasy football perspective. Follow along here.)
Sometimes NFL free agency provides us with a clear picture of what to expect for fantasy football purposes. Other times, it muddies the waters. Tevin Coleman's signing with the San Francisco 49ers is "other times." The move reunites Coleman with Kyle Shanahan, but now gives the 49ers an uber-crowed house in their backfield.
Last season was supposed to be Jerick McKinnon's year. The former Vikings back appeared set to be the 49ers workhorse, a fact that drove his ADP all the way up into the late-third round of fantasy drafts. But sometimes the football gods won't let us have nice things, and McKinnon missed the entire season with a torn ACL. Enter Matt Breida. Undersized but explosive, Breida notched 1,075 scrimmage yards and five scores. But Breida's size may have contributed to consistent injuries that had him sidelined or slowed for a good chunk of the season.
Coleman joins this duo in what will now be a fantasy conundrum that will likely prove difficult to decipher. However, there are clues in the breadcrumbs left from Shanahan's time with Coleman in Atlanta.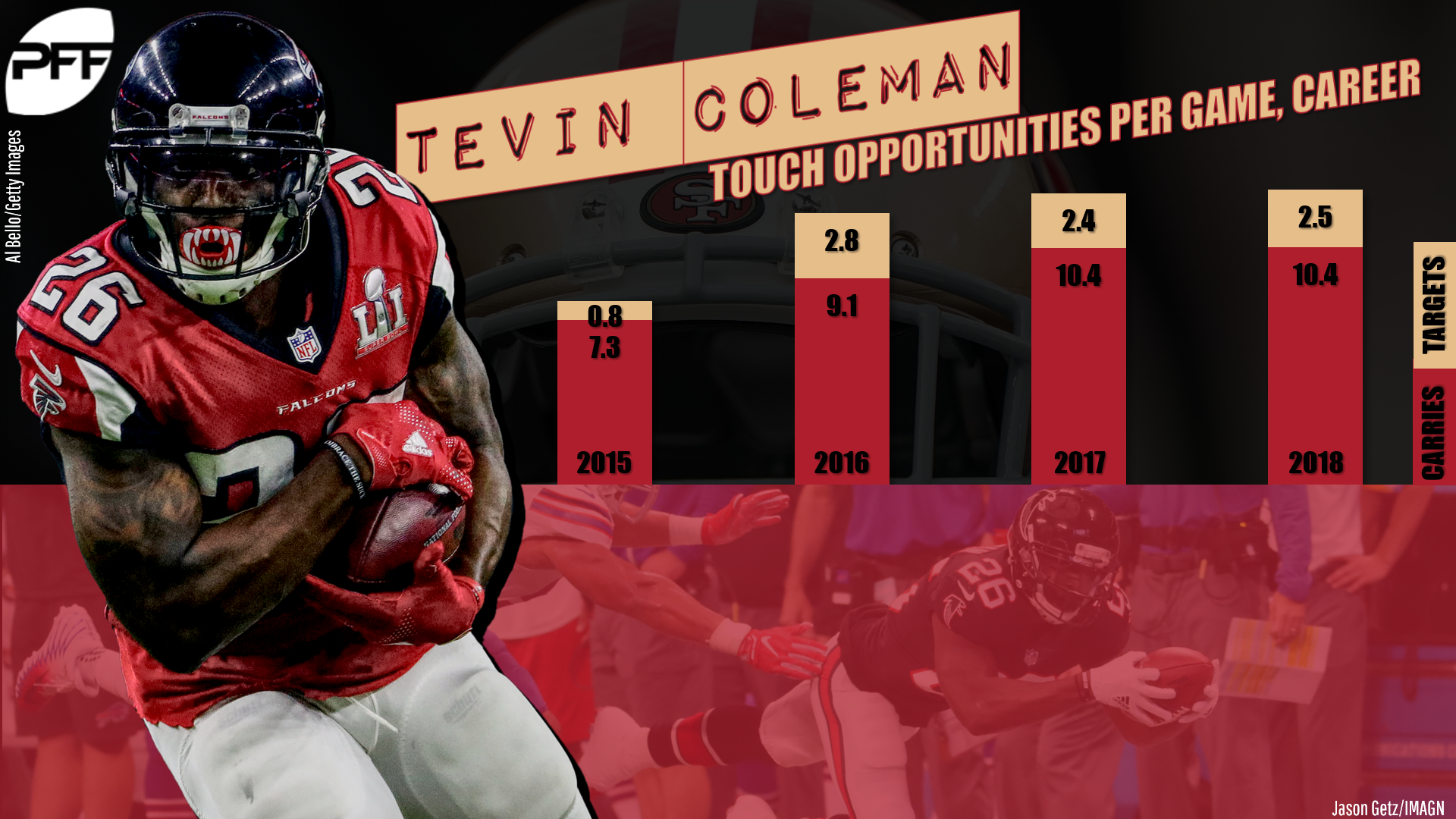 Throughout his tenure in Atlanta, Coleman split time with Devonta Freeman. Back in 2016, that split was roughly 2:1 with Freeman racking up 266 carries to 147 for Coleman. In the passing game, there was a similar distribution with Freeman getting 73 targets to 45 for Coleman. While Freeman was the clear-cut lead back, the Falcons didn't use this touch distribution every week. Sometimes, Coleman was used a bit more in the passing game, and vice versa.
The usage under Shanahan is insightful, but it isn't fair to simply take these splits and apply them to the San Francisco backfield. McKinnon is returning from the torn ACL, and there is a chance the team moves on from him (he has no guaranteed money going forward). However, it's more likely we see the team use a three-headed approach in the backfield.
None of these three backs is truly suited to early down work, but Coleman has at least shown the most ability in that area, as the Falcons did lean on him at various points over the last two seasons when Freeman was banged up. It would make sense to see him lead the backfield in carries with somewhere around a 45% share. McKinnon would then slide in at 25% and Brieda at 15. The remaining shares would go to Jimmy Garoppolo and the random wide receiver carries. Putting that together and using last year's carry total of 423, you have the following carry breakdown: Coleman 190, McKinnon 105, Breida 63.
From a targets standpoint, things figure to be a bit more tricky. McKinnon was almost exclusively used as a passing down back when he split time with Latavius Murray in Minnesota, and he would seem to be the most likely candidate for those duties in this backfield. Breida and Jeff Wilson saw roughly 8% target shares as the lead backs last season, but McKinnon did see a slightly higher share in Minnesota at 13.4%. So if we figure similar usage for McKinnon, that would mean roughly 6% for Coleman and 3% for Breida. On 500 pass attempts, that means 65 targets for McKinnon, 30 for Coleman, and 15 for Breida.
Of course, the big wild card here is Jimmy Garoppolo. If he's able to provide stability to the 49ers passing game, those target numbers certainly could be higher. But as it stands, here are reasonable projections for the 49ers backfield:
Tevin Coleman: 190 carries, 836 yards, 6.4 TDs, 30 targets, 21 catches, 181 yards, 1.5 TDs
Jerick McKinnon: 105 carries, 441 yards, 1.6 TDs, 65 targets, 48 catches, 384 yards, 1.9 TDs
Matt Breida: 63 carries, 315 yards, 1.2 TDs, 15 targets, 11 catches, 95 yards, 0.6 TDs
That sort of production would put Coleman at 170 PPR points and McKinnon at 151.5. In other words, Coleman sits right on the fringe of the RB2s, with McKinnon still treading water in the back of RB3 territory. That's far from optimal for fantasy purposes, but an injury to either player would almost certainly boost the other guy squarely into the top 20 with Breida then picking up the slack.