The occasional 2017 New Orleans Saints backfield aside, a single team producing two top-12 fantasy running backs is vanishingly rare. At wide receiver, though? It happens more often than you might imagine.
In 2018, two different teams — the Steelers and Vikings — produced multiple WR1s in 12-team leagues, with the Rams having receivers at 10th and 13th. One duo did it in 2017, two in 2016. Over the last decade, 13 teammate receiver duos have both put up WR1 seasons in the same year, peaking with Randy Moss (second) and Wes Welker (fourth) for the 2009 Patriots and Demaryius Thomas (second) and Emmanuel Sanders (fifth) for the 2014 Broncos. There has been at least one every year from the last decade except 2010 and 2015.
As such, unlike No. 2 running backs — who generally only have value as change-of-pace or handcuff options — there are inevitably going to be more than a few teams' No. 2 receivers who offer real fantasy value, and even a few who can offer elite fantasy value.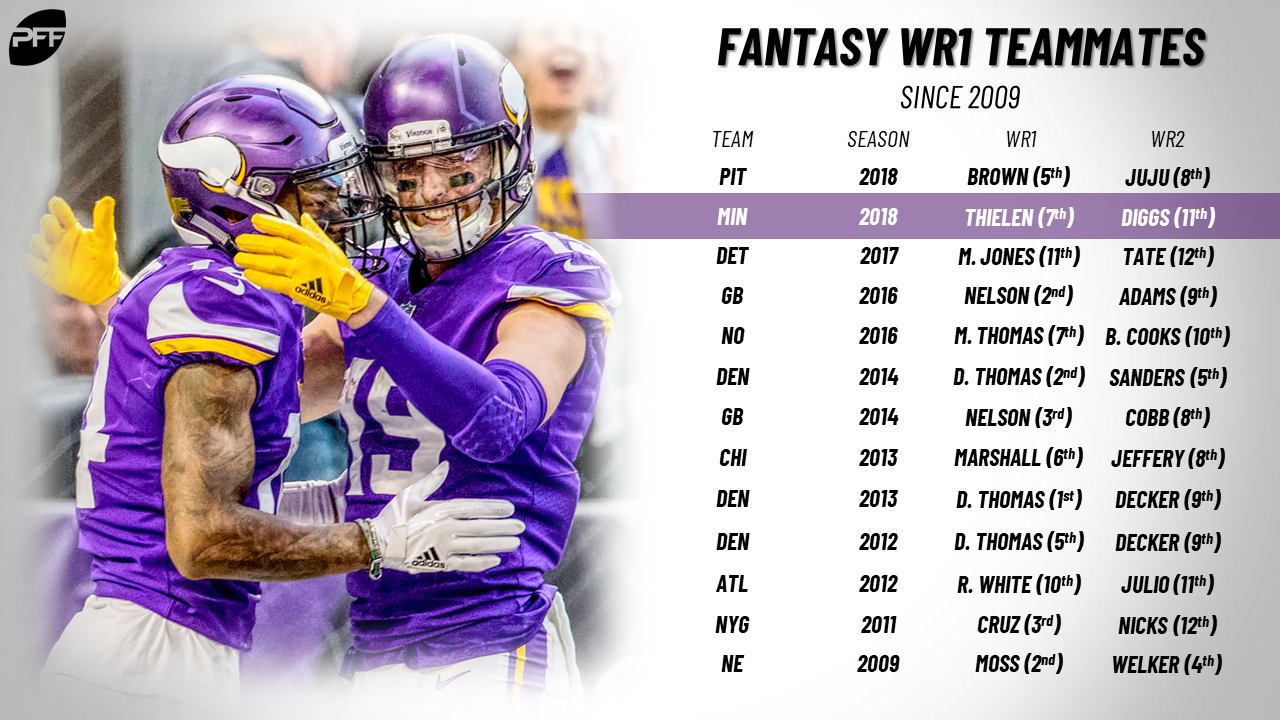 So who are the candidates to be teammate WR1s in 2019? We'll attempt to handicap it:
The leaders in the clubhouse have to be the lone remaining duo to have done so a year ago, after Antonio Brown and JuJu Smith-Schuster won't be teammates in 2019. Thielen finished the year seventh in PPR scoring at receiver, Diggs 11th (despite missing a game). The Vikings still don't have a trustworthy No. 3 receiver, so if Thielen and/or Diggs loses opportunity, it would come from a healthy-all-year Dalvin Cook. Still, if these two are healthy, they feel like good bets.
The Browns are pairing up the ex-LSU duo in 2019. Both finished as top-20 receivers in 2018 despite Beckham missing four games and Landry joining a new team. Landry finished as the No. 4 receiver in 2017 (with his value seriously propped up by being a reception monster for PPR leagues), while Beckham was the No. 4 in 2016, the only season of his career in which he's played all 16 games. If the Browns offense is what everyone expects it could be, both have extremely high ceilings.
Hopkins is obviously one of the single favorites to finish as the WR1 in fantasy, so this is more about Fuller. Fuller has averaged 12.9 PPR points per game over his last two years (over only 17 active games), which would work out to just over 200 points over a full season — fringe-WR2 status. Cut it down to just the games in which he's played at least half the Texans' offensive snaps, so as to cut down on his injury absences, and that number rises to 14.0, mid-range WR2. So WR1 might be tough for Fuller, but he has the ability when paired with Deshaun Watson. The drawback for Fuller might come in the form of a healthy-all-year Keke Coutee.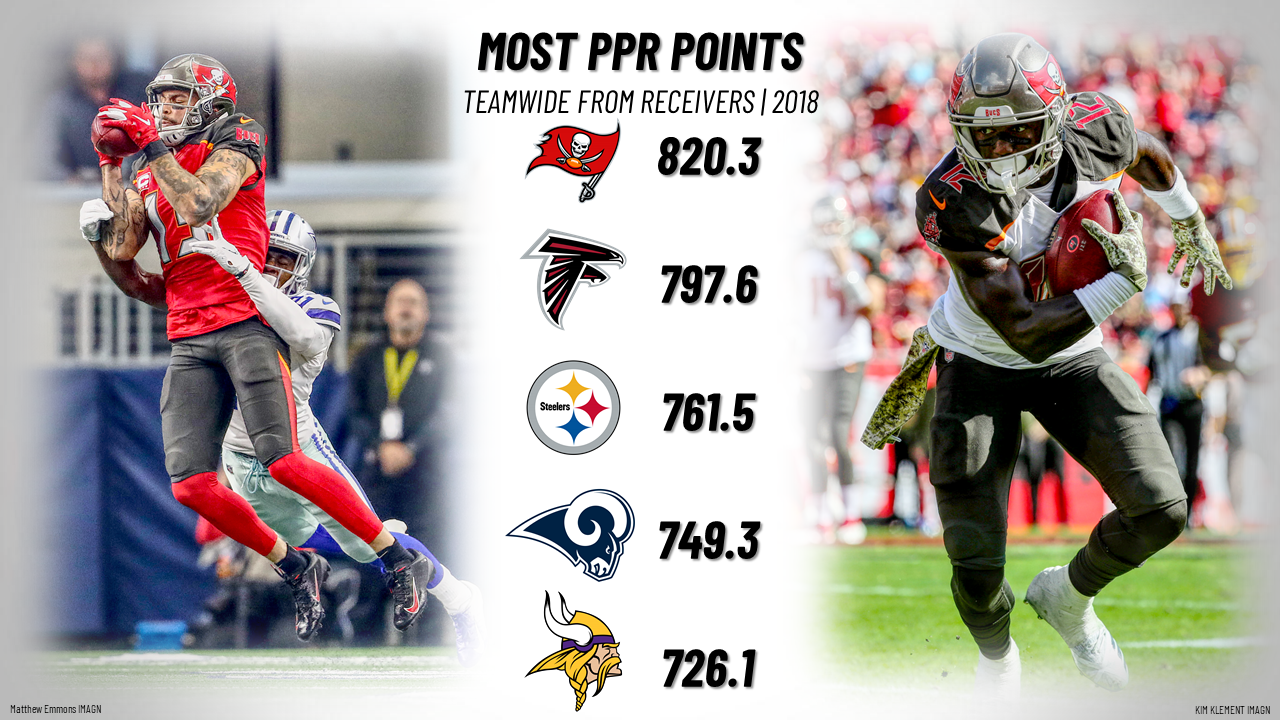 Evans, Godwin, DeSean Jackson, and Adam Humphries combined for 811.6 PPR points last year as the Buccaneers led the league in WR fantasy scoring. Jackson and Humphries are gone now, and while some of their attention will go to O.J. Howard, Breshad Perriman, and others, Evans and Godwin could soak up the benefit.
Boyd finished as the WR15 in 2018 despite missing the seasons final two games, a third-year breakout for a receiver who had been a disappointment up to that point. Part of that came because Green played in only nine games last year because of injury (and barely in one of those). Prior to that, Green had only fallen short of 1,000 yards once in his seven years, with no seasons below 960. If he can be healthy in 2019, heading into a contract year, there's no reason he shouldn't have the old A.J. Green potential. We'll see if Andy Dalton and the Bengals offense can support two monster receivers, but new head coach Zac Taylor comes over from a Rams offense that could do it, so if he instills some of that approach, we'll see.
Now that Allen has stayed healthy for two straight years, he is also on a two-year run with WR1 finishes. Williams finished as the No. 31 receiver last year with only 64 targets — he and Tyler Lockett (65) were the only receivers to finish inside the top 45 with fewer than 70 targets. That came courtesy a league-leading 15.6% touchdown percentage that is likely to regress in 2019. On the other hand, Tyrell Williams' departure in free agency opens up some work for Mike Williams, which could offset that regression and potentially boost him up another way.
Jones finished the season second in receiver scoring last year despite no touchdowns through the first half and topped 1,400 receiving yards for the fifth straight year. At some point he'll start aging, but we aren't there yet. Meanwhile, Ridley finished 20th in his rookie season, with a total of 91 targets that was the second-lowest among the top-20 receivers. If Ridley develops in his second year and pushes Mohamed Sanu down the target totem pole, he has sky-high potential.
Obviously, this is the biggest wild card here. But Edelman produced at a WR1 rate after his suspension last year, a pace that would have had him at 274.3 points (WR10) over the full season. Harry is just a rookie but enters just about the best possible situation he could have, on a Patriots team that will be without Rob Gronkowski, Chris Hogan, and (probably) Josh Gordon from the 2018 team. The team has brought in a whole assortment of receivers and tight ends this offseason to contend for targets, but Harry has the highest pedigree among them. Yes, this one's an extreme long shot, but it's there.
I saved this one for the end because it's a three-man group. Woods and Cooks finished 10th and 13th, respectively, among receivers in scoring last year, while Kupp finished 51st in only eight games. Double his point total, he'd be at 270.2 points … or just barely ahead of Woods, putting Kupp in 10th. Kupp's health is obviously going to be a big question for 2019, but if he's ready to start the season, any two of the three could theoretically be WR1s, assuming they all don't cannibalize one another too much.