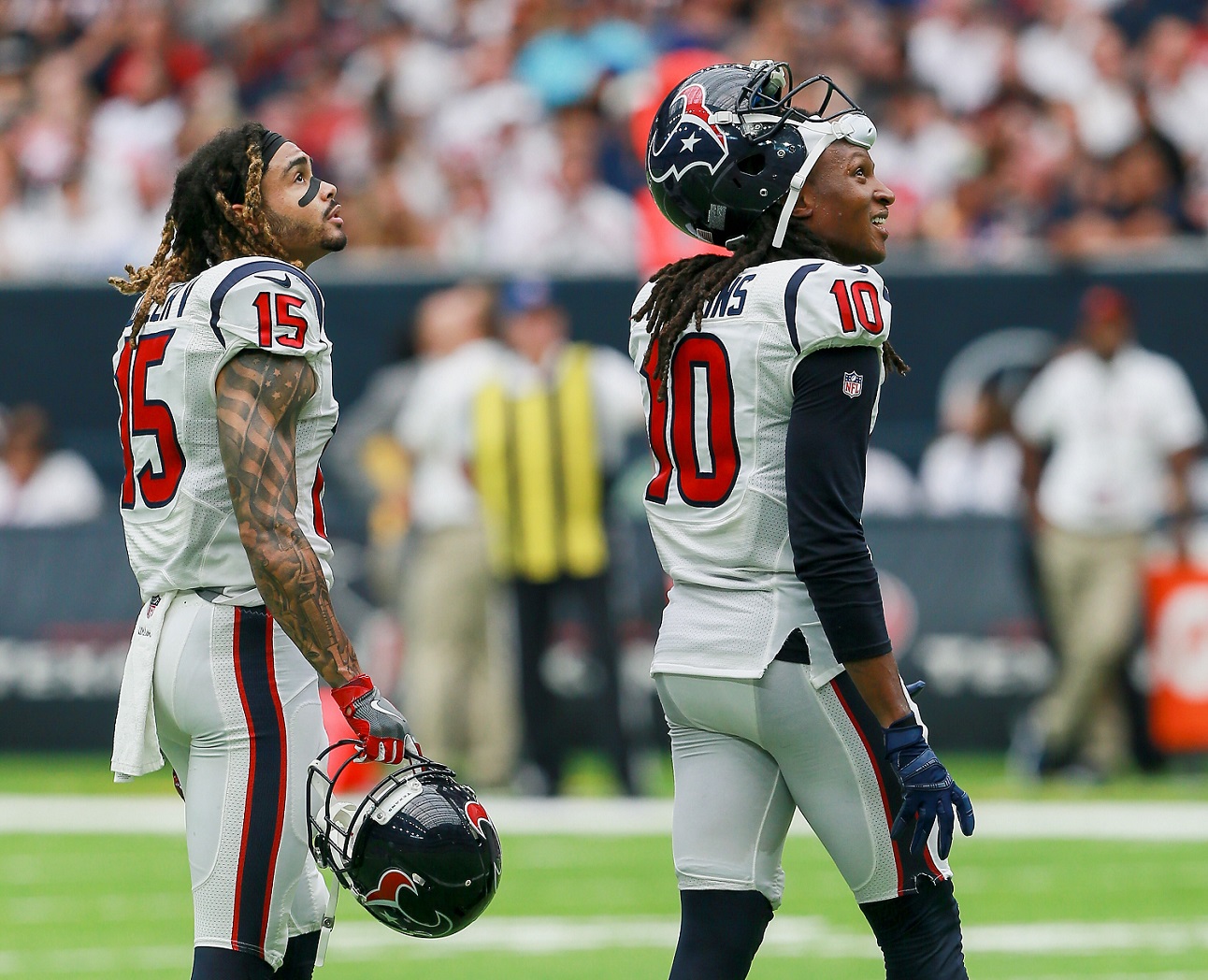 HOUSTON, TX - SEPTEMBER 11: DeAndre Hopkins #10 of the Houston Texans and Will Fuller #15 check the video board on a reception that was being challenged by the Chicago Bears during a NFL football game at NRG Stadium on September 11, 2016 in Houston, Texas. (Photo by Bob Levey/Getty Images)
Looking back at the Texans 2016 season, it's pretty remarkable that they were able to make the playoffs despite the botched free agency signing of Brock Osweiler the ensuing mediocrity at quarterback. Osweiler is out of the mix this year, and the Texans traded up to address the position in the first round of April's draft. Head coach Bill O'Brien's continue to call the plays in Houston after taking over those duties last season. O'Brien runs an Erhardt-Perkins system that is very much influenced by his time with the Patriots.
Team Offensive Stats

HST
Rank
Lg Avg
Snaps/Gm
68.1
6
65.3
Pace (Sec/Sn)
24.23
15
24.28
Run %
41.9%
8
39.8%
Pass %
58.1%
25
60.2%
% Leading
28.9%
25
36.0%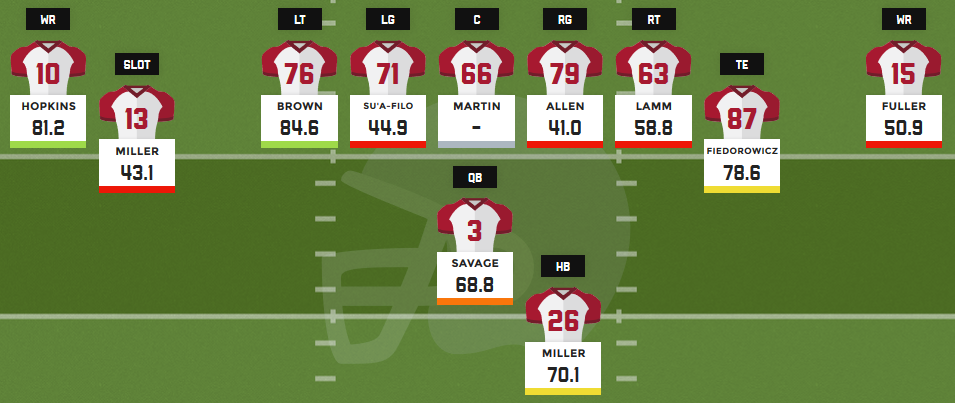 Quarterback
The battle for the Texans quarterback spot is over. For now. Tom Savage managed to hold off rookie first-rounder Deshaun Watson and will open the season as the starter. Savage has dropped back to pass 101 times in the NFL and has yet to throw a touchdown pass. He has, however, thrown a pick and taken seven sacks. That being said, when we saw Savage at the end of last season, he was able to give the offense more of a spark than Osweiler. His presence won't hurt the surrounding cast as much as his predecessor, but he isn't fantasy-relevant in 1QB leagues.
Of course, Savage may not hold the job the entire season. At one point in time, Watson was viewed as the potential No. 1 overall pick. But his stock slipped after an inconsistent 2016 campaign that culminated in a fourth quarterback comeback win in the national championship game. Very productive at the college level, Watson topped 4,000 yards in each of the last two seasons with 76 touchdowns over that span. His decision-making can sometimes be an issue, though, as he threw 17 picks in 2016 and 13 in 2015. But he adds dual-threat ability with 21 scores and 1,734 yards on 372 rushing attempts in the last two seasons. The question is not if, but when Watson will be the starter in Houston.
Vacated Touches

HST
2016 Touches
% Vacated
Carries
421
5.7%
Targets
540
5.4%
Total
961
5.5%
Running backs
At this time last year, many in fantasy circles viewed Lamar Miller as a player on the verge of breaking into the elite fantasy tier. He ended up being selected as a first-round pick in most fantasy drafts. Well, that didn't work out so well. He finished the year 17th among running backs in fantasy scoring, which isn't terrible, but certainly wasn't a good return on investment. Miller had just three top-10 fantasy weeks. A lack of work in the red zone certainly didn't help the cause, as Miller had just eight carries inside the 5-yard line. He also ranked last among qualifying running backs in yards after contact per attempt at just 2.0. Miller is still likely to produce RB2 numbers, but be careful to not overvalue him on draft day.

After Miller, Alfred Blue and rookie D'Onta Foreman will duke it out for backup duties. Blue has topped 100 carries in each of his three seasons in the NFL, but has done very little for fantasy purposes with just three top-10 fantasy finishes in 44 career games. Foreman slots in behind Blue, but the rookie offers arguably more upside after breaking out for 2,000-plus rushing yards in college last year. He's the better bet to surface on the fantasy radar at some point this year.
Rushing Stats

HST
Rank
Lg Avg
YPC
4.08
19
4.18
YCo/Att
2.06
30
2.43
YBCo/Att
2.02
7
1.76
Inside Zone
24.3%
18
26.0%
Outside Zone
29.2%
14
27.7%
Power
9.0%
20
9.5%
Man
19.5%
3
15.0%
Wide receivers
It was a year many DeAndre Hopkins drafters would like to forget. A consensus top-10 fantasy pick following his breakout 2015 season, Hopkins is widely regarded as a massive disappointment after he finished 26th among receivers in fantasy scoring last season. The volume was still there for Hopkins – he saw 138 targets, which ranked 11th among wide receivers – but he dropped off significantly in efficiency. His quarterback situation certainly didn't help, nor did his work in the red zone. After seeing 21 end-zone targets in 2015, Hopkins was targeted just 10 times in the end zone last season. While a return to his 2015 productivity is extremely unlikely, Hopkins still offers the potential to rebound and should be considered a WR2 with WR1 upside.
Will Fuller will miss the beginning of the season with a broken collarbone. He's expected back in October. Fuller got off to a hot start last season with two top-20 performances in the first month of the season. From that point on, his best fantasy finish was 49th. Despite that less than encouraging stat, Fuller does offer a lot of fantasy upside. He's an interesting stash in the late rounds of drafts.
Braxton Miller appears to be locked into the No. 3 job. Miller is recovered from the shoulder injury that landed him on injured reserve last year and has worked with Wes Welker to improve his play in the slot. If the Texans can find some stability at quarterback, Miller might be worth a look in deep leagues.
Wide Receiver Sets

%
Rank
Lg Avg
Throw%
Rk
Lg Avg
2-Wide
24.9%
15
24.5%
44.6%
13
45.0%
3-Wide
58.2%
13
55.5%
65.5%
21
66.1%
4-Wide
1.5%
13
2.9%
75.0%
21
81.6%
Tight end
Though he didn't display a particularly high ceiling, C.J. Fiedorowicz did offer a high floor last year for fantasy owners in need at the tight end position. He ended the year 17th among tight ends in fantasy scoring, posting 54 catchers for 559 yards and four scores. While Fiedorowicz wasn't used very heavily – he saw 82 targets – he was targeted nearly as much in the end zone (8) as Hopkins. Still, his limited ceiling and catch-and-fall-down profile keeps Fiedorowicz in the back end of the TE2s.
Personnel Groupings

%
Rank
Lg Avg
Throw%
Rk
Lg Avg
11
54.5%
13
53.5%
66.5%
18
33.5%
12
15.0%
17
15.6%
52.8%
14
50.2%
21
6.1%
16
6.9%
37.9%
19
62.5%
(Keep up with all of PFF Fantasy's draft strategy and advice here!)