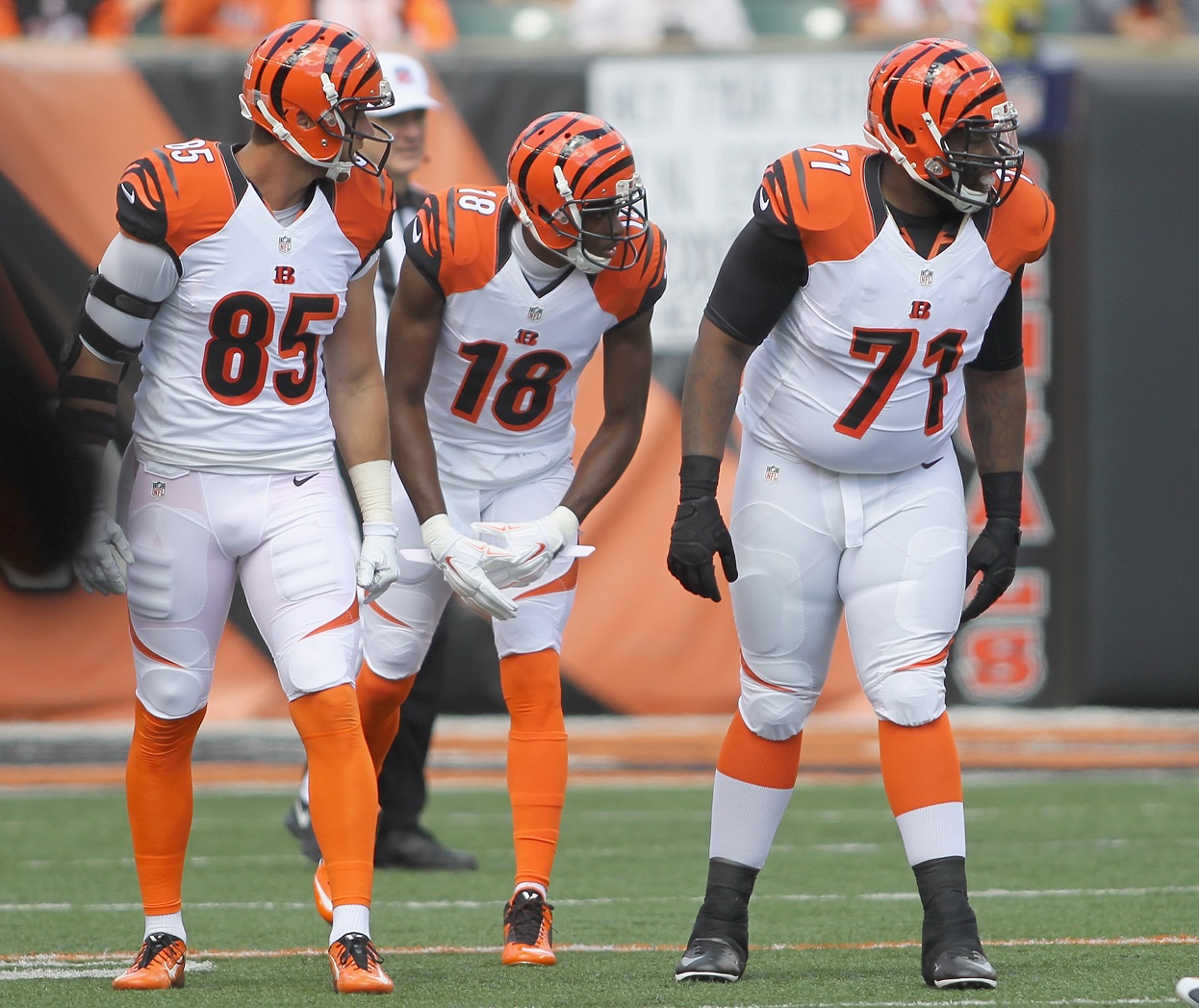 CINCINNATI, OH - SEPTEMBER 20: Tyler Eifert #85, A.J. Green #18 and Andre Smith #71 of the Cincinnati Bengals line up at wide receiver during their game against the San Diego Chargers at Paul Brown Stadium on September 20, 2015 in Cincinnati, Ohio. The Bengals defeated the Chargers 24-19. (Photo by John Grieshop/Getty Images)
After posting a winning record in five straight seasons, the Bengals finished below .500 last year. That's just the fourth losing record in Marvin Lewis' tenure at head coach, which has spanned the last 14 seasons. Offensive coordinator Ken Zampese runs an Air Croyell offense that his father, Ernie Zampese, helped craft in the late-70s and early-80s.
Team Offensive Stats

CIN
Rank
Lg Avg
Snaps/Gm
67.1
10
65.3
Pace (Sec/Sn)
23.63
8
24.28
Run %
41.6%
9
39.8%
Pass %
58.4%
24
60.2%
% Leading
35.4%
15
36.0%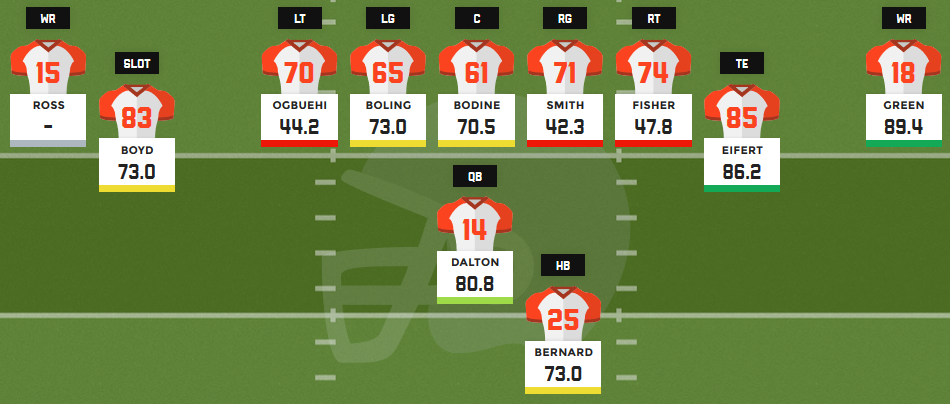 Quarterback
Andy Dalton isn't a sexy fantasy option, but he has proven to be a solid one over the course of his six-year career. He's finished no worse than 18th among quarterbacks in fantasy scoring and has two QB1 seasons – he finished 12th in 2012 and fourth in 2013. Last year, he ended up 14th despite losing A.J. Green partway through the season. Dalton threw for just 18 scores in 2016, but did top 4,000 yards for the second time in his career. He also managed to chip in four rushing scores. While his ceiling isn't particularly massive, Dalton is a safe option with a high floor who is worth considering as a QB2.
Vacated Touches

2016 Touches
% Vacated
Carries
411
18.5%
Targets
510
8.2%
Total
921
12.8%
Running back
The Bengals backfield is one of the most interesting entering 2017 following their second-round selection of Joe Mixon. The former Oklahoma back saw his draft stock slip due to his extremely poor off-field behavior, but he's arguably the most well-rounded running back in this year's rookie class. He graded out as our No. 4 running back and was the top-graded back as a receiver last season. Mixon averaged a solid 3.7 yards after contact per attempt and posted 2.85 yards per route run, which ranked second in the nation. He also racked 21 runs of 15-plus yards. There's still some question as to whether Mixon wins the lead back job, but his substantial upside is worth an early-round fantasy pick as an RB2.

Of course, Jeremy Hill and Giovani Bernard are still in Cincinnati. Hill has been the lead early-down back over most of the last three seasons. Following his breakout stretch run in 2014, Hill has failed to average more than 4.0 yards per carry in each of the last two years. Yet, he has managed to finish as an RB2 thanks to heavy touchdown production with 12 total scores in 2015 and nine in 2016. Despite the touchdown production, Hill's lackluster performance doesn't bode well for him fending off Mixon. Hill likely ends up as a handcuff this year.
Bernard wasn't expected to be back for the beginning of camp, but managed to progress quickly thought his ACL rehab. While he's more of a receiving back, the Bengals have used him between the tackles, with triple-digit carries in each of his first three seasons. He was well on his way to another 100-plus carry season last year before he went down with a torn ACL. Bernard has an outside shot at having PPR value, but he too will have Mixon breathing down his neck.
Rushing Stats

CIN
Rank
Lg Avg
YPC
3.97
22
4.18
YCo/Att
2.39
18
2.43
YBCo/Att
1.58
22
1.76
Inside Zone
18.8%
27
26.0%
Outside Zone
33.0%
11
27.7%
Power
19.3%
11
9.5%
Man
8.3%
14
15.0%
Wide receiver
A.J. Green missed the final six games last season, but up to that point he was an elite fantasy option. Through the first 10 weeks of the season, only three wide receivers had more fantasy points than Green: Julio Jones, Antonio Brown, and Mike Evans. Green is no stranger to elite-level fantasy production with top-10 finishes in 2012, 2013, and 2015. Perhaps the one concern for Green last season was his minimal used in the end zone. He saw just five end-zone targets after averaging nearly one per game in 2015. Regardless, Green is still an extremely strong fantasy option who should be considered as one of the first wide receivers selected in this year's drafts.
Rookie John Ross projects to play outside along with Green and is likely to be on the field in two-wide sets. Ross possesses blazing speed, but has battled injuries throughout the offseason. He's an interesting late-round dart if he's healthy. If not, we could see Brandon LaFell in that role. LaFell did an admirable job last year, but his minimal upside isn't desirable from a fantasy perspective. Tyler Boyd is the best bet to come on the field as the slot in three-receiver sets. Boyd is a solid player, but lacks significant upside. Despite the likelihood for a decent amount of playing time, he isn't an ideal fantasy option.
Wide Receiver Sets

%
Rank
Lg Avg
Throw%
Rk
Lg Avg
2-Wide
20.8%
22
24.5%
39.9%
23
45.0%
3-Wide
61.2%
9
55.5%
63.2%
25
66.1%
4-Wide
0.1%
30
2.9%
100.0%
1
81.6%
Tight end
Injuries seem to go hand and glove with the top fantasy tight ends these days. That's certainly true for Tyler Eifert, who has yet to play a full season and has missed a combined 26 games over the last three seasons. That being said, when he's managed to stay on the field, Eifert has been very productive. He's finished as a TE1 14 times in 21 games over the last two seasons. Where he's especially effective is in the red zone. Eifert has seen 20 end-zone targets over that span with 15 converted for touchdowns. What that's an unstainable rate, his heavy work in that area of the field bodes well for continued productivity. Eifert is locked in as a mid-range TE1.
Personnel Groupings

CIN
%
Rank
Lg Avg
Throw%
Rk
Lg Avg
11
59.5%
8
53.5%
64.1%
24
33.5%
12
7.8%
29
15.6%
53.6%
12
50.2%
21
9.8%
8
6.9%
27.6%
26
62.5%
(Keep up with all of PFF Fantasy's draft strategy and advice here!)