Tight end fantasy football strength of schedule is one of the most misused pieces of information during fantasy football draft season. Strength of schedule charts are almost always based on last year's data, so they don't give you much insight at the present. That's exactly why we changed things up at PFF and took a new approach to strength of schedule. Instead of basing this information off last year's stats, we put our strength of schedule together based on the current defensive rosters. Using PFF grades, we can establish the overall matchup outlook for each position based on a team's schedule.
Keep in mind that fantasy strength of schedule data is a small piece of the overall puzzle and should not be considered the be all, end all in your fantasy decision making process. While the difference between the best and worst schedules may look significant, it isn't. There isn't anywhere near as wide of a gap between the best and worst defenses in the NFL as there is at the college level. In fact, the best schedule at tight end this year is only 4.9% better than the worst schedule at tight end. So resist the temptation to move players up or down significantly based on their schedules. Instead, use this information to tweak your rankings and break ties between players who are very close on your draft board.
Below, you'll find the 2019 fantasy football tight end strength of schedule sorted in order from the best to worst schedules. We also included the strength of schedule for the fantasy football playoffs in Weeks 14-16. The chart is color-coded with a heat map to give you a better sense of the good and bad schedules at a glance. The greener the box, the better the matchup. Likewise, a red box indicates a bad matchup.
Matchups are also ranked for each week with one being the best matchup. Keep in mind that the bye weeks will mean that the worst matchup for the week isn't always 32. For example, in Week 9, there are four teams on bye, so the worst matchup is ranked 28 for that week. You'll also notice that San Francisco is the best matchup for tight ends based on PFF grades. However, the 49ers are on their bye in Week 4, so the Giants get the No. 1 matchup for the week against the Redskins.
One other very important note is that this strength of schedule is subject to change as defensive personnel changes on each roster. Injuries, cuts, suspensions, and depth chart movement will all impact the strength of schedule. Most of these changes will be minor, but an injury to a standout player could have a bigger impact. If you want the most updated version of this chart, you can get it in PFF's 2019 Fantasy Playbook.
(Check out the quarterback strength of schedule, running back strength of schedule, and wide receiver strength of schedule.)
(click to enlarge)
Best schedules
It took five seasons, but we finally got a breakout performance from Ebron last year and the Colts schedule would suggest that we can expect more of the same. But before we get too far ahead of ourselves, it's important to keep in mind that Ebron's touchdown production was historically good last year, and we'll almost certainly see down negative regression. Additionally, a healthy Doyle will take some of the targets of Ebron's plate.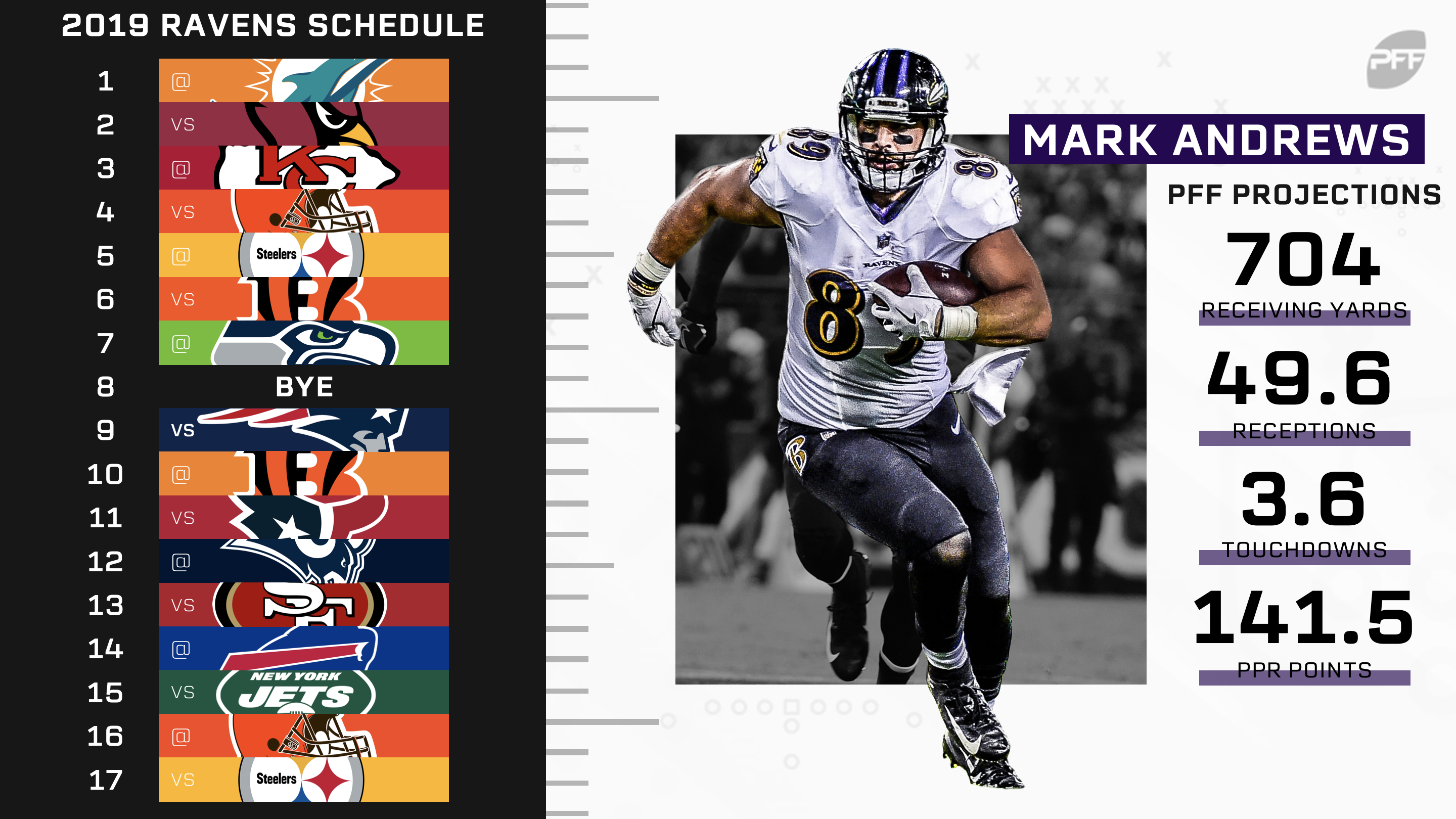 He's one of this year's biggest breakout candidates at tight end and Andrews gets a juicy schedule to boot. Not including Week 17, the Ravens have seven top-10 weekly matchups where Andrews will see favorable coverage from opposing safeties and linebackers. Look for him to improve on the solid 552 receiving yards he put up in his rookie season.
With a nearly identical schedule to Andrews, Eifert is also set up well for success — that is, if he can stay on the field. Unfortunately, Eifert has not shown the ability to do so as a professional. Out of a possible 80 games that he could have played over the last five seasons, Eifert has only managed to suit up for 43 of them, including just 14 over the last three years.
He's coming off a lost 2018 campaign and is entering his age-35 season, but there's just enough tread left on Walker's tires for one more solid fantasy season. Walker's schedule is certainly a plus, but those looking for a higher ceiling at tight end may want to go elsewhere. Tennessee's run-heavy approach coupled with Walker's age put a cap on his fantasy upside.
The second-year tight end will start the season with a four-game suspension, but that isn't the worst thing for fantasy purposes as he'll avoid three tough matchups against the Bills, Patriots, and Eagles. Herndon will then have seven top-10 matchups over his final 12 games this season. Given the suspension, Herndon isn't an option to draft, but he should be a pickup target when we get to Week 3 or 4.
Worst schedules
Following a breakout rookie season, Engram came back to earth in 2018 and finished a somewhat disappointing 13th among tight ends in fantasy scoring. However there should be more opportunities for him this year with Odell Beckham Jr.'s massive target share out of the mix. That said, late-season matchups against the Bears, Packers, and Eagles are worth noting if you're considering Engram this year.
The days where we touted Reed as a solid value with upside are in the rearview mirror. Like Eifert, Reed just can't stay healthy, and that makes him a liability for fantasy purposes. To make matters worse, his schedule is almost identical to Engram's. This is a good year to pass on Reed.
Sure, Rudolph finished as a top-10 fantasy tight end last year, but he did so in a down year at the position with just four touchdowns. Not only is there almost no upside with Rudolph, but he also has a rough schedule that includes tough matchups against the Bears, Packers, Eagles, and Jags.
Almost every year we have rookie tight ends who disappoint in fantasy football. It isn't their fault. It takes time for young players to develop at the position. Keep that in mind with Hockenson this year and give him a long leash for fantasy purposes. Not only could there be some growing pains, but his schedule is similar to Rudolph's and will likely put a damper on his fantasy production.
Okay, he isn't fantasy relevant at this time, but Waller could surface as a streamer if he's able to seize control of the job in Oakland. With Derek Carr's propensity to target the tight end, there could be times where Waller surfaces on the fantasy radar. If that occurs, just be careful with when you use Waller, as he has some tough matchups on the docket this season.