On Tuesday, I ventured into our Fantasy Playbook for some of the most interesting fantasy football takeaways for the 2018 season for quarterbacks and running backs. They included:
(I also discussed my utter inability to see any Magic Eye picture, ever, at all, and earned some mockery, but I maintain those things are emperor's-new-clothes situations and if you say you can see the picture, you're either lying or in on the conspiracy, but that's neither here nor there.)
Today, I'm doing the same thing (except for the Magic Eye stuff), but for wide receivers and tight ends. These are my favorite takeaways from our 2018 draft guide for the positions — things I didn't know, or surprising results, or just interesting tidbits. But they're my takeaways. Yours would likely be different. It's worth investigating the Playbook yourself to see.
(The Fantasy Playbook is available for all Edge subscribers.)
1. Min. 50 targets, 12 wide receivers averaged at least 2.00 yards per route run in 2017. It's almost entirely names you'd expect … plus Chris Godwin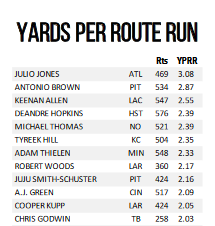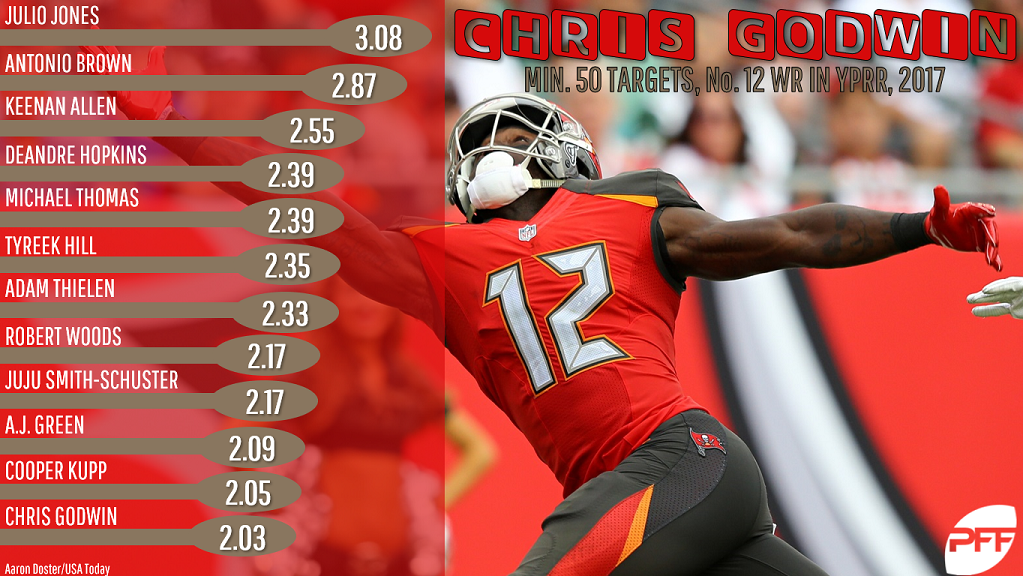 Maybe you're a little surprised to see two Rams (Robert Woods and Cooper Kupp) make the list of over-2.00 YPRRs, but really, the only surprise on that list should be Godwin, who gained 525 receiving yards on 258 routes run as a 2017 rookie for the Buccaneers.
Spend five minutes around PFF, and you'll hear someone talking up yards per route run. It's one of the stickiest stats out there, predictive year-over-year and nicely tied to fantasy production. So any time you see a surprising name doing well in YPRR, your ears should perk up. Maybe there's a breakout coming.
The problem for Godwin, though, is that it's hard to see where his targets can really grow significantly. Mike Evans is going to get his. DeSean Jackson is still around and likely to be fed. Adam Humphries is one of only 26 receivers to have 55 or more catches each of the last two years. O.J. Howard and Cameron Brate and Ronald Jones and Charles Sims are around. Godwin appears to have the requisite skill to be a fantasy contributor, but absent the opportunity, we might have to wait another year. He's worth a speculative pick late in deep drafts, but that's about it for the time being.
2. Pierre Garcon has only three WR1 weeks in the last three years

Garcon was WR3 in Week 11 of 2016. He was WR10 in Week 16 of 2015. He was WR12 in Week 4 of 2015. That's been it as far as ceiling goes for the 32-year-old veteran the last three years. On top of that, he only had two WR1 finishes in 2014. He had five in his career 2013 season, but he's now 5-for-his-last-56 games in WR1 finishes.
Garcon is a high-floor fantasy option, especially in what should be an improved San Francisco offense, averaging nearly 5 catches a game over the last four years. But his lack of touchdown upside — Garcon's career high is six touchdowns in a season, and he didn't find the end zone even once in an eight-game 2017 — puts a cap on how valuable Garcon can be overall. He's a perfectly serviceable WR3/flex option, but his lack of upside means you're asking for it if you roll with Garcon as any more than that.
3. Of Adam Shaheen's 14 targets as a rookie, 5 (36%) came in the end zone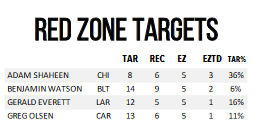 Obviously, 14 targets is a tiny sample size. Shaheen's rookie year was largely supposed to be developmental, backing up Zach Miller, before the veteran's injury gave Shaheen a little time to perform. Shaheen had 1 catch on 2 targets for 2 yards and a score for the season prior to Miller's injury; in five games after that, he had 11 catches on 12 targets for 125 yards and 2 touchdowns in five games. He wasn't really fantasy-relevant or anything, but he did have two weeks as a top-10 fantasy tight end.
If Shaheen were the Bears' No. 1 tight end for 2018, we might have to consider him a fantasy factor in the TE2 range. Instead, the team signed Trey Burton this offseason, and he'll almost certainly be the starter and dominant player at the position. Still, the fact that so many of the 6-6 Shaheen's targets came all the way in the end zone is important to note — even if Shaheen isn't a fantasy factor in his own right, if he's vulturing end-zone targets, he could keep Burton's value in check. In fact, he could hold down the value of Burton, Allen Robinson, Jordan Howard, and all the Bears' weapons. Shaheen's usage heading into 2018 warrants watching.
4. Rob Gronkowski has been a TE1 in 25 of 35 (71%) games played (pre-Week 17) the last three years; Travis Kelce has in 28 of 45 (62%)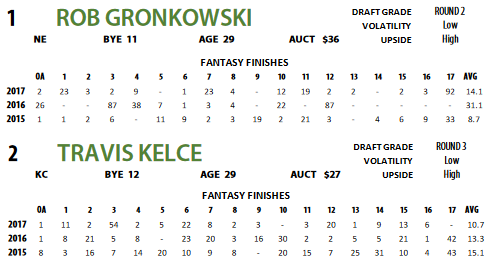 I limited it to Week 17 because neither of these guys has been pressed much in Week 17 in recent years; each has missed one of the last three, and they've had 2 or fewer targets in three of the four they have played. But during the fantasy season, these two are (not breaking any news here) monsters. Kelce has finished the season as the overall TE1 in PPR leagues the last two years, but that's obviously with Gronkowski missing time (two games missed last year, eight missed in 2016). Missed games are always likely to be part of the equation with Gronkowski, but his better rate of TE1 finishes is a big part of why I still prefer him.
Two of Gronkowski's non-TE1 weeks were 2016 injury weeks when he was a question mark to begin with and was largely used as a decoy. Take those two out (which isn't totally fair, but I'm going for effect here) and his percentage jumps to 76. With a massive tier of tight ends filling in the rankings between, say, No. 8 and No. 20, I'm comfortable taking Gronkowski's regularly higher ceiling — when a big week at a rough position can win you your matchups — and scrambling in the weeks he misses. Kelce's great. But give me Gronk.
5. Tyreek Hill and Sammy Watkins have a miserable strength of schedule in 2018

Even when a player has a bad opposing schedule, there are usually occasional light spots their fantasy owners can circle on the schedule as the week they could break out. Hill and Watkins owners? Not so much. The Chiefs don't face a team ranked in the 12 easiest opponents heading into the season. Every other teams face at least three opponents in the top 12. I'm already on record saying Watkins' touchdown luck from 2017 is unlikely to repeat in 2018, and given a fresh-faced starting quarterback and a daunting schedule, I'm nervous about expecting either guy to maintain his level of production.