Each week in this space, we'll highlight the best quarterbacks to pick up and stream in fantasy football. The year of the ever-changing quarterback landscape continues as Week 5 brought us another potential QB injury (Mason Rudolph) and a few uncharacteristic outings from both Patrick Mahomes and Dak Prescott. Whether your quarterback has a bye this week or you have lost hope in your starter, if you are looking for a Week 6 streaming quarterback option, you have come to the right place.
Before we move on to Week 6, let's take a look back at last week to see how our Week 5 streaming options fared. Jameis Winston came back down to earth but still posted 15.46 fantasy points. The quarterback opposite him, Teddy Bridgewater, would have been a better play, but you certainly could have done better. Daniel Jones finished the week with less than 10 points, much to my chagrin. If you played either Andy Dalton or Gardner Minshew II in your standard league, you likely were pleased with the 21-plus points they earned on your behalf. Similarly, Kirk Cousins and his 21.54 points would have played well in a deep league. Rudolph was looking pretty solid until he was knocked out of the game with a concussion.
Assuming Rudolph and Mahomes (who injured his ankle) will be able to return to action before too long, it appears the starting QBs in the league have finally escaped a week with relatively good health, which is a good sign for fantasy owners of all types. Moving on, here are the best streaming quarterback options available for Week 6. Please note, this article offers the best options as of Tuesday morning. Make sure to check our fantasy rankings on game day to avoid any surprises.
Shallow leagues (8-10 teams)
Kirk Cousins (MIN vs PHI) — 41% owned, 13% started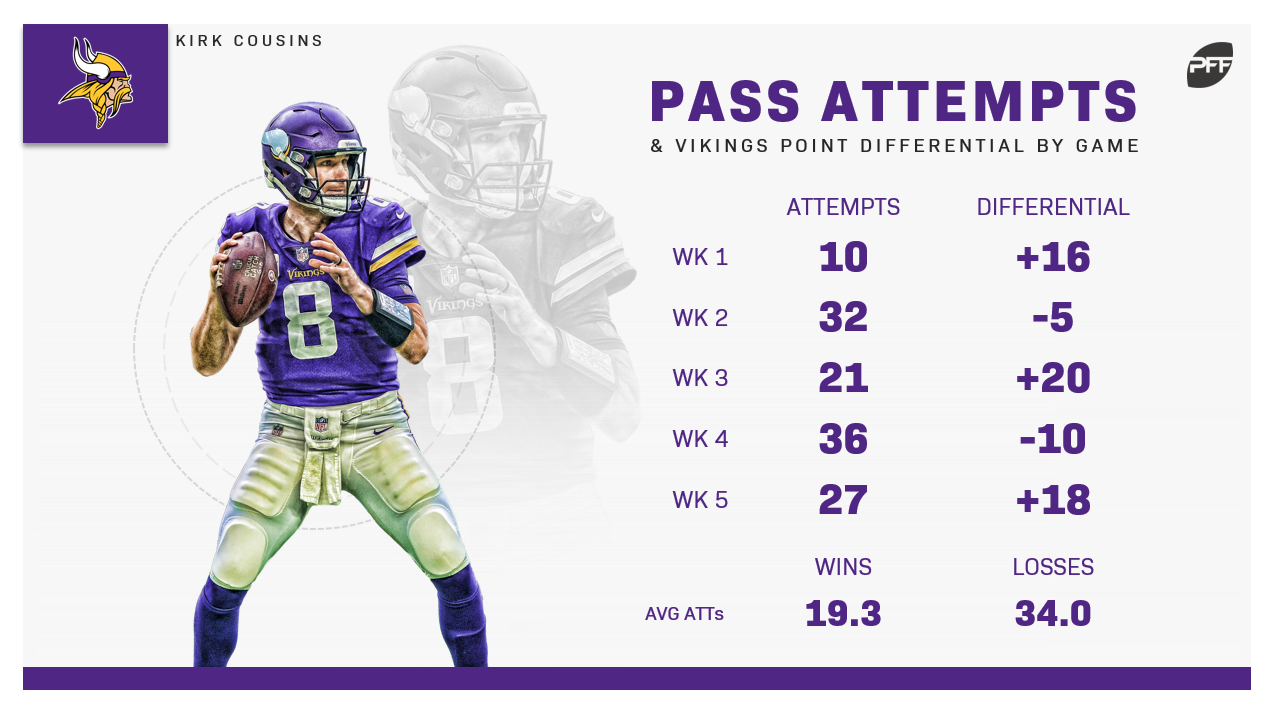 While the Eagles defense looked dominant last week, it will take more than one big game against the lowest-graded offense to scare us out of streaming Cousins this week. Cousins has thrown fewer attempts games where the Vikings were able to establish the run effectively, which makes for a poor fantasy streaming option. Fortunately for you, a fantasy owner in need of a streaming option, this week, Dalvin Cook and the Vikings are set to host the Eagles who have been dominant against the run. Currently, our projections have Cousins as the 12th-highest-scoring quarterback in Week 6, at 18.5 points.
Jimmy Garoppolo (SF @ LAR) — 60% owned, 17% started
After decimating the Browns Monday night, Garoppolo and the 49ers are off to a 4-0 start. Similar to Cousins above, the 49ers rushing unit will face a more stringent test with Todd Gurley and the Rams in Week 6. In a close game, Kyle Shanahan's offense could be forced to pass if it wants to remain undefeated, which makes for an excellent gamescript for Garoppolo.
Standard leagues (10-12 teams)
Gardner Minshew II (JAX vs. NO) — 23% owned, 9% started
"Minshew Mania" is starting to feel less like a fad and more like the future in Jacksonville, where the Jaguars have become one of the league's more prolific passing attacks. With almost 400 yards passing in Week 5, If your quarterback situation is questionable, you better act fast and get Minshew in your league before it's too late. Short-term expectations for Minshew must still be tempered, however, as the Jaguars are set to face the same Saints secondary that gave Dak Prescott and the Cowboys their first loss of 2019.
Andy Dalton (CIN vs BAL) — 35% owned, 19% started
Dalton rebounded in a big way with arguably his best game since Week 1. Finishing 10th overall, Dalton would have been an excellent streaming option last week and should make for one again in Week 6. The Baltimore defense has looked impressive so far, but note that four of the five teams they have faced have had losing records, with the fifth being the Chiefs, who passed for over 350 yards. In what is shaping up to be a close divisional game, Dalton has a relatively high floor and should make for a great streaming quarterback option.
2QB and deep leagues (14+ teams)
Teddy Bridgewater (NO @ JAX) — 9% owned, 4% started
Bridgewater played like he did when he wearing purple and gold Sunday in an impressive victory over Tampa Bay. With four touchdowns, Bridgewater had his best fantasy game since 2015. Against a potentially Jalen Ramsey-less Jaguars secondary, Michael Thomas should feast, which bodes well for  Bridgewater.
Devlin Hodges (PIT @ LAC) — 0% owned, 0% started
After watching his teammate Mason Rudolph get knocked out by Earl Thomas, "Duck" Hodges came in and looked the part of a seasoned veteran backup. The twist, however, is that Hodges is an undrafted rookie and not an experienced veteran backup. While our data on Hodges college career is limited since Samford, where Hodges attended college, is in the FCS, one thing that is evident from it is that Hodges really likes to throw the ball. In fact, Hodges actually owns the record for most passing attempts by an FCS quarterback with 14,584. If Hodges can play with the same comfort he showed Sunday while throwing the ball frequently as he did in college, he should be a viable streaming option against the Chargers next Sunday night who have allowed 8.0 yards per attempt to opposing quarterbacks, which is sixth-worst in the league so far this season.