The Saints are 2-0 with Drew Brees (ribs/lung, IR) sidelined. They first beat down the Falcons 24-9 before dismantling the Broncos 31-3. Yes, the latter team was being quarterbacked by a practice squad WR, but either way the Saints have played winning football with jack-of-all-trades-but-right-now-a-QB Taysom Hill under center.
Hill is the type of player who should be fun to watch. He's talented enough to play basically every position on the field at an average level and is responsible for the greatest hype video of all time.
???????????????????????? ????????????????: Hard-working. Alpha male. Jackhammer. pic.twitter.com/wRGwPpp5d5

— New Orleans Saints (@Saints) April 26, 2020
Still, we're probably another win or two away from people potentially floating out the idea that the Saints might be a better team with Hill under center. At the very least, Hill's biggest fan, coach Sean Payton, could be convinced that an even larger role than normal might be a good idea.
The Saints are winning and still field an above-average offense, but make no mistake about it: They haven't been anything close to the same juggernaut that we saw during the first 10 weeks of the season — particularly through the air.
EPA/play Weeks 1-10: +0.083

Weeks 11-12: +0.059

EPA/pass play Weeks 1-10: +0.209

Weeks 11-12: -0.082

EPA/run play Weeks 1-10: -0.08

Weeks 11-12: +0.16
Even the boost that Hill has helped provide on the ground (+0.24 EPA/play) hasn't been greater than the loss the offense has experienced through the air (+0.29). It's a credit to Hill and Payton that they've managed to get this much out of the offense; many thought that we'd experience a Tebow-level unwatchable product.
And yet, the driving force behind their dominant play of late has been their defense. This was the league's 21st-ranked unit in EPA allowed per play at +0.074 before their Week 6 bye; only the Rams (-0.259) have been better than the Saints (-0.216) on a per-play basis ever since.
Hill has averaged solid rates of 5.3 yards per carry, 8.4 yards per target and 9.1 yards per pass attempt throughout his career. Arguably the best player on the field for the Saints in their Wild Card loss to the Vikings last season, Hill deserves to be treated as a viable real-life player at pretty much any position. This point is particularly true in fantasyland. Hill is PFF's 33rd highest-graded passer among 44 qualified QBs and has just one big-time throw vs. four turnover-worthy plays. The 30-year-old athlete has a ways to go before earning the benefit of the doubt as a pure dropback passer. However, he's posted 10-44-2 and 10-49-2 rushing lines over the past two weeks, scoring on runs of 10, 2, 2, and 1 yard. Hill has functioned as the fantasy QB3 and QB11 over the past two weeks and is my No. 8 ranked player at the position ahead of this week's matchup against the Falcons.
In real life, Hill limits the ceiling of this Saints offense, but it's not as severe of a dropoff as most probably expected without Brees under center.
In fantasy, the presence of Hill at QB has largely nuked the fantasy value of Alvin Kamara.
The Saints' $75 million RB has never exactly dominated as a pure rusher. He's fantastic, but his borderline unfair fantasy production has always been tied to his absurd receiving role. In 2017, Kamara was the RB16 in fantasy points from purely rushing production, but the RB1 from receiving production. His TD-happy 2018 campaign produced top-five finishes as both a rusher (RB5) and receiver (RB4), while we've seen more of a disparity again in 2019 (RB22 as a rusher, RB5 as a receiver) as well as in 2020 (RB8 as a rusher, RB1 as a receiver).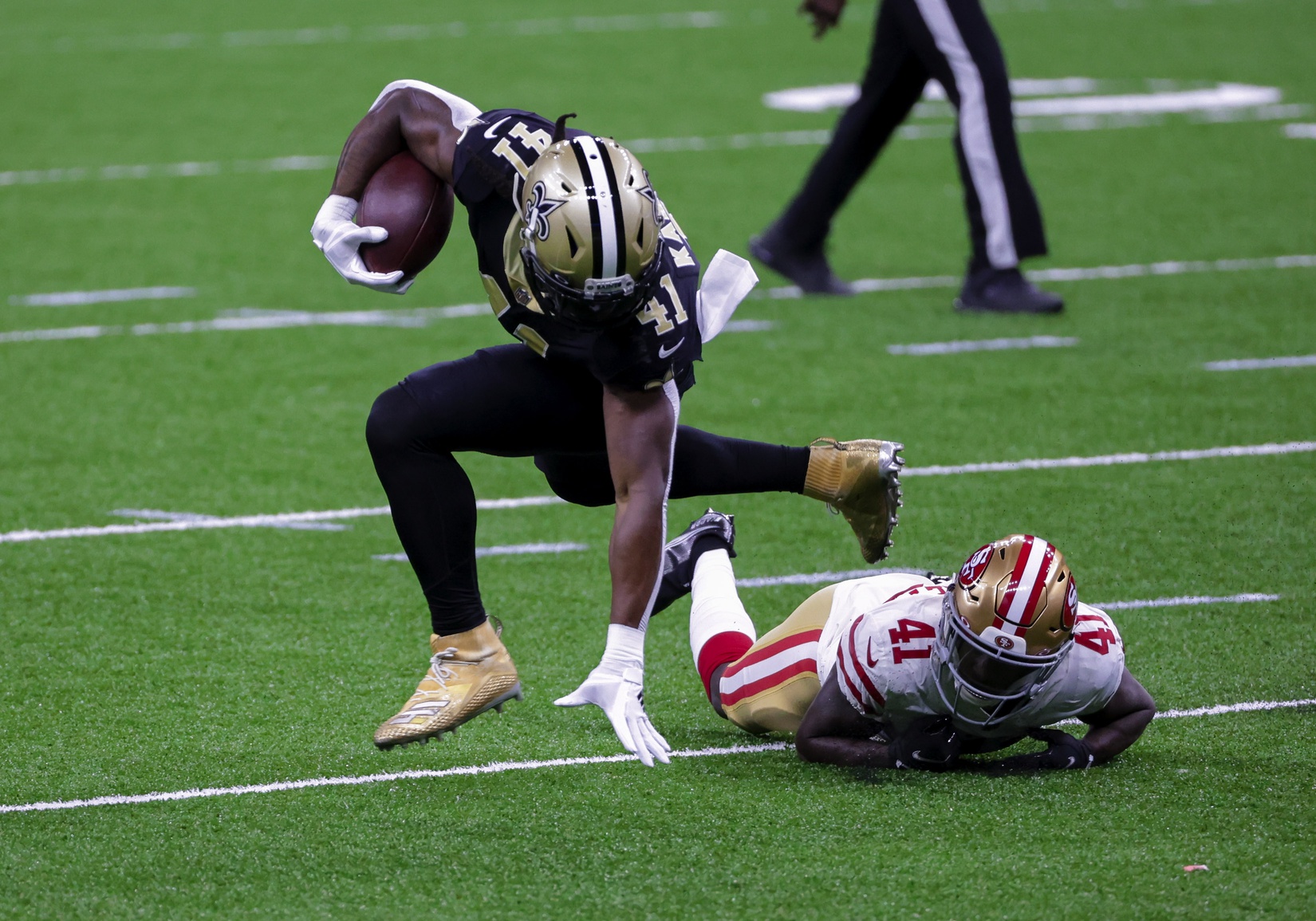 One catch for -2 yards over the past two weeks is bad enough, but the reality that Hill is also siphoning away pretty much all of the goal-line work further complicates matters. Overall, both Latavius Murray (4) and Hill (3) have more rush attempts inside the 10-yard line than Kamara (2) over the past two weeks. Hill (3) leads the way over Kamara (2) inside the 5-yard line, as well.
The Falcons should be a dream matchup for Kamara. Instead, we need to hope he has better TD success to make up for this newfound lack of a receiving floor. This is a problem that isn't going away as long as Hill is under center. Kamara is a top-12 fantasy RB, not the consensus top-three option that we saw for most of the first half of the season. Hell, Establish The Run's Evan Silva wondered aloud if Kamara should be considered a RB2 on the Thursday episode of the PFF Fantasy Football Podcast.
We've seen a combination of inability to get the ball to Kamara as the first-read option and as the checkdown. Kamara is borderline impossible to defend on quick-hitting routes, but just 25.8% of Hill's dropbacks have resulted in the ball getting out in fewer than 2.5 seconds. The next-lowest ranked QBs Josh Allen (38.2%) and Lamar Jackson (40.8%) also tend to scramble or look elsewhere more times than not; the Saints have taken the practice of not utilizing the RB in the passing game to a new level with Hill under center. Kamara led the NFL with 33 targets on swings, screens, bubbles and jets in Weeks 1-10; he has just two such targets over the past two weeks. Brees has checked the ball down on 25 of 298 attempts (8.4%) this season, while Hill has done so on just two of 44 attempts (4.5%).
WHY.
Miss thispic.twitter.com/InltEth8b5

— Ian Hartitz (@Ihartitz) November 30, 2020
Obviously Kamara should start to get back to catching multiple passes per game (hopefully?) soon. The problem is we can't expect the same groundbreaking levels of production ahead of the fantasy playoffs. Don't let past success cloud your judgment about the present in a brand new situation. Most fantasy rosters probably don't have multiple top-10 RBs to start ahead of Kamara; just realize the Saints' RB1 was locked in as the position's top fantasy option as recently as three weeks ago, and now it's tough to squeeze him in the top-12.
Volume is king in fantasy football, and dual-threat talents like Kamara who can rack up absurd amounts of production in multiple ways are a cheat code. Through 12 weeks, Kamara has the 22nd-most PPR points from purely receiving production, regardless of position. His 156.6 PPR points are still 52.4 more than the next-closest RB. Taking targets away from Kamara is like taking the three-pointer away from Steph Curry. You'd still have a great player, but why the hell would anyone sign up for that. Unfortunately, this is the Saints' self-created reality at the moment, and all fantasy football managers can do is adjust the ranks accordingly.