Fantasy football values are always shifting. Sometimes a player moves from a fringe starter to a surefire starter; sometimes the move is in the opposite direction. Every other week in this space, I'm taking a look at players whose fantasy values are most notable rising or falling heading into the next week.
This is the stock market for Week 4.
Risers
Quarterback
Russell Wilson, Seattle Seahawks: Seattle's poor defense is putting Wilson in more pass-happy gamescripts than Seattle might have planned. And with Chris Carson's fumble issues, the running game isn't getting it done.
Jameis Winston, Tampa Bay Buccaneers: After Winston's poor Week 1, I wrote that he'd turn things around within a week or two. Lo and behold, he came out Sunday and threw for 380 yards and three scores. He's not as bad as he was in Week 1, not as good as he was in Week 3, but Winston's solidly a high-end QB2.
Jacoby Brissett, Indianapolis Colts: T.Y. Hilton's health status could complicate this, but Brissett now has a 7:1 TD:INT ratio and just threw for 310 yards. He's not just an emergency fill-in anymore.
Daniel Jones, New York Giants: If Jones puts up numbers like he did Sunday, he's an easy QB1. Obviously, that's not realistic, especially with Saquon Barkley out, but he's solidly in the two-QB conversation already.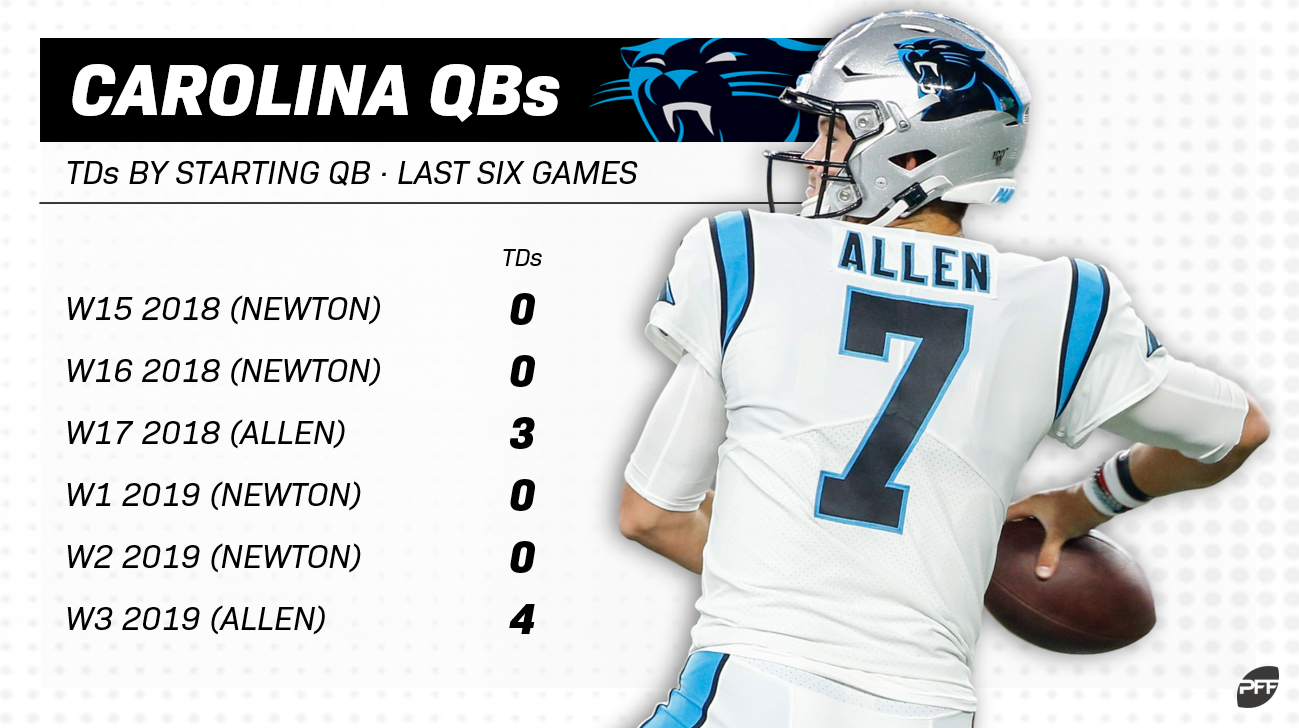 Kyle Allen, Carolina Panthers: Allen's stock really comes down to the length of Cam Newton's absence, but it's worth noting that in the Panthers' last six games (dating back to last year), the team has gotten seven touchdowns out of their quarterbacks. None of them came in Newton's four starts. Allen has started twice and accounted for seven touchdowns (six passing, one rushing). He's solid.
Running back
Marlon Mack, Indianapolis Colts: Mack came into Sunday with injury concerns that appeared to make him a legitimate question mark to even play. Then he got 18 of the Colts' 26 backfield touches for 88 total yards and a score. He's a high-end RB2.
Joe Mixon, Cincinnati Bengals: Mixon's fantasy stock was in free-fall before Sunday, with a total of 44 yards in Weeks 1-2. He stemmed the tide a little Sunday with 95 yards and a score. He's still not back to where we thought he was in the preseason, but it was reassuring to see.
Devonta Freeman, Atlanta Falcons: Sunday was Freeman's best game since Week 15 of 2017, and while he still hasn't found the end zone, it was enough to keep him around as a low-end starter.
Frank Gore, Buffalo Bills: It's nice to see Gore score for the second straight game after zero rushing touchdowns for Miami last year. But the more helpful thing for his fantasy stock is that the Bills keep winning. Their first serious test comes Sunday against the Patriots, but when the team offers good gamescript, the old man's stock is still high.
Ronald Jones, Tampa Bay Buccaneers: The Buccaneers backfield has yo-yo'd so far. Jones had the best games in Weeks 1 and 3, but he was a non-factor in Week 2, with Peyton Barber dominating touches. Still, Jones is averaging more than 5.0 yards per carry through three weeks compared to Barber's 3.7. Neither has a massive ceiling, but Jones is the one you want.
Wayne Gallman, New York Giants: Assuming Saquon Barkley's injury does indeed force him to miss time (which seems very likely) the Giants will be signing a running back; this won't be Gallman's job alone. That said, he did play every snap after Barkley's injury Sunday, and he'll flirt with starter value in Week 4.
Rex Burkhead, New England Patriots: Yes, a lot of Burkhead's playing time Sunday came because James White was out, and it's unlikely he's going to have any more children this season. But Burkhead has easily outperformed Sony Michel through three weeks, rushing for more yards on barely half the carries. He's carved out a definite role.
Alexander Mattison, Minnesota Vikings: Mattison has looked very good so far, averaging 5.3 yards on 25 carries and scoring his first touchdown in Week 3. In games the Vikings lead, he'll get playing time spelling Dalvin Cook. And if Cook misses time, Mattison will be a borderline RB1.
Darrel Williams, Kansas City Chiefs: With Damien Williams out Sunday and LeSean McCoy leaving mid-game, it was Darrel Williams, not Darwin Thompson, who got the work, and he responded with 109 scrimmage yards. If the big names miss time, Darrel Williams will be startable.
Wide receiver
Keenan Allen, Los Angeles Chargers: Julio Jones is off to a fantastic start this year, with four touchdowns and 69.5 PPR points. He's the No. 2 fantasy receiver so far … and he's more than eighteen points shy of Allen, who is the top-scoring non-quarterback around the league. He's in the top tier.
Mike Evans, Tampa Bay Buccaneers: Remember when we were scared of Evans' stock? Fun times.
Tyler Lockett, Seattle Seahawks: You would be excused for worrying about Lockett's stock after he had only two targets in Week 1. But he's had 26 in the two games since, with double-digit catches each game. At that pace, he's a WR1.
Cooper Kupp, Los Angeles Rams: Yeah, he's healthy. Kupp's the No. 1 Rams receiver and flirting with overall WR1 status.
Nelson Agholor, Philadelphia Eagles: Agholor's stock will take a hit whenever Alshon Jeffery and/or DeSean Jackson return from injury, but Jeffery is 29 and Jackson is 32, and they have one 16-game season between them since 2014.
Sterling Shepard, New York Giants: Jones definitely looks like a dramatic improvement over Eli Manning, and with Barkley likely out for at least a little while, the offense will have to lean on Shepard more.
D.J. Chark, Jacksonville Jaguars: The list of players with a receiving touchdown all three weeks this season includes three star names and Chark.
Curtis Samuel, Carolina Panthers: Kyle Allen's 2019 debut helped Samuel to the tune of 53 yards and a touchdown. More importantly, Samuel had 7 targets compared to D.J. Moore's 2.
Phillip Dorsett, New England Patriots: Antonio Brown's gone. Julian Edelman's hurt. Dorsett has scored three times in three games.
Marquez Valdes-Scantling, Green Bay Packers: Davante Adams had the second-most targets on the Packers, at 4. MVS had 9. He's firmly the No. 2 target in this offense and could be a borderline WR3.
Mecole Hardman/Demarcus Robinson, Kansas City Chiefs: Does it matter which Chiefs receiver you choose as long as Tyreek Hill is out? Not really.
Courtland Sutton, Denver Broncos: Only two Denver receivers even saw a target Sunday: Sutton and Emmanuel Sanders. And Sutton had twice as many as Sanders.
Preston Williams, Miami Dolphins: Your best bet is probably not to bother with any Miami weapons, but Williams has at least 10 PPR points all three weeks this season.
Cole Beasley, Buffalo Bills: Josh Allen has improved as a short passer so far this year, leading to Beasley catching 18 of 23 targets through three weeks. He's a PPR asset.
Auden Tate, Cincinnati Bengals: No, I'm not buying Tate as a genuine contributor. Not yet at least. But anyone who gets nine targets in a game at least needs to be considered, which is more than what Tate was a week ago.
Tight end
Darren Waller, Oakland Raiders: Unsurprisingly, Evan Engram is leading tight ends in targets through three weeks, at 30. Also unsurprisingly, Zach Ertz is tied for second, at 29. Perhaps surprisingly, though, Waller is the one Ertz is tied with. That target load makes an easy TE1.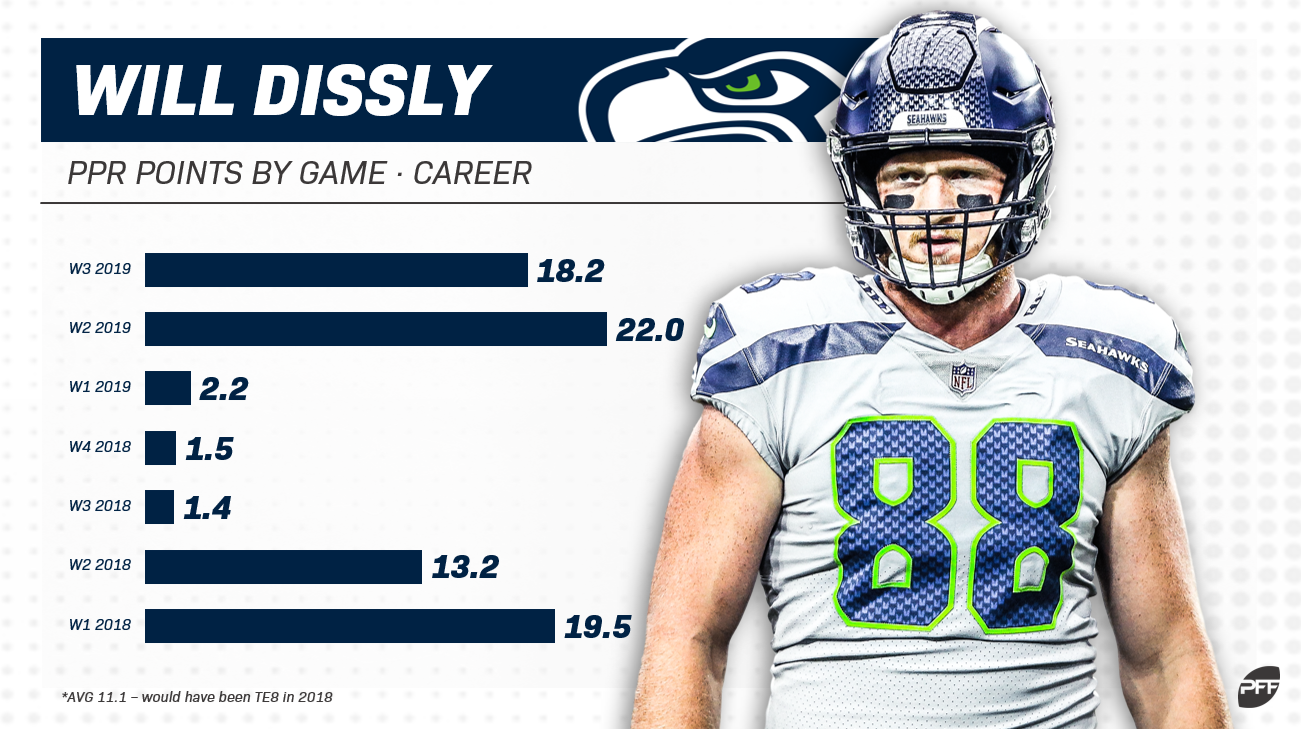 Will Dissly, Seattle Seahawks: After a quiet Week 1, Dissly has caught 11 of 12 targets the last two weeks and scored three times. And how he draws the Cardinals in Week 4, who have allowed the TE1 performance in each of the season's first three weeks.
Dawson Knox, Buffalo Bills: Knox struggled in his first two weeks, catching only 2 of his 5 targets and offering up a pair of drops at well. But he broke out Sunday by catching 3-of-4 targets for 67 yards and a score.
Jordan Akins, Houston Texans: Obviously, Akins — who had exactly zero career touchdowns before Sunday — isn't going to score twice a week. But he showed Sunday that he can at least play on the fringes of relevance.
Fallers
Quarterback
Tom Brady, New England Patriots: Brady's stock is higher than it was in the preseason, when we thought his receiver corps was Edelman and not much else. But now Antonio Brown is gone, Edelman is banged up, and Brady's value has to level off to the low-end QB1 range.
Aaron Rodgers, Green Bay Packers: Rodgers has been the ultimate game manager so far. He hasn't topped 235 passing yards in a game, doesn't even have 10 rushing yards in total, and has four touchdown passes in three games. At that pace, he's barely a QB2. Expect him to bounce back from that, but he's not going to return the value he was drafted at.
Baker Mayfield, Cleveland Browns: Three weeks in, and Mayfield has three touchdowns against five interceptions, a 70.3 passer rating, and numbers that would look even worse if not for Odell Beckham Jr.'s quarterback-saving performance in Week 2. Better days are ahead — or at least they should be — but right now, it's rough.
Kirk Cousins, Minnesota Vikings: Averaging under 170 passing yards a game? Steer clear.
Running back
Le'Veon Bell, New York Jets: Bell is going to get a massive touch load every week. But as long as Sam Darnold is out, this Jets offense is so miserable that they'll be low-value touches. Bell's still a top-10 running back, but at the back end of that.
James Conner, Pittsburgh Steelers: Conner has 97 rushing yards through three weeks. Mason Rudolph didn't appear to be the salve to fix this offense. He's only a mid-range RB2 until further notice.
Aaron Jones, Green Bay Packers: Jones played 60% of snaps in Week 2. He played 39% in Week 3. If this is going to be a full committee with Jamaal Williams, fantasy managers are going to hate things.
Josh Jacobs, Oakland Raiders: One of the biggest appeals of Jacobs entering the NFL was that he was a good pass-catcher, averaged 12.4 yards per catch at Alabama. But through three weeks, he's totaled all of three targets. A Jacobs who isn't catching passes is fine, but he's not what he was drafted to be.
Kerryon Johnson, Detroit Lions: That's 2.6 yards per carry and 0.4 yards before contact per carry for Johnson through three weeks. That's not a recipe for a successful backfield.
Chris Carson, Seattle Seahawks: Three weeks, three fumbles. If Carson doesn't get that worked out, this will be Rashaad Penny's job.
Sony Michel, New England Patriots: In Weeks 1 and 3 combined, Michel had 25 rushing yards on 24 carries. He's had one target and no receptions so far. Even in his "good" Week 2, he averaged a hair under 4.0 yards per carry. This is not a running game to fear.
Carlos Hyde/Duke Johnson, Houston Texans: The Texans trailed for the entire first half of this game, which should have been a good Johnson time, but he had all of 22 receiving yards on 3 targets. They led for most of the second half, but that didn't result in much for Hyde, with 19 rushing yards on 10 carries, getting bailed out by a touchdown. It looks like this is a backfield to ignore.
Latavius Murray, New Orleans Saints: The Saints went full-bore on their stars in Week 3 with Drew Brees out, letting Alvin Kamara and Michael Thomas do most of the work. Murray wasn't involved at all.
Miles Sanders, Philadelphia Eagles: As much as we might want Sanders to take over this backfield, it hasn't happened yet and we don't have any real reason to expect it to.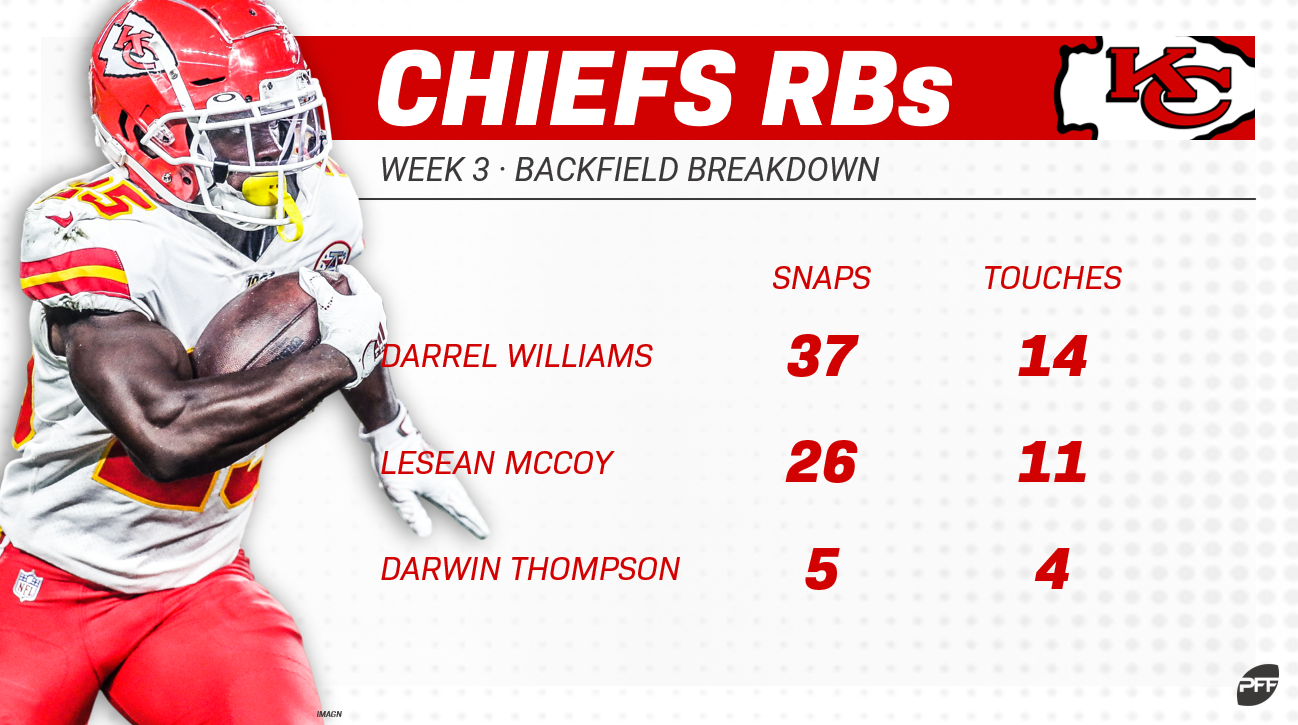 Darwin Thompson, Kansas City Chiefs: Even with Damien Williams and LeSean McCoy hurt, Thompson was barely involved Sunday, with four carries and 8 yards. He can be dropped.
Wide receiver
Robert Woods, Los Angeles Rams: The Rams offense has taken a step back through three weeks, with Woods the main victim. He's a clear class below Cooper Kupp and Brandin Cooks right now.
Adam Thielen/Stefon Diggs, Minnesota Vikings: If you have to pick between these two, it's clearly Thielen right now, but if you can get value in a trade for either one, that's a good idea.
Jarvis Landry, Cleveland Browns: 16.1 yards per reception is pretty good! 7.0 yards per target is … not. Landry's an afterthought in a struggling offense right now.
Will Fuller, Houston Texans: Kenny Stills' arrival has cut off Fuller's ceiling. He's now at 160 scoreless yards through three weeks.
Chris Godwin, Tampa Bay Buccaneers: With Mike Evans quiet in Weeks 1-2, Godwin was strong. Evans' explosion in Week 3 left Godwin to pick up 40 yards' worth of scraps. It's possible this offense can't support as many pass-catchers as we thought.
Calvin Ridley, Atlanta Falcons: Sunday's one-target outing doesn't mean you're dropping Ridley, but it is a reminder that he's not the sure thing his superstar teammate is. Ridley's got a high upside but a low floor.
Jamison Crowder, New York Jets: The Jets inexplicably used Crowder as an outside receiver Sunday instead of promoting someone or using Josh Bellamy. That probably won't continue, but regardless, this offense without Sam Darnold perhaps has a lower upside than even the Dolphins'.
Mike Williams, Los Angeles Chargers: This has become the Keenan Allen/Austin Ekeler offense. Williams' main value last year was his touchdown ability, and he hasn't repeated that this year or supplemented it with more yardage.
Ted Ginn Jr./Tre'Quan Smith, New Orleans Saints: The Saints with Teddy Bridgewater appear to be a conservative offense that runs through its stars, leaving Ginn and Smith out in the cold.
Randall Cobb, Dallas Cowboys: Cobb didn't pop with Michael Gallup out Sunday. This is an Amari Cooper-and-not-much-else group.
Tight end
T.J. Hockenson, Detroit Lions: Hockenson had a massive 131 yards in Week 1. Since then, he has all of eight. He's still got a bright future, of course, but it's possible his huge Week 1 was more a product of feasting on the Cardinals than his own huge role.
Jared Cook, New Orleans Saints: As mentioned above, Murray, Ginn, and Smith are on the outside looking in in this offense. That's true for Cook, too.