You'll see caution all around the fantasy football landscape not to overreact to Week 1. And that's correct, of course. But it's also potentially a mistake to underreact. Some things from Week 1 do matter, and it's the task of every fantasy player to suss out the meaning.
Today, I'm taking a look at the players whose slot in the rankings should rise or fall based on what we saw in Week 1. Sometimes, it's a big change. Other times, it's a small one. Regardless, these are players who will be on the move.
Risers
Quarterback
Lamar Jackson, Baltimore Ravens: Don't raise Jackson too much after his Week 1 — remember, he was facing the Dolphins, and you could probably have a decent passing day against them. But for a guy with all sorts of passing-ability questions entering the season, things look a lot better now.
Dak Prescott, Dallas Cowboys: The fantasy world is already raving about Kellen Moore's playcalling in his first game as offensive coordinator, and it resulted in Prescott's second career game with 400-plus passing yards or four touchdowns (and his first with both).
Tom Brady, New England Patriots: Seeing Brady pick apart the Steelers Sunday night was exciting enough. Adding Antonio Brown to that is just icing on the cake.
Kyler Murray, Arizona Cardinals: Murray got metaphorically hit in the mouth in the first half Sunday, but he responded with an electric second half to salvage a tie. That sort of performance is very reassuring.
Andy Dalton, Cincinnati Bengals: Dalton overcame an awful offensive line to put up his first career 400-yard passing game. With Joe Mixon hurt, he's going to have to pass a lot.
Marcus Mariota, Tennessee Titans: The last time Mariota had more than two passing touchdowns in a game, the game's rushing yardage leaders were James Starks and DeMarco Murray. He's going to pass more this year, and that will make him at least worth a look in fantasy.
Jacoby Brissett, Indianapolis Colts: Brissett only totaled 190 passing yards in a game the Colts trailed for the majority, so he's not likely to be a monster. Still, a 120.7 passer rating and leading a comeback warrants more attention.
Gardner Minshew, Jacksonville Jaguars: Well, he wasn't ranked at all, and now he's a starting quarterback. The fact that he actually looked competent just adds to it.
Running back
Dalvin Cook, Minnesota Vikings: Perhaps no running back saw his fantasy stock rise more over the course of the preseason than Cook, and then he exploded in Week 1. With the Vikings looking to be ridiculously run-heavy and Cook the clear bell cow, he could contend to be a top-three running back.
Le'Veon Bell, New York Jets: Remember all that Ty Montgomery talk? Bell played 100% of the Jets' offensive snaps Sunday. He's a monster.
Leonard Fournette, Jacksonville Jaguars: Only 66 scoreless rushing yards isn't going to blow anybody away, but Fournette dominated the Jags' backfield work, and a new inexperienced starting quarterback should only result in more work.
Chris Carson, Seattle Seahawks: Carson had 21 touches Sunday. Rashaad Penny had six. This is a one-man job.
Austin Ekeler, Los Angeles Chargers: He still wasn't super-efficient on the ground (4.8 yards per carry on 12 carries; Justin Jackson averaged 9.5 on six carries), but Ekeler's usage definitely signified an RB1-or-close role as long as Melvin Gordon is out.
Marlon Mack, Indianapolis Colts: Nyheim Hines is still going to get targets, but even in a game the Colts trailed for most of the time, Mack got 25 of the 29 backfield carries.
Giovani Bernard, Cincinnati Bengals: Bernard and Joe Mixon were the only backs to get any touches for the Bengals, and now Mixon is hurt.
Matt Breida/Raheem Mostert, San Francisco 49ers: Tevin Coleman's injury means Breida goes from top backup to starter, and Mostert goes from afterthought to top backup.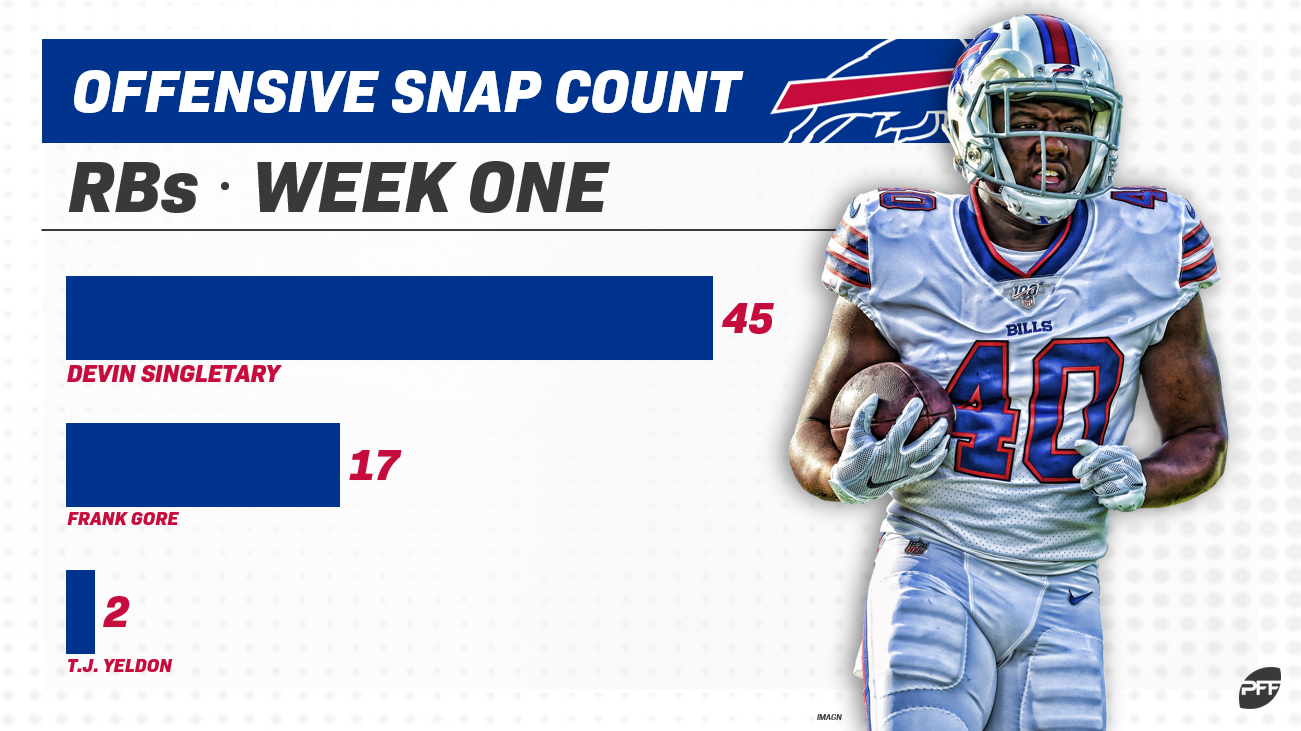 Devin Singletary, Buffalo Bills: Singletary had only four carries Sunday, but his shortest one was 12 yards. Four carries isn't great, but he did play 71% of the team's offensive snaps, while T.J. Yeldon was basically a non-factor and Frank Gore failed to do much.
Malcolm Brown, Los Angeles Rams: I'm not that scared about Todd Gurley, but we can't ignore Brown's Sunday, getting three of the team's four RB opportunities inside the 10.
Ronald Jones, Tampa Bay Buccaneers: Jones already has more rushing yards in 2019 than he did in 2018. He might not seize the job to himself right away, but he's definitely better than Peyton Barber.
Wide receiver
T.Y. Hilton, Indianapolis Colts: Hilton dropped in rankings following Andrew Luck's retirement, but he put up 87 yards and two scores in Week 1, and with Devin Funchess hurt and the tight ends not getting much run, he's the No. 1 in this offense by even more.
Allen Robinson, Chicago Bears: Robinson only topped 100 yards once in his first year in Chicago, and had a middling year to get to 754 yards. But even with his quarterback struggling Thursday, he topped 100 yards in a game where no one else on either offense could get much going.
Sammy Watkins, Kansas City Chiefs: As long as Tyreek Hill is out and Watkins is healthy, he's a borderline WR1 with elite upside.
Marquise Brown, Baltimore Ravens: Don't go overboard for Brown until he's playing more than a handful of snaps, but he and Lamar Jackson look like a powerful combo, and he's an obvious must-add everywhere and a low-end fantasy option.
Jamison Crowder, New York Jets: Yes, Robby Anderson had a garbage matchup against Tre'Davious White, but Anderson has a lot of garbage matchups this season. Crowder has an outside shot at leading the league in targets.
Michael Gallup, Dallas Cowboys: Gallup was an obvious breakout candidate after his usage spiked in the second half last year, and while he didn't find the end zone Sunday, 158 yards makes him very interesting.
D.K. Metcalf, Seattle Seahawks: Entering the fourth quarter, Metcalf was the only Seahawks wide receiver to have any targets, and Tyler Lockett only had two over the whole game. That probably won't hold true, but Metcalf is at the least the very obvious No. 2 receiver.
D.J. Chark, Jacksonville Jaguars: Chark had some buzz as a deep sleeper, but that buzz is much louder now after his 146-yard, one-score game. It was on only four receptions, so don't go crazy, but he's suddenly very interesting.
John Ross, Cincinnati Bengals: We knew Ross could find the end zone. He's had a nose for it. But we had less assurance he could accumulate, and he set career-highs in receptions (7, most by 4), targets (12, most by five), and receiving yards (158, most by 106). We have to pay attention to him now.
A.J. Brown, Tennessee Titans: Our Scott Barrett claims Brown is already the best receiver in Tennessee. Maybe! He only had three receptions Sunday, but turned it into 100 yards. Meanwhile, Adam Humphries had one catch and Corey Davis had zero.
Terry McLaurin, Washington: McLaurin exploded for 125 yards Sunday, and with Dwayne Haskins likely to be the starter eventually, you'd expect their relationship to come into play.
Deon Cain, Indianapolis Colts: Devin Funchess' injury opens the door for Cain to get more action, and he ran ahead of Parris Campbell Sunday.
Tight end
Evan Engram, New York Giants: It wasn't a surprise that Engram had a big game against the Cowboys — he's done that a few times. But if he's getting 14 targets like he did Sunday, he could be a top-tier tight end all year.
Mark Andrews, Baltimore Ravens: It was fair to wonder, after a preseason where he split time with Nick Boyle and Hayden Hurst, whether Andrews would realize his breakout potential. It's less fair to wonder that now. (Note, though, that Andrews played only 31 snaps Sunday, compared to 43 each for Hurst and Boyle.)
Delanie Walker, Tennessee Titans: You shouldn't have been very concerned about Walker's return to action, but after he had 55 yards and 2 touchdowns Sunday, if you were, you can stop.
T.J. Hockenson, Detroit Lions: Rookie tight ends struggle. We know that. Hockenson? Might buck that trend.
Darren Waller, Oakland Raiders: We needed to see the buzz translate into on-field work. And we did.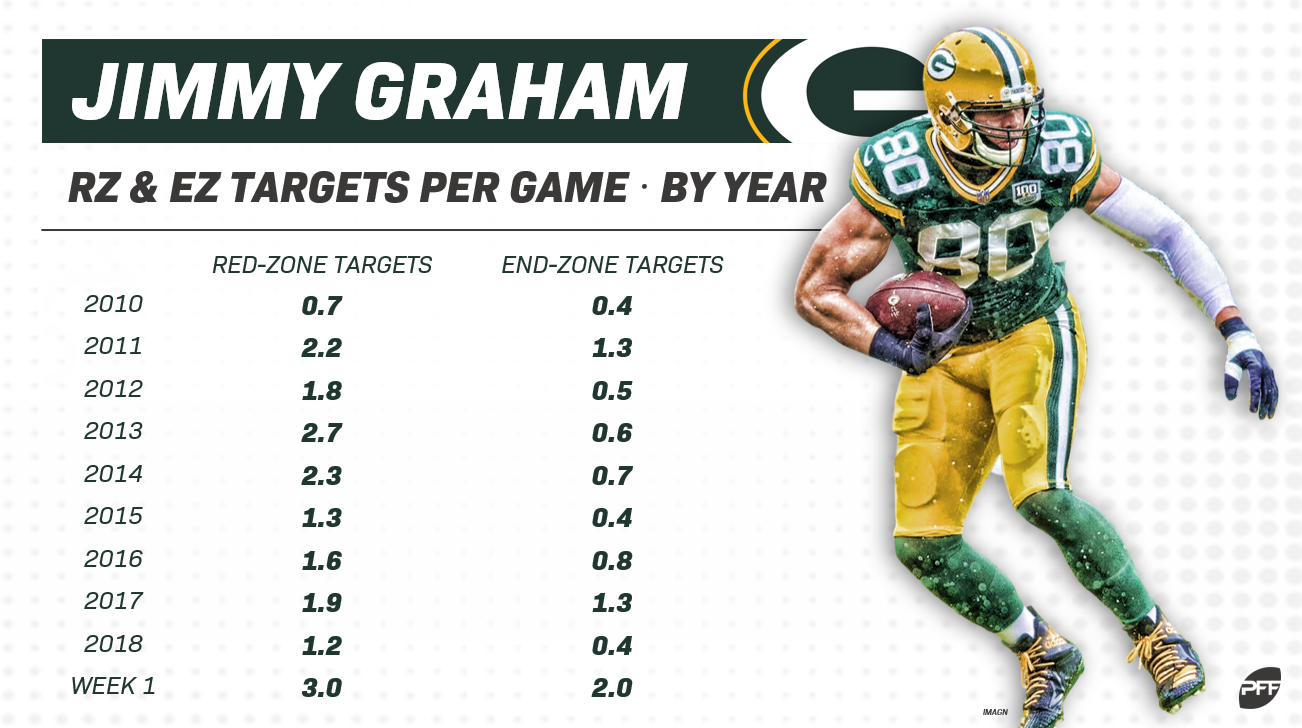 Jimmy Graham, Green Bay Packers: Graham is already halfway to his 2018 touchdown total. After only 19 red-zone and 7 end-zone targets all year last year, he's already at 3 and 2, respectively, this year. That bodes well.
Mike Gesicki, Miami Dolphins: Albert Wilson's injury gives Gesicki a little room to play. He was second on the team with 6 targets. Any Dolphins is going to be a longshot to do much, but Gesicki's worth monitoring.
Fallers
Quarterback
Matt Ryan, Atlanta Falcons: Don't go crazy dropping Ryan in the rankings — the Vikings are a strong defense, and he struggled in Week 1 last year as well. But that wasn't an exciting performance.
Baker Mayfield, Cleveland Browns: Better days are ahead for Mayfield and the rest of the Browns, but that offensive line could be a problem all year.
Russell Wilson, Seattle Seahawks: In a game that was always within four points one way or another, the Seahawks remained committed to their running ways, with 25 rushes compared to 20 pass attempts. That doesn't bode well for Wilson's fantasy upside.
Kirk Cousins, Minnesota Vikings: The Vikings put Sunday's game away early, so they could afford to go run-heavy. But still, 10 pass attempts in a game is obscenely low. Cousins' fantasy owners could be in for a long year.
Jameis Winston, Tampa Bay Buccaneers: In what should have been a smash spot, the Buccaneers quarterback could scarcely have been worse Sunday. He'll have better games than this (or he really will lose his job to Blaine Gabbert), but if you were as in on Winston as I was, you have to be nervous.
Mitchell Trubisky, Chicago Bears: Don't be too scared about Trubisky, because you weren't betting much on him to begin with, but that was a really bad game, and he'll need to turn things around in a big way.
Josh Allen, Buffalo Bills: Allen was terrible Sunday, only for his day to be salvaged by the Jets defense apparently leaving after the third quarter. He had four turnovers and could (should?) have had more.
Running back
Todd Gurley, Los Angeles Rams: Full panic on Gurley is unfounded. Genuine concern? Yeah, that's legit. Malcolm Brown getting the looks in near the end zone is where we should worry. I still think he'll be a fine RB2 with upside, but my eyebrows are raised.
Devonta Freeman, Atlanta Falcons: Freeman had more carries than Ito Smith (8-6) and more targets (4-1), but it was Smith who had the one backfield red-zone touch and Smith who played more snaps (38-36). That split is going to be confounding for fantasy, and it means Freeman's ceiling plummets.
Sony Michel, New England Patriots: You wouldn't expect Michel to average 0.9 yards per carry going forward like he did Sunday. But the fact that Rex Burkhead got eight carries compared to Michel's 15 is extremely frustrating, and the arrival of Antonio Brown should lead to the team passing more than we expected a few weeks ago.
David Montgomery, Chicago Bears: Montgomery will see more work, and the offense will put up better numbers, than Thursday. But by the end of draft season he was getting drafted as a mid-range RB2 or higher, and that was clearly too high. Mike Davis will keep Montgomery in check.
Derrius Guice, Washington: Guice has clearly supplanted Adrian Peterson, who was a healthy scratch Sunday and might not even be on the team much longer, but Chris Thompson is going to have a big role in this offense, and that role will be even bigger in bad gamescripts … which Washington should have a lot of. (Postscript: I wrote this and then word came down that Guice will miss some time. Point is true even when healthy, though.)
Kenyan Drake, Miami Dolphins: Listen, it's going to be bad in Miami. Be nervous about any fantasy options there.
Wide receiver
Tyler Lockett, Seattle Seahawks: Lockett only saw two targets Sunday — none until the fourth quarter — and only caught one ball. That it went for a touchdown was his saving grace (and that's basically what Lockett does), but he needs a higher target total if he's going to return any value on his draft slot.
Corey Davis, Tennessee Titans: In Davis' favor, Denzel Ward is an excellent corner. But the fact that he didn't even have a single reception Sunday has to be a worry for those who were betting on a third-year breakout (*cough*me*cough*).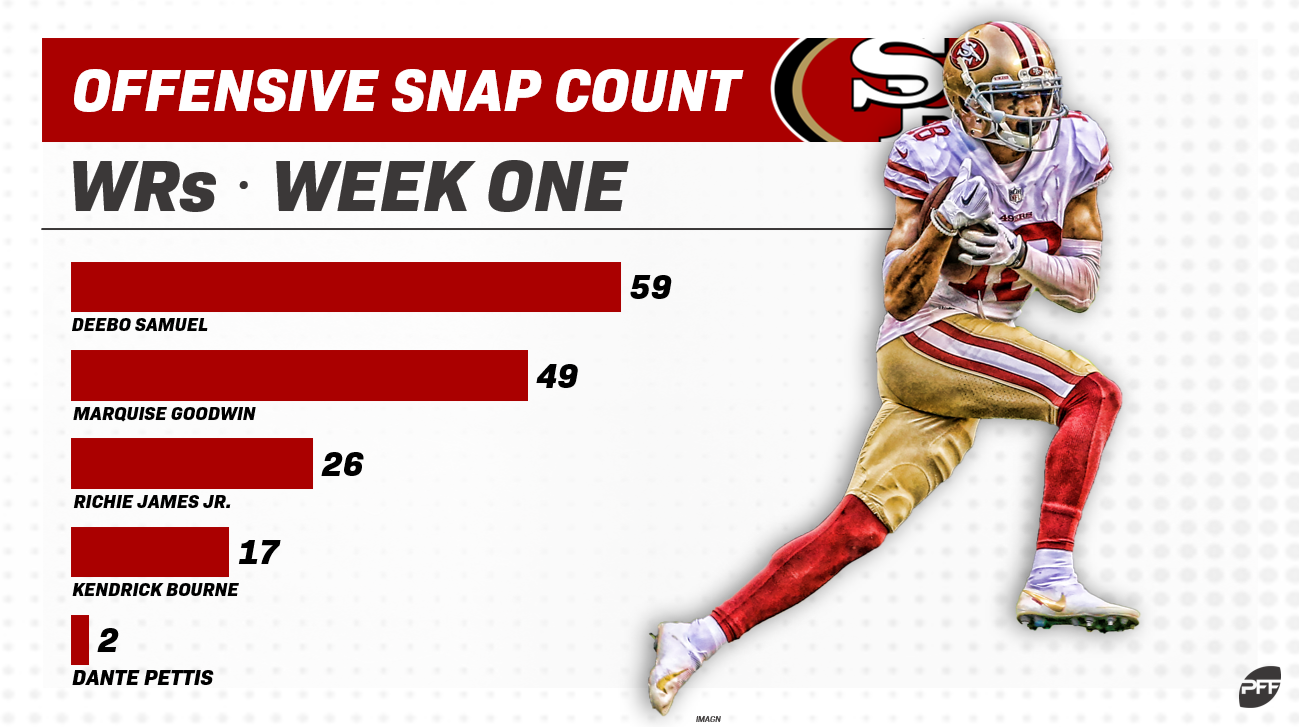 Dante Pettis, San Francisco 49ers: One of the prevailing opinions entering Sunday was that the Kyle Shanahan talk about Pettis needing to prove himself was more motivational tactic than real negative opinion. After he played only two snaps … not so much.
Curtis Samuel, Carolina Panthers: As the Panthers' deep target, Samuel drew the worst matchup Sunday against Aqib Talib and Marcus Peters. So things won't be that bad for the most buzzed-about name in training camp. But it was still an underwhelming season debut.
Geronimo Allison, Green Bay Packers: Allison was clearly the No. 3 behind Davante Adams and Marquez Valdes-Scantling Thursday. That's not a likely-to-be-productive role.
Donte Moncrief/James Washington, Pittsburgh Steelers: Moncrief looked terrible Sunday, while Washington was fourth among the team's receivers in snaps. Assuming JuJu Smith-Schuster is healthy, he might be the only receiver you want in Pittsburgh.
Tight end
Zach Ertz, Philadelphia Eagles: Counting the postseason, Ertz had at least 8 targets in 14 of 19 games in 2018. And then he had only 7 Sunday. He's a quantity guy, and the Eagles' load of weapons means he might not get that quantity.
Eric Ebron/Jack Doyle, Indianapolis Colts: It really was a split for the Colts' tight ends, with both guys running routes on about half of Jacoby Brissett's dropbacks. And that makes for two frustrating fantasy options.
Tyler Eifert, Cincinnati Bengals; Jordan Reed, Washington: The forever-intertwined, oft-injured tight ends are the types who are very appealing when they are productive and healthy. Well, Reed was out injured Sunday, while Eifert got only 27 of Andy Dalton's 418 yards. Neither is very exciting right now.