Fantasy football values are always shifting. Sometimes a player moves from a fringe starter to a surefire starter; sometimes the move is in the opposite direction. Every other week in this space, I'm taking a look at players whose fantasy values are most notable rising or falling heading into the next week.
This is the stock market for Week 10.
Risers
Quarterback
Lamar Jackson, Baltimore Ravens: Jackson had been relatively stymied a couple of times this season, but Sunday wasn't one of those days, despite him only reaching 163 passing yards. If there's a point of concern for Jackson from an NFL perspective, it's that his passing has gone away of late, as he is averaging 176 passing yards over his last four. But as long as he's running like he is, fantasy managers don't care.
Matthew Stafford, Detroit Lions: Stafford now has three or more touchdown passes in four of his last five games (while Detroit has gone 1-4, but we're talking fantasy here). He's averaged more than 330 passing yards over that span as well. After an awful 2018, Stafford's comfortably back among the QB1s.
Jimmy Garoppolo, San Francisco 49ers: The 49ers' success this season had largely come without Garoppolo being a big fantasy contributor; he hadn't topped 300 passing yards in a game all year and only had one weekly finish better than 16th before Week 9. But he turned it on Thursday, passing for 317 yards and 4 touchdowns en route to a QB2 finish for the week.
Kyle Allen, Carolina Panthers: After a miserable Week 8 performance against San Francisco, it looked like Allen was nearing the end of his run as a starting quarterback. A week later, he led the team to its fifth win in his six starters, threw for a pair of touchdowns, and looks to have the job for a while as Cam Newton's injury news got more concerning.
Ryan Fitzpatrick, Miami Dolphins: Don't go crazy about Fitzpatrick after a three-score game; he has a game or two like that every season before re-pumpkining. But it looks like he'll be the starter the rest of the way, and he suddenly has a reasonable stable of weapons. In deep leagues, he's worth a look.
Brandon Allen, Denver Broncos: Allen didn't go crazy from a yardage perspective (only 193), but he threw for a pair of touchdowns and didn't turn the ball over. His value will be more in keeping his weapons relevant, but still, for a guy who had never seen an NFL snap, it was a nice debut.
Running back
Melvin Gordon, Los Angeles Chargers: Gordon still isn't lighting up the box score like he has in the past, but Sunday was his best game. He's now scored 4 touchdowns in the last three weeks and topped 100 scrimmage yards Sunday, and with the Chargers on a two-game winning streak, they could lean on the run more going forward.
Josh Jacobs, Oakland Raiders: Sure, you'd like a workhorse back to do more in the receiving game than Jacobs does, but he's still a rookie who is top-eight in carries. That's plenty valuable.
Damien Williams, Kansas City Chiefs: As Scott Barrett noted in his Week 9 fantasy stats to know piece, Sunday was Williams' sixth career game playing at least 60% of his team's offensive snaps (counting the postseason), and he's put up at least 18.5 PPR points in all six games, averaging an insane 25.6 in that time. LeSean McCoy's fumbling issues have him on the outs, making Williams a high-upside play going forward.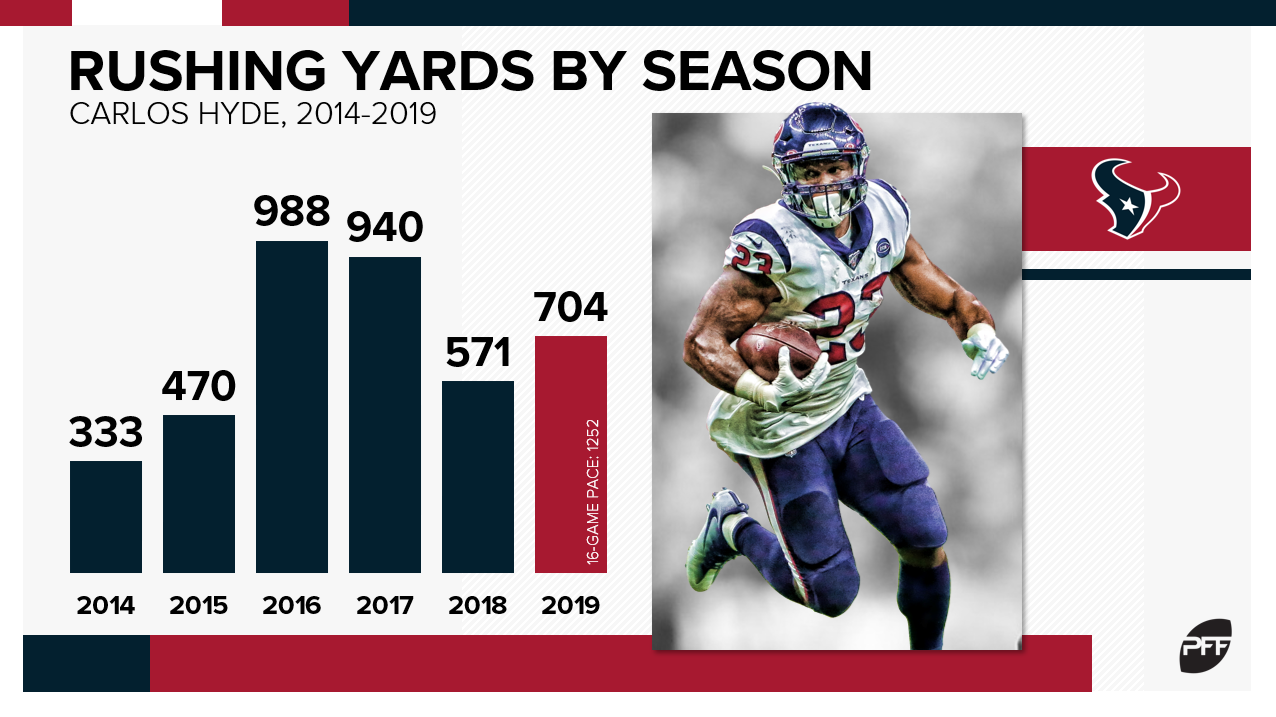 Carlos Hyde, Houston Texans: Sure, he fumbled, but Hyde's 160-yard London performance has him well on pace to crack 1,000 rushing yards for the first time in his career, and his workload should keep him as an RB2-ish going forward.
Jaylen Samuels/Trey Edmunds, Pittsburgh Steelers: Obviously (especially for Edmunds), this value will largely go away when James Conner returns, but as of now we don't know when that will be. And while Samuels had the more valuable fantasy day Sunday (21.3 PPR points compared to 7.3 for Edmunds), Edmunds had 12 carries to Samuels' 8, making both worth a look going forward.
Adrian Peterson, Washington: Peterson has averaged almost 100 rushing yards a game since Bill Callahan took over as the interim head coach, and there's no real reason to expect that to stop.
David Montgomery, Chicago Bears: With the Chicago passing offense floundering to a ridiculous degree, Montgomery — 223 yards and 3 touchdowns in the last two weeks — is the only functional part of the offense.
Devin Singletary, Buffalo Bills: Singletary has now played over Frank Gore each of the last two weeks. We can expect that to continue, and with as electric as Singletary has been, that makes him an easy flex play at a minimum.
Kenyan Drake, Arizona Cardinals: Drake had a surprising monster performance in his Arizona debut. He's not likely to supplant David Johnson when the starter gets healthy, but he should have the handcuff role going forward, and if Johnson misses the next game Drake will be a fantasy starter.
Ronald Jones, Tampa Bay Buccaneers: In two games since the Tampa Bay bye, Jones has played well ahead of Peyton Barber (61 snaps and 32 touches for Jones; 32 snaps and 15 touches for Jones). It looks like Jones has the job now, and while he's still a low-upside option, he is at least an option.
Wide receiver
Emmanuel Sanders, San Francisco 49ers: Sanders has now scored in both games as a 49er, and while his first game was more of a "getting to know you," with Sanders getting most of his production on the opening drive, he was a huge part of the Week 9 action, with 7 receptions on 9 targets and 112 yards. His upside will be capped by the run-first offense and wealth of 49ers weapons, but Sanders is still a strong fantasy option.
D.J. Moore/Curtis Samuel, Carolina Panthers: Our Scott Barrett noted entering Week 9 that both guys were fine values for the week, and that came to fruition, with Samuel putting up 16.4 PPR points and Moore 17.1 Both are solid flex plays with upside.
Marvin Jones, Detroit Lions: Jones' two big games this season before Sunday had come during Kenny Golladay's rare down weeks, so it was nice to see both of them produce at the same time. With the running game floundering, both can be fantasy starters.
D.K. Metcalf, Seattle Seahawks: Metcalf's value before Sunday had largely been in touchdowns; he hadn't topped 4 receptions in a game all year or 70 yards since Week 1. But while his touchdown Sunday was nice, the 6 receptions and 123 yards were even nicer. Yes, it came against Tampa Bay, but regardless, Metcalf's firmly in the conversation now.
Mohamed Sanu, New England Patriots: The Patriots offense Sunday was basically just Sanu and Julian Edelman, with them accounting for 25 of the team's 42 targets, 20 of 30 receptions, and 170 of 359 scrimmage yards. Sanu alone had 10 receptions and 14 targets. That sort of usage makes him a borderline WR2.
Zach Pascal, Indianapolis Colts: Pascal has topped 90% of the Colts' offensive snaps the last two weeks. He has 3 touchdowns the last three weeks. He's firmly the team's No. 2 receiver when T.Y. Hilton is back, and No. 1 until then.
DeVante Parker, Miami Dolphins: See Fitzpatrick above. This isn't suddenly an offensive juggernaut by any means, but the Dolphins have weapons, and Preston Williams being lost for the season should open things up for Parker..
Tight end
Zach Ertz, Philadelphia Eagles: Did DeSean Jackson's return spur Ertz' revival? Who knows. But what we can say is that Ertz had more receptions and almost as many yards Sunday as he had in the previous three games combined, and he scored for the first time in a month.
Noah Fant, Denver Broncos: Yes, 75 of Fant's 115 yards Sunday came on one play, but even if you take that out, 40 yards would have been his season-high, so 115 definitely was. He now has 15 targets across his last three weeks.
Mike Gesicki, Miami Dolphins: It hasn't translated into touchdowns, but Gesicki how has 19 targets and 197 yards across his last four games, including 95 yards Sunday. At tight end, that's enough to at least warrant attention.
Jacob Hollister, Seattle Seahawks: Hollister probably isn't the new Will Dissly, but he nearly doubled his season yardage total Sunday (he had 38 entering the day and then had 37) and scored his first two career touchdowns. That's a far cry from weekly starter territory, but it means we need to watch him.
Fallers
Quarterback
Aaron Rodgers, Green Bay Packers: After 8 touchdowns and 734 passing yards the prior two weeks, Rodgers came back to early Sunday, with only 161 yards and a single score in a big-time disappointing loss. He still has those highs in his repertoire, of course, but Rodgers is no longer as reliable on a week-to-week basis as he once was, and we have to bake his lower floor into our evaluation.
Philip Rivers, Los Angeles Chargers: Rivers is still throwing for plenty of yardage — he actually leads the league in passing yards — but he's averaging 1.0 touchdown pass a game over his last five, including two scoreless games, and has just as many interceptions over that span. For a quarterback who is a total zero on the ground, you need more passing production for Rivers to be helpful.
Baker Mayfield, Cleveland Browns: The next time Mayfield throws for multiple touchdown passes in a game will be his first time this year. He's currently rocking a 7:12 TD:INT ratio through eight games, averaging under 250 passing yards a game, and has seen his yards per attempt drop from 7.7 as a rookie to 7.2 this year, including 6.2 over the last month.
Gardner Minshew, Jacksonville Jaguars: Yes, Minshew is only a week removed from a three-score, no-turnover game, but his other most recent three games, he has a 1:3 TD:INT ratio, turned the ball over four times Sunday, and might not even have the starting job after the Jaguars' Week 10 bye.
Running back
Nick Chubb, Cleveland Browns: This isn't so much about Chubb's performance Sunday — though only 91 scoreless scrimmage yards was a disappointment — as it is the fact that Kareem Hunt is eligible to return next week, and while Chubb's likely still the starter, that will certainly lower his ceiling.
Le'Veon Bell, New York Jets: Sure, Bell had 121 yards on 25 touches Sunday, but the fact that his best game since Week 2 featured only that with no touchdowns — against Miami, no less — has to give us pause. He just doesn't have the upside he once did.
Sony Michel, New England Patriots: Michel is now on pace for only 857 rushing yards this year despite playing every game. He doesn't have 100 rushing yards in a game yet, is averaging only 3.3 yards per carry, and of course is basically not involved in the passing game. He has more games without a touchdown this year than games with one. It's hard to imagine trusting him.
Tevin Coleman, San Francisco 49ers: Coleman's upside is as high as just about anyone's, but the fact that he will still be splitting touches with Matt Breida means his weekly floor is pretty low as well.
LeSean McCoy, Kansas City Chiefs: McCoy didn't see another touch after his fumble in Week 8, then saw only 4 touches Sunday as Damien Williams took control.
Ty Johnson, Detroit Lions: There was a small glimmer of hope for Johnson entering Sunday after Tra Carson hit IR, and while he did lead the Lions backfield in snaps (38, compared to 24 for J.D. McKissic and 3 for Paul Perkins), he turned it into only 36 scrimmage yards. Just avoid this backfield.
Wide receiver
D.J. Chark, Jacksonville Jaguars: Chark, Weeks 1-5: 5.4 receptions, 97.0 yards, 1.0 touchdowns per game. Chark, Weeks 6-9: 4.0 receptions, 51.8 yards, 0.3 touchdowns per game.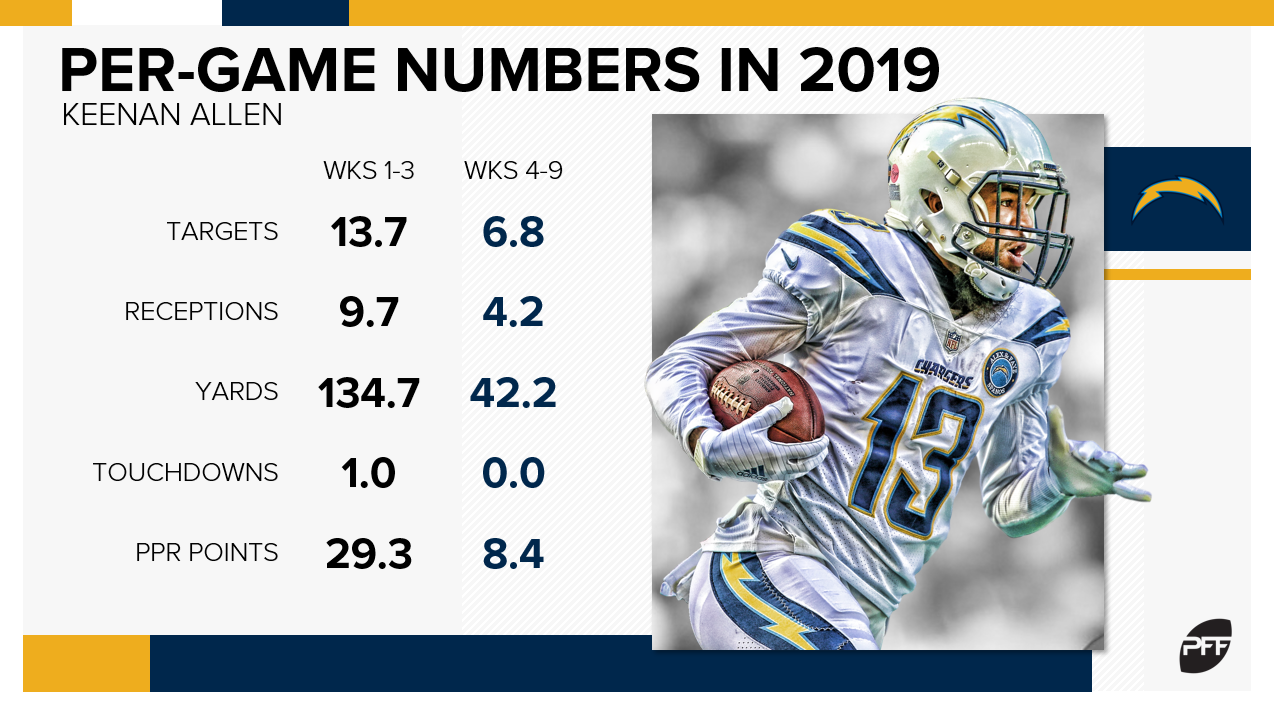 Keenan Allen, Los Angeles Chargers: Let's do that again. Allen, Weeks 1-3: 9.7 receptions, 134.7 yards, 1.0 touchdowns per game. Allen, Weeks 4-9: 4.2 receptions, 42.2 yards, 0.0 touchdowns per game.
Larry Fitzgerald, Arizona Cardinals: One more! Fitzgerald, Weeks 1-3: 9.3 receptions, 84.3 yards, 0.7 touchdowns per game. Fitzgerald, Weeks 4-9: 5.2 receptions, 38.7 yards, 0.0 touchdowns per game.
Terry McLaurin, Washington: Okay, last time: McLaurin, Weeks 1-6: 4.6 receptions, 81.6 yards, 1.0 touchdowns per game. McLaurin, Weeks 7-9: 3.0 receptions, 29.7 yards, 0.0 touchdowns per game.
Robby Anderson, New York Jets: I can't do my fun "arbitrary endpoints" game with Anderson, because the simple truth is he hasn't had any good stretches this year. Take out one 92-yard score in Week 6, and he's been held under 50 yards in seven of eight games. Even with that play, his 16-game pace is 684 yards and 2 touchdowns.
Allen Robinson/Anthony Miller, Chicago Bears: Robinson and Miller combined for 1 reception and 6 yards Sunday as Mitchell Trubisky had a miserable day. Better days will come for Robinson at least, but Trubisky's struggles make it really hard to trust any part of this passing offense.
Tyler Boyd/Auden Tate, Cincinnati Bengals: A.J. Green's return, assuming it happens, should make targets a tough commodity in the Bengals offense, and the transition to Ryan Finley as the starter can't inspire confidence.
Corey Davis, Tennessee Titans: Davis had that one good game with Ryan Tannehill as the starter, the same number of good games he had with Marcus Mariota. Maybe it's not so much about unlocking him and more that he's a low-floor guy with occasional big games.
Keke Coutee, Houston Texans: It's not just that Coutee hasn't had a target the last two weeks; he hasn't played a snap, despite being apparently healthy. He's totally off the fantasy radar.
Tight end
Mark Andrews, Baltimore Ravens: Andrews has been held under 50 yards in five of his last six games and only has one touchdown in that span. He still has monster upside, but his lack of overall playing time pushes him to the second tier at the position.