Each week in this space, we'll be taking a look back at that week's games to find five of the most interesting and most important stats for fantasy owners. With 14 of 15 games from NFL Week 5 in the books, here are the five stats you need to know:
1. Through five weeks, Christian McCaffrey has scored 159.6 fantasy points, average 31.9 fantasy points per game. Not only does this lead all flex-eligible players (by more than 6.0 fantasy points per game), but this ranks third-best all time. Only Priest Holmes in 2002 (169.3) and Jim Brown in 1963 (167.8) have ever had a better start to a season.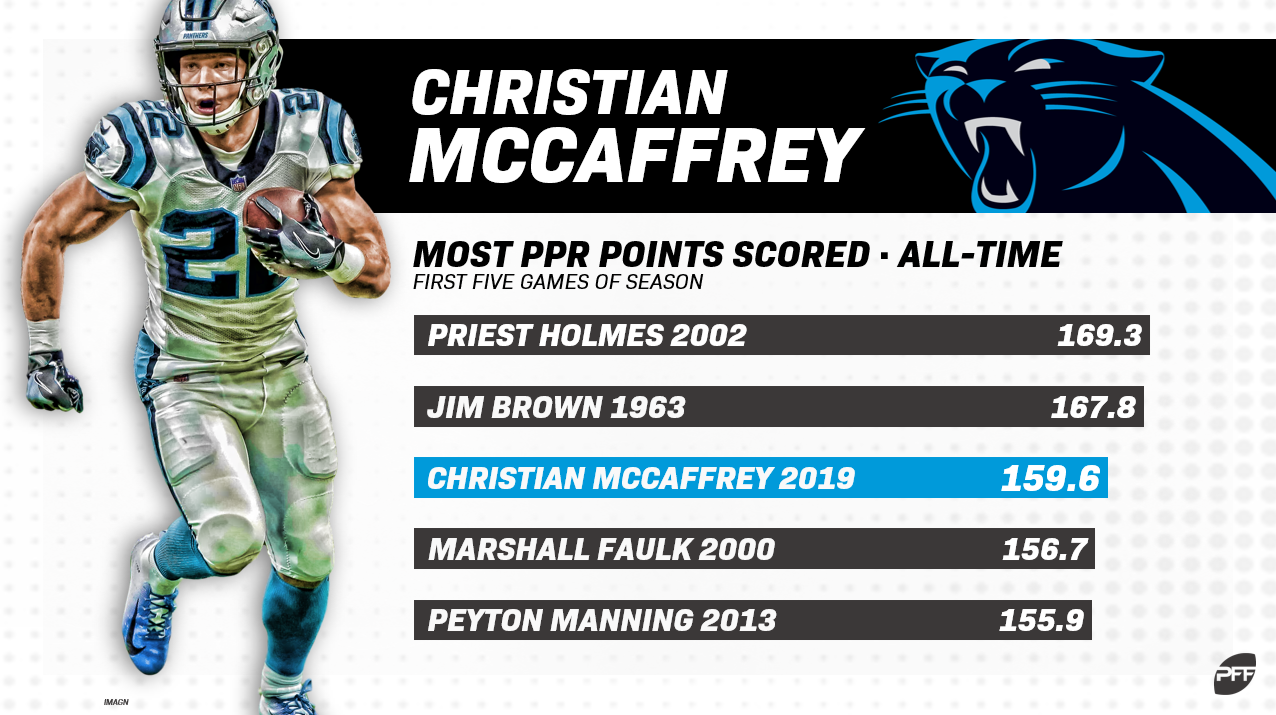 I'll stop leading this article with a McCaffrey stat when this stops being the most important storyline of the 2019 season.
McCaffrey is on pace for 2,771 yards from scrimmage, or, the most by any player in any season all-time (by 262). He averages 31.4 fantasy points per game across his last 13 full games. Only twice in NFL history has a running back averaged more than 31.0 fantasy points per game in a single season. Over this span, he's finished top-four at the position 10 times (77% of the time).
Really, I can pull an endless number of mind-blowing McCaffrey stats, but the important takeaway is this — McCaffrey is well on his way to an all-time great fantasy season. Without question, he's the most-valuable commodity in fantasy football and a likely league-winner.
2. In Week 5, Deshaun Watson threw 33 times for 426 yards, five touchdowns, and zero interceptions. Only five of his passes fell incomplete (one of which was dropped), marking the first time in NFL history a quarterback totaled 400-plus yards and five-or-more touchdowns while throwing five or fewer incompletions. In total, he scored 41.7 fantasy points, or the 17th-most by any quarterback in any game in NFL history.
Since entering the league in 2017, Watson ranks second among all quarterbacks in fantasy points per game (22.3). For perspective, that's 2.7 less than Patrick Mahomes and 1.4 more than Russell Wilson, who ranks third. Though he has Wilson breathing down his neck, and Lamar Jackson and Dak Prescott ascending, it's hard to argue against Watson being the second-most-valuable quarterback in fantasy football.
Impressively (or disappointingly, depending on your perspective), Watson accomplished this feat without having to lean too heavily on DeAndre Hopkins, who caught seven passes for 88 yards. Will Fuller, meanwhile, saw 16 targets, catching 14 for 217 yards and three touchdowns. In total, he scored 53.7 fantasy points, or the ninth-most by any wide receiver in any game all-time. And yet, he came into the week averaging just 8.1 fantasy points per game.
Fuller is no doubt a valuable fantasy asset, but he's also one of the most volatile. In 22 games since 2017, Fuller has scored at least 19.0 fantasy points seven times (32%). He's also been held under 6.0 fantasy points eight times (36%).
3. Through five weeks, Chris Godwin leads all wide receivers in fantasy points per game scored (24.0), followed by Michael Thomas (23.5), Cooper Kupp (23.2), Amari Cooper (22.6), and D.J. Chark (21.1).
Godwin came into the week leading all wide receivers in fantasy points per game, and then added to that number on Sunday, catching seven of nine targets for 125 yards and two scores. Mike Evans, meanwhile, was held without a catch (on three targets). As we discussed last week, Godwin's impressive start to the 2019 season is no fluke, and it's something we should have seen coming.
Kupp ranks first (63) and Thomas second (55) in targets. Last season, Kupp ranked first and Thomas second in fantasy points per game over expectation. Essentially, last season Kupp and Thomas finished as WR1s but on low-end WR2 volume. Looking at the 2019 season, it appears the sky is the limit for both wide receivers, now that they're finally seeing high-end WR1 volume.
On Sunday, Cooper scored 39.6 fantasy points — the third time he's scored 20 or more fantasy points this season. In 16 career games with Dallas (postseason included), he's averaging 19.4 fantasy points per game, or what would have ranked seventh-most among wide receivers last year. Like with the first three names we've discussed, he's an easy bet to finish the season as a fantasy WR1.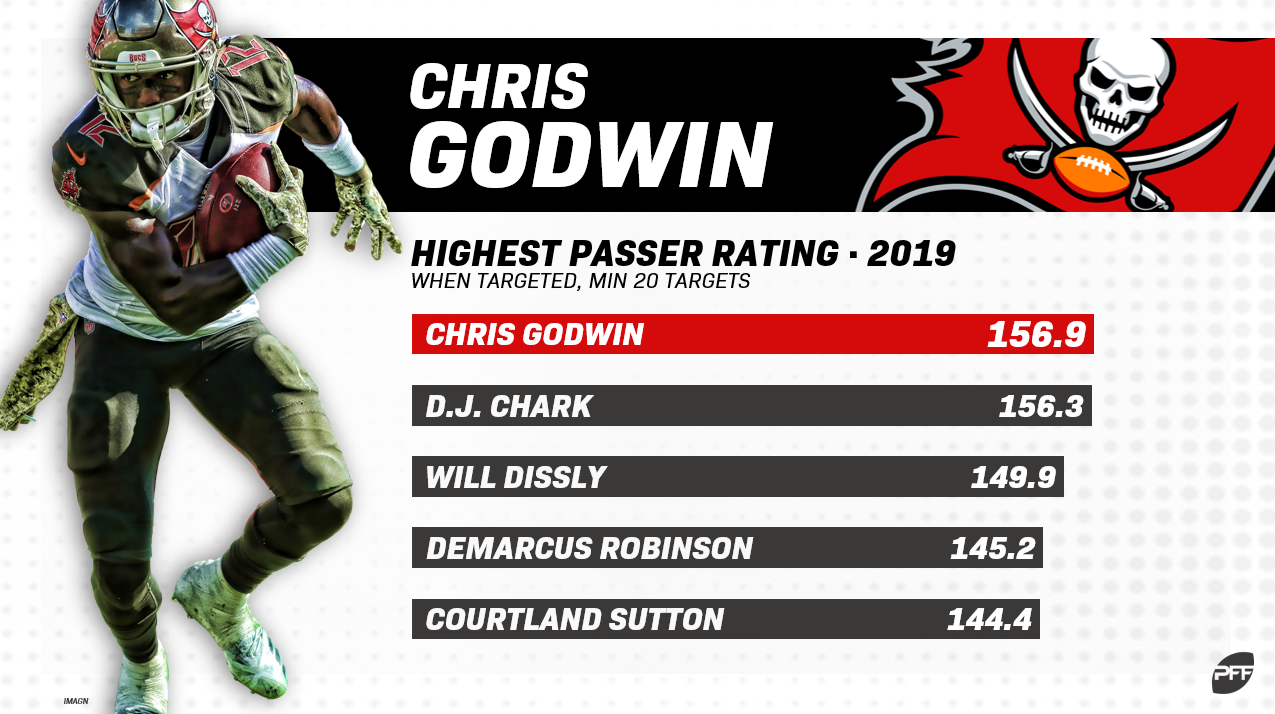 Chark has seen good volume, leading the team and ranking 28th-overall in target share (21%), but has been far more reliant on efficiency for fantasy production than the other wide receivers on this list. Chark leads all wide receivers in depth-adjusted yards per target (+4.7) and ranks behind only Godwin in passer rating when targeted (156.3). He's the biggest longshot among these names to end the season as a fantasy WR1, but this is certainly an encouraging start to his season and his career.
4. On Sunday, Aaron Jones totaled 49.2 fantasy points, or, the 31st-most by any running back in any game in NFL history. On the ground, he totaled 107 yards and four touchdowns. Through the air, he caught seven of eight targets for 75 yards.
It may only be temporary — until Jamaal Williams returns from a concussion — but it appears Jones has finally been freed. Fantasy owners have long begged for better usage for Jones, who averaged 5.5 yards per carry in each of his first two seasons in the NFL. In Weeks 4 and 5, Jones finally received the bell cow workload he's long deserved. Over this span, he played on 75% of the team's snaps, while drawing 84% of the carries and 75% of the team's targets out of the backfield. This means Jones is a must-start for however long Williams remains sidelined, and perhaps (or hopefully) even longer than that, should head coach Matt LaFleur continue to ride the hot hand when Williams returns.
5. After sitting out in Week 4 (zero snaps), Melvin Gordon was outsnapped by Austin Ekeler 46 to 32 in Week 5. Gordon turned 12 carries and six targets into just 38 yards. Ekeler, meanwhile, saw just three carries (for seven yards), but added 15 targets through the air (catching all 15 for 86 yards). Only once in NFL history has a running back ever recorded more than 15 receptions in a single game.
On Friday, head coach Anthony Lynn warned us of what we should expect from Gordon in Week 5, saying, "I don't want to put him in there and play him too much, and I really don't have to. I like what Austin Ekeler has been doing." Perhaps Lynn just wanted to ease Gordon back into a normal workload after an extended absence, or, perhaps this is what we should expect from the Chargers moving forward – a muddied backfield.
Of course, this is also what we saw from the Chargers at the end of last season. Across their last four games, Gordon played on just 54% of the team's snaps while averaging only 11.2 fantasy points per game. In the playoffs, Gordon outsnapped Ekeler, but not by much (67 to 59). If this trend continues, Ekeler remains in-play as a weekly flex option. Remember, in PPR leagues, a target is worth 2.83 times as much as a carry.
Gordon should remain the team's early-down workhorse and primary goal-line back, but Ekeler could be the team's preferred option on obvious passing downs. That means, both players will be highly gamescript-sensitive. Gordon would be the preferred play in games Los Angeles is favored, while Ekeler would be the better option when the Chargers are underdogs.