Each week in this space, we'll be taking a look back at Sunday's games to find five of the most interesting and most important stats for fantasy football owners. With 14 of 15 games from NFL Week 4 in the books, here are the five stats you need to know:
1. If we exclude a meaningless Week 17 game where Christian McCaffrey played on just 14% of his team's snaps, McCaffrey has now scored at least 25.0 fantasy points in 10 of his last 12 games. Over this span, he's averaging 30.0 fantasy points per game. Only four times in NFL history has a running back averaged 30.0 or more fantasy points per game in a single season. Over his last 16 games he's averaging 26.9 fantasy points per game — or what would be the ninth-most by any running back in any season all-time.
As I've argued since Week 1 in this space, McCaffrey is the single most valuable commodity in fantasy football. We haven't seen numbers like this from a running back since the days of Marshall Faulk, Priest Holmes, and LaDainian Tomlinson — when it was basically impossible to win your league without one of these running backs. There's more parity in fantasy these days, but this does speak to McCaffrey's unrivaled upside as a possible league-winner.
2. Through four weeks, Chris Godwin ranks third among all wide receivers in fantasy points scored (88.6), while Mike Evans ranks fourth (78.8).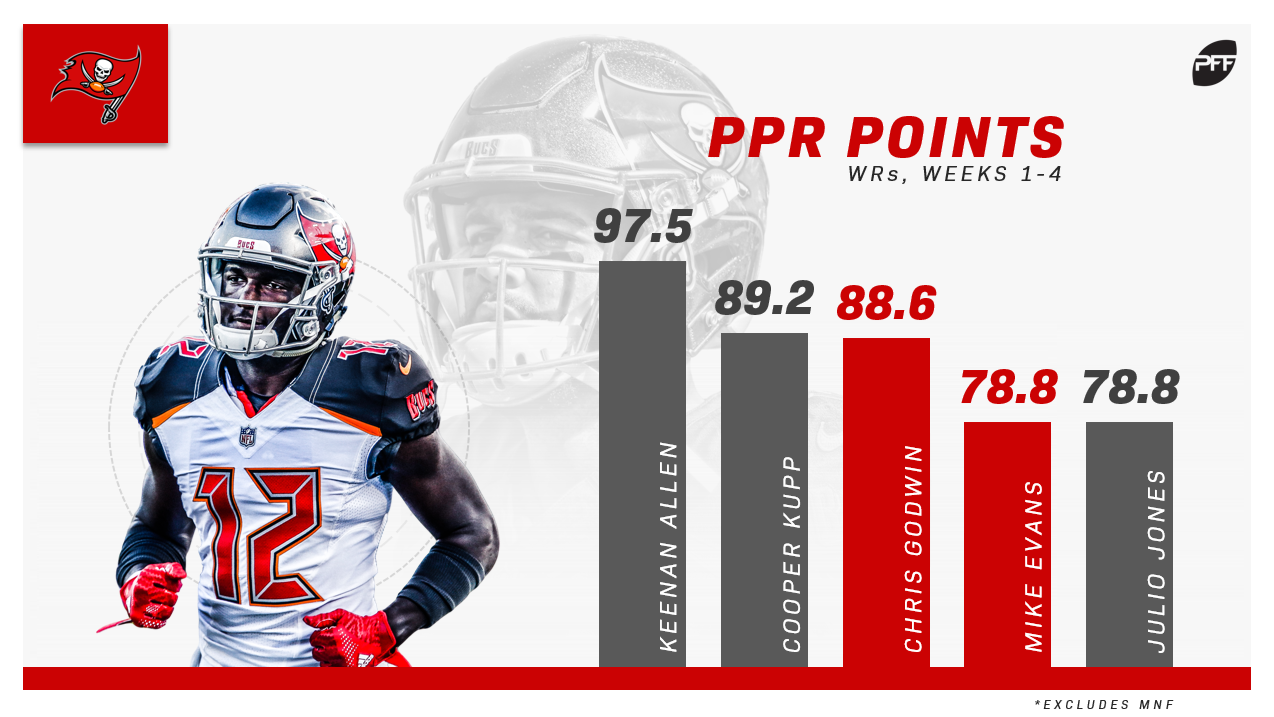 It's probably unrealistic to expect both receivers to finish top-five this year, but it's been done before — six times in the modern era, most recently by Demaryius Thomas and Emmanuel Sanders in 2014. And, with O.J. Howard serving in a demoted role (3.0 targets per game), it's certainly possible both players finish as WR1s (a feat accomplished by Pittsburgh and Minnesota last year). Though both Evans and Godwin have been nearly equally phenomenal this year, as I argued this offseason, don't be surprised if Godwin finishes the year with more fantasy points than Evans.
3. In Week 4, Will Dissly caught seven of eight targets for 57 yards and a score. He now ranks sixth among tight ends in fantasy points scored. He's only played in six full games across his career, but across those games is averaging 15.5 fantasy points per game (would rank top-four in any season this past decade).
Dissly has seen at least five targets in five of these six games but has mostly been reliant on touchdowns for his fantasy production, averaging a touchdown per game over this stretch. That's typically a red flag, and this is an unsustainably high number, but really, we should be viewing this as a positive — it seems Dissly has assumed the Jimmy Graham role in the offense. In 2017, with the Seahawks, Graham led the position in touchdowns (10) and saw 14 targets inside the 5-yard line (the most by any player this past decade). Like Graham, Dissly has been a focal point near the end zone, drawing three targets inside the 10-yard line (no other Seattle receiver has more than one) and four end-zone targets this year. With this sort of usage, Dissly has easy TE1 upside.
While Dissly did benefit from an ideal matchup — Arizona came into the week surrendering 29.3 fantasy points per game to opposing tight ends (11.0 more than the second-worst team) — his Week 4 usage is more meaningful to me than his production. Dissly ran a route on just 45% of Russell Wilson's dropbacks through the first three weeks of the season (compared to 43% for Nick Vannett). In Week 4, immediately following Vannett's departure (traded to Pittsburgh), Dissly ran a route on 68% of Wilson's dropbacks.
4. Speaking of tight ends… Through four weeks, the top-10 highest-scoring tight ends are (in order): Evan Engram, Austin Hooper, Mark Andrews, Travis Kelce, Darren Waller, Will Dissly, Greg Olsen, Zach Ertz, Delanie Walker, and T.J. Hockenson.
This has been a brutal start to the year for anyone who drafted an early-round tight end outside of Engram and Kelce. Meanwhile, there were plenty of late-round values to be found in Hooper (Round 9), Andrews (Round 12), Waller (undrafted), Dissly (undrafted), Olsen (Round 12), Walker (Round 10), and Hockenson (Round 11).
5. Leonard Fournette ranks ninth among running backs in fantasy points scored (65.8), one spot ahead of Aaron Jones (63.0). Fournette totals 518 yards and zero touchdowns. Jones totals 270 yards and four touchdowns. If excluding the value of touchdowns, Fournette would rank fourth among running backs in fantasy points scored while Jones would rank 21st.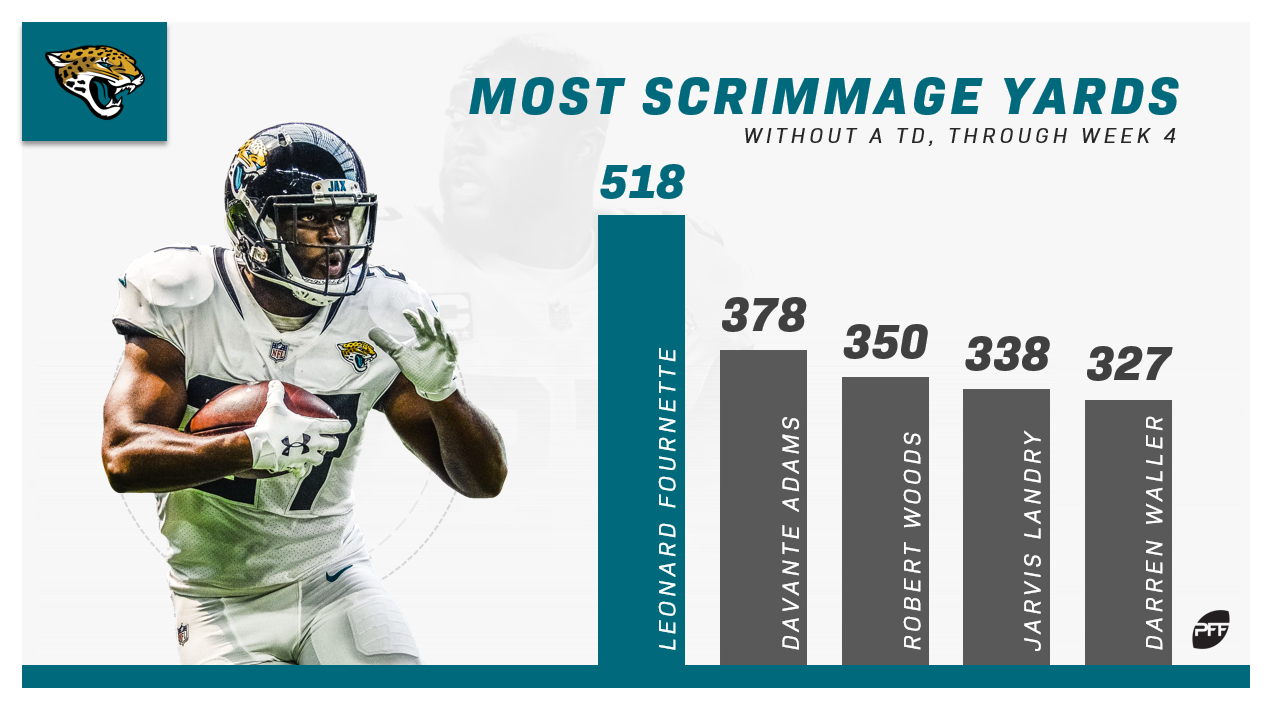 Among all running backs, Fournette ranks second in snaps (234), second in snap share (91%), second in touch share (90%), fifth in carries (72), and sixth in targets (23). Fournette has gotten a little unlucky in the touchdown department, but his usage paints the picture of a top-five fantasy running back.
Remember, volume is far more important than efficiency when it comes to the success of a fantasy running back. Fournette was due for an efficiency regression (he came into the week ranking worst of 28 running backs in yards per carry since Week 1 of 2018) and bounced back in a big way (225 yards on 29 carries). Just like with yards per carry, we should expect Fournette to regress closer to the mean in terms of touchdowns (he ranked sixth in touchdowns per game 2017-2018). If the buy-low window hasn't fully closed after a big Week 4, now may be the last time to pounce.