Each week in this space, we'll be taking a look back at Sunday's games to find five of the most important stats for fantasy football owners going forward. With 15 of 16 games from NFL Week 3 in the books, here are the five stats you need to know:
1. Michael Thomas currently has 38 receptions. That's the most by any player all-time through the first three weeks of the season. The previous record was held by Julio Jones and set in 2015, with 34.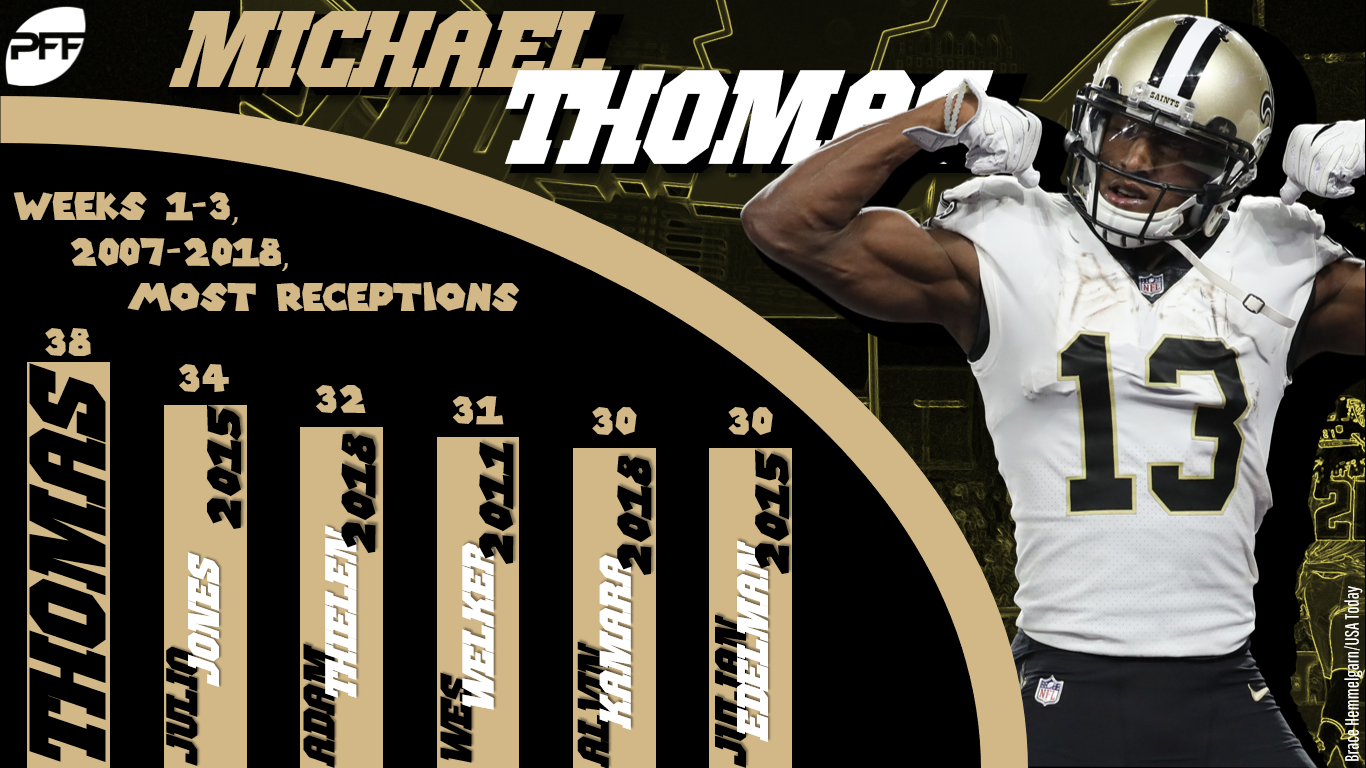 Thomas also has 398 receiving yards, which is the 17th-most by any player ever through the first three weeks of the season. He's on pace to break both the single-season reception record (by 60 receptions) and the single-season receiving yardage record (by 159 yards). Remarkably, Thomas doesn't even lead the league in targets. Adam Thielen has more (44 to 40), but Thomas' catch rate is higher, catching all but two passes this year (95 percent).
Thomas was our third-highest-graded wide receiver last year but was forced to rely more on efficiency than volume for fantasy. He ranked 12th in expected fantasy points (14.6) but ranked seventh in actual fantasy points last year (16.2). Now, ranking second at the position in expected fantasy points (65.2), this may be the year Thomas breaks into the Antonio Brown/DeAndre Hopkins/Odell Beckham Jr.-tier of elite fantasy WR1 options.
2. Alvin Kamara has finished as a fantasy RB1 in 12 of his last 13 healthy* games. Perhaps more impressively, he's finished as the No. 1 fantasy running back in six of his last 11 games. Both marks rank best over this stretch.
Kamara ranks third among all players in receiving fantasy points. He also ranks 14th in rushing fantasy points. Essentially, he's putting up elite fantasy WR1 numbers with the bonus up RB2 rushing numbers. Kamara gets one more week without Mark Ingram, and, unsurprisingly, he'll be the No. 1 running back in my rankings next week.
While Thomas leads all flex-eligible players in fantasy points (94), Kamara ranks second (91). Together, they combine to account for over two-thirds of New Orleans' touches this season, which would make them the most highly concentrated offense in football (just ahead of Saquon Barkley and Beckham's Giants). After ranking top-10 in points allowed per game (20.4) last year, the Saints defense has surrendered 34.3 points per game, which ranks last. That's unfortunate for fans of the team but should be good news for fantasy owners of Thomas, Kamara, and Drew Brees.
(*In Week 14 of last season, Kamara played on only six snaps due to injury. That game is excluded.)
3. Through three games, rookie WR Calvin Ridley has caught four touchdown passes from Matt Ryan — or the same amount as Julio Jones through his last 25 games.
We've detailed Jones' inability to find the end zone elsewhere, but it's interesting to note Ridley's electrifying start to the season. After catching four passes for 64 yards and a score last week, Ridley caught seven passes for 146 yards and three scores Sunday. In total, that's 39.6 fantasy points, or the fourth-most fantasy points scored by a rookie wide receiver in a single game over the past 20 years. Only Anquan Boldin, Beckham, and Mike Evans had a game that scored better in their rookie year.
4. Patrick Mahomes' 13 passing touchdowns is the most by any quarterback through the first three weeks of the season. Through three games, he totals 92.4 fantasy points. That is the 29th-most by any quarterback through any three-week-stretch all time. Of the names on the list above him, we see some of the best fantasy quarterbacks of all time: Tom Brady (4), Aaron Rodgers (3), Russell Wilson (3), Steve Young (3), Ben Roethlisberger (2), Cam Newton (2), Drew Brees (2), Michael Vick (2), Peyton Manning (2), and five other quarterbacks to appear just once.
In fantasy, sometimes it's best to employ a "if it ain't broke, don't fix it" mindset. In this case, I'm employing a "if it's historically great, don't bench it" mindset. Mahomes is an easy top-three fantasy quarterback for me until proven otherwise.
(Note: Ryan Fitzpatrick needs 19.19 fantasy points Monday night to top Mahomes, and 38.57 fantasy points to supplant 2007 Tom Brady in Weeks 6-8 for having the best three-game fantasy stretch of all-time.)
5. From the second-half of last season (Week 9) to today, Christian McCaffrey ranks behind only Alvin Kamara and Mark Ingram in yards per carry (5.17).
McCaffrey was frequently knocked by detractors as being a poor runner, over rated between the tackles, or being a "scatback only"-type who couldn't handle an every-down workload. I think it's safe to say we can finally put those concerns to rest. On Sunday, McCaffrey totaled 184 rushing yards on 28 carries. He has yet to find the end zone but has handled all of the team's running back carries inside the 10-yard line over the past two weeks. (Cam Newton will continue to vulture goal-line touchdowns, but it's encouraging to note there's almost zero competition from the other running backs on the team). He played on 100 percent of his team's snaps on Sunday and now leads the position in total snaps (187). To top it all off, rushing efficiency has been tremendous since the second-half of last season, ranking third-best of 32 qualifying running backs.
Bonus Stat: The Vikings were 17.0-point favorites right before kickoff in Week 3. Only three games had a larger spread over the past five years. On Sunday, the Bills won 27-6. This was just the fourth time in 20 years a double-digit underdog won by 21 or more points. This was the largest upset by an underdog of 17 or more points in 45 years.
This is your friendly reminder that, well, the NFL is weird. Anything could happen on any given Sunday. Even the best handicappers and NFL analysts are frequently wrong. Fantasy football, in particular, is a mixture of luck and skill. I like to believe it's more skill than luck, but I'm not sure that's true every week.