Each week in this space, we've taken a look back at Sunday's games to find five of the most interesting or most important stats for fantasy football owners. With 15 of 16 games from NFL Week 16 in the books, here are the five stats you need to know:
Note: Because teams routinely rest their players in Week 17, and the far majority of fantasy leagues have their championship in Week 16, we define the fantasy season as lasting from Weeks 1-16.
1. Christian McCaffrey's 448.4 fantasy points are the second-most by any player at any position in any fantasy season all-time. Only LaDainian Tomlinson's famed 2006 season ranks higher (471.1).
Carolina was held out of the end zone in a 38-6 beatdown against the Colts, but McCaffrey still put up 32.3 fantasy points while comprising 54% of the team's total yardage. After 14 straight weeks of McCaffrey dominating despite Carolina's offensive ineptitude, this was a fitting end to one of the greatest fantasy seasons of all-time.
Without a doubt, McCaffrey was fantasy football's MVP this year. He led the league, averaging 29.9 fantasy points per game, which was 9.0 more than the next-closest running back. He also beat out the No. 12 running back by 14.4 points per game. By Value Over Replacement Player, McCaffrey was 5.3 points per game more valuable than Michael Thomas and 7.5 points per game more valuable than Lamar Jackson.
McCaffrey finished fourth at the position on Sunday and has now finished top-six among running backs in 12 of 15 weeks this season. Equally absurd, McCaffrey has scored at least 21.5 fantasy points in 13 of 15 games this year. For perspective, 21.5 fantasy points per game also would have led all running backs.
Although the fantasy season is over, the regular season is not, and McCaffrey has another impressive statistical feat within his grasp. He's now just 67 receiving yards away from a 1,000/1,000 season, which would be just the third such season by any player all-time.
2. Lamar Jackson's 421.7 fantasy points are the most by any quarterback in any fantasy season all-time. He beats out Patrick Mahomes' 2018 season (410.7), which now ranks second-best all-time, by 11.0 fantasy points.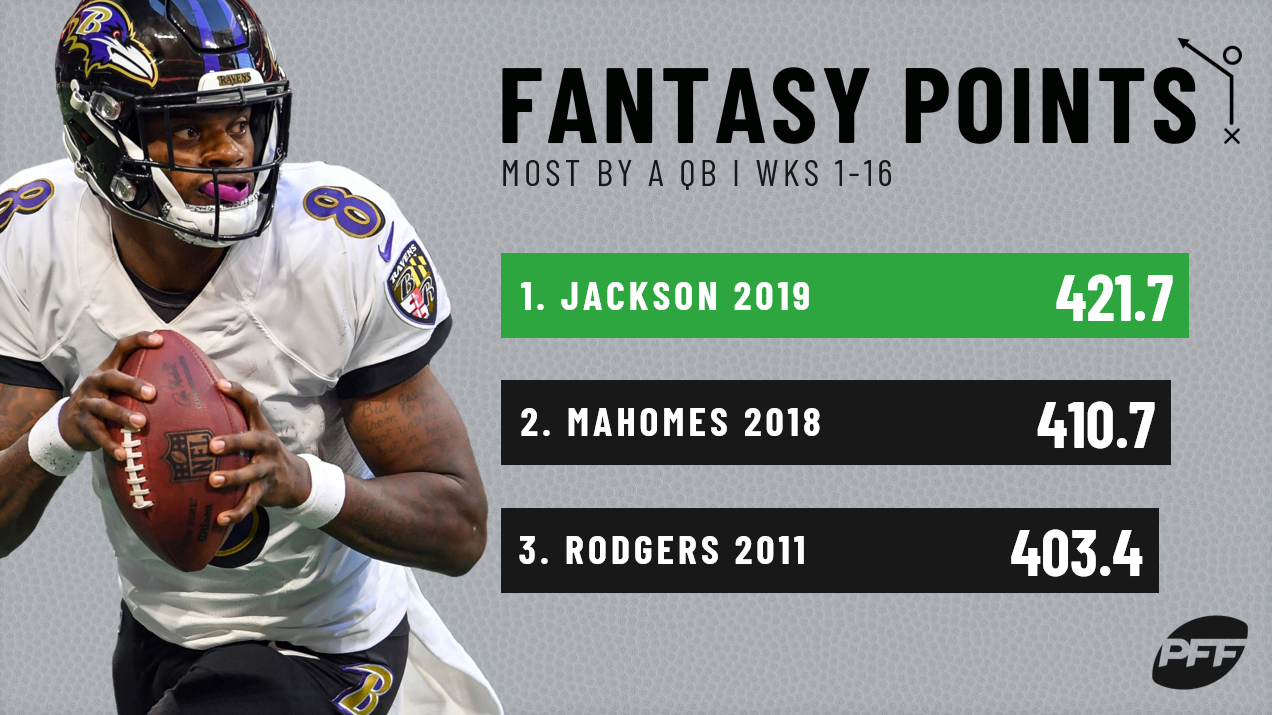 Another record is Jackson's 28.1 fantasy points per game, which bests Aaron Rodgers' 2011 season by 1.2 fantasy points per game and is 5.9 more than Deshaun Watson this year. By VORP, he was fantasy football's third-most-valuable player this year.
In 2017, Watson tied the PFF-era (2007-2019) record for fantasy points per dropback (0.73). In 2018, Jackson shattered that record (0.83). And, in 2019, he demolished it (0.93).
Part of this was due to the value of the Konami Code – Jackson scored 162.6 fantasy points on the ground (39% of his total fantasy points). This was a new record for all quarterbacks, and, absurdly, ranks eighth among all running backs this year. However, Jackson was equally impressive through the air, leading all quarterbacks in passing touchdowns (36), while ranking third-best in passer rating (113.3). Jackson very well could be a borderline first-round pick in 2020 fantasy drafts, and he would have been worth one this year.
3. Michael Thomas' 366.9 fantasy points are the third-most by any wide receiver in any fantasy season all-time. Only Marvin Harrison's 2002 season (375.2) and Jerry Rice's 1995 season (375.1) rank higher.
Interestingly, in non-PPR leagues, Thomas' 2019 season would rank tied for just 19th-best all-time. However, in PPR leagues he was a borderline cheat code, on the back of a record-setting 145 receptions.
Like McCaffrey, he's a lock to be a top-five pick next year. Like Jackson, this shouldn't have come as a surprise. Thomas has long been one of the league's most-efficient wide receivers, producing like a mid-range WR1 on mid-range WR2 volume. In 2019, it only makes sense that the league's most-efficient wide receiver put together a record-breaking season when he was finally gifted high-end WR1 volume.
4. On Sunday, Saquon Barkley turned 22 carries and four targets into 279 total yards and two scores. This was worth 43.9 fantasy points, or 10.1 more than the next-closest flex-eligible player. This was the 21st-most total yards from any player in any game all-time. More importantly, this was the fourth-most fantasy points by any running back in a Week 16 game all-time.
If you drafted Barkley (likely with the first overall pick, ahead of McCaffrey), it's hard to imagine you made it all the way to your league's fantasy championship. He came into the week ranking just 18th at the position in total fantasy points, or 10th in fantasy points per game (16.3). However, if you did draft Barkley, and you started him this week, it's hard to imagine you didn't walk away with the trophy.
5. Over the last two weeks, Kenyan Drake leads all players at all positions in total fantasy points (73.0). That's also the 12th-most by any player in any season across the last two weeks of the fantasy season. (McCaffrey's 2019 season ranks 15th with 69.8.)
While Barkley was the MVP of Week 16 (Championship week), Drake was the MVP of the fantasy postseason. Drake averaged just 10.2 fantasy points per game across the prior four weeks of the season, but he came on hot when it mattered most, hopefully carrying you to a fantasy championship victory.