Each week in this space, we'll be taking a look back at Sunday's games to find five of the most interesting or most important stats for fantasy football owners. With 13 of 14 games from NFL Week 10 in the books, here are the five stats you need to know:
1. Among all 69 running backs with at least 100 carries over the past two seasons, Aaron Jones leads in yards per carry (6.12). Among all 48 running backs with at least 150 carries over this span, his YPC is 15.5% better than the next-closest running back (Alvin Kamara, 5.24.) Despite seeing 72 fewer carries than teammate Jamaal Williams over this stretch, he totals 117 more rushing yards and three more rushing touchdowns.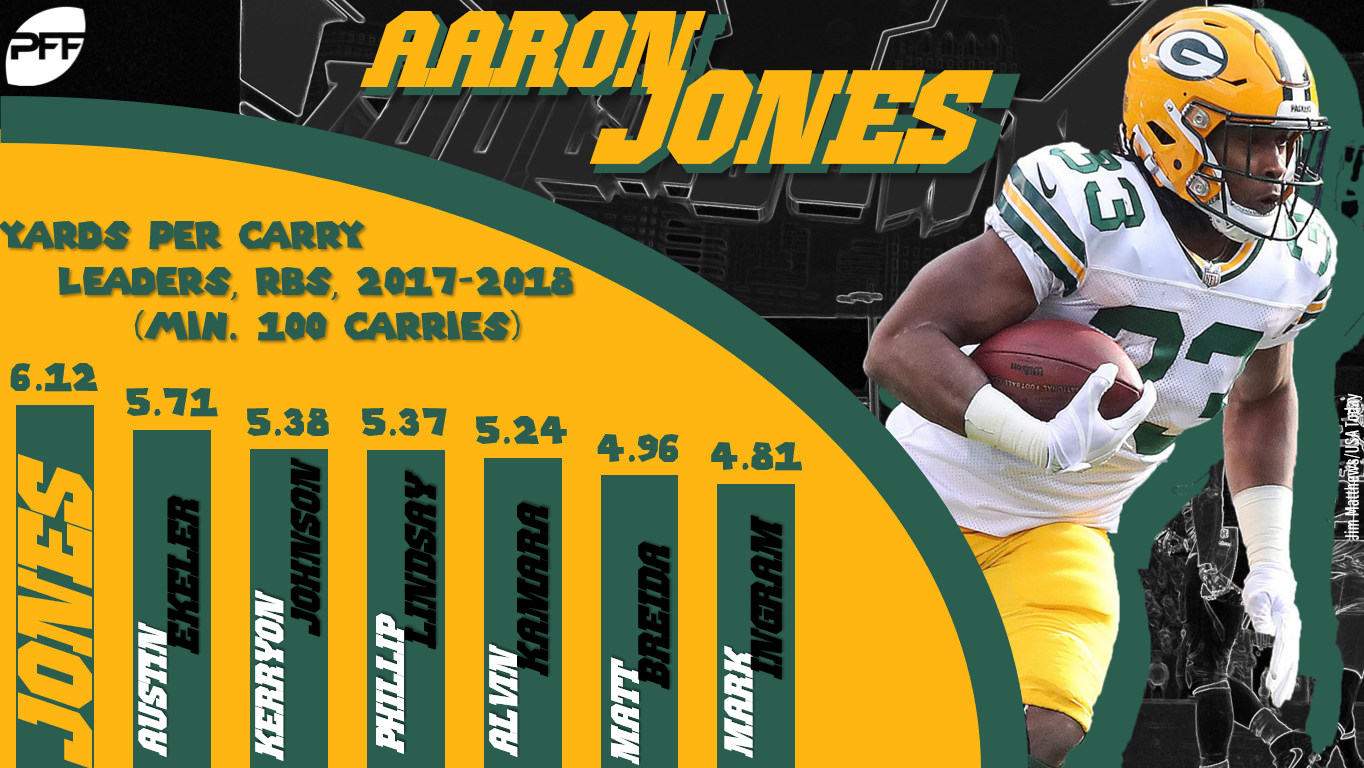 Every other time we've mentioned Jones in this space, we've lamented his lack of usage despite tremendous efficiency. That is not the case this time. In Week 10, Jones totaled 18 touches, 172 total yards, and two touchdowns, good for a top-five finish at the position. He played on 74% of the team's snaps, drawing 83% of the carries (15 of 18), and 100% of the team's targets out of the backfield (five of five). This was exactly the sort of usage we were hoping for and thought was coming. I suspect it's time we started viewing Jones as a potential league-winner.
2. Nick Chubb totaled 155 yards after contact on Sunday. That's more than any other running back totaled on the ground in general (not just after contact). This wasn't just a one-week thing, either. For the season, he averages 5.3 yards after contact per attempt, which is 36% better than the next-closest running back. He also led all running backs this week in missed tackles forced on the ground (seven) and leads all running backs this season in missed tackles forced per attempt (27%). He currently sports an elusive rating of 137.2, which would be good for a new PFF-era record.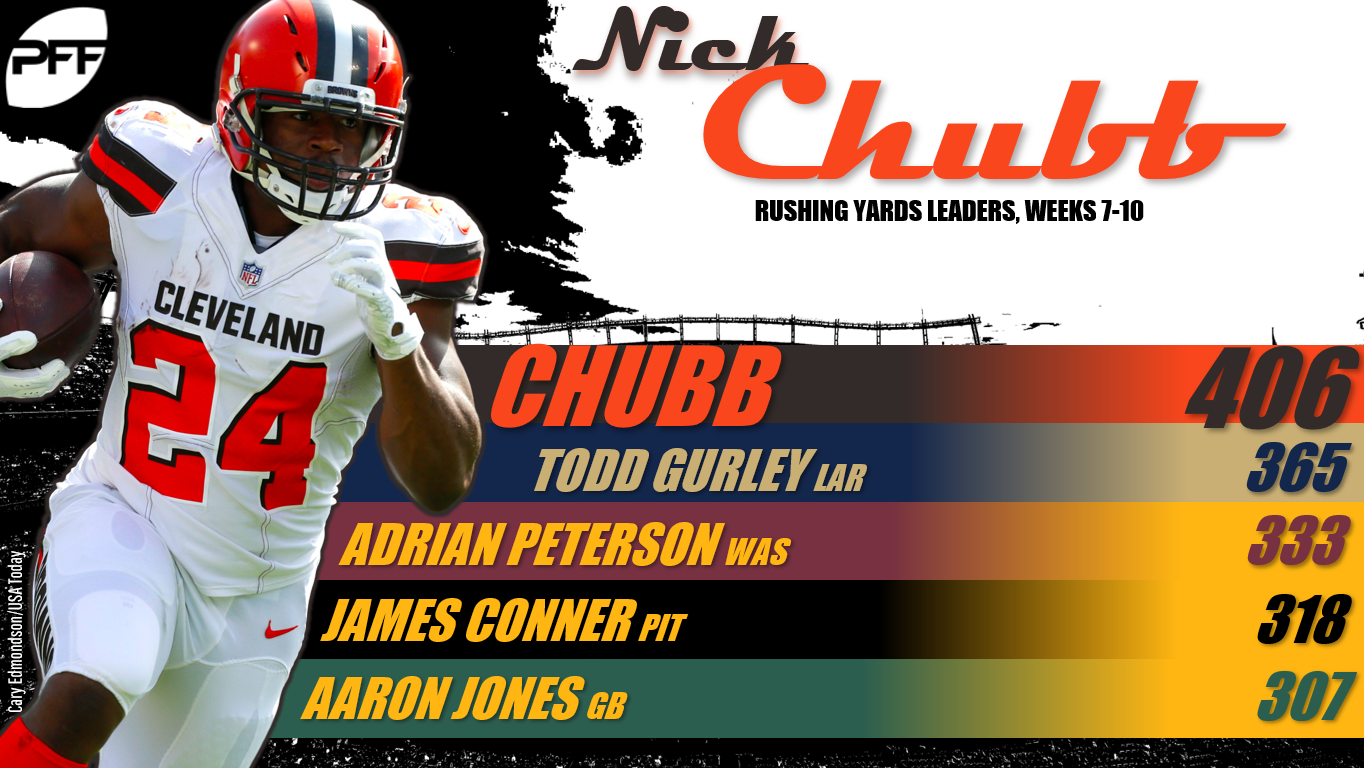 Not only has Chubb been hyper-efficient, but he's now seeing a workhorse workload. Over the past four weeks, Chubb has played on 60% of the team's snaps, while averaging 19.5 carries, and 2.3 targets per game. If over a full season, that would rank 12th, second, and 49th, respectively. Keep in mind, that's despite poor gamescript in every game but Week 10 (when he played on 79% of the snaps). Though his receiving numbers seem low, it's better than I expected. He has six receptions this year but had only 13 over his final three seasons in college (but 539 carries over this span). He'll be gamescript-sensitive moving forward, but like Jones, could have league-winning potential.
3. Through 40 career games, Michael Thomas totals 274 receptions, 3,332 yards, and 21 touchdowns. Among any receiver's first 40 career games (all-time), he ranks first in receptions, seventh in yards, and fifth in fantasy points.
On Sunday, he saw eight targets, catching all of them for 70 yards and two scores. This was enough to put him just 1.7 fantasy points behind Adam Thielen for the position lead. Thomas currently ranks as our highest-graded receiver, after ranking third and seventh in previous years. In an earlier article I warned about Thomas' potential in games where gamescript is too good (like in Sunday's 37-point victory against the Bengals), which I still think is true, but efficiency goes a long way when you are a) on one of the league's most efficient offenses, b) one of the league's most efficient wide receivers, and c) catching passes from one of the most-efficient quarterbacks of all time.
4. Among all receivers, Eric Ebron and Antonio Brown rank tied for first in touchdowns (10). Only Brown (14) totals more end-zone targets than Ebron (13).
To update last week's article, when Jack Doyle has been active this year, Ebron averages only 22.5 snaps, 14.0 routes, and 3.8 targets per game. Over this span, Doyle averages, 60.3 snaps, 30.5 routes, and 6.0 targets per game. When Doyle has been out, Ebron has averaged 53.8 snaps, 37.8 routes, and 9.6 targets per game. I concluded that this meant Ebron was droppable. Although he's certainly more touchdown-dependent with Doyle on the field, it's safe to say that conclusion was wrong. It seems clear Ebron is Andrew Luck's favorite target near the end zone. He's seen at least one end-zone target in every game this year, averaging 1.3 per game with Doyle on the field and 1.8 with Doyle inactive. For perspective, coming into the week, only eight players averaged more than one end-zone target per game.
5. Zach Ertz is currently on pace to total 133 receptions and 1,403 yards. This would break the all-time record for receptions from a tight end by 23 (Jason Witten's 110 in 2012), and yards from a tight end by 76 (Rob Gronkowski's 1,327 in 2011).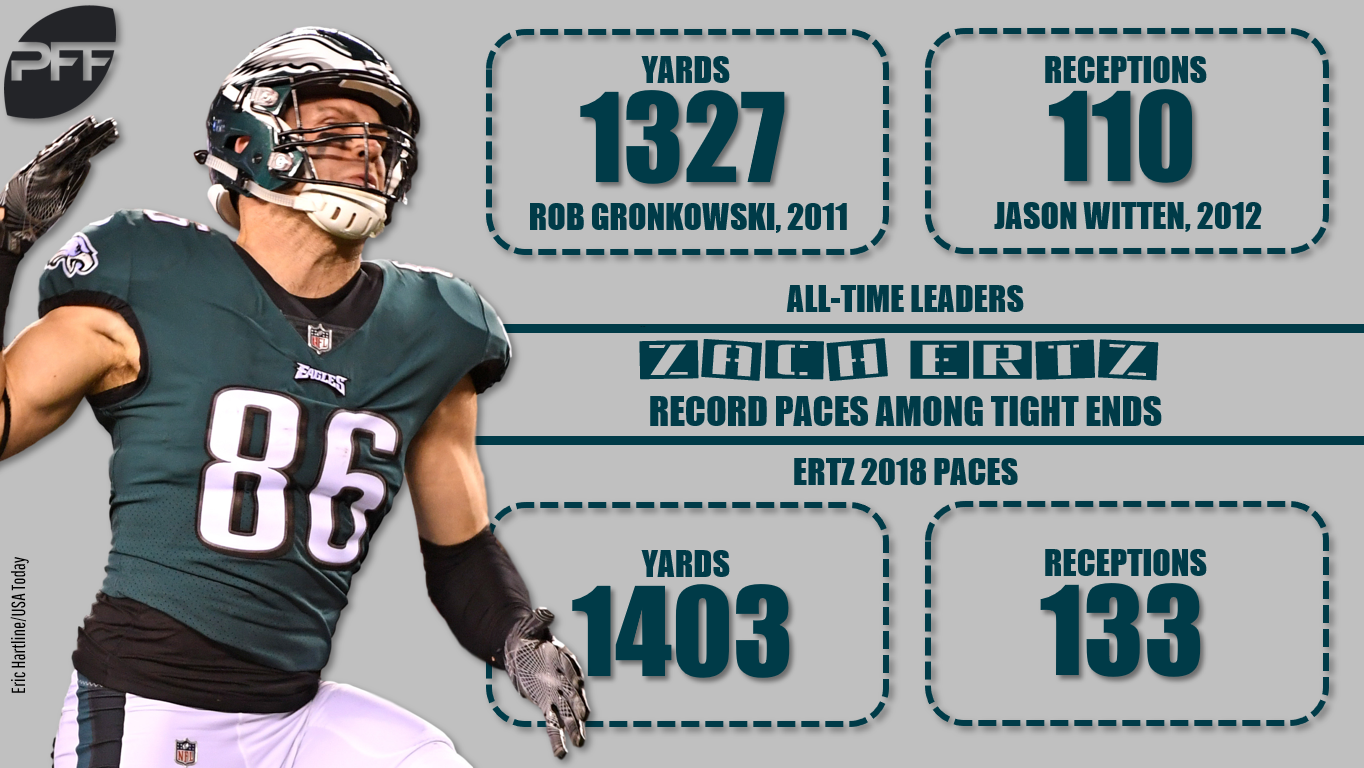 Philadelphia's acquisition of Golden Tate didn't seem to put a dent in Ertz's target share. Tate played on just 18 snaps, while Ertz totaled 14 receptions 145 yards, and two touchdowns (on 16 targets). Ertz ranks seventh among all receivers in fantasy points per game (20.4) and might actually be worth more than some of the names ahead of him if we factor in positional scarcity.
Bonus Stat: This week, three different quarterbacks (Ben Roethlisberger, Drew Brees, and Baker Mayfield) had as many or more passing touchdowns as incompletions.