(This is our Fantasy Lookback, a review of the top fantasy football seasons at each position for each franchise over the last decade of NFL action. We'll look at some big names that are still going and some who have been gone long enough that they're in the Hall of Fame. Today: The San Francisco 49ers)
The 49ers went 8-8 in 2009 and 4-12 in 2018. With just that information, you couldn't possibly hope to know what they did in between. What they did, though, was just about everything. The 49ers had a 2-14 season and a 13-3 season. They finished last in the NFC West three times, first twice. They've been to the Super Bowl and three NFC Championships and they've picked near the top of the draft. A 49ers fan has lived the entirety of the opening paragraph of A Tale of Two Cities just in the last 10 years.
Related: The team's top fantasy performances run the gamut of possibilities, with one top position coming in the first year of our sample, one in the last, and two right in the middle.
Let's take a look at the best 49ers fantasy seasons of the last decade.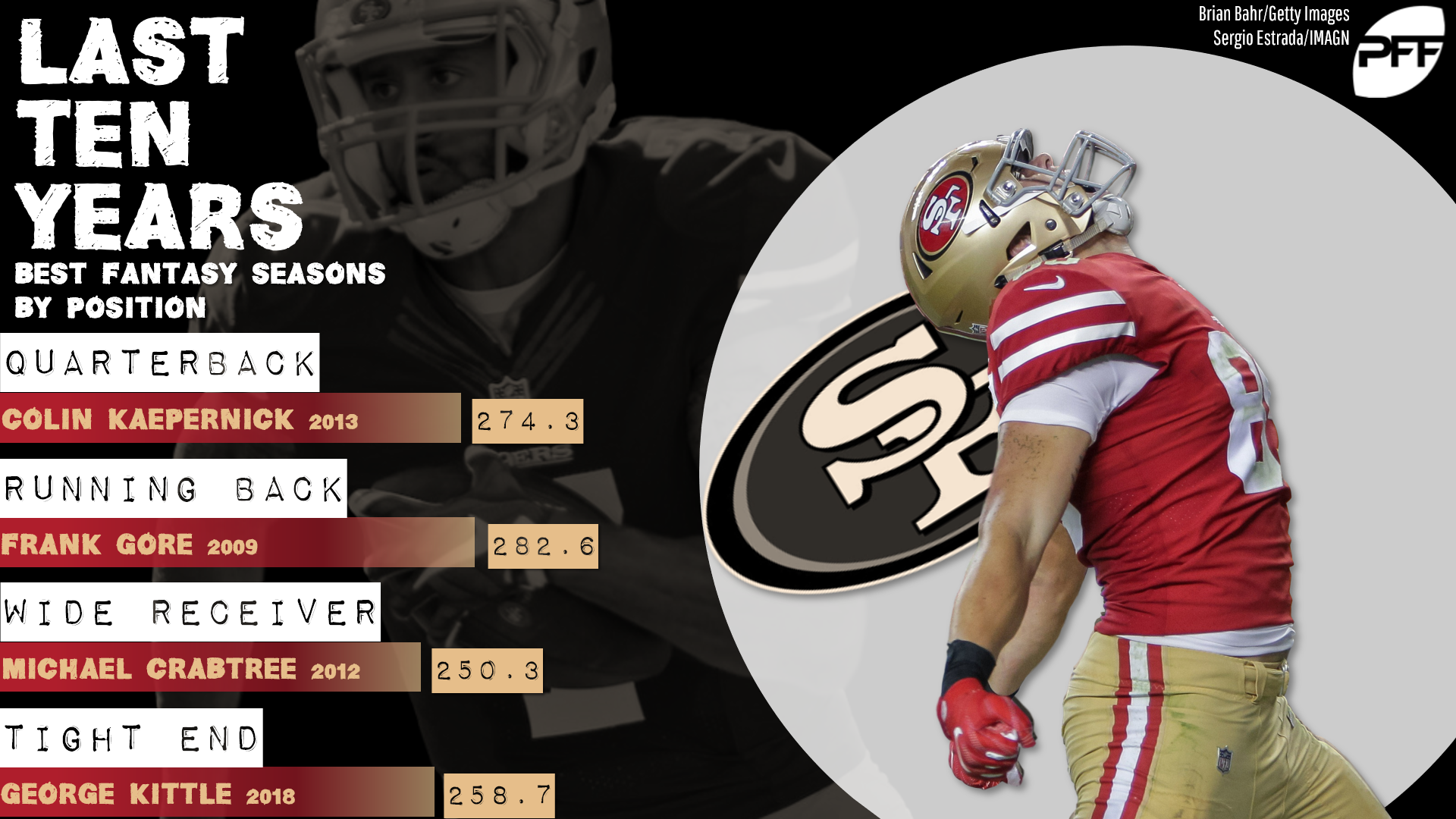 (Follow along with the whole series here.)
Quarterback
Colin Kaepernick, 2013
(243-416 passing, 3,197 yards, 21 TD, 8 INT, 512 rushing yards, 4 TD, 279.1 fantasy points, QB10)
Say what you will about Kaepernick from either side of the aisle and however good you think he was for real football, but he was a real fantasy asset because of his legs. The 49ers haven't exactly had a murderer's row of quarterbacks over the last decade, but Kaepernick has the top two and four of the top five San Francisco fantasy seasons at the position in our time frame. By PFF grading, he was better in 2012, when the team made the Super Bowl, but for fantasy, his 2013 season, when the team went 12-4 and ultimately lost in the NFC Championship, was his best year.
Running back
(229 rushes, 1,120 rush yards, 10 TDs, 52 receptions, 406 receiving yards 3 TDs, 282.6 PPR points, RB5)
A couple years ago around this time, I compared Gore to the sitcom According to Jim, in that he was good enough to always be a fantasy starter, but hadn't really had the heights to be a star. And for the last several years that has been true. But earlier in his career, he was more like Friends, productive and dominant. He has six of the top-10 49ers' RB seasons in our timespan, and his 2009 is clear of the No. 2 (Carlos Hyde's 2017) by nearly 50 points. Gore is either at or near the end of his run now, in 2019, but he had the longest run as a fantasy starter we've seen from a running back in a long time.
Wide receiver
(85 receptions, 118 targets, 1,105 yards, 9 TDs, 250.3 PPR points, WR15)
Only a few players appear on the leaguewide list twice, as a position leader for multiple teams in the last decade. Crabtree is one (stay tuned for when we get to the Raiders). His 2012, though, was pretty easily his best season. He set career highs in yards and touchdowns despite having 20-some more targets in his first two Oakland seasons, and had a career-high 91.0 PFF grade, the only season of his career with a grade even as high as 80.0.
Tight end
(88 receptions, 128 targets, 1,377 yards, 5 TDs, 256.7 PPR points, TE3)
Probably one of the easiest ones to guess across this entire series, Kittle's 2018 was actually only a few points clear of Vernon Davis' 2009, but that's a function of touchdowns — Kittle's relatively paltry total of 5 was dwarfed by the 13 Davis put up. By yardage, Kittle not only blew Davis out (1,377 to 965), he set the single-season yardage record for tight ends, including nearly 900 yards after the catch that broke records as well. That might end up being the best season of Kittle's career, but he has definitely established himself among the elite of the position.