("Today's Crazy Fantasy Stat" is an occasional offseason offering from PFF that highlights something that catches our eye and aids in our preparation for the 2017 fantasy season.)
The Drew Carey Show. According to Jim. Rules of Engagement. 2 Broke Girls. I'm willing to bet that if I asked you how many years each of those sitcoms ran, you'd go under the actual number on all four.
(The answers, in order: 9, 8, 7, 6. I know, right?)
When a show like Friends or How I Met Your Mother lingers on for a bunch of years, it's like Drew Brees — it's good, and people know it, and it's not going anywhere. You never just forgot Friends was on. But when those other shows went on … and on … and on, you'd be forgiven if you forgot about them. And here's the thing: They were moneymakers. They didn't take a third-tier network to No. 1, but they were the right combination of cheap enough to make and just barely garnering enough attention that their networks decided to keep them around.
Frank Gore is the According to Jim of fantasy football.
Join PFF Elite for access to PFF Signature Stats across all positions.
In 2005, Gore debuted with the 49ers and roughly split carries with Kevan Barlow (first time you've read his name in a while, I'll bet). Gore was the better of the two, averaging 4.8 yards per carry to Barlow's 3.3, while each had three touchdowns. Gore wasn't really a fantasy factor that year, though. The next year, Gore had his best fantasy season, finishing fourth in fantasy points at the position with 1,695 rushing yards, 485 receiving yards (both career bests), and nine total touchdowns.
And he hasn't not been a fantasy starter since.
Talking standard leagues here, but if you define fantasy starter as "top-10 QB or TE, top-20 WR or RB," the only player who has been a fantasy starter as many consecutive years as Gore is Brees, whose streak actually stretches all the way back to 2004. But while Brees has been one of the best fantasy quarterbacks for a big chunk of that time — he's finished sixth or better every year since 2006, fourth or better eight times in that span — Gore hasn't. He finished fourth in 2006, fifth in 2009, ninth in 2007. But those are his only top-10 seasons, Other than that, he's been 11th in 2012 and 2015, 12th in 2011 and 2016, 13th in 2013, 15th in 2008, 16th in 2014, 19th in 2010.
The chart below shows every player currently working on a streak of three or more straight years as a fantasy starter, sorted by the year:
Players with current streaks of 3+ years in a row as fantasy starters
# Years
Player
13
Drew Brees
12
none
11
Frank Gore
10
none
9
Matt Forte
8
none
7
none
6
none
5
Demaryius Thomas, Greg Olsen
4
LeSean McCoy, DeMarco Murray, Antonio Brown
3
Aaron Rodgers, Mark Ingram, Lamar Miller, Jeremy Hill, Odell Beckham Jr.,
Julio Jones, Emmanuel Sanders, Travis Kelce, Delanie Walker
Obviously, that chart skews old — young players haven't been around long enough to have streaks that long. But consider the names that don't have long streaks. Tom Brady. Adrian Peterson. Rob Gronkowski. Larry Fitzgerald. They all have good reasons for their absences, of course, but that's kind of the point — it's hard to have everything break right for you to linger as a fantasy starter, year after year after year.
Gore last missed a game in 2010, and in his 12-year career he's only missed 12 total games. He's had at least 853 rushing yards every year since he was a rookie, at least 1,000 all but two. His first two years in Indianapolis were very similar — 1,234 yards from scrimmage and seven total touchdowns in 2015, 1,302 and eight in 2016 — and his yards-per-carry average actually increased in 2016 from 3.7 to 3.9 (albeit still the second-worst number of his career). After contact, Gore averaged 2.2 yards in 2015, 2.1 in 2016, both middle-of-the-pack numbers. His elusive rating ranked second-to-last among qualifiers in 2016. Gore is not Friends.
Brees seems a reasonable bet to continue his streak in 2017. Matt Forte seems safe to fall off. Gore? Gore's tough to tell. The Colts didn't make finding a replacement a priority of the offseason, passing up on names like Dalvin Cook and Joe Mixon to add defensive help in the first round of the draft. But they didn't eschew the position either, bringing back Robert Turbin in free agency, drafting Marlon Mack out of South Florida late in the fourth, signing Christine Michael in free agency.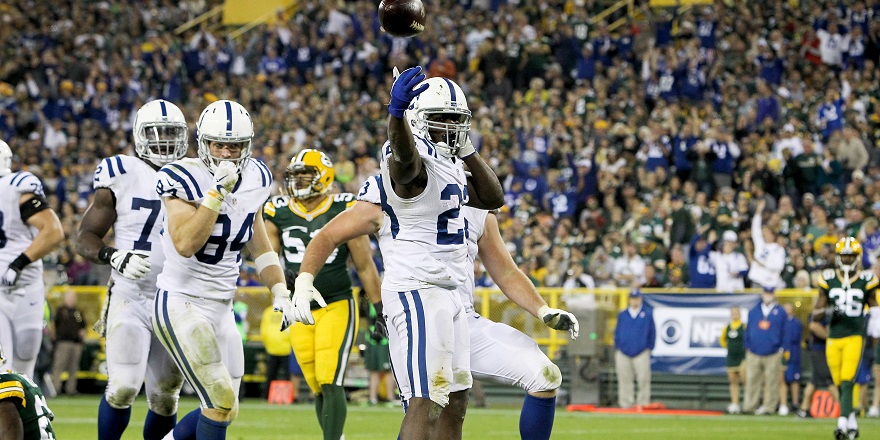 Gore will likely enter the 2017 season as the Indianapolis starter, and that's honestly the highest praise he had entering 2015 and 2016 as well. But if Gore can continue to plod along, hold off Michael, hold off Mack, hold off Turbin for a big chunk of 2017 as well, he could be a low-teens fantasy finisher again, and it won't be exciting, but that's a back-end starter in most leagues.
Per Fantasy Football Calculator, Gore's current ADP is 81st overall, the 35th running back off the board. And while that's not terrible — you're often drafting for upside more than stability, and Gore doesn't offer much of that — he's going in the same range as guys like Rob Kelley, Jeremy Hill, Jamaal Charles, guys who similarly lack upside but don't have the floor Gore does. Assuming I wait on quarterback and tight end and load up on receivers and a stud running back early, I wouldn't have any qualms reaching a round or so on the theoretical stability Gore provides, even entering the season as a 34-year-old. Get Gore there, draft some serious upside plays later.
It won't be exciting, but then Gore rarely has been. But heck, someone had to be watching According to Jim all those years.