(This is our Fantasy Lookback, a review of the top fantasy football seasons at each position for each franchise over the last decade of NFL action. We'll look at some big names that are still going and some who have been gone long enough that they're in the Hall of Fame. Today: The New York Giants)
The Giants are one of very few teams with a Super Bowl title inside the last decade. That alone is a very good thing. Of course, it was one of only two times the team has made the playoffs in that time, and the only time they've won the division or won a single playoff game. The last two years, the team is a combined 8-24 with two last-place finishes on its resume, and it has one winning season in its last six.
We talk a lot about the Giants' quarterback situation around these parts, but to focus on the good, the Giants have maybe the best RB/WR/TE trio in the league right now, and that counts for a lot. With the team appearing to be bottoming out right now, maybe a rise isn't too far off.
Let's take a look at the best Giants fantasy seasons of the last decade.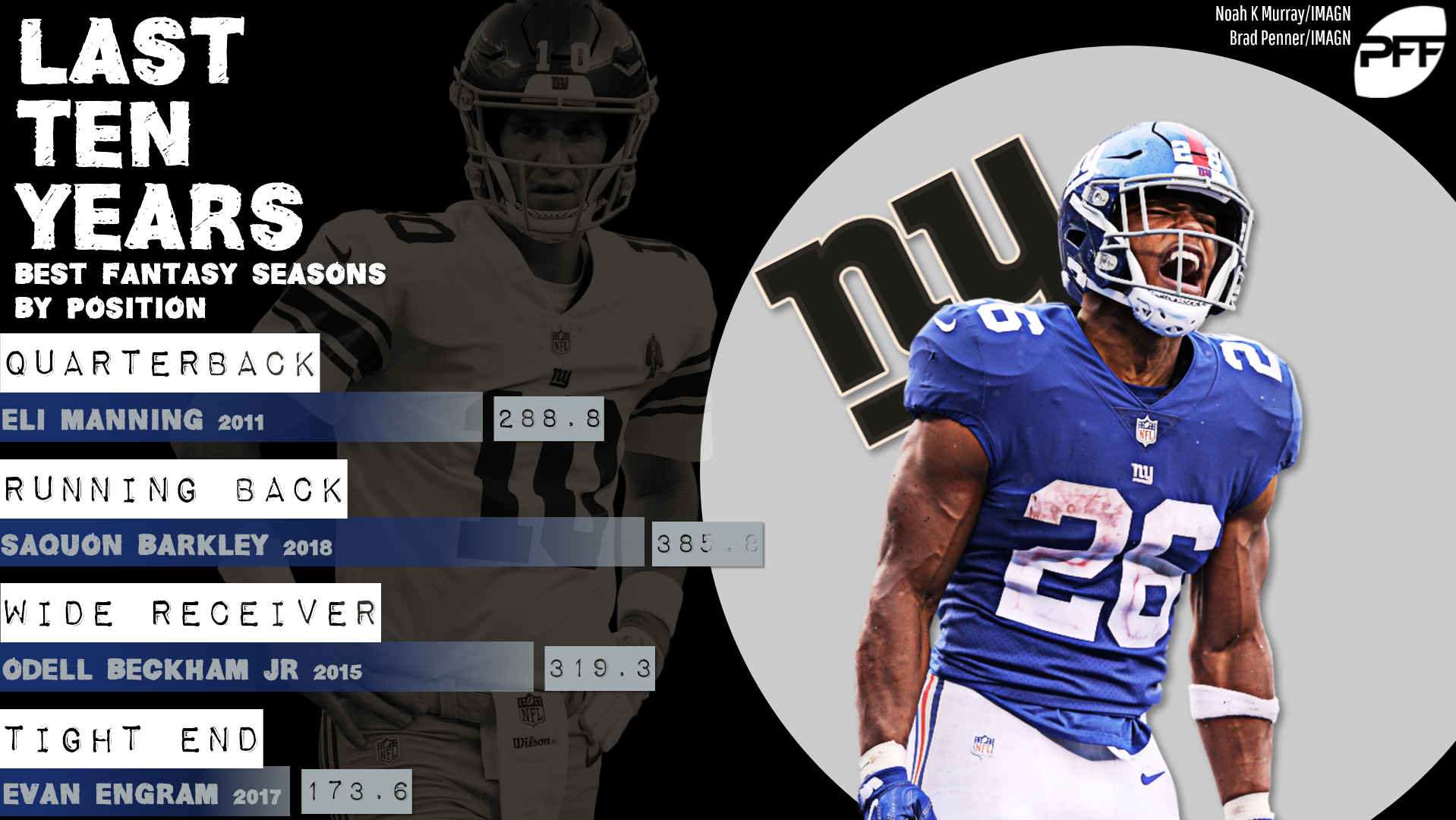 (Follow along with the whole series here.)
Quarterback
(359-589 passing, 4,933 passing yards, 29 TD, 16 INT, 12 rushing yards, 1 TD, 288.8 fantasy points, QB6)
Manning has never been one of the game's elite fantasy quarterbacks. From 2009 to 2015, he didn't have one of the 35 best QB fantasy seasons. But across that time span, he was sixth in total QB fantasy scoring, including more points even than Ben Roethlisberger. He's more punch line than quarterback at this point in his career, and he's going to continue to spark internet debates at least until his Hall of Fame resume comes up, but he was a good quarterback for a long time, and his Super Bowl-winning 2011 season was the best of it.
Running back
(261 rushes, 1,307 rush yards, 11 TDs, 91 receptions, 721 receiving yards, 4 TDs, 385.8 PPR points, RB1)
Only Ahmad Bradshaw's 251.9 points in 2010 has come within half of Barkley's 2018. (Full disclosure: This isn't true. Bradshaw scored 194.6 points in 2011, and that's more than half, which makes me mad, but I felt like I needed to be honest.) Barkley also put up the best PPR season by a rookie in NFL history, just edging our Eric Dickerson's 1983 and blowing the active player record (Ezekiel Elliott's 2016) out of the water. Nice debut.
Wide receiver
(96 receptions on 153 targets, 1,450 yards, 13 TDs, 319.3 PPR points, WR5)
From 2014 to 2016, only Antonio Brown's 23.0 PPR points per game bettered Beckham's 21.2, and Beckham's numbers came in the first three years of his career. But it was 2015 that he was at his peak, setting career-best marks in yards and touchdowns. The next year, 2016, was the only one of Beckham's career where he has played all 16 games or topped 100 receptions, but on a per-game basis, it's hard to get much better than what he offered in 2015.
Tight end
(64 receptions, 108 targets, 722 yards, 6 TDs, 173.6 PPR points, TE5)
From 1992 to 1996, the Los Angeles Dodgers won five Rookie of the Year titles in five years, bringing in a new star player each year like it was an assembly line. The Giants aren't quite doing that, but over the last five seasons, they've introduced, respectively, Beckham, Landon Collins, Sterling Shepard, Engram, and Barkley. That's a pretty impressive run of rookies, especially (Collins aside) on the offensive skill player side. You might consider this an argument for the team to bring in a stud rookie quarterback in 2019 just to keep the streak going. You might be right.