We're now in Week 10 of the NFL season. To help prepare, here's my weekly look at the top starts and sits for fantasy football players in IDP leagues.
This is it. The stretch drive for the fantasy playoffs is underway. It's the time of year that fantasy owners get to fret even more over every lineup decision. Injuries and bye weeks continue to mold the IDP landscape as we are now without Christian Kirksey as well as Sean Lee. There was a signing of note as Bruce Irvin is now a member of the Atlanta Falcons.
Is it me, or has this been the worst year for injuries to high-end IDP players? Is it me, or do I vaguely recall typing that same sentence last year?
Enough of the news and my failing memory. Let's buckle those chin straps and take a look at some Week 10 IDP start/sit options.
Keep in mind that Baltimore, Denver, Houston, and Minnesota are on their bye weeks.
Defensive linemen
Start
Matt Ioannidis, Washington Redskins (@ Tampa Bay)
Over the past two weeks, Ioannidis has stepped up hugely for fantasy purposes. Ioannidis has played roughly 70% of the snaps over that time and put up 12 (10 solo) total tackles along with 3.5 sacks. The matchup with Tampa Bay is an excellent one for Ioannidis to add to the career-high 6.5 sack total he's amassed to date in 2018. In the past three games the Buccaneers have allowed multiple sacks to a defensive lineman — Myles Garrett and Carlos Dunlap put up a pair of sacks against them, and Mario Addison had three last week in the Panthers' win.
DeForest Buckner, San Francisco 49ers (vs. NY Giants)
The 49ers pass had a phenomenal Week 9 performance, racking up eight sacks against the Raiders, their highest total since Week 17 of the 2009 season. Buckner took a bit of a back seat as Cassius Marsh with 2.5 sacks and Dekoda Watson's 1.5 led the way. Buckner did manage a sack and was credited with three total quarterback pressures. The matchup with the Giants this week should lead to a big fantasy outing for Bucker. In the past two games New York has allowed 8.5 sacks as well as 33 total tackles to the defensive line position.
Sit
Ezekiel Ansah, Detroit Lions (@ Chicago Bears)
A shoulder injury had kept Ansah off the field since Week 1 and after being a true game-time decision he returned in Week 9. I would have had Ansah listed as a sit option last week but doubted he would actually play. A quick look at Ansah's stat line may encourage owners to roll him out as he did manage a sack last week. A closer look reveals Ansah only played 12 defensive snaps. In a tough matchup against a Bears offense that has allowed just 10 sacks to defensive linemen through eight games I'm advising a wait and see approach un Week 10 for Ansah.
Jurrell Casey, Tennessee Titans (vs. New England)
This is a combination of a player who is scuffling a bit of late and a negative matchup. In the past two games Casey has a total of three tackles and half a sack. Over his past five games, Casey is putting up numbers that find him ranked outside the top-45 defensive linemen in most balanced scoring formats. The Patriots are among the top offenses in limiting fantasy production to defensive linemen having allowed just six sacks through nine games to the position.
Linebackers
Start
Avery Williamson and Darron Lee, New York Jets (vs. Buffalo)
It's a twofer! After a bit of a slow start that saw Williamson post just seven total tackles in the first two games of the season, he is heating up at just the right time. Last week in the Jets' loss to Miami Williamson put up 12 total tackles along with a sack. Lee is in position to produce double-digit tackle totals for the first time in 2018. The duo faces a Bills offense that has been ultra-generous in handing out fantasy points to linebackers. Both Danny Trevathan and Roquan Smith had double-digit tackles against the Bills last week. In fact, in the past four games five linebackers have reached double-digit tackles against Buffalo.
Leighton Vander Esch, Dallas Cowboys (@ Philadelphia)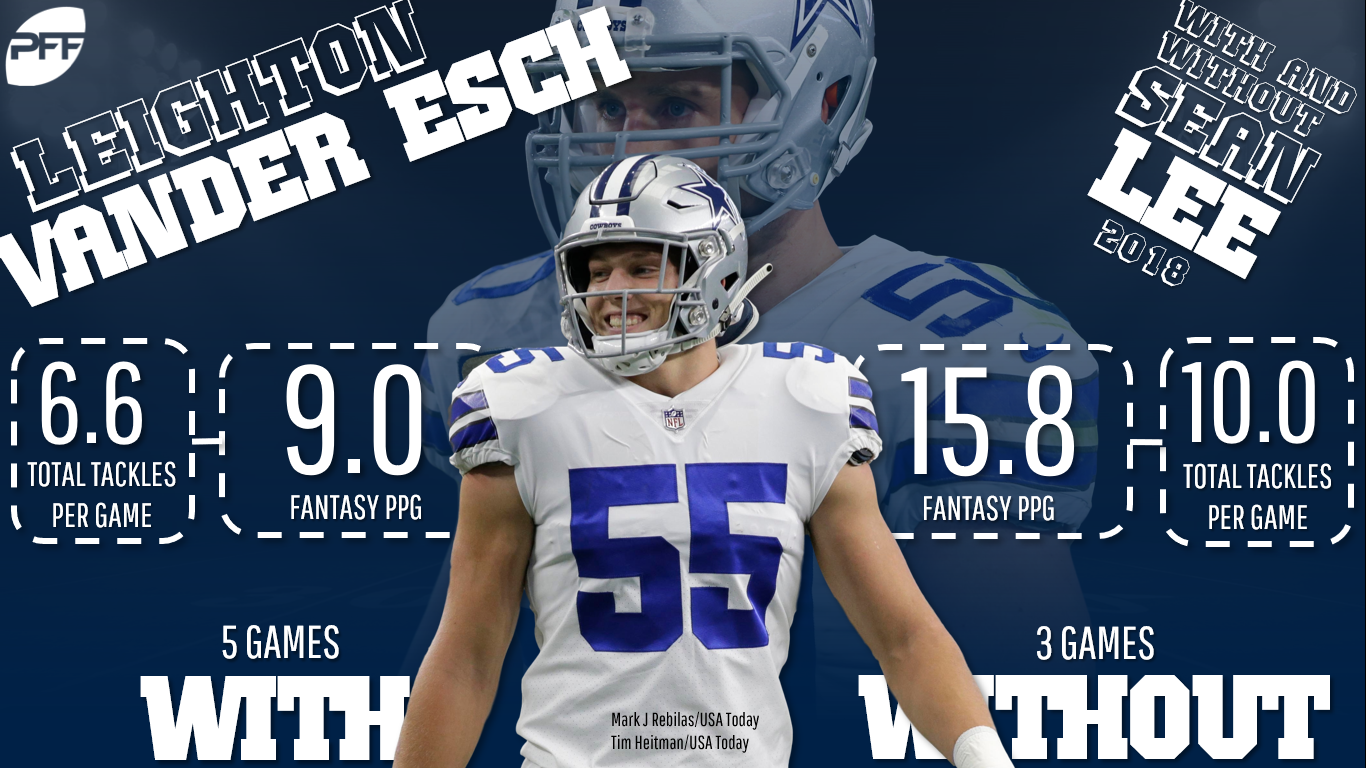 This is the short-and-sweet special of the week. Sean Lee left Week 9 with a hamstring injury, allowing Vander Esch to post a 6/3/9 stat line. With Lee likely to miss multiple games, Vander Esch steps in as the starter and no longer splits snaps with Lee. In the three games Vander Esch started in place of Lee earlier in the season he put up 31 total tackles.
Sit
Julian Stanford, Buffalo Bills (@ NY Jets)
This is for the owners who may not know the whole story regarding Stanford. Stepping in for Tremaine Edmunds (concussion), Stanford had a very nice Week 9 with eight total tackles, a sack, and a forced fumble. Keep in mind that once Edmunds returns then Stanford returns to the bench. There is an outside chance Edmunds misses Week 10 as he's yet to clear the protocol, but there are better options this week than Stanford.
Demario Davis, New Orleans Saints (@ Cincinnati)
The 2018 season has been a disappointment to date for Davis from a fantasy perspective, and this is not the matchup to jump start his production. Over the last four games, Davis has failed to top seven total tackles and has failed to produce a splash play. After a top-10 fantasy finish last season, Davis is currently putting up just LB3 fantasy total in 2018. In their past two games the Bengals are allowing an average of just 15 total tackles per game to linebackers.
Defensive backs
Start
Damontae Kazee, Atlanta Falcons (@ Cleveland)
The glut of injuries Atlanta's defense suffered early in the season forced Kazee into a prominent role in his second season. Kazee has been manning the free safety position admirable and has been putting up solid DB2 numbers. Although a bit undersized, Kazee has shown a willingness to help in run support and has 37 solo and 44 total tackles. However, it's splash-play production that has stood out as Kazee has posted four interceptions this season, including one last week in the Falcons' victory over Washington. This week Kazee faces a Browns offense that has allowed five interceptions and a fumble recovery to defensive backs in the last five games.
D.J. Swearinger, Washington Redskins (@ Tampa Bay)
Despite a surprising goose egg last week, Swearinger is a great start this week against a Tampa Bay offense that has been among the most generous in allowing fantasy points to defensive backs. Over the last four games the Buccaneers have been the top offense for defensive backs to face allowing an average of 28 tackles per game with six interceptions and a forced fumble. Swearinger lined up in the box or on the defensive line 29 times last week so the tackle opportunities will be there and Swearinger has also put up seven splash plays on the season.
Sits
Derwin James and Jahleel Addae, Los Angeles Chargers (@ Oakland)
I've fluctuated on nearly a weekly basis regarding Addae and James due to some positional changes, but I feel very confident both can be benched in Week 10. With their struggling offense, the Raiders have been a black hole in allowing points to defensive backs. In the Week 5 meeting between the teams Addae and James had a combined nine total tackles and no big plays.
Kurt Coleman, Vonn Bell, and Marcus Williams, New Orleans Saints (@ Cincinnati)
It's a threefer! The combination of a brutal matchup and an underperforming unit from a fantasy standpoint lands this trio a sit designation. On the season Bell, Coleman and Williams have combined for just 89 total tackles and an interception. To put those totals in a bit of perspective Budda Baker and Antoine Bethea have combined for 137 total tackles for Arizona. Throw in the fact that the Bengals have allowed just 95 tackles and no splash plays to defensive backs over the last four games.