Welcome to the Divisional Round edition of Snaps, Pace, & Stats, where we examine trends in snap totals and no-huddle usage. It is meant to be a 30,000-foot view of upcoming games, with the goal of identifying which matchups will – and which will not – be played on fertile fantasy football soil.
Whereas last week was a relative pillow fight from a scoring perspective, we have more to sink our fantasy teeth into this time around. The overall snaps pace should pick up as well, although there are still a few teams itching to slow things down if gamescript allows. At least we can be reasonably certain that play-callers will make better use of their best assets, despite the Cowboys hoping for a repeat of last week.

Similar to the Wild Card Round, when the first game on the slate was projected for the fastest pace, the weekend kicks off with its highest-octane matchup. It is no coincidence the Colts are involved both times, as their contests averaged the fifth-most combined snaps this season. While last week's game with the Texans was a relative dud compared to their previous two meetings this season, there were still seeds of a high play-volume affair. Both the Colts (67) and Texans (68) ran a handful more than the league-average number of plays (62.9), and if Deshaun Watson hadn't turned in one of the worst passing performances of his career, Indianapolis wouldn't have been grinding clock by the second half kickoff.
The Colts are on to Kansas City now, and Arrowhead represents a more daunting situation. Indianapolis has toyed with a run-based ball-control offense at times – mostly around midseason – but when challenged, they've consistently fallen back on Andrew Luck's right arm. The Colts ranked second in situation-neutral pass rate (65%) and almost certainly will not be in a commanding gamescript long enough to take full advantage of the Chiefs' second-worst-graded run defense. That is the most likely scenario, although contrarian paths are worth exploring on short DFS slates, and Marlon Mack is salivating at one of the weekend's juiciest matchups.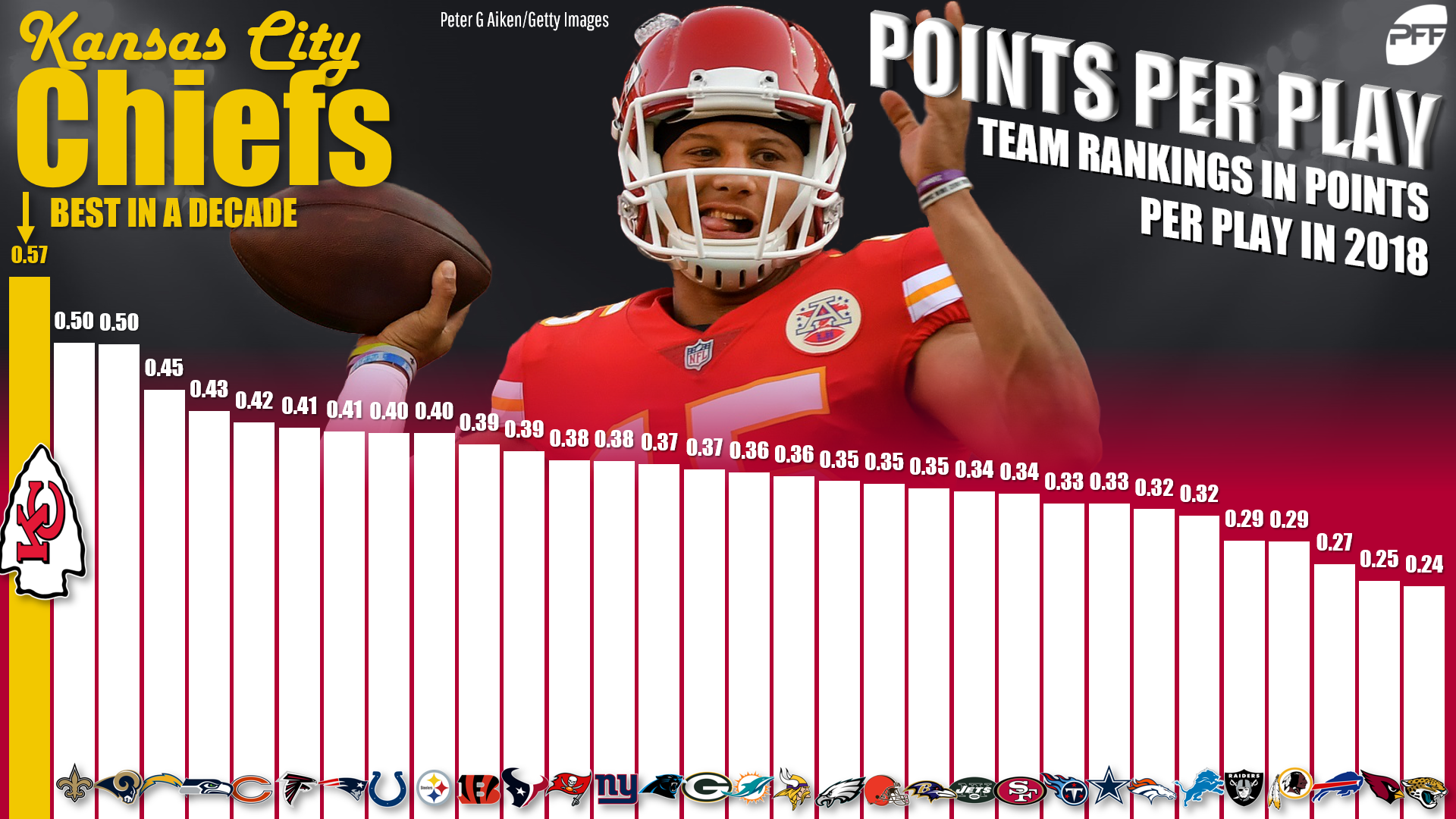 The Chiefs haven't run very many plays, but it doesn't take a mustachioed Kool-Aid Man to figure out it's because they've been incredibly efficient. Their 0.567 points per play were the most this decade and easily lapped the field in 2018. The Saints were second at 0.499, the Rams led last year at 0.478, and the Falcons were tops in 2016 with a 0.542 rate. Kansas City's games, however, were adequately voluminous – especially during the last month (131.3 combined snaps, third most). While the Colts defense performed admirably during the second half of the season and in the Wild Card round, their schedule included each AFC South creampuff twice, the floundering Dolphins and impotent Giants. Dismantling the Cowboys was impressive, but they didn't face an offense in the same galaxy as the Chiefs.
Kansas City finished fourth in situation-neutral pass rate (64%), and it was even higher during the season's final month (67%, second-highest). The Colts faced the eighth-lowest pass rate while games were within one score (55%), but it had much to do with opponent profile – they faced a slew of incompetent passers – and a desire to keep Luck on the sideline. Indianapolis did not grade particularly well in pass rush (23rd) or coverage (18th), but their 10th-highest-graded run defense allowed the sixth-fewest rushing yards per attempt (3.9).
Whatever the Colts are good at defensively, the Chiefs are not going to appreciably change their offensive profile – that includes utilizing the relatively under-the-fantasy-radar Damien Williams against a stiff run defense. This is positive news for both point production and play volume, as Indianapolis has proven they can be pulled into up-tempo affairs.
A blind man can see this is a game to attack in fantasy, but if he viewed all Divisional Round matchups through a play-volume prism, he'd double down on that outlook. Drink deeply from this fantasy well, despite it coming first, as we will find the other three far shallower.

Judging from Saturday night's game against the Seahawks, the Cowboys appear back to their clock-killing ways. Seattle ran only 52 plays and held the ball for a fleeting 25 minutes and 10 seconds. It was their second-fewest snaps of the season and lowest time of possession since Week 1. Of course, Seahawks coaches bore as much blame as Dallas deserves credit. Handing off on 52% of plays while the game was within one score – second-highest rate of the weekend – is malpractice when you have an excellent quarterback playing well and your running backs are stumbling to 2.8 yards per carry. Unfortunately for the Cowboys – but fortunately for the contest's play volume – they face Rams this week instead of donkeys.
Dallas was less run-heavy when games were close in 2018 than in the recent past. They ranked 16th in situation-neutral pass rate this season (57%), and it was even higher during the final month (62%, ninth highest). They even ranked fifth in no-huddle rate over the final four weeks (11.6%) and used it on 11.8% of snaps Saturday night. Much of the credit for the metamorphosis goes to the midseason acquisition of Amari Cooper, whose arrival coincided with a jump in Cowboys' snaps (6.2 per game) and pass rate (up from 54%).
Next Saturday night, however, we might see Dak Prescott take a back seat – at least for as long as the gamescript allows. The Rams rank sixth in coverage grade, and their pass-rush grades second best. Dallas' run-blocking grades 10th best and has outperformed their pass protection this season (19th best).
This game, and its pace, will in large part depend on the success of Ezekiel Elliott (#analysis). The Cowboys' workhorse seemed to barely break a sweat against Seattle, despite touching the ball 30 times for 169 yards – including four early catches. Los Angeles allowed only 29.8 receiving yards per game to running backs this season (fourth-lowest), but they are still a soft target for Elliott. Their 17th-highest-graded run defense allowed the league's most yards per carry (5.1). Since a midseason stretch of the Packers, Saints, Seahawks, and Chiefs running on them at will, the vaunted rushing offenses of the Lions, Bears, Eagles, Cardinals, and 49ers saw their backs pile up 561 yards and four touchdowns on 117 carries (4.8-yard average). If Prescott can keep the Rams defense even a little bit honest, Elliott will shred – and the clock will grind.
There is hope, however, for more play volume here than we saw last Saturday night in Dallas. The Rams ran the fourth-most plays per game this season (66.3) and finished top-three in seconds-per-snap rate. As the season progressed and Los Angeles found themselves in more competitive games, their snaps pace quickened. It coincided with a rise in their pass rate during one-score games. While the Rams finished the season 12th in situation-neutral pass rate (58%), they threw 61% of the time during the final month (10th-highest). Of course, Todd Gurley was injured for much of that time, and all indications are he is once again healthy.
The Rams won't bang their heads against the wall if they can't crack the Cowboys run defense, as the Seahawks so foolishly did. They are play-action maestros – an area in which the Dallas defense struggles. Only five teams allowed more running back receptions than the Cowboys, and while their fifth-graded pass coverage is solid overall – especially on the perimeter – Rams receivers' speed and quickness can give the Cowboys trouble. Los Angeles has a decided advantage in the slot, where Robert Woods runs more than half of his routes and 73rd-graded coverage cornerback Anthony Brown will struggle to keep up.
The two main questions facing Rams fantasy investors are just how many plays they'll be able to run with the Cowboys likely finding success on the ground, and can they be efficient enough with limited snaps to pay off handsomely on the score sheet. While it is hard to doubt the Rams' efficiency – especially in home games — it's even harder to picture them stopping Elliott often enough to run very many plays. Wandering too far away from Los Angeles' main fantasy weapons invites a suspect ceiling and cavernous floor, unsupported by snap volume.

The Chargers will re-cross the country and head to Foxborough coming off of an odd playoff victory. It wasn't unusual only because they won a playoff game or because their kicker made five field goals. The Chargers held a Ravens team averaging 35 minutes and 47 seconds in time of possession since Week 11 – when Lamar Jackson became starting quarterback – to a meager 26 minutes and 20 seconds. Baltimore produced their fewest points (17) and plays (59) since Jackson took over. Los Angeles played the Ravens' projected role, while running more plays and holding the ball longer than their own seasonal averages.
The Chargers operating at a deliberate pace is not new, however. Their 30.6 seconds-per-snap rate was slower than every team but the Cowboys this weekend (30.7), and Los Angeles operated at the league's slowest pace during the regular season. No one went to the no-huddle less frequently (1.4%). They produced the fifth-fewest plays per game (59.1) and allowed the 10th-fewest (61.3). Their games have not been voluminous all season, ranking second-to-last in average combined snaps.
Patriots' games averaged the fourth-most combined plays this season. Since their Week 11 bye, however, New England has allowed the third-fewest snaps per game (56.8). Before then, they gave up the sixth most (66.1). The Patriots operated at the third-quickest seconds-per-snap pace through 11 weeks (26.8) but slowed to the 21st-quickest since (29.6). Maybe their offense hadn't gelled enough to operate with more tempo or they were simply taking it easy on Tom Brady's old bones. Whatever the reason, we can't assume New England will drive the pace on Sunday.
The Patriots had a more even run/pass ratio than in the past, ranking only 13th in pass rate during neutral situations this season (58%). While the Chargers stood up to the Ravens on the ground, Jackson didn't exactly present the same passing threat Brady will. Attacking Los Angeles' 23rd-highest-graded run defense remains the path of least resistance, especially when they can't focus all their attention on the line of scrimmage.
The Chargers, too, face a run funnel defense – at least from a structural standpoint. The Patriots grade second-best in pass coverage and 11th in run defense. Of course, opponents have chosen to throw against New England at the second-highest rate during one-score games (62%). That settled down during the season's final month, with the Patriots facing the 19th-highest rate – albeit with three AFC East opponents on their schedule.
With Philip Rivers struggling over the last month and Brady showing signs of decline, there's a strong chance the game gets off to a slow start from a pace and scoring perspective — with both teams opting to hand off more frequently than expected. This is obviously not great news when it comes to placing fantasy bets on pass catchers, as both offenses have a deep stable to pinpoint – something Hunter Henry's return further muddies on the Chargers side. Beyond a backfield stab or two, treading lightly may be the best course of action here – at least from an opportunity and game pace angle – even if long-range forecasts for snow don't come to fruition.

Whenever a game will be played in the Superdome – especially when it's the final game on a slate – it will be a major fantasy target. Nobody wants to be the sucker clinging to a thin lead and sweating fireworks in the Coors Field of the NFL. Yet, these last two seasons have given us pause, if not enough comfort to fully fade Saints home games. From a pace and play volume standpoint, however, we have reason to be skeptical of a matchup in New Orleans living up to its rich history of widespread fantasy goodness.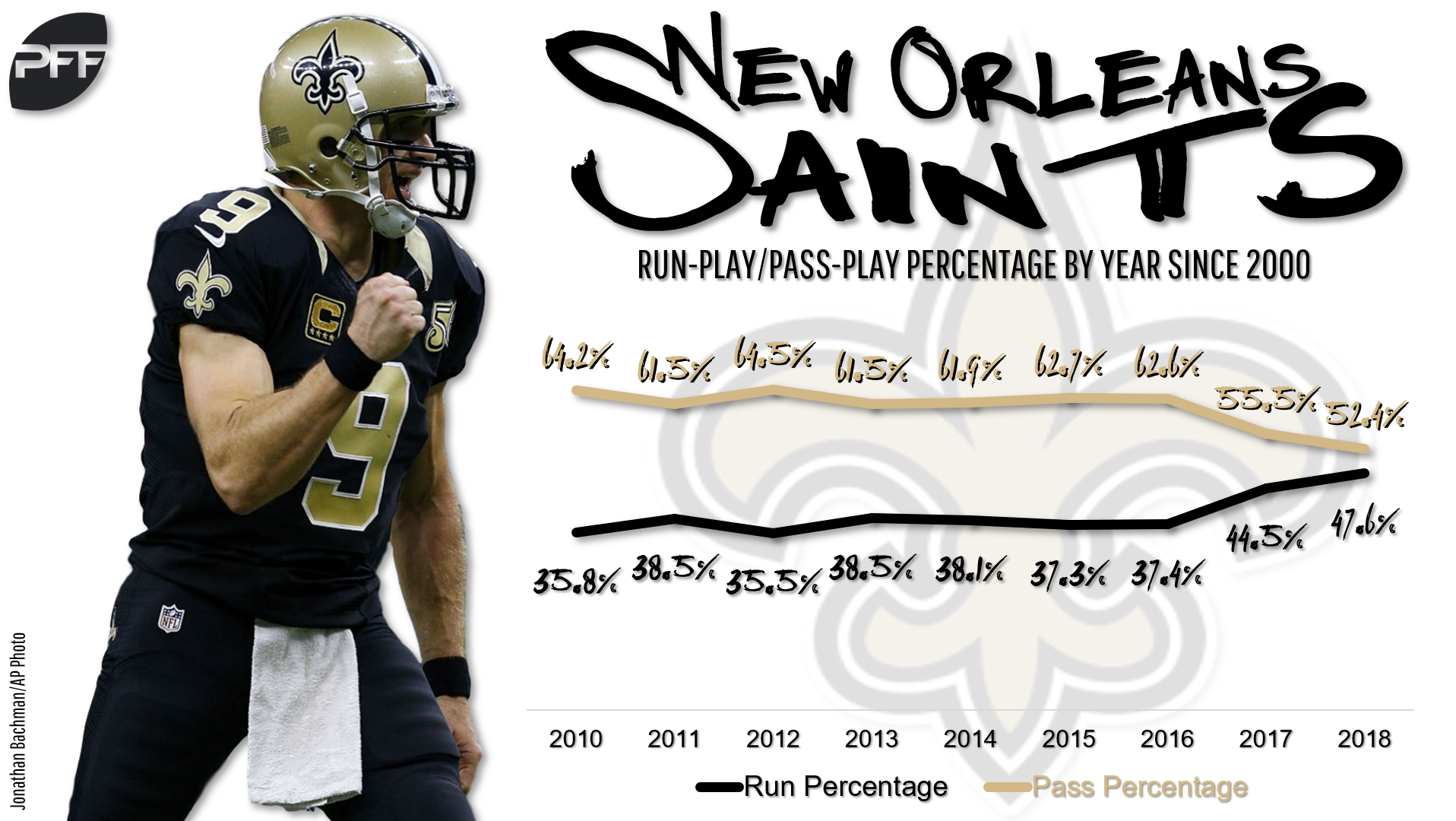 It is no secret the Saints have morphed into a run-heavier offense since their defense rose from the dead last season. Looking at their raw run rate is eye opening, but a better sense of what they've become can be derived from their situation-neutral rate. While not quite as drastic, it's still markedly more ground-based than seasons past.
Last year, the Saints fell to the 12th-most pass-heavy offense when games were within one score (59%) and this year they rank 18th (57%). Last season, their games averaged the eighth-fewest combined plays (125.1) and this year it's even lower (124.3). New Orleans tends to grab a lead, mainly via the right arm of Drew Brees, and then grind the clock to dust. Their opponents averaged the ninth-fewest plays for the season (61.1).
The Saints operated at the fourth-slowest seconds-per-snap pace, but just as they threw more often when games were close, they played more quickly as well. Ranking only one spot ahead of New Orleans on the seconds-per-snap list was the Eagles – although Philadelphia moved slowly in all game situations. Their plan also involved ball-control. They ranked eighth in plays per game (64.8) and second in average time of possession (32:39) – two spots ahead of the Saints (31:53).
These teams already met in New Orleans this season, with the Saints marching in, around, and through Philadelphia to the tune of 48-7, with a 69-48 landslide in plays run, and an enormous time of possession advantage (37:34 to 22:26). Of course, the Eagles were led by Carson Wentz then (19-of-32 for 156 yards and three interceptions) and are fronted by a folk hero now. Nick Foles' performance will carry outsized weight in dictating the game's outcome, considering the Saints' run-defense grade measures third stiffest.
While the Eagles waged an entertaining battle with the Bears last week – much more so late in the game than early on – it wasn't exactly an opportunity-filled affair. From a play-volume standpoint, it was almost exactly league-average, and neither offense pushed the pace. We should expect something similar here, even if Drew Brees is infinitely better suited to take advantage of Philadelphia's perimeter coverage deficiencies than Mitchell Trubisky.
While this Saints matchup advantage is also an area to target for fantasy — as is the Eagles passing game – the surest thing looks like New Orleans' rushing attack against a Philadelphia front that allowed 716 yards on 133 carries (5.4-yard average) from Week 10 through Week 15. Since then, opponents have either been disinterested in or unequipped to run the ball. The Saints will remain quite interested, mitigating the potential dampening effect of questionable play volume and making Mark Ingram fantasy viable along with Alvin Kamara and Michael Thomas. Ancillary weapons with splash play ability, like Ted Ginn, are preferable to volume-dependent producers when throwing selective fantasy darts.