The exact definition of a fantasy football sleeper or bust is difficult to pin down, especially in Week 1. For my purposes, I keep it simple: Sleepers are players who I expect to outperform their norm or their expectation, even by a little, and busts are players I expect to fall short. Sometimes, this means a guy is in store for a monster week; sometimes it means a little-used player needs to crack lineups.
Either way, each week in this space I'll use PFF advanced stats to try to identify a handful of the week's key sleepers and busts for fantasy.
Week 2 fantasy football sleepers
Jameis Winston, QB, Tampa Bay Buccaneers: I was burned hard by Winston in Week 1, with him putting up the worst overall PFF grade of any qualified quarterback. In his very slight defense, he lost two touchdown passes to Cameron Brate on penalties, which would have helped his overall day. But inconsistency is definitely a part of Winston's game — he never had back-to-back games with grades within even 7 points of one another last year. I'm no longer betting on him as a top-tier quarterback, but he'll have a strong rebound.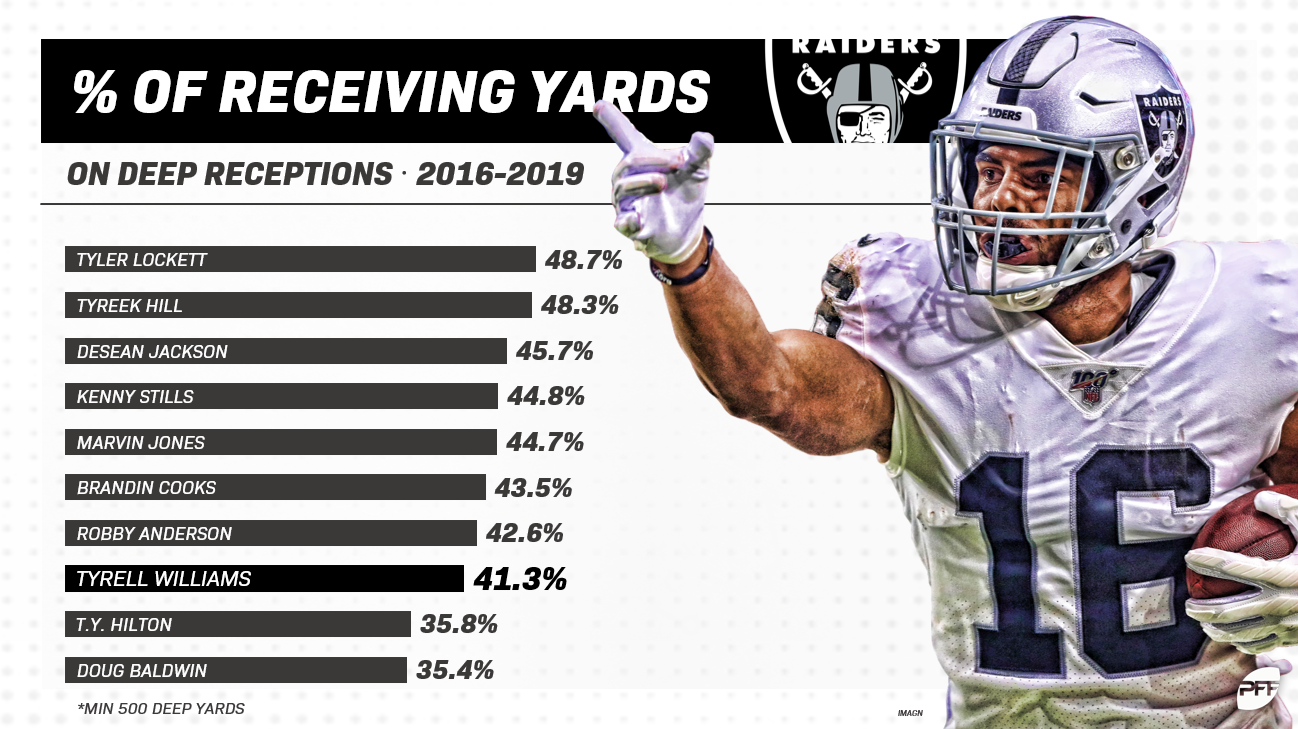 Derek Carr, QB, Oakland Raiders: The Chiefs helped Gardner Minshew to the No. 8 passing grade in Week 1; Carr was the top-graded overall receiver. D.J. Chark burned the Chiefs for a league-leading 139 yards on deep receptions in Week 1; of 18 receivers with at least 800 deep yards since the start of 2016, Tyrell Williams is fourth in percentage of total yards on deep receptions. It's all set up for a Carr-Williams connection to feast in Week 2.
Sony Michel, RB, New England Patriots: You saw what the Ravens did to the Dolphins last week, right? Mark Ingram ran for 107 yards at a cool 7.6 yards-per-attempt average as Baltimore rolled. Is there anyone who thinks the Patriots won't do something similar? Only Michel's relative lack of contribution to the passing game holds him down here.
Giovani Bernard, RB, Cincinnati Bengals: This is obviously contingent on Joe Mixon missing or being very limited in Week 2, but Bernard has played at least 85% of the Bengals' offensive snaps in games Mixon has missed in his career so far. He was RB6 in the two games Mixon missed a year ago. Against a San Francisco team that let Ronald Jones look like a strong runner last year, Bernard should have a strong day.
Matt Breida, RB, San Francisco 49ers: Speaking of running backs in the San Francisco-Cincinnati game, Breida inherits Tevin Coleman's role as the 49ers' RB1, and while Raheem Mostert will get his share of carries as well, it should be a productive role against a defense that just allowed Chris Carson to put up the fourth-most RB PPR points in Week 1.
Darren Sproles, RB, Philadelphia Eagles: Dalvin Cook did almost all of his damage against the Falcons in Week 1 on the ground, but then the Vikings only attempted 10 passes, so he didn't really have much choice. The Falcons are famous (or infamous) for letting running backs catch passes against them, and Sproles showed in Week 1 that he's still the electric weapon he's been his whole career.
Sammy Watkins, WR, Kansas City Chiefs: Watkins isn't much of a "sleeper" this week after a 46.8-point Week 1 and with Tyreek Hill on the shelf, but this is a signifier that I'm all in on him as long as Hill is out. Watkins managed 135 of his 198 yards Sunday after the catch — only six players had as many yards total as Watkins had after the catch alone. Only Albert Wilson in Week 6 and George Kittle in Week 14 (both at 138) had more yards after the catch in a game than Watkins since the start of 2018.
Curtis Samuel, WR, Carolina Panthers: After all the preseason buzz, Samuel's Week 1 — 32 yards on 3 receptions (4 targets) — was a big letdown. But those who invested in Samuel should at least hold off until he's not running against Aqib Talib and Marcus Peters. The Rams defense is stout (see more on that below). The Buccaneers defense is less so. Give Samuel another shot.
John Brown, WR, Buffalo Bills: The Cowboys pass-catchers destroyed the Giants in Week 1, with the wide receivers combining for 18 receptions for 341 and 2 scores, and the tight ends adding another 6 for 54 and 2. Brown had a monster day himself, hauling in 7-of-9 targets for 123 yards. He'll have his bad games, so there's a lot of boom-and-bust here, but Week 2 looks like another boom opportunity.
Jamison Crowder, WR, New York Jets: Quincy Enunwa is done for the year, so the Jets' receivers are Robby Anderson (who will draw hard, likely shadow coverage against Denzel Ward), Demaryius Thomas (who has been on the team for a day), and Crowder, who led the league in targets in Week 1. They aren't very valuable targets — Crowder's Week 1 average depth of target of 2.1 targets was easily the lowest in the league among receivers with more than three targets — but it makes for high catch probability, and that makes for huge PPR value, even if his yardage doesn't have a huge ceiling.
Willie Snead, WR, Baltimore Ravens: Marquise Brown and Miles Boykin got the publicity in Week 1, but those two played 14 and 18 offensive snaps, respectively, and if that number doesn't rise, their fantasy ceilings will be lose. Snead, meanwhile, played 49. He was the only relevant name from last year the team kept around in its offensive overhaul this offseason, and there's a reason for that. He's a deep sleeper, but Snead could feast against a banged-up Arizona defense.
Evan Engram, TE, New York Giants: The aforementioned Crowder was the only player around the league who had more targets than Engram's 14 in Week 1. There's not much reason to expect that workload to change, especially against a Bills defense that, in Tre'Davious White and Levi Wallace, should be able to hold Sterling Shepard in check. And a tight end getting a target load anything like that is an easy top-three option at the position.
Trey Burton, TE, Chicago Bears: Darren Waller had 6 targets in Week 1 against the Broncos defense as part of an offense that isn't very powerful overall, has a questionable quarterback, and lacks depth behind one decent receiver. Assuming he's healthy for Week 2, Burton will face the Broncos defense as part of an offense that isn't very powerful overall, has a questionable quarterback, and lacks depth behind one decent receiver.
Cameron Brate, TE, Tampa Bay Buccaneers: Brate entered the year after 10.0 PPR points per game in games Winston started. He only had 2 receptions for 8 yards in Week 1, but that ignores that he had two different touchdown catches called back to penalty. O.J. Howard is still the Bucs tight end you want, but the Winston-Brate connection means he's always a weekly sleeper.
Week 2 fantasy football busts
Drew Brees, QB, New Orleans Saints: Aqib Talib's Rams career now features 12 games played, 8 games missed. In the eight games he missed, the Rams allowed 26.37 fantasy points per game to opposing quarterbacks. In the 12 games he has played, counting Week 1 against Cam Newton, the Rams have allowed 13.17 fantasy points per game to opposing quarterbacks. Add to that Brees' documented road struggles, and I'd be considering benching him in just about any league this week.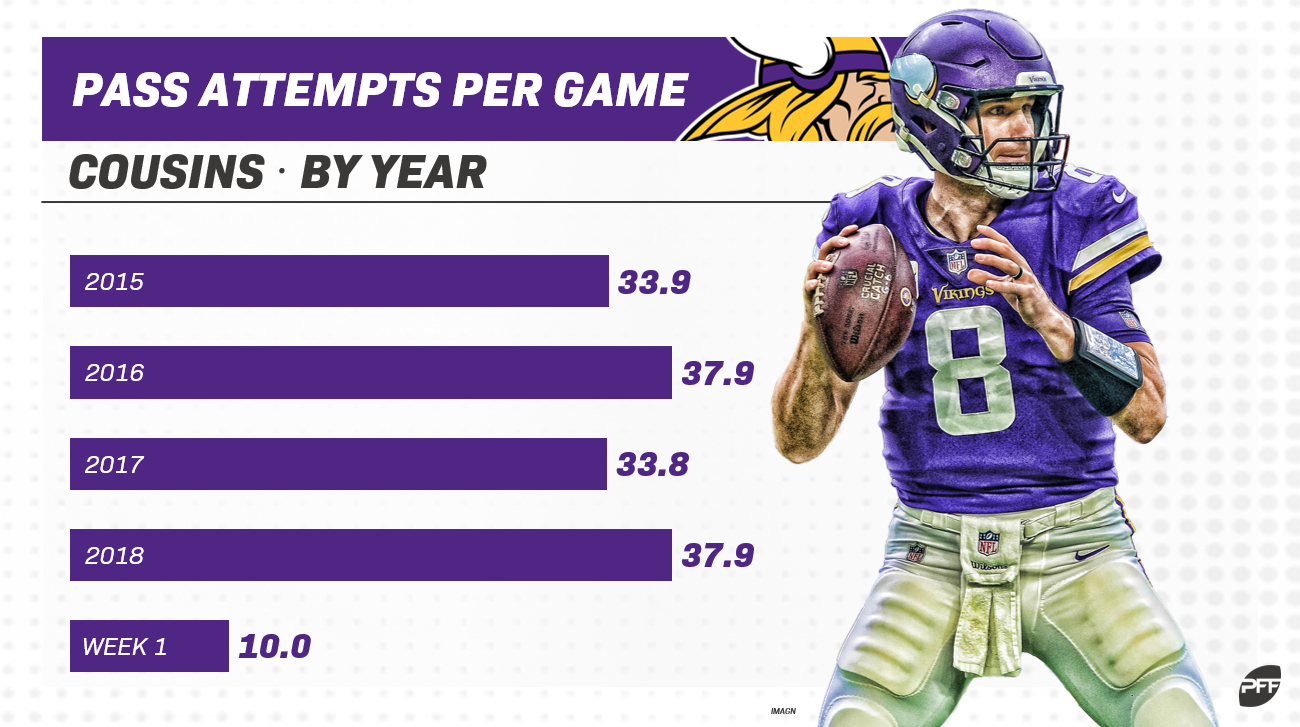 Kirk Cousins, QB, Minnesota Vikings: The Vikings aren't going to pass the ball only 10 times every week. They jumped out to a big lead quickly Sunday and never had any kind of a sweat. How many pass attempts, though, would it take for Cousins to be fantasy-viable? From 2015 to 2018, he averaged 33.9, 37.9, 33.8, and 37.9 pass attempts per game. This team wants to be run-heavy. Will more competitive games lead to him throwing three times as much? Even that would be below his trends. Cousins is plummeting down the rankings.
James Conner, RB, Pittsburgh Steelers: The Seahawks just let Andy Dalton pass for a career-high 418 yards in Week 1. The Steelers, more than maybe any other team in the league, have something to prove going forward after they were destroyed by the Patriots in Week 1, and the passing game in particular needs to show itself. Conner should be fine for the year, but expect a pass-heavy attack from Pittsburgh in Week 2 that could leave the running back out in the colt.
Nick Chubb, RB, Cleveland Browns: Todd Gurley fantasy drafters are in a mild panic because, despite plenty of touches in Week 1, he got exactly zero touches inside the red zone. Well, Chubb had 20 touches in Week 1 and got zero in the red zone. Of course, the Browns didn't have nearly the red-zone opportunities the Rams did — the team had no runs in the red zone and three targets — but considering the struggles of the offensive line and the usage in Week 1, it's fair to be wary of Chubb going forward until he shows it.
Phillip Lindsay, RB, Denver Broncos: Aaron Jones has been a yards-per-carry monster so far in his career, and then in Week 1, he managed 3.0 yards per carry, tied for 39th out of 54 backs. One of the backs behind him was backfield mate Jamaal Williams, who averaged … 0.0 yards on five carries. The Bears defense is still good, friends. Lindsay draws that defense in Week 2, and considering how much of his work Royce Freeman stole in Week 1, he might struggle to quantity or quality.
Davante Adams, WR, Green Bay Packers: Adams had his worst game since 2017 in Week 1 (which, to be fair, isn't saying much, as he had the highest floor in the league last year). And now he goes into Week 2 with a likely shadow matchup against Xavier Rhodes, who shadowed Julio Jones on 70% of his routes in Week 1 and held him to one catchless target in his coverage. Adams could have two quiet weeks to start the year … after which I will be trying like mad to trade for him in any league I can.
Tyler Lockett, WR, Seattle Seahawks: Entering the fourth quarter Sunday, exactly one Seahawks wide receiver had a target in the game, and that receiver was not Lockett. He ended the game with two targets and one catch, and only the fact that that catch resulted in a 44-yard touchdown salvaged his day. If Lockett isn't going to catch the ball more often, he's just not going to be that helpful.
Eric Ebron, TE, Indianapolis Colts: If Week 1 is any indication, Ebron did not supplant Jack Doyle based on his performance last year. Doyle out-snapped Ebron 43-25, and while Ebron did out-target Doyle 3-2 and ran 16 routes to Doyle's 13, just not being on the field is going to be problematic. Between Week 17 last year and Week 1 this year, the Titans have now allowed touchdowns to opposing tight ends in back-to-back games … but hadn't allowed a touchdown to the position all year last year before that Week 17.
Kyle Rudolph, TE, Minnesota Vikings: Rudolph played 100% of the Vikings' offensive snaps. Rudolph saw 0% of the Vikings' targets. He's an extra offensive lineman until further notice.