The exact definition of a fantasy football sleeper or bust is difficult to pin down. For my purposes, I keep it simple: Sleepers are players who I expect to outperform their norm or their expectation, even by a little, and busts are players I expect to fall short. Sometimes, this means a guy is in store for a monster week; sometimes it means a little-used player needs to crack lineups.
Either way, each week in this space I'll use PFF advanced stats to try to identify a handful of the week's key sleepers and busts for fantasy.
Week 11 fantasy football sleepers
Tom Brady, QB, New England Patriots: Brady put up 20-plus fantasy points in five of his first six games this season, but hasn't reached that mark in either of his last three. But this week he gets a Philadelphia defense that has been among the five friendliest defenses to opposing fantasy quarterbacks outside of games against Luke Falk (not an NFL quarterback) and Mitchell Trubisky (not much of an NFL quarterback). With an extra week of prep and "integrate Mohamed Sanu" time, expect Brady to get back to his early success.
Kyle Allen, QB, Carolina Panthers: Even after a shockingly successful Week 10 against the Saints, the Falcons have PFF's third-worst PFF pass-coverage grade (43.4) and the worst passer rating against (113.2) in the league. Allen, meanwhile, just had a career-best 307 passing yards in the team's narrow loss to the much-better Packers.
Melvin Gordon, RB, Los Angeles Chargers: Gordon's first month back on the active roster was rough, but he's been back to normal the last two weeks, the No. 4 PPR back over the two weeks and tied for the league lead with 3 rushing scores. Meanwhile, per our fantasy points allowed positional chart, the Chiefs have allowed the most PPR points per game to opposing running backs, including a massive game to Derrick Henry just a week ago.
Josh Jacobs, RB, Oakland Raiders: As our Scott Barrett noted in his Week 11 piece on expected fantasy points, the difference in Jacobs' numbers in Raiders' wins vs. losses has been dramatic — the rookie has averaged 117.0 scrimmage yards and 21.9 PPR points in wins, but 89.5 and 10.2 in losses. That is due in large part to his lack of significant involvement in the team's passing game, a trend that should continue with the Raiders 10-point favorites against the Bengals.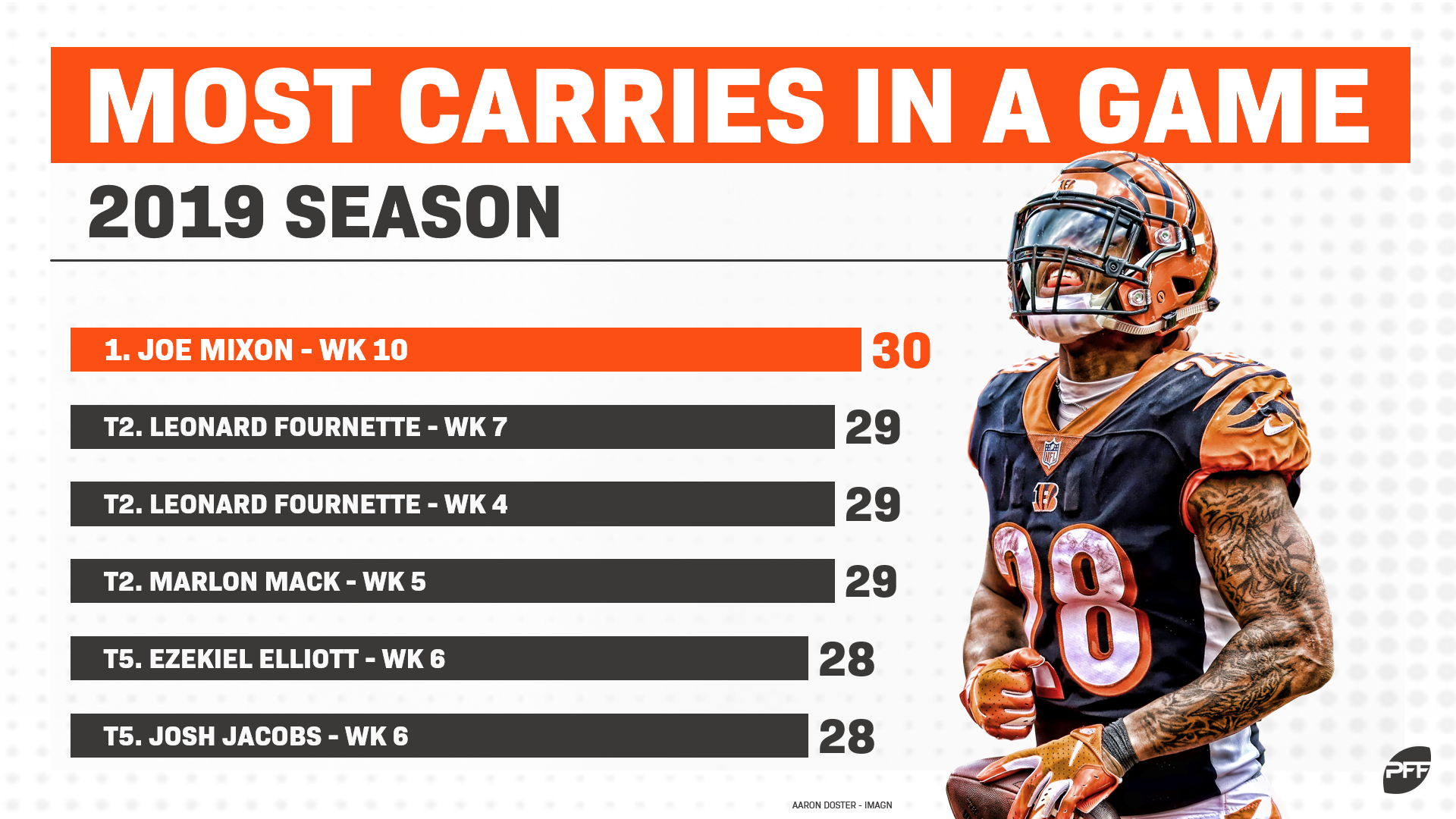 Joe Mixon, RB, Cincinnati Bengals: On the other side of Jacobs in Sunday's game, Mixon gets to take on a Raiders defense that has been picked apart by every backfield it has faced in the last month-plus other than the ravaged Lions group. With Ryan Finley now the starter, the Bengals leaned on Mixon Sunday even in an awful gamescript, making him the first back all season with a 30-carry game. The Bengals are big underdogs in this game, but it can't realistically be worse than last week was.
Jordan Howard, RB, Philadelphia Eagles: Our PFF grades are all color-coded. The bluer the better, the redder the worse. And on the page of team grades, the Patriots are mostly blue and darker green, with two exceptions in the yellowish range: run blocking and run defense. Run defense is the one we care about here. For all New England's strengths, the team has been susceptible to running backs, with Mark Ingram and Nick Chubb running wild on them in recent games. Howard is a sneaky name, given the matchup, but he has a high ceiling. (With Howard on the injury report, if he misses the game, Miles Sanders is an even sleeper-y option.)
Brian Hill, RB, Atlanta Falcons: Devonta Freeman is out this week. Ito Smith is on IR. That leaves some combination of Hill, Kenjon Barner, and Qadree Ollison to man the backfield for the Falcons this week. Those two have a combined 2 carries this year (both for Barner). Hill, meanwhile, filled in for Freeman in Week 10 to the tune of 61 yards. He's basically the default workhorse back this week, making him an interesting fantasy option.
Mike Evans, WR, Tampa Bay Buccaneers: Evans, the No. 2 fantasy receiver on the year, a sleeper? Sort of. Evans famously had his worst game of the season against the Saints in Week 5, with no receptions on a season-low 2 targets (he's had at least 5 in all his other games), seeing shadow coverage from Marshon Lattimore, and that could scare people off Evans. But Lattimore is out this week, and Lattimore being covered by P.J. Williams or Eli Apple is a much less scary proposition.
Terry McLaurin, WR, Washington: The shine has really come off McLaurin of late, going from 18.4 PPR points per game through Week 6 to 6.0 per game since. That is in part, of course, because the Washington offense has gone in the tank overall, averaging 6.0 points per game over McLaurin's three down weeks. And while the offense isn't going to suddenly flip a switch, an extra week to prepare for a Jets defense allowing the third-most points per game to outside receivers is the closest we can get.
Mohamed Sanu, WR, New England Patriots: The party line around these parts (read: me) was to wait for a good game out of Sanu with the Patriots before buying in on him in fantasy. Well, the last time we saw him on the field, Sanu had a 10/81/1 line. And, crucially, he ran 60% of his routes on the outside (with Julian Edelman manning the slot), and the Eagles have given up the most points per game to outside receivers this year, the fewest to the slot.
Deebo Samuel, WR, San Francisco 49ers: Samuel played a massive snap share in Week 1, with Dante Pettis on the outs in the 49ers offense. It fell off in a big way after that, but has slowly climbed since, reaching 84.3% in Week 10 with George Kittle out all game and Emmanuel Sanders out for most of it. Assuming one or both is out again in Week 11 (and that seems likely), Samuel's stock should remain high.
Jared Cook, TE, New Orleans Saints: Season highs Cook set in Week 10, his return from injury (and remember, he did this as the Saints offense was floundering around him): Targets (9), receptions (6), yards (74), first downs (4), yards per route run (1.90). This weekend's game against the Buccaneers has the week's second-highest over/under (51 points), and the Buccaneers have allowed the second-most PPR points per game to opposing tight ends.
Kyle Rudolph, TE, Minnesota Vikings: Adam Thielen got hurt early in Week 7 and has barely played since. Entering that week, Rudolph was averaging 1.7 targets, 1.5 receptions, 12.0 yards, and 2.7 PPR points per game. Since, those numbers have risen to, respectively, 4.8, 3.8, 28.0, and, most importantly, 13.5. He's the No. 4 fantasy tight end in that span. As long as Thielen is hurt and/or out, Rudolph's a TE1.
Busts
Matt Ryan, QB, Atlanta Falcons: Ryan got hurt midway through Week 7. In his first six weeks, he put up at least 300 passing yards every week. Then he had 159 yards in Week 7, missed Week 8, and had 182 last week. He's currently putting up his worst PFF grade (72.4) since his second season in 2009, and this week he faces a Carolina defense that has beaten up on big-name opposing quarterbacks most of the year.
Kyler Murray, QB, Arizona Cardinals: Murray had a big game against the 49ers two weeks ago, a big surprise that broke a streak of four straight games of the 49ers holding opposing quarterbacks to under 4 PPR points. There are two options there: Either Murray has the secret code to beat what has been one of the league's best defenses, or it was one weird week. I'm betting on the latter.
Jared Goff, QB, Los Angeles Rams: Goff threw for more than 2 touchdowns four times in 2018, then six times last year. This year? Zero. His passer rating of 82.7 and PFF grade of 68.9 are both at their lowest since his awful rookie year. His offensive line is in shambles, and he's facing a Bears pass-rush with the sixth-best PFF grade. Bad mix.
Jimmy Garoppolo, QB, San Francisco 49ers: Like Murray above, Garoppolo had a big game two weeks ago that kind of came out of nowhere. On the other hand, he's now played nine games on the season and only cracked 15 fantasy points twice (Week 2 against Cincinnati was the other time). The 49ers are such a run-heavy offense that even a matchup against the friendly Cardinals isn't enough to move the needle.
Alvin Kamara, RB, New Orleans Saints: Kamara's backfield touch share peaked in Week 3 at 89.3%. Since then, it's fallen every week Kamara has been active, down to a season-low 57.1% last week. That will certainly bounce back as he gets healthier, but we aren't going to jump right back to that Week 3 mark, and this week he and the Saints face one of the league's toughest run defenses in the Buccaneers.
David Johnson, RB, Arizona Cardinals: I'm not saying Johnson is done. He's earned more leash than that. I am saying that after a 0-point Week 10 and against an excellent San Francisco defense, you need to find any alternative to him this week possible and revisit after the Cardinals' Week 12 bye.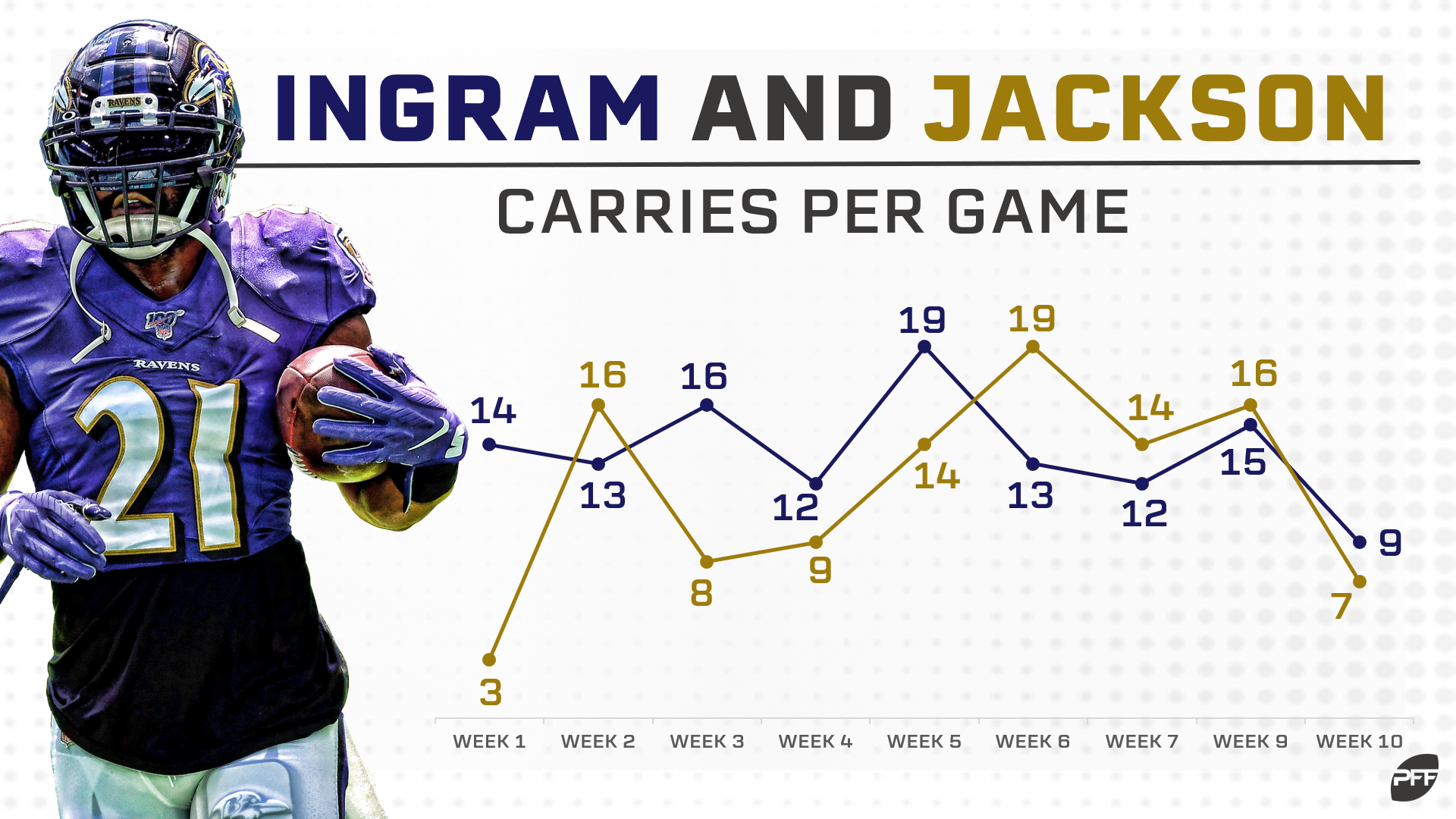 Mark Ingram, RB, Baltimore Ravens: Ingram still hasn't had a 20-carry game this season and only has one game of more than 16 carries. But overall, his work has been trending down (14.8 carries in Weeks 1-5, 12.3 since) while Lamar Jackson's have actually trended up (in the same splits, 12.5 up to 14.0). And with the Texans offering something of a pass-funnel this season (16th-most points per game allowed to running backs but fourth-most to receivers), we can expect the Ravens to pass a bit more than normal this week.
DeAndre Hopkins, WR, Houston Texans: Since joining the Ravens, Marcus Peters has put up a 90.4 PFF coverage grade (best among qualifying corners) and a 27.0 passer rating in coverage (second-best). The Ravens as a team allowed 23.3 points per game before Peters was around, and 16.3 since (despite facing the Seahawks, Patriots, and, yes, Bengals). And per our WR/CB matchup chart, he's likely to largely cover Hopkins Sunday.
Cooper Kupp/Robert Woods, WR, Los Angeles Rams: All those problems for Jared Goff, mentioned above? It's hard to imagine his receivers turning out well for largely the same reasons. Add in the fact that the desperation throw to Kenny Golladay last week was the first touchdown the Bears have allowed to opposing receivers since Week 3, and this is a situation to avoid if possible.
Stefon Diggs, WR, Minnesota Vikings: Only two No. 1 receivers (Tyreek Hill and Odell Beckham Jr.) have even gotten to the modest 10 PPR points against the Broncos since Week 1. Diggs is likely to see shadow coverage from Chris Harris in this game; in four shadow games this year, Allen Robinson, Davante Adams, T.Y. Hilton, and Beckham have combined for 10 receptions for 184 scoreless yards in Harris' coverage.
Zach Ertz, TE, Philadelphia Eagles: "Wait for DeSean Jackson to return," several smart people said about those panicking about Ertz a few weeks ago. Jackson returned for Week 9, Ertz had his best game of the season … and now Jackson is done for the year. Correlation, causation, who knows, but even if that isn't a factor, this is still a game against the stout Patriots defense.
Jason Witten, TE, Dallas Cowboys: Witten scored in each of his first two games this season and hasn't since. He hasn't topped 60 yards in a game all season. He hasn't had any games with a touchdown and more than 30 yards. And Blake Jarwin has improved of late; per Marcus Mosher on Twitter, Witten has run more than twice as many routes as Jarwin so far, but Jarwin has 5 20-yard receptions to Witten's 2.