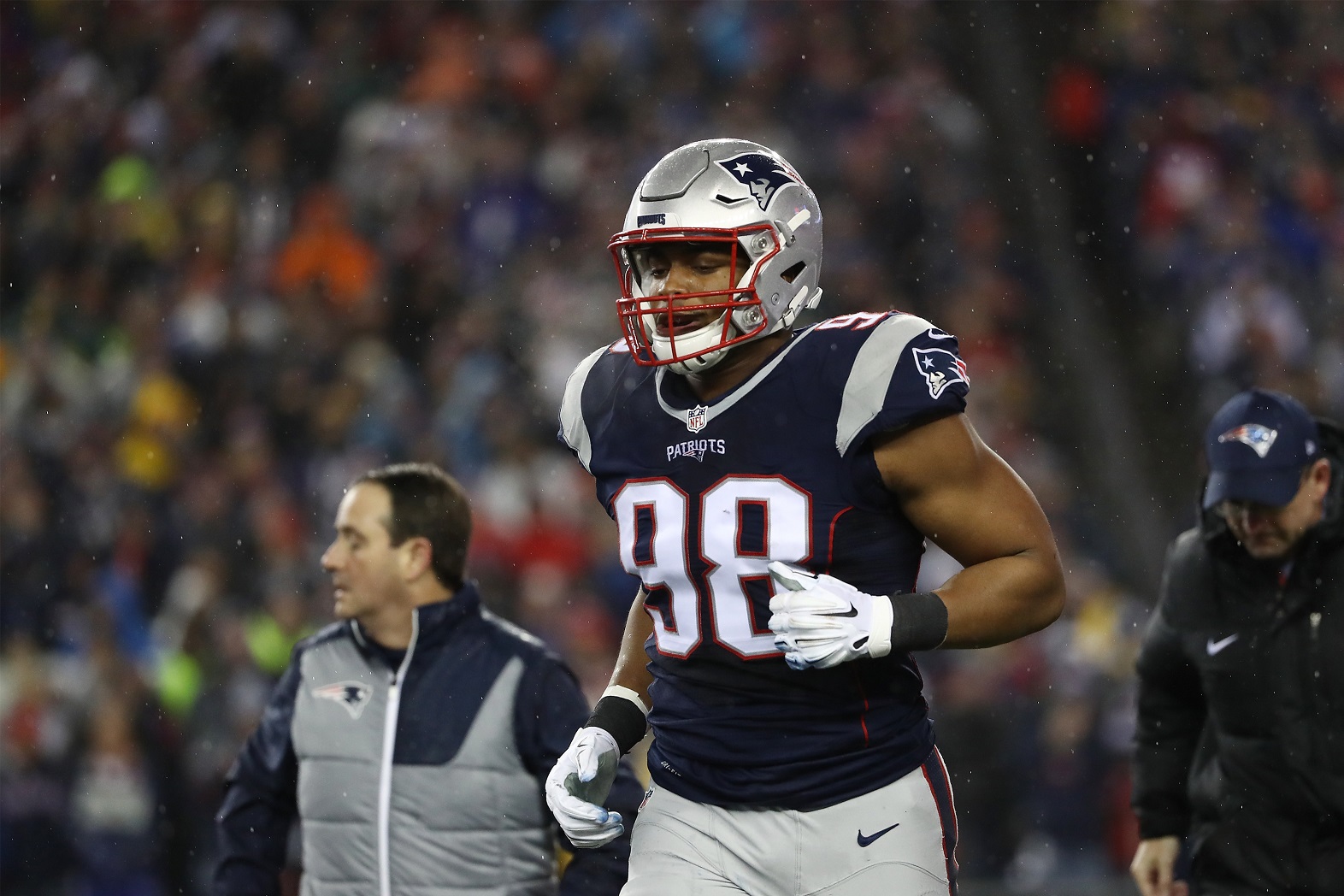 FOXBORO, MA - JANUARY 22: Trey Flowers #98 of the New England Patriots heads to the sideline after being treated by the trainers against the Pittsburgh Steelers during the second quarter in the AFC Championship Game at Gillette Stadium on January 22, 2017 in Foxboro, Massachusetts. (Photo by Elsa/Getty Images)
As we head into Week 2 of the NFL season, the IDP landscape begins to take a bit more shape. Roles on the defense have been defined and injuries are already piling up. The time for speculation is over and the time for evaluation can begin.
Last week, with merely preseason games to examine, we kept the break-down to only seven players. Now that we have a small sample size of game film (does that expression still work? Or am I just old?), it's time to open things up and suggest even more start or sit options.
Defensive Linemen
Start
Trey Flowers, New England Patriots (at New Orleans)
Heading into Week, 1 Flowers figured to be the main man off the edge for the Patriots and that proved to be the case. Flowers was dominant against the Chiefs, playing 68 snaps and posting a pair of sacks along with five total tackles. He was also credited with six quarterback hurries and will be getting after Drew Brees all game long Sunday.
Carlos Dunlap and Geno Atkins, Cincinnati Bengals (vs. Houston)
How do we not start Dunlap and Atkins against a Houston offense that allowed 10 sacks to the Jaguars last week? It's also worth noting that defensive linemen accounted for 8.5 of those sacks. Dunlap did not record a sack last week but did have a quarterback hit along with a hurry and will have much more success against a struggling Texans offensive line. Atkins had a sack as well as seven total tackles. Until offensive tackle Duane Brown ends his holdout, it is a good idea to start defensive linemen against Houston.
Yannick Ngakoue, Jacksonville Jaguars (vs. Tennessee)
I may not know how to pronounce his name but I love the way the youngster Ngakoue flies around the field. He finished his rookie campaign with eight sacks as well as four forced fumbles and picked right up where he left off in Week 1. Ngakoue put up two sacks with a fumble recovery and two forced fumbles against the Texans last week. He will continue to benefit from offenses having to account for Calais Campbell and Dante Fowler with another big game against the Titans.
Sit
Muhammad Wilkerson, New York Jets (at Oakland)
Add Wilkerson's name to the list of fantasy defensive linemen that came up short on the opening weekend. Despite playing 68 snaps, Wilkerson was able to put up just two total tackles and failed to put any pressure on the quarterback. The Raiders were very stingy last week to the Tennessee defensive lineman giving up just two solo and seven total tackles while not allowing a single big play.
Mike Daniels, Green Bay Packers (at Atlanta)
After posting a very nice stat line against the Seahawks last week, Daniels may have IDP owners considering putting the fifth-year DL in their starting lineups. Slow down. The 1.5 sacks that Daniels had last week tied his single game for his career and was the first time he's managed more than a single sack in a game since 2014. You see where I'm going here. Don't chase a single week of big production from a player that's never had more than 5.5 sacks in a season.
Linebackers
Start
Jarrad Davis, Detroit Lions (at NY Giants)
Last week I suggested a "wait and see" approach with Davis and now we've seen. The youngster played 100 percent of the defensive snaps, finishing with nine solo tackles and a fumble recovery. Davis will continue to be an every-down middle linebacker despite a few hiccups in coverage (he had a pass interference penalty in the end zone last week) and will rack up tackles. The Giants should also run the ball more than the paltry 12 times they did in Week 1 against the Cowboys and test Davis with looks to their tight ends in the passing game.
B.J. Goodson, New York Giants (vs. Detroit)
This matchup is going to feature some very nice fantasy production from the linebacker position. After being elevated to a starting position during training camp, Goodson stepped right in and blew up in Week 1. Goodson posted 14 solo and 18 total tackles against the Cowboys and should have another nice game on Monday night. The Lions allowed 15 total tackles and a sack to the linebacker position in Week 1.
Jatavis Brown, Los Angeles Chargers (vs. Miami)
The Dolphins did not play last week due to Hurricane Irma so there was no chance to see how the Buccaneers linebackers fared against them. What we do know is that Jay Ajayi will see a lot of carries and that means a lot of tackles for Brown. Last week against the Broncos, Brown was all over the field accounting for 14 total stops (11 solo tackles) while playing 66 snaps. Brown could flirt with LB1 numbers this week by posting double-digit tackles again.
Sit
Jordan Hicks, Philadelphia Eagles (at Kansas City)
Hicks was barely serviceable last week — mainly helped out by a fumble recovery — and things don't look to improve this week on the road. The Chiefs were not a kind matchup for the Patriots linebackers last week, allowing just 12 total tackles and zero big plays. Both Don't'a Hightower and Kyle Van Noy graded out poorly in run defense, pass rush as well as coverage last week which does lead to fantasy production. Hicks is likely to struggle as well against a suddenly thriving under Alex Smith's Chiefs offense.
Paul Posluszny, Jacksonville Jaguars (vs. Tennessee)
This one will be short and sweet. Poz played just eight snaps in Week 1 and looks to have lost his role to Myles Jack on the defense.
Defensive backs
Start
Jamal Adams, New York Jets (at Oakland)
Adams' Week 1 stat line doesn't jump off the page, with only five total tackles and a pass defended to his credit. If you missed this week's edition of the PFF 'The Nickel' podcast with Ross Miles and me, then the reasons I like Adams this week will show why it's important to look at more than stat lines. Ross pointed out that Adams lined up within eight yards of the line of scrimmage on 90 percent of his run-defense snaps. That usage will help the rookie to post very nice tackle numbers as the Raiders feature a steady dose of Marshawn Lynch.
Tyvon Branch, Arizona Cardinals (at Indianapolis)
Surprisingly Branch played 71 snaps in the season opener compared to only 60 for Antoine Bethea. Branch posted double-digit tackles and registered a pass defended against the Lions in the Cardinals loss. When healthy Branch has always been a solid fantasy option with big play potential. He's posted a total of 22 big plays (sacks, interceptions, forced and recovered fumbles) and scored three touchdowns. Ride the veteran early in the season while he's healthy.
Sit
Jabrill Peppers, Cleveland Browns (at Baltimore)
I still like Peppers to have a productive rookie season, but it remains to be seen just how he will be utilized by defensive coordinator Gregg Williams. Peppers only lined up within eight yards of the line of scrimmage three times last week while playing 60 snaps and was not used as a rusher at all. He still managed four solo tackles but needs to be set up for more big-play opportunities.
Earl Thomas, Seattle Seahawks (vs. San Francisco)
Don't chase the big name or the double-digit tackles that Thomas racked up last week. The last time Thomas posted double-digit tackles was back in 2014 — he's played 36 regular season games over that stretch of time. The 49ers held the duo of Mike Adams and Kurt Coleman to only a combined total of 10 tackles in Week 1. Not a recipe for success for Thomas to have back-to-back big weeks.