Between the NFL draft, the undrafted free agents, and the majority of the veteran free agents signing deals, we mostly know who will be on which team to start the 2019 season, and by extension, we can largely evaluate the fantasy football scenarios of those players. But not entirely.
Adrian Peterson signed with Washington on August 20 of last year and went on to rush for more than 1,000 yards. LeGarrette Blount landed with the Eagles on May 17 of 2017 and topped 800 scrimmage yards. Anquan Boldin ended up with the Lions on July 28 of 2016 and scored 8 touchdowns. In all three cases, the players were unemployed through free agency and the draft, only to find a team later in the offseason and at least flirt with fantasy relevance that season.
That's not to say there will be a lot of fantasy value to be found this time of year. In last year's edition of this piece, Peterson was the only player who went on to have a fantasy-relevant season, and only he, Marcedes Lewis, Antonio Gates, and Brandon Marshall played at all in the 2018 season. This time of year, guys who are unemployed are largely unemployed for a reason.
But it's not universal. There still can be fantasy value to be found. Here's a look at some names who, if they find a gig for the 2019 season, could offer up some fantasy value.
Quarterback
Colin Kaepernick
If Kaepernick ever plays in the NFL again, it'll be a pretty big surprise. But if you're looking for fantasy value among the available quarterbacks, there just isn't much out there. Among guys who played in 2018, the most notable free agents are Brock Osweiler, Josh McCown, and Josh Johnson. So … in short, if a quarterback is available in late April, he's not likely to do much that year. Kaepernick's career is probably over, but if he ever plays again, he carries a high fantasy floor with him.
Running back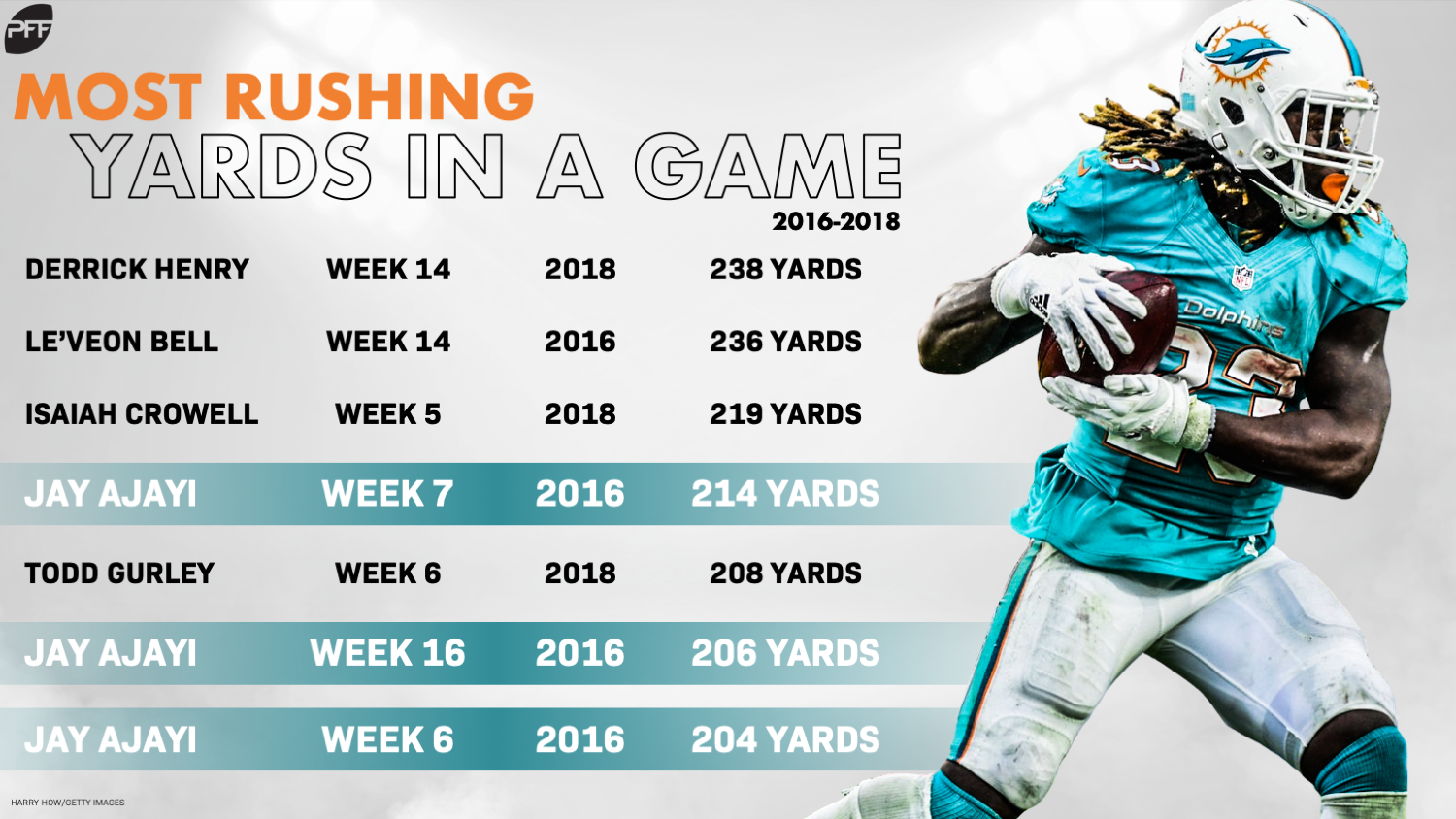 Ajayi didn't get off to much of a start in 2018. He missed Week 3, then tore his ACL in Week 5 and missed the rest of the year. Still, across the four games he did play, he put up 43.4 PPR points, a total that would have landed him as the RB24 across 16 games (between Lamar Miller and Aaron Jones) despite only 204 scrimmage yards in his four games. He finished as RB35 in 2017 split between Miami and Philadelphia. But in 2016, he ran for 1,273 yards and finished as the RB11. That total was colored by a trio of 200-yard games, but it was a bona fide productive year.
The only real rumors for Ajayi this offseason have linked him to a Colts team that already has Marlon Mack and Nyheim Hines on the roster, so if Ajayi lands there, it could be in a frustrating committee. But just like Peterson a year ago, Ajayi fits the mold of a player who could find a gig after an injury somewhere, and if he can enter the season as a starter (and show he's recovered from the ACL injury), Ajayi has low-end RB2 potential.
Ware unexpectedly grabbed the Chiefs starting job three seasons ago and had a big year. Then he got hurt in the preseason of 2017, lost his job to Kareem Hunt, and was never really fantasy-relevant again. Entering free agency this offseason, our Scott Spratt pegged Ware as a back with three-down potential, a possible arbitrage play away from the bigger-name Le'Veon Bell and Tevin Coleman types. Ware has been linked with several teams this offseason, but hasn't landed anywhere yet. He seems like the type to end up as a handcuff somewhere.
Through Week 3 of last year, Allen was tied for RB11. He only had 132 scrimmage yards but did have four touchdowns, tied for second among all running backs behind only Todd Gurley. He only scored one more touchdown the rest of the season as he and Alex Collins lost work to Gus Edwards, Kenneth Dixon, and Ty Montgomery, but Allen is also the guy who finished the 2017 season as RB24. If a team needs a third-down/receiving back, he's probably the best available.
Other available free agents: Chris Ivory, LeGarrette Blount, Jacquizz Rodgers
Wide receiver
Michael Crabtree
There has been no buzz around Crabtree since the Ravens released him in late February (literally, the release is the last bit of news on his Rotoworld page). Still, Crabtree might not be finished. Crabtree outscored Amari Cooper all three years they were teammates in Oakland (2015-2017) and was 14th among all wide receivers in that time with 642.3 PPR points. Even in his ill-fated Ravens tenure, Crabtree was a respectable 31st among receivers in scoring through Week 9, when Joe Flacco was starting, only to fall to 88th after Lamar Jackson took over. If Crabtree finds a job somewhere for 2019, the 31-year-old will have some potential.
Garcon was a popular quasi-sleeper entering 2018, with Jimmy Garoppolo at quarterback and Kyle Shanahan as his head coach. Instead, Garoppolo got hurt, and then Garcon did too. He has played 16 injury-plagued games over the last two years and totaled only 786 yards and one touchdown. At 32 years old (33 in August), Garcon might just be done, especially as his PFF grade has dropped from 85.5 in 2016 (10th among qualified receivers) to 77.6 in 2017 (19th) to 64.3 last year (76th). But if he can find a job, he'll have appeal in the same sense that Boldin did in 2016.
I don't know if there is a way to check how added a fantasy player was over a certain stretch in a given year (I probably should know that), but I would wager few players saw a bigger spike in ownership than Bryant during the few days between when he signed with the Saints last year and when he tore his Achilles in practice before playing even one game. And while it's true that Bryant has fallen off since his Tony Romo days (he averaged more than 1,300 yards and 13.7 touchdowns a year 2012-2014, then under 700 yards and 5.7 in 2015-2017 without Romo), he did have 838 yards and 6 scores in his last year in Dallas, finishing as WR23. There's enough appeal to Bryant as a red-zone option that he could be a punt DFS play if he finds a gig.
Other available free agents: Dontrelle Inman, Terrance Williams, Jermaine Kearse, Kelvin Benjamin
Tight end
Originally, Watson was calling it a career after a disappointing 2018 in New Orleans. But earlier this month, ESPN's Adam Schefter reported Watson was reconsidering that decision and might seek to return in 2019. Watson's ceiling is extremely low (he had only 400 yards and finished as TE21 in 2018), but he is a reliable face in an offense if someone wants to bring the 38-year-old back for one more round.
Antonio Gates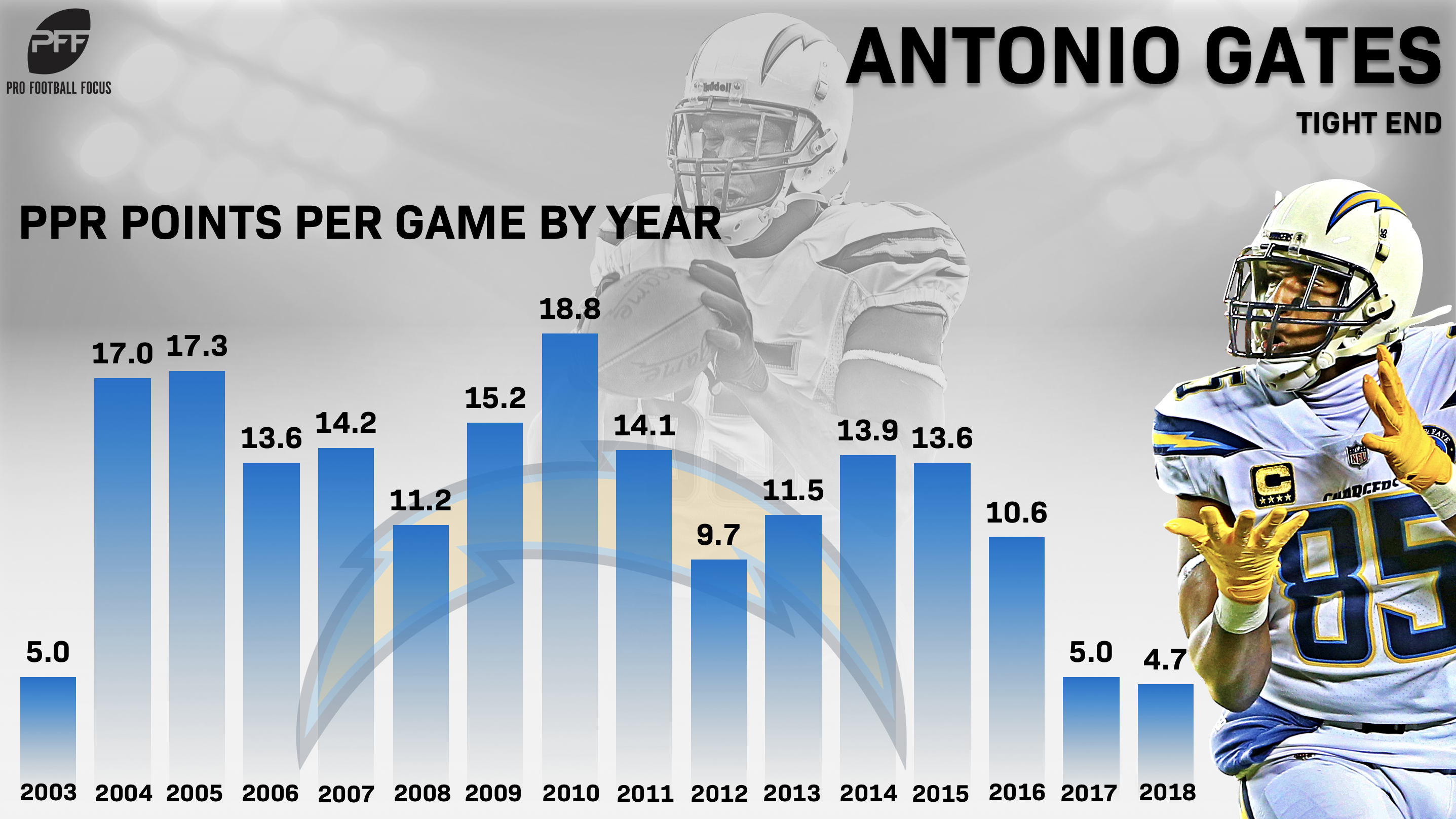 Chargers coach Anthony Lynn said back in March that he could see a scenario where Gates comes back for one more year in 2019, but even that seems unlikely. Gates, 39 in June, has totaled only 649 yards and five scores in the last two years combined without missing a single game in that time. That was roughly his 11-game total in the 2015 season. If Gates does return, it would be only as a red-zone weapon, and it almost certainly would only be in Los Angeles. With Hunter Henry expected back 100% for 2019, it's hard to picture Gates having enough value to even be a flyer play, but he'll at least be a name to pay attention to.